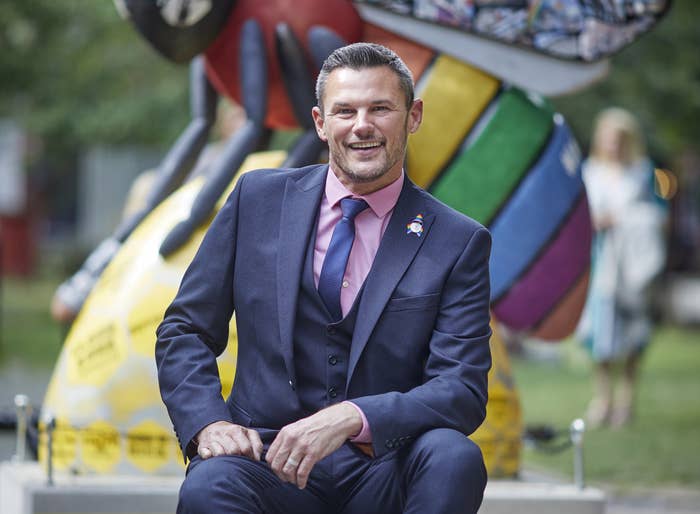 His appointment is the first of its kind in British history. No other mayor has hired an LGBT adviser to help tackle problems facing the community — despite the Labour party itself having an LGBT advisory panel. But yesterday, it was announced that Carl Austin-Behan would serve as the first LGBT adviser to Andy Burnham, the directly elected Labour mayor of Greater Manchester.
Just hours before Burnham unveiled this new role, which comes with its own panel of LGBT specialists and an annual grant, Austin-Behan spoke out against Labour activists who oppose transgender rights.
In an interview with BuzzFeed News, Austin-Behan — who in 2016 also became Britain's first out gay lord mayor — said party members who campaign against trans women being fully accepted as women should no longer be allowed in the party.
The former Labour councillor said the party should take a "zero tolerance" stance on anti-trans activists, following hundreds of its members reportedly campaigning against the inclusion of trans women in women-only shortlists.
"It goes against the values of what the Labour party is," said Austin-Behan. "Because it's about equality, diversity, and inclusion and the only way you're going to tackle that is if we're all on board."
"I think there needs to be a lot of questions about their integrity," he said of those found to be signing petitions or otherwise publicly opposing trans rights. "I completely disagree with the whole thing — the [opposition to] shortlists that it has to be what you were at birth. That's utter rubbish. If people are trans women, then they are women."
In May, a group of members wrote to the Times newspaper attacking the party's decision to include trans women when selecting candidates for election from women-only shortlists — which Labour first created in 1997.
In particular, the signatories opposed the concept of self-declared gender identity — in which medical intervention or a gender recognition certificate has not been obtained — being sufficient evidence of someone's gender. However, the party responded by pointing out, "All women shortlists are and always have been open to all women, which of course includes trans women."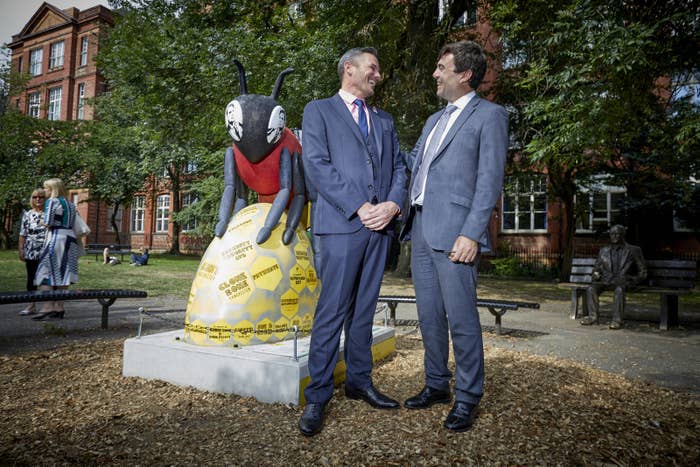 Asked if trans-exclusionary Labour members should be able to remain in the party, Austin-Behan said: "No… Not at all, in the same way if someone doesn't give the same respect to a lesbian or a gay man or anyone who is bisexual then I disagree with that and action needs to be taken."
Austin-Behan was previously the lord mayor of Manchester, the first out gay person to hold the title and a Labour councillor for Burnage from 2011 before being deselected last year, in favour of a Momentum candidate.
His remarks come in the midst of furious internal rows within Labour over Jeremy Corbyn's response to anti-Semitism within the party. And when asked whether he thought the opposition leader was sufficiently tackling the rising anti-trans activity within Labour, Austin-Behan told BuzzFeed News: "I think he needs to do a lot more because everything that's going on at the moment [with anti-Semitism] isn't boding well."
On Sunday, the deputy Labour leader, Tom Watson, told the Observer newspaper that Labour could "disappear into a vortex of eternal shame and embarrassment" unless it fixes the anti-Semitism rows within the party — prompting thousands of Labour members to call for his resignation.
"I personally think Tom Watson was right with what he said," said Austin-Behan, "and it [zero tolerance] is the only way that they're going to move forward." Anti-Semites should therefore be treated in the same way as transphobes, he said, with "zero tolerance" — and likened the situation to employment law.
"What would happen within Greater Manchester police or any workplace, if someone made those comments?" he said, referring to anti-trans campaigning. "It wouldn't be allowed."
Trans rights are "human rights" he said, adding "everyone should be treated as they wish to be treated" and as such people need to be better informed about the issues: "We talk about education in schools but we need to educate some of the older people as well."
In his role as LGBT adviser in Greater Manchester — an area with a large LGBT community and a city with a world-famous gay village — Austin-Behan said he would like to see more gender-neutral toilets being made available across the region to help make the area more trans-inclusive.
"I think that's an easy step and a massive step: We've got all these new buildings being built across the city and Greater Manchester. And even in schools, as long as there's cubicles, then there's no reason to have separate toilets."
He would also like gyms and health clubs to take the same approach. "We as a society need to be more accepting," he said.
Austin-Behan was fired from the air force in 1997 for being gay — when it was still legal to do so — and subsequently joined the fire service before setting up a cleaning company and becoming involved in local politics.
He said he knew he was different — gay — from the age of 7, and that as a child growing up in the Manchester suburb of Crumpsall in the 1980s, he would wear girls' clothes and play with dolls.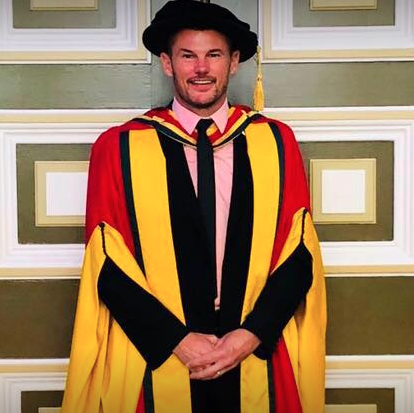 "I used to dress up," he said. "I used to like putting on makeup, but whether or not that was me experimenting with my gender or just me experimenting growing up…I'm not sure. I used to look forward to jumble sales because that was when I used to be able to wear women's clothing."
Joining the air force as a teenager was, he said, in part a reaction against knowing he was gay. "I didn't really want to admit to being gay, and all I ever saw on the TV was the [infamous 1980s AIDS information campaign] tombstones and the adverts saying if you're gay you're going to die. I think it's one of the reasons I joined the air force. It was a case of running away."
This fear of HIV, coupled with seeing how horribly HIV-positive people were treated, was what informed his campaigning for better prevention, treatment, and testing for HIV, he said. In his new role, he will be calling for greater access to HIV tests, in many more venues, including Pride events, all medical centres, and even supermarkets.
"You can go and have an injection for flu, so why aren't supermarkets supporting that [on-site HIV testing]? The majority of them have a pharmacy now, in the bigger ones, and you can know your result in 15 minutes, so [why not be able to] go in, be tested, do your shopping, and get your result."
He will also be campaigning for greater access to PrEP, the HIV prevention medication, which in England and Wales is currently only being given to a trial group of 12,000 people, rather than a full roll-out. "People said, 'Why should we fund it?' But you fund the [contraceptive] pill."
As well as encouraging local businesses to develop LGBT diversity and inclusion programmes, Austin-Behan wants to raise awareness of hate crimes and homelessness affecting the community, while helping tackle problems between LGBT people.
With domestic abuse within LGBT couples, for example, Austin-Behan said he would like other police forces to adopt Greater Manchester Police's policy of using a specific code when officers attend same-sex domestic abuse incidents, in order to compile data on its prevalence. (Greater Manchester is the only police force in Britain to do so.) "Knowing the computer systems they have, it's just another number they could add on there," he said.
Overall, Austin-Behan said he was "really looking forward to" being the mayor's LGBT adviser. "Hopefully it will make a difference to many peoples lives — not just in Manchester but across the UK when they see how we can get this working." As such he would like to see other mayors follow suit and, where possible, hire LGBT advisers to combat the problems facing this community.
"There's still so much that needs to be done… It's about being brave enough and bold enough to tackle this."
A Labour spokesperson told BuzzFeed News: "The Labour party does not tolerate transphobia in any form. At Conference last year, the Party introduced tough new rules to tackle transphobic behaviour and abuse, and all complaints are investigated and appropriate action is taken."