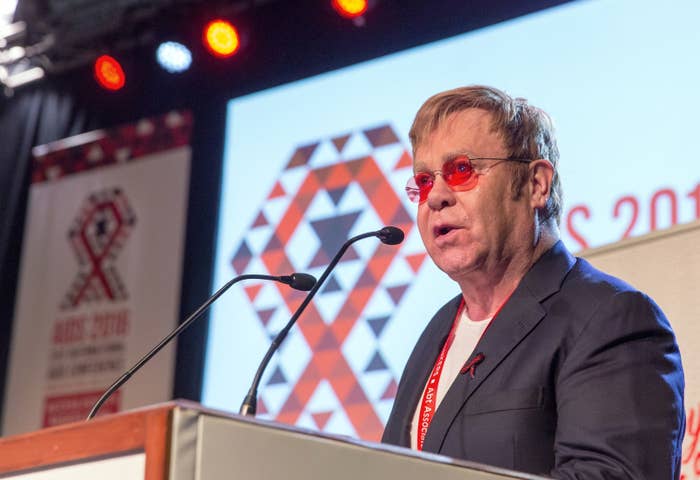 Just days after Public Health England reported a dramatic rise in rates of gonorrhoea and syphilis, Sir Elton John has lambasted the British government for its "savage cuts" to HIV prevention services.
Delivering the Diana, Princess of Wales Memorial Lecture on HIV – in memory of his friend who died in 1997 – the rock star and founder of the Elton John AIDS Foundation also rounded on the US government for hampering HIV reduction efforts with punitive drug laws, and a range of other governments for criminalising homosexuality and underfunding sexual health care.
The speech, which is the most political of his nearly 50-year career, also called on tech giants to step up in the fight against the virus. In a thinly veiled swipe at Facebook and the controversy over its data-sharing activities, John said to the packed audience of key players in the HIV sector, "Imagine if, instead of all that ingenuity, brain power, and big data being deployed to turn elections or turn a quick buck it was used to turn around lives."
John's first target, however, was the British government. At the event held at the Institut Français in west London and organised by the National AIDS Trust, he urged the UK to "sign up to the aims of the UNAIDS Fast-Track Commitments to eradicate AIDS by 2030" – a 10-point plan to control the epidemic – and to implement a strategy for this.
He called on British authorities to expand the provision of PrEP, the treatment regime that protects individuals from acquiring HIV. Currently, it has only been made available to 10,000 people in England and Wales as part of a three-year trial – and only after a lengthy legal battle brought by the National AIDS Trust.
John criticised the government for subjecting HIV prevention efforts to "savage cuts", citing the period of 2015 to 2017, which saw a "28% cut", and during which, he said, cuts were "especially sharp in services for black and Asian minority groups and drug users".
He appeared to blame such cuts on the government's controversial reorganisation of the NHS in 2013, which divided up responsibility for HIV, giving prevention to "local authorities rather than through the NHS" – a move that has been widely criticised by HIV charities.
By contrast, John, whose foundation is the biggest independent funder of HIV services in Britain, paid tribute to the individuals who circumvented the NHS's delays in providing PrEP and "found ways to link the real world and the virtual world".
Chief among these was Greg Owen, who attended the lecture, and who had set up a website providing cheap generic versions of the HIV prevention drugs to members of the public, which helped to reduce HIV infection rates by an unprecedented 30–40% – all while being homeless. "It worked," said John. Owen's story was first told by BuzzFeed News last year, and is the subject of a major new BBC documentary to be screened this summer.
Turning his attention to the wider world, John, who has long been open about his former substance abuse, warned that the drug laws in the United States led to users being "punished more than treated" – and at a time when the country is "in the throes of an opioid epidemic which directly correlates with explosions of hepatitis C and HIV".
Beyond the US, injecting drug users are being "left out and left behind" in the fight against HIV/AIDS, he said, adding that in Russia, which has a marked injecting drug problem, of its 2 million HIV-positive citizens, only 200,000 receive treatment. This 10% is the reverse of the situation in Britain, where more than 90% of those diagnosed receive treatment.
One of the themes of the lecture, which was a rallying cry to the world to revitalise efforts to combat this disease, was that in order to do so no one can be left out – and any social marginalisation weakens such efforts.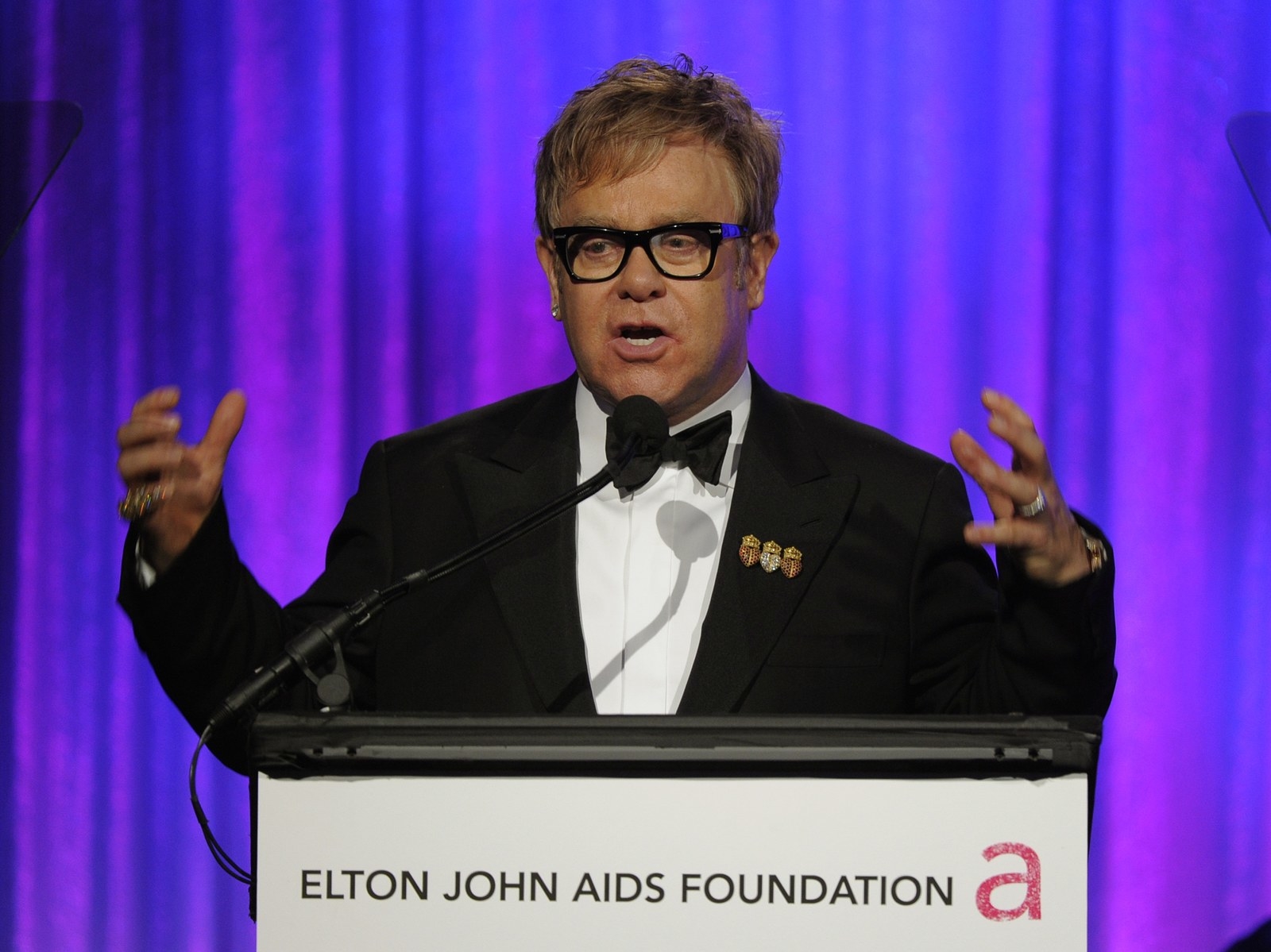 "In places where prejudice thrives, so does HIV," said John, reminding the audience that "homosexuality is still illegal in 78 countries." He cited further statistics: 2 million became infected last year, bringing the total HIV-positive population to 37 million. "There is an estimated $7 billion gap in the funding needed to contain the global epidemic." Meanwhile, AIDS remains the "second largest killer of 10- to 19-year-olds on the planet."
Among the solutions, he said, was the power of technology. He spoke of the remarkable effect a simple app introduced in Ukraine has had: It offers individuals a "private 'HIV risk' score", thereby helping people know how necessary it is to get tested, and informing them of where they can access such a test. The app alone has been twice as effective at identifying those at risk than conventional methods, and is "normalising HIV testing".
But beyond small, regional efforts, the major tech companies such as Facebook, Twitter, and Instagram need to join the fight, said John. "They have a public role and a public responsibility. ... They have the capacity to do so much good."
Corralling heads of such companies to lend their weight to combatting HIV/AIDS, John told the audience, "The geniuses who created this industry must not hide behind its anonymity." There are, he said, "huge moral choices" to be made. "Imagine if they put their might behind debates that could counter ignorance. ... What if Facebook or Instagram nudged their users in the digital world into acts of positivity and decency and kindness in the physical world?"
Before paying tribute to "all those we have lost to HIV/AIDS" and to all who have fought against the disease, John left the audience with a vision of what is possible in 2018. "At a stroke we can reach 2 billion people in a single moment on Facebook. Image that power turned towards compassion and love."