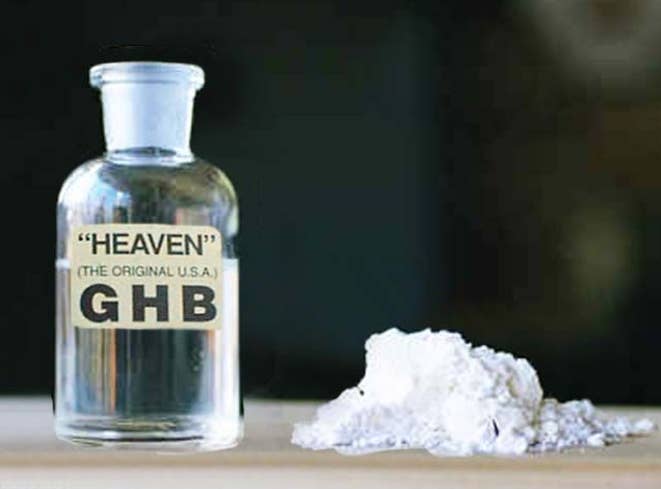 The number of deaths related to GHB, the drug most commonly associated with chemsex, rose by 119% in London between 2014 and 2015, a new study has revealed – prompting experts to call for urgent action.
Toxicologists at Imperial College London analysed data from 2011 to 2015, collected from coroners across the capital – except in west London where information was not available – and found the number of deaths from the class C substance more than doubled in just 12 months to 29. By contrast, deaths from ecstasy decreased by 10% in the same period.
It means that in 2015, on average, one person was dying from GHB or GBL (the almost-identical drugs often referred to simply as "G") every 12 days in the capital.

But this represents only a fraction of the nationwide figure, which has not been collated. The toxicologist behind the study told BuzzFeed News it is likely the true total will never come to light.
"GHB is not included in the general [toxicology] screen, it's not routinely picked up," said Joanna Hockenhull, adding that this lack of data is a barrier to information about the risks of using the drug reaching the public. "People don't know how to take these drugs safely or are unaware quite how dangerous they are."
The study, published by the Forensic Science International journal in January, also breaks down the demographics of the 61 people who died from G-related causes between 2011 and 2015. All but one were men. Most occurred in inner London areas, and deaths took place in private houses in 77% of cases.
The median age was 37, which the report said was indicative of GHB being taken by seasoned rather than novice drug users, who will have tried many other substances first. A third of the individuals were HIV-positive, the study also found. And over two-thirds also had other drugs in their system.
Hockenhull's findings have been published just as the Metropolitan police embark on a review of 58 deaths from GHB in London over the last few years, following the conviction in November of serial killer Stephen Port, who drugged his victims with GHB before raping and murdering them.
GHB (gamma-hydroxybutyrate) depresses the central nervous system, triggering feelings similar to both alcohol and ecstasy, and is one of the three main drugs (along with mephedrone and crystal meth) used in the chemsex scene – where men have sex with men under the influence of these substances, often at private parties.
The study by Imperial College details not only the number of deaths but also the reasons why G represents such a risk to life: "There is large variability in effects of a particular dose between and within individuals," it said. "This means that a euphoric dose for one person could be a sedative dose for another and it is relatively easy to accidentally overdose... Coma is relatively common with many men reporting becoming unconscious after taking GHB."
As a result, the study concluded, "GHB is associated with a disproportionate number of deaths compared to its incidence of use."
Hockenhull told BuzzFeed News that she and her colleagues had noticed an increase in deaths associated with the drug but they wanted to prove it and demonstrate to both the public and fellow professionals what is happening.
"In London we have become aware of chemsex over the last five years, but a lot of people aren't aware of it – especially toxicologists." This is particularly concerning given that the standard screening procedure following sudden deaths where drugs are believed to be involved picks up "over 300 drugs... but not GHB".

Only when the toxicologists specifically look for GHB, based on the information given to them about the deceased, do they have a hope of identifying whether the drug is in the body. That test can only be done if a urine sample is available, and that, said Hockenhull, is supplied in only about half of cases.
Even then there are further problems identifying GHB in a dead body. "Among toxicologists there is a lot of debate about what levels you'll pick up and what levels prove ingestion and what proves fatal, so it's quite difficult to interpret," said Hockenhull. Trickier still is the fact that the drug's half-life – how long it stays in the system – is short. And so, "If someone died slowly over a while you might not be able to pick it up – we don't really know. There's not much data out there."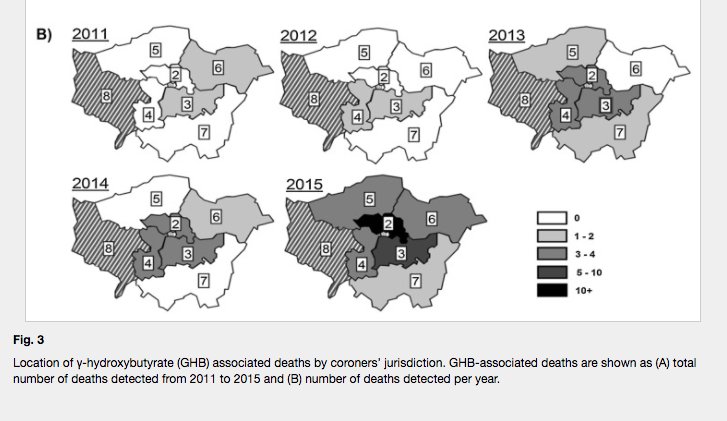 With cases of GHB-related deaths skyrocketing, and a lack of awareness among both the population and clinicians, radical changes need to be implemented to prevent further deaths, according to Hockenhull. In the first instance, screening for GHB by toxicologists investigating a death needs to be standard.
"I had a meeting with Public Health England a few weeks ago and we were saying this," said Hockenhull. "Ideally we would look for every drug in every case but there isn't the funding available from coroners. We haven't got the capacity to look for every drug so we do have to target what we do. But just the awareness that it is a problem [would help]."
Her study also includes calls for greater understanding of the fatal consequences of GHB. "Further studies are thus urgently required to better understand the extent of GHB use, the prevalence in other major urban areas worldwide and the full extent of its harmful consequences."