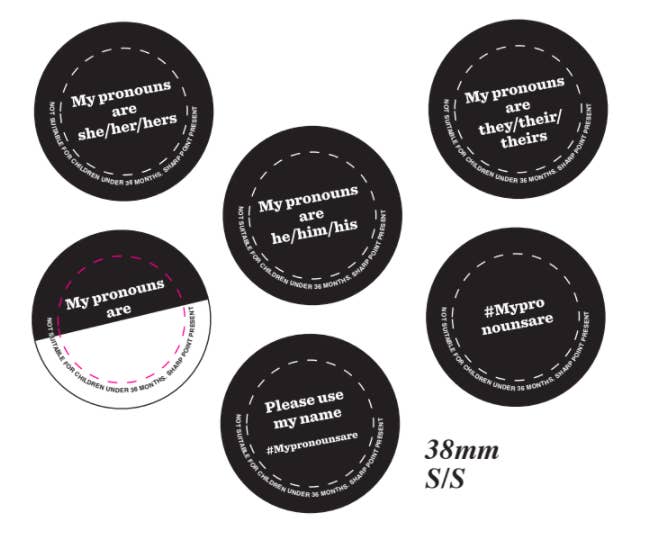 One of Britain's most progressive local councils is to give out badges to members of staff – as well as the public – that state the wearer's preferred gender pronoun in an attempt to bolster understanding of different gender identities, BuzzFeed News can reveal.
Brighton and Hove Council will distribute the pins later this month in a range of public and council venues as part of a landmark scheme intended not only to improve awareness of trans and nonbinary people – who may use "they" rather than "he" or "she" to denote identifying as neither male nor female – but also to make the city a more welcoming and inclusive place.
Organisers have told BuzzFeed News that the scheme is intended as an educational tool, to prompt discussions about how people identify and which is the appropriate pronoun for them – which may not be immediately obvious.
A range of different designs is being planned, with badges either reading "My pronoun is...." followed by the options she/her/hers, he/him/his, or they/their/theirs, or being left blank for more personalised descriptions.
Although most people even among the trans and nonbinary communities use "he", "she", or "they", some who eschew traditional gender identities – who are, for example, agender, genderqueer, or gender-fluid – prefer to use other gender-neutral pronouns such as "xe", "ze", or "sie".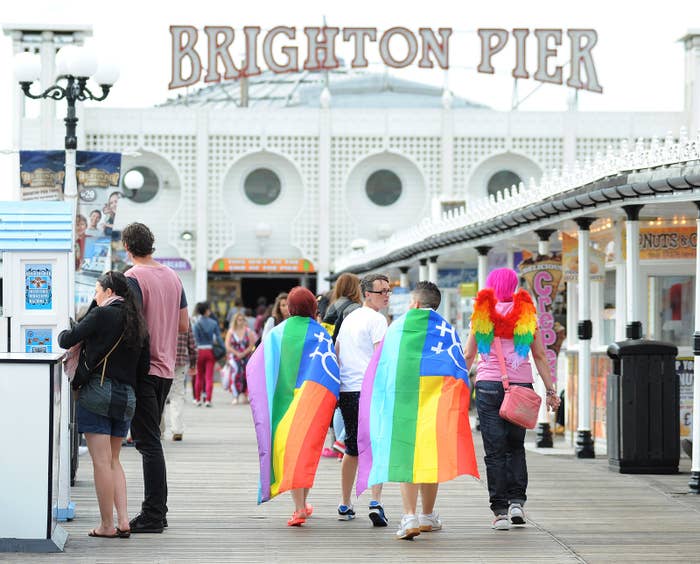 The idea preempts the government's transgender rights consultation, which is currently examining whether to introduce measures easing the process by which people can legally change their gender and, as Ireland has done, create a simple self-declaration system.

Brighton and Hove's badge campaign is a partnership between the council, the University of Sussex, local NHS trusts, and police as well as local trans organisations. The first of their kind in the UK, the badges will be distributed in libraries, colleges, and council buildings from 26 March and will coincide with International Transgender Day of Visibility on 31 March as part of a month-long campaign to bolster awareness of diverse genders.
Posters and postcards explaining different gender identities, preferred pronouns, and how to be supportive of gender-variant people will also form part of the campaign.
Anticipating any controversy the badges might cause, a spokesperson for the council told BuzzFeed News, "We're letting people take them, we're not forcing them to have them." Staff will instead be "encouraged" to wear the pins and to continue to wear them after the campaign, BuzzFeed News understands.

The initiative comes just seven months after the National Trust suffered a backlash from right-wing newspapers over its decision to require volunteers to wear LGBT rainbow pride flag badges.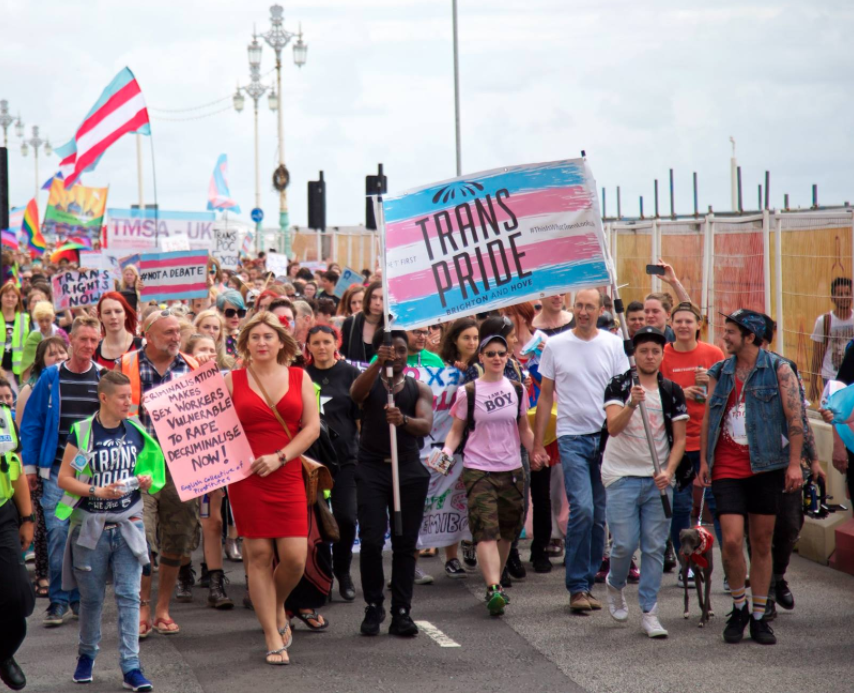 Leading transgender activists welcomed the Brighton and Hove campaign. Christine Burns, a veteran trans rights campaigner for over 30 years and the author of Trans Britain: Our Journey Through the Shadows, told BuzzFeed News: "This is great. It's an initiative to be welcomed, just as similar initiatives covering a whole range of educational issues are supported by local authorities. This is in the same category as football clubs wearing rainbow laces – it's a mark of where we should be getting to."
Until very recently, she added, much of the public has been "starved of understanding" regarding trans people and, as such, a scheme simply prompting discussion would help demystify those who transition or who have alternative gender identities.
"It's small steps that aren't themselves transformative but that all collectively build up," she said. "The only way people have known about trans people for much of the last 50 years has been from the tabloids – except when we won a legal case, when we forced our way into the headlines by achieving things.
Jack Monroe, the chef, author, and most high-profile nonbinary person in Britain, described the Brighton and Hove scheme as "fantastic".
"Anything that encourages people – especially people who aren't trans, or don't have much contact with the trans community – to think about other people's pronouns and to think that actually your perception of someone may not be correct is brilliant."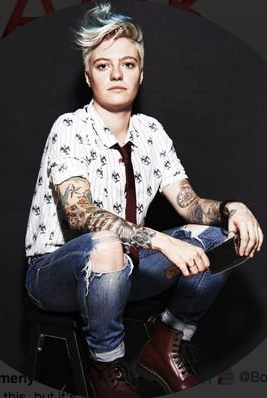 Using the correct pronoun is, said Monroe – who uses she or they – "a matter of basic respect. When you're introduced to someone you're asked their name and asking someone's pronoun should be as natural as asking your name. It's not hard. You wouldn't call someone by something that wasn't their name, so you shouldn't use a pronoun that isn't their pronoun." The badges, they said, will "encourage people to challenge their own prejudices".
Monroe's words were echoed by Stonewall, Britain's largest LGBT rights organisation.
"Offering people a voluntary way to share their preferred gender pronoun is a really positive way to mark Transgender Day of Visibility," said Paul Twocock, Stonewall's director of campaigns, policy, and research.
"Our trans report revealed that half of trans and non-binary people have hidden the fact that they are LGBT at work because they were afraid of discrimination. By giving staff and the public a simple way to indicate how they identify, so people can use the right pronoun when talking to them, Brighton and Hove Council is helping to ensure everyone is accepted and able to go about their daily lives, however they identify."