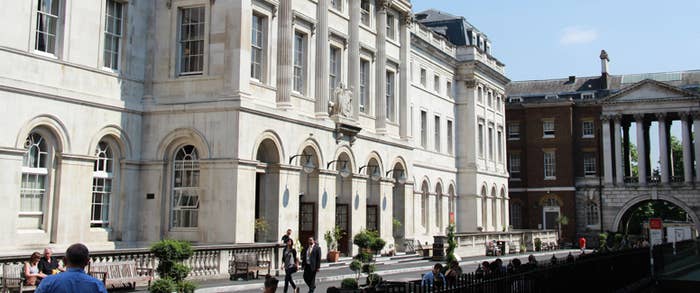 A mental health lecturer at King's College London has likened LGBT activists to the Nazis, referring to them as the "Gaystapo" – a play on Gestapo, the Nazis' secret police – and "sanctimonious petty Napoleons" in a row about a prominent former student.
Dr Niall McCrae made the remarks in an article he wrote with Reverend Jules Gomes for the website Conservative Woman, in which the pair criticised the university's decision to remove a picture of Lord Carey, the former Archbishop of Canterbury, from the college's "wall of fame" – a gallery of notable alumni at the Strand campus in central London.
This decision followed several years of concerns raised by LGBT students over the picture because of Lord Carey's opposition to same-sex marriage.
However, a spokesperson for King's College told BuzzFeed News the picture was not removed because of allegations of homophobia but to make way for a new digital display reflecting "research breakthroughs", "student and staff successes", and "our renowned alumni".
The spokesperson also confirmed that pictures of other former students as well as Carey were removed for the same reasons.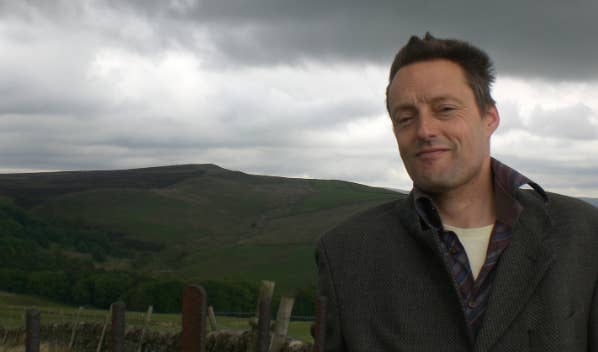 In the article, published on 14 December, McCrae argued that he did not accept the university's stated reason for the removal, but was instead inclined to believe a piece written in the latest edition of Roar, the King's College student union newspaper, claiming the removal as a victory.
"The university appears to have been managing the truth," he wrote. "Student agitators may be sanctimonious petty Napoleons, but they seem honest in their endeavour. For a prestigious institution of Christian heritage to allow this campaign to claim victory is worrying."
McCrae described events in 2010 when "at the height of the gay marriage debate, LGBT student campaigners demanded the removal of Lord Carey for opposing this policy". He referred to the current student union president, Ben Hunt, as an "LGBT campaigner" and quoted him describing Carey's position as "outdated, hurtful and offensive". McCrae further described the idea that LGBT student campaigners who accused Carey of homophobia could "carry the baton of tolerance" as "Orwellian 'double-think'".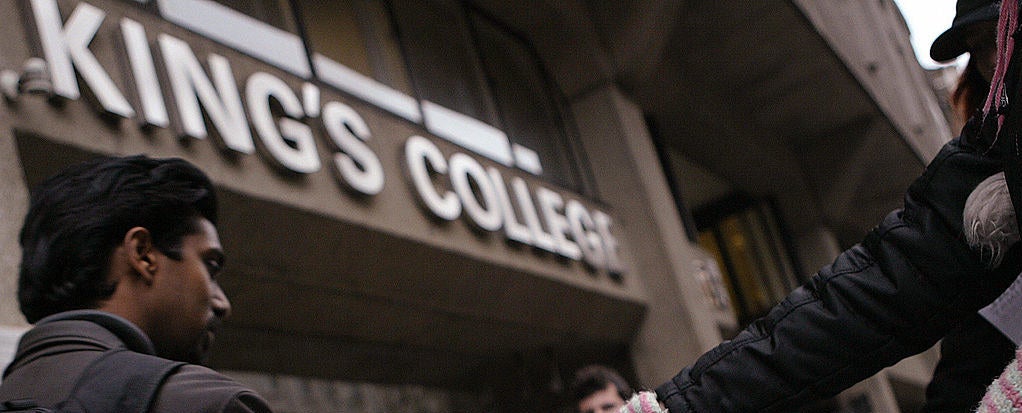 McCrae continued: "Carey is not homophobic, but his name has been tarnished by a 'Gaystapo' that refuses to acknowledge that a clergyman cares for all, while maintaining a traditional view of marriage."
The Nazis killed 11 million people during the Holocaust, including tens of thousands of LGBT people who were tortured in concentration camps. Historians hold Napoleon responsible for the deaths of up to 6 million people.
Dinesh Bhugra, a former president of the Royal College of Psychiatrists, and professor emeritus of mental health at King's College, told BuzzFeed News that McCrae's remarks are "totally unacceptable" and that the college should issue a response to them.
The press office for King's College declined to respond to two requests by BuzzFeed News for comment on McCrae's article.
Asked by BuzzFeed News on Wednesday whether he stood by the article, McCrae replied: "Why wouldn't I?" He added that the word "Gaystapo" was "my co-author's term" while agreeing that it appears under his name.
He also sought to clarify his comments: "That doesn't refer to gay people generally. It refers to an extreme set of activists who are pursuing a radical identity politics line."
McCrae repeated that "not all activists" comprise the "Gaystapo" referred to in his article, but "extreme people who want to erase people from history on spurious grounds like, for example, calling a revered minister of the cloth a homophobe".
Asked if he believes LGBT student activists are seeking to erase people from history, McCrae replied: "Well that's what we have at King's – we have a wall of fame: famous people contemporary and historical who King's is proud to have had as alumni."
McCrae also stood by his assertion that Lord Carey is not homophobic.
As well as opposing same-sex marriage, Lord Carey has supported conversion therapy (aka gay "cures") – the attempts by therapists to convert LGBT people to heterosexuality.
An open letter signed by Lord Carey and others in 2012 stated: "We believe that people who seek, freely, to resolve unwanted same-sex attractions hold the moral right to receive professional assistance."
McCrae told BuzzFeed News that although he does not agree with conversion therapy, "the word homophobic suggests hatred and I just don't share the view that this revered minister of the cloth ... goes around hating. I don't think he does hate people and that's what's meant by 'phobic' now."
He added: "I know what phobia means but what it's used for by identity politics activists is it's used as a term to mean hatred, and that's quite offensive to Christians."
Asked if it was homophobic to say gay people can be "cured", McCrae replied: "I might not agree with that sort of treatment but I certainly don't agree that Carey would have suggested that because he hates people."
When asked to clarify his position on whether it was homophobic to claim gay people can be "cured", McCrae said goodbye and hung up.