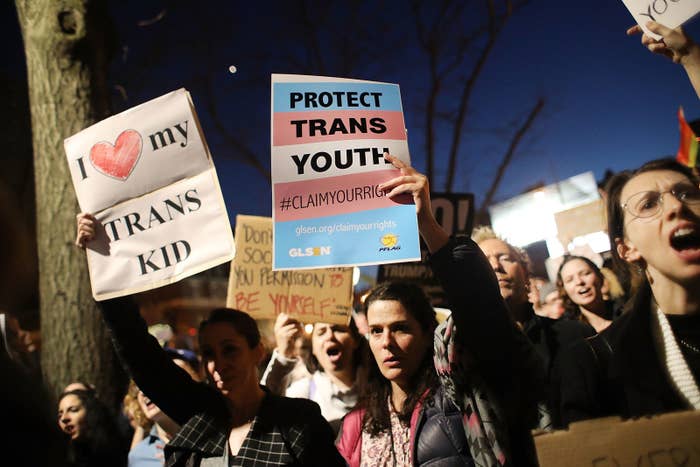 Britain's largest LGBT rights organisation has released a statement condemning the US president for revoking a key protection for transgender students in an unprecedented move for the usually moderate charity.
Stonewall issued its strong remarks on Thursday just hours after Donald Trump reversed previous president Barack Obama's directive for schools to let students use bathrooms in line with their gender identity.
Until recently, the organisation was strictly concerned with UK affairs, and only in the last two years has it started working with LGBT activists in countries facing the most egregious persecution.

"The decision made by the Trump administration to revoke guidance which was created to protect trans students is alarming," the statement says. "By refusing to protect the right for trans students to use the bathroom at school for the gender they identify with, the President is not keeping his commitment to maintain progress made on equal rights for lesbian, gay, bi and trans people in the USA."
It continues: "This is both an equal rights and safeguarding issue for trans students in America, many of whom are subject to terrible abuse in their schools, and could be a worrying sign of things to come for all LGBT people in the United States."
A dear-colleague letter from the US Department of Justice and Department of Education on Wednesday informed schools and colleges that Obama's guidance no longer stood and that they "have decided to withdraw and rescind the … guidance documents in order to further and more completely consider the legal issues involved".
Stonewall's response came as protesters against the Trump administration's intervention gathered across the US, most notably outside the Stonewall Inn, the historic New York birthplace of the LGBT rights movement.
The charity's attack indicates not only a departure from previous positioning and public statements but also a commitment to future activity, as it vows to "stand in solidarity with LGBT people in the United States when they face significant threats to their rights like this". It also sets out its plan to work with American groups to fight the Trump administration over the bathroom policy.
The organisation, which was founded in 1989 and named after the Stonewall riots that triggered the gay rights movement in 1969, only began working for trans rights two years ago under the stewardship of its new chief executive, Ruth Hunt.
Although large, wealthy, and powerful in comparison to all other LGBT rights groups in the UK, Stonewall is considered relatively moderate, cautious, even conservative in its approach to political campaigning. A late starter in fighting for same-sex marriage – the charity officially took up the cause in October 2010 – it then worked behind the scenes lobbying MPs to vote for the measure.
The decision to issue a statement against the president was met with criticism on social media.
Facebook user Ayden Ferdeline attacked Stonewall on the organisation's Facebook page not for the sentiment but for the decision to devote time to it: "Why is Stonewall spending its limited resources responding to an issue taking place in the US?" he wrote. "We are not talking about Tanzania here. There are many US-based organisations well placed to speak out on this issue."
It prompted Ruth Hunt to reply: "Why comment on affairs in the US? Because when America sneezes we get hardcore flu. Non binary flu. That requires a lot of bedrest. And we don't want to see Trans people laid low. Because that sucks. And the butch lesbians come next. And the bisexual people. And camp men. And the kid at the back of the class who is a bit different. Then that kid with two mums. Then you. So that's why we comment."
Her remarks triggered a stream of supportive comments from fellow users calling for "solidarity" with LGBT Americans and calling Trump a "bigoted idiot".