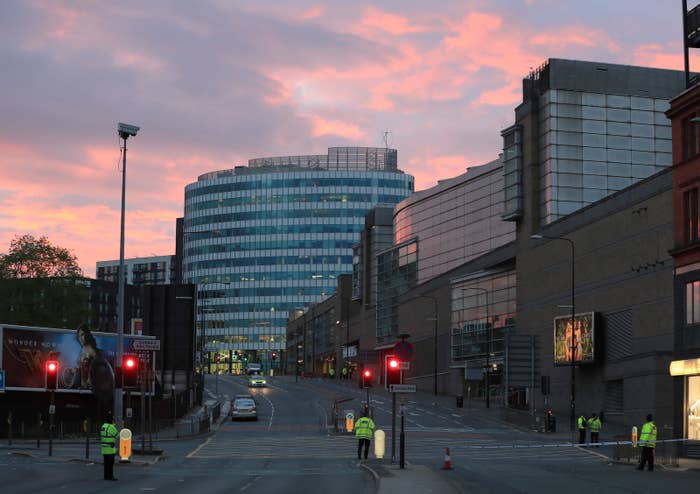 A crew member who was working at the Manchester concert where a suspected terrorist detonated an improvised explosive device on Monday, killing himself and at least 22 people while injuring 59 more, has spoken of the panic and confusion in the aftermath of the attack.
The bomb went off at 10.30pm, just as singer Ariana Grande was finishing her set in front of a packed audience, mostly young girls.
The crew member, who spoke on the condition of anonymity, told BuzzFeed News that he didn't hear the explosion, because he and his coworkers had already started dismantling the set.
"When all the crowd were running out all the crew was still in there," he said. "You see all this footage of everyone running, but we were still in there. It wasn't until moments later we got the call [to evacuate].
"We were rushing trucks and flight cases up a ramp on to the stage to pack up to take down again, so that rumble on this metal ramp with plastic wheels is quite loud and you've got echoey 22,000-seat arena in front of you and people screaming to get out and the sound of a bomb, it all kind of ... I wouldn't have known.
"And then everyone is rushing around, everyone is screaming 'get outside', blue flashing lights, riot police nearly knocking me down as I walk past. Moments before this, I'm walking out the door, Ariana is walking with her backing singers and dancers, they got into the tour bus and fired off straight away so they can get out the equation."
British staff and Grande's American crew were made to wait outside for 45 minutes before being told to go home – some had no chance to retrieve belongings, including keys, coats, and phones.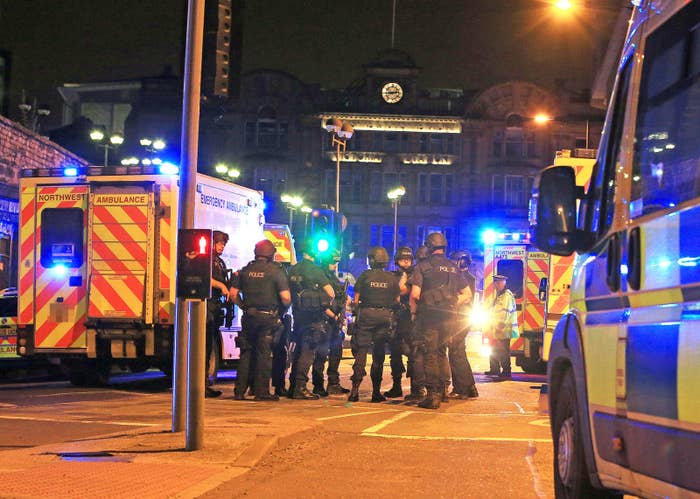 Only when an American crew member was on the phone to someone inside the arena did it become clear what had happened.
"At this point we thought it was inside the foyer by the box office but now we realise it was outside the foyer, outside in the main grounds. So I didn't see the carnage thankfully.
"I saw lots of distraught young people and families walking up and down the street in different directions – grandparents with grandchildren. Panic. Emergency services looking after them. I turned the corner to walk up Trinity Way to come home and there were other ambulances there, peoples sat down on the roadside getting treated. I didn't realise the extent until I'd walked around that corner."
While he generally praised the reaction of the arena and said staff "responded really well" after the alarm was sounded, he stressed that security procedures in the venue could be improved.
"I think security could be looked at and tightened up – especially when people are coming in and out because when they're coming in they get checked. They have the wands for checking. But on the way out?
"They could look at the security at the main entrance where the theatregoers are coming in because… they check bags, they have wands for metal objects, no glass is allowed in. The bags are checked but on exit the doors are opened and anyone could get in. That was one of the problems – this bomb went off outside the main doors."