The EU referendum divided the UK in so many ways, but none more so than in terms of the age of voters. People aged 18 to 24 voted 75% in favour of Remain, versus 39% of those aged over 65.
Almost two-thirds of over-60s voted in favour of Brexit while those under 49 tended to back Remain, according advance polling. Three-quarters of people aged 18-24 were set to back Remain.
This is what intergenerational warfare looks like.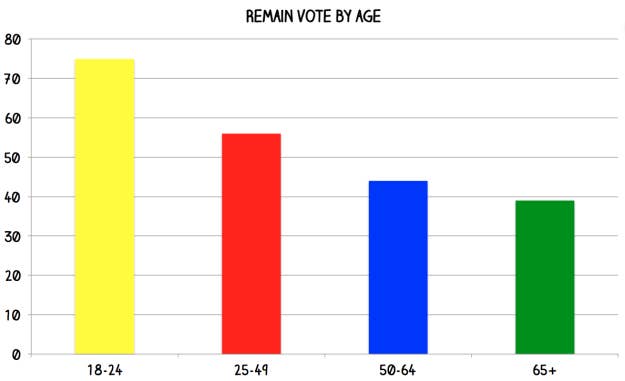 Younger Remain voters feel betrayed and angry about the whole thing.
Some youngsters are taking direct action.
It's all a bit awkward.
It's turned generational ideas on their head.
It was argued that, having enjoyed the Beatles and the 1960s, baby boomers might consider doing something nice for today's youth.
UK girl group Stooshe waded into the debate and had this to say.
Teens aged 16 and 17 were annoyed because they didn't even get a vote but will have to live with consequences of Brexit.
But as ever, it isn't as simple as all that.
Some older voters pointed out that they voted Leave to help the younger generation.