The Best Of The Internet's Reaction To The Solar Eclipse
Damn you, clouds. Damn you to hell.
by
,
Luckily, it gave us all the chance to do something even better than staring at a spectacular natural miracle – namely, being grumpy and sarcastic on social media.
This being a major TV news event, we were kept right up to speed with the big developments.
The tension on Sky News was unbearable.
But basically this was the UK this morning.
It couldn't be confirmed whether Danny Alexander was today going to hold an alternative solar eclipse.
But this is what it would look like.
The chancellor of the exchequer, George Osborne, CLAIMED to have seen the eclipse from a train travelling across the West Midlands.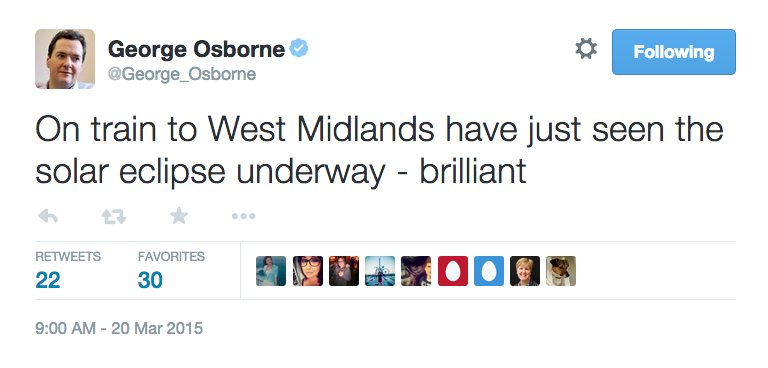 This was the view over Newcastle.
It may also be the first eclipse in history that more people witnessed by looking at a screen than looking at the actual sky.
The eclipse was also an opportunity for advertisers to promote their brands. Full marks to Wetherpoon for this.
Zero points for originality for these people.
There were several references to the Day of the Triffids, the sci-fi novel and film in which evil plants use a meteor shower to distract us before invading.
At least some people had a good time.
But it didn't take that long before we were all *over* the eclipse anyway.
Maybe the UK won't take part in the eclipse next time.
But if it was all a damp squib, there's always this cheerful thought to take away.