The Foreign Office has urged Britons not to travel to Brussels, after terror attacks there on Tuesday left several dead and many injured.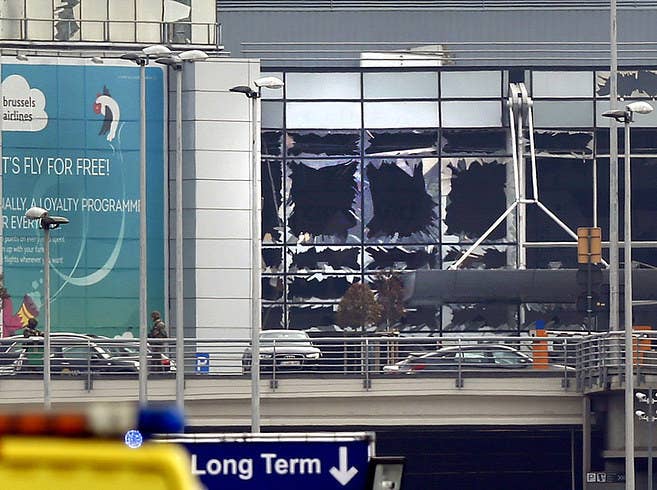 The prime minister's spokesperson told a briefing of journalists late on Tuesday afternoon: "The Foreign Office have changed their travel advice, that's to reflect the advice going out from the Brussels authorities. They're currently advising against all but essential travel to Brussels."
The spokesperson also confirmed that David Cameron offered the expertise of British police officers in assisting the Belgian authorities in their investigation following the attacks. Downing Street wouldn't confirm how many officers would be sent to Brussels, but added that they would help find out who was responsible for the attacks.
Scores of people have died in three separate explosions across the city and Belgium's terror alert was raised to "maximum".
Earlier, the Metropolitan Police Service said it was stepping up officer numbers at key sites as a precaution and to reassure the public. The force stressed that this was not in response to any specific intelligence or information regarding a UK attack.
The Met's assistant commissioner, Mark Rowley, the national lead for counterterrorism policing, said: "As a precaution forces across the UK have increased policing presence at key locations, including transport hubs, to protect the public and provide reassurance. This is not in relation to any specific information or intelligence.
"In London specifically, the Metropolitan Police Service has mobilised additional officers, who will carry out highly visible patrols at key locations around the capital including the transport network. The number of officers deployed will be regularly assessed. These additional officers are deployed as part of reassurance measures."
The UK's terror alert level has not been raised and remains at "severe", meaning an attack is highly likely – the level it's been at since August 2014.
At a briefing for journalists on Tuesday, David Cameron's official spokesperson confirmed that one British person had been injured at the airport in Brussels. She said: "We are aware of one British national injured at the airport. We are now working to provide consular support for them and we don't have confirmation of any other casualties or, for the worse, fatalities at this stage but that picture could change."
The prime minister chaired a meeting of Cobra, the government's emergency response committee, on Tuesday morning. The meeting lasted 40 minutes and was attended by the foreign secretary, home secretary, transport secretary, culture secretary, national security adviser, senior representatives from the intelligence agencies, the commissioner of the Met, and the mayor of London.
The Belgian flag will be flown over Downing Street over the next 24 hours.
Speaking on Sky News on Tuesday afternoon, Cameron said now was the time to "stand together against these appalling terrorists and make sure they can never win".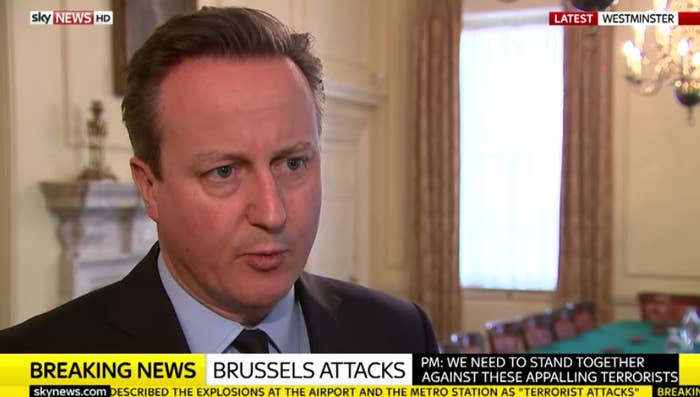 He said: "These were attacks in Belgium but they just as easily could have been attacks in Britain or France or Germany or elsewhere in Europe and we need to stand together against these appalling terrorists and make sure they can never win.
"I've also made sure that we've offered every support to the Belgian security and intelligence and policing force.
"These are difficult times, these are appalling terrorists but we must stand together to do everything that we can to stop them and to make sure that while they attack our way of life and they attack us because of who we are, we will never let them win."
The Home Office said its border force was increasing searches of vehicles coming into the country and increasing its presence at UK ports.
The Foreign Office and foreign secretary Philip Hammond urged anyone affected by the attacks or concerned about family to call its hotline.
Heathrow and Gatwick airports both said they were working with police in providing an increased security presence.
In a sign of how regional police forces are reacting to the Belgian terror attacks, a controlled explosion was carried out on a suspicious package on Tuesday afternoon in Durham.
An area of the city was cordoned off for some four hours.
Even though it turned out to be a suitcase full of DVDs.
Greater Manchester Police said it was also stepping up its patrols in response to the terror attacks. John O'Hare, assistant chief constable, said: "There is no specific threat in Greater Manchester following the events this morning but we remain at a threat level of severe.

"We are working closely with Manchester Airport to ensure that the appropriate response is in place and we have increased our patrols to support this.
"We will continue to review the situation and maintain our increased patrols in crowded areas, iconic locations, and transport hubs."