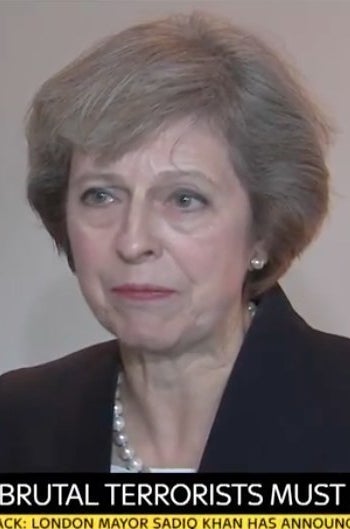 UK security officials are meeting on Friday to discuss the country's anti-terrorism measures in the wake of the Bastile Day truck attack in Nice on Thursday night which claimed more than 80 lives.
The prime minister, Theresa May, confirmed on Friday morning that the government's emergency response committee, Cobra, would meet to discuss what more could be done in the UK and how the it could assist the French authorities.
May told Sky News: "I've asked my deputy national security advisor to chair a Cobra meeting of senior officials to review what we know and what we can do to help. And I will speak to President Hollande today and make clear that the UK stands shoulder to shoulder to France today as we have done so often in the past.

"If, as we fear, this is a terrorist attack then we must redouble our effort to defeat these brutal murderers who want to destroy our way of life. We must work with France and our partners around the world to stand up for our values and our freedom."
May said the government was "working urgently" to establish whether any British nationals were hurt in the attack. Earlier on Friday morning, the newly appointed foreign secretary, Boris Johnson, said one Briton had been affected.
Neil Basu, deputy assistant commissioner for the Met and also the national lead on anti-terrorism for the National Police Chiefs' Council, said in a statement that the security of major UK events would be reviewed over the next week.
The UK's official threat from international terrorism remains "severe", the level that was set in August 2014, meaning an attack is highly likely.
The Foreign Office updated its guidance to warn Britons in Nice to remain vigilant and "stay indoors at all times", but stopped short of advising against travelling to the area.
London's mayor, Sadiq Khan, said he was reviewing security measures in the capital as a result of the attack.
"I want to reassure all Londoners that today we will be reviewing our own safety measures in light of this attack and that I and the Metropolitan Police commissioner will do everything possible to keep London safe," he said in a statement.
"This was a horrific and unspeakable act of terror on a day of celebration and hope for the French people, who have suffered so much pain in recent times."