YouTube Stars' Oreo Videos Banned By UK Advertising Watchdog
The Advertising Standards Authority says that videos made by British vloggers on behalf of the cookie company weren't clearly labelled as advertising.
If you're one of the 2.1 million fans of Phil Lester's AmazingPhil YouTube account, you may have seen this video from June, featuring an Oreo eating competition.
But what wasn't clear, according to a ruling on Wednesday from the Advertising Standards Authority (ASA), was that this whole video was an advert.
The vloggers were paid by Mondelez UK, the parent company of Oreo in the UK, to make the video, along with four other UK YouTube accounts.
And the ASA now says that that viewers would not have reasonably known that the videos were paid-for adverts. It says they should not appear again in their current form.
The ruling raises difficult questions for the current generation of British YouTube stars, who remain as marketable as they are popular.
Popular vlogger TomSka (3.2 million followers) also did a "lick race" video as well as this elaborate "paid for advertisement", where Oreos were mentioned several times.
The videos' descriptions state they are adverts (along with a link to a landing page for Oreo's "lick race" campaign) – but it appears in some cases that these disclaimers were added in afterwards.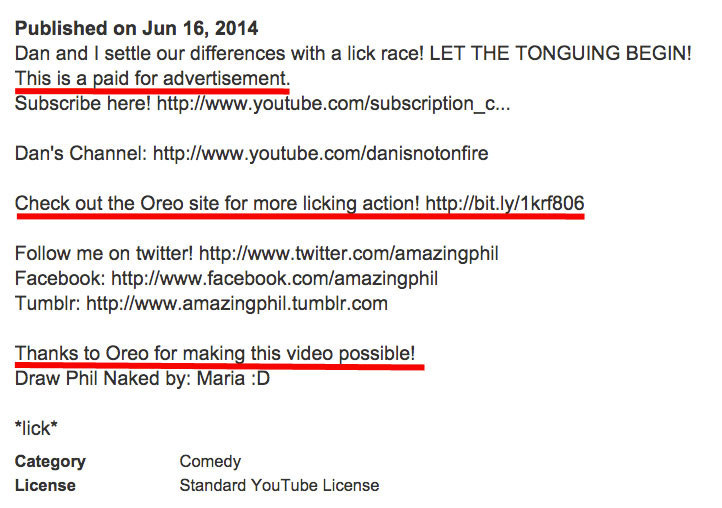 The watchdog said this prompt wasn't enough and told Mondelez to make sure that they make any video's "commercial intent clear prior to consumer engagement". The ASA ruling said:
We noted that the presentation of each ad was very much in keeping with the editorial content of the respective channels and that the fact that the videos were marketing communications would therefore not be immediately clear from the style alone...

Because the statements did not fully establish the commercial intent of the videos, and because no disclosures were made before consumer engagement with the material, we concluded that the ads were not obviously identifiable as marketing communications.
The complaint to the ASA was first made by the BBC's Newsround programme which noticed the spate of Oreo videos in June.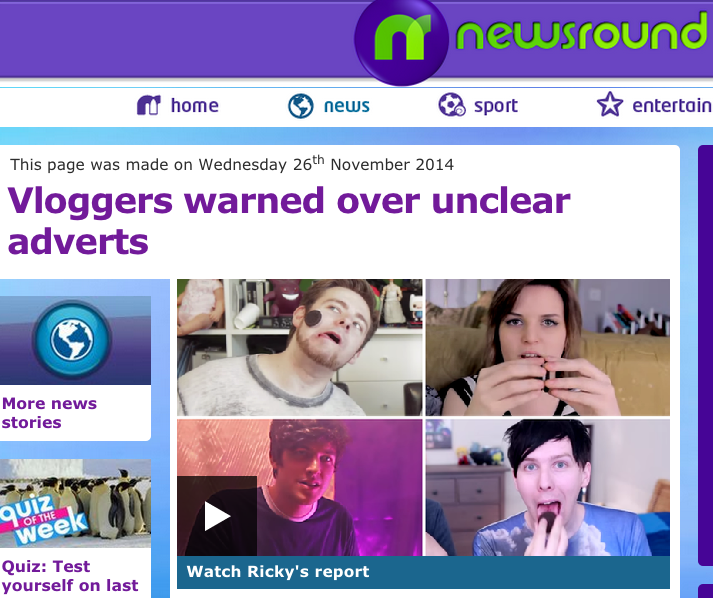 Mondelez told us in an emailed statement:
Because we are committed to truthful, responsible and clear marketing we're disappointed by the recent ASA ruling on the Oreo vlogger videos. However, we accept the ASA ruling and will ensure the adverts will not appear in their current format again.
YouTube said in a statement:
Our policies make it clear that YouTube content creators are responsible for ensuring their content complies with local laws, regulations and YouTube community guidelines. If content is found to violate these policies, we take action to ensure the integrity of our platform, which can include removing content'.
The ASA has just published an article attempting to make the situation on vloggers and paid-for advertising clearer. It says:
...It's perfectly legitimate for vloggers (or bloggers, tweeters etc) to enter into a commercial relationship and be paid to promote a product, service or brand. We're not here to regulate that relationship or to stop vloggers earning money.

But when that commercial relationship is in place then the onus is on the advertiser, and by extension the vlogger, to be upfront about it and clearly disclose the fact that they're advertising...

Ultimately, it pays to be honest. Vloggers build their fan base on the originality and authenticity of the material they produce. It's potentially damaging to their reputation to be found to have hidden the fact that the content they're producing is paid for and controlled by an advertiser.

It's important to note that, if advertisers and vloggers aren't upfront, not only could they be in breach of the Advertising Code, they could also be breaking the law. By dealing fairly and honestly with their followers vloggers can enjoy the benefits of their commercial relationships with advertisers without alienating their fan base.