Police have charged two men in connection with the murder of a man whose body was found in a burned tent in Salford last week.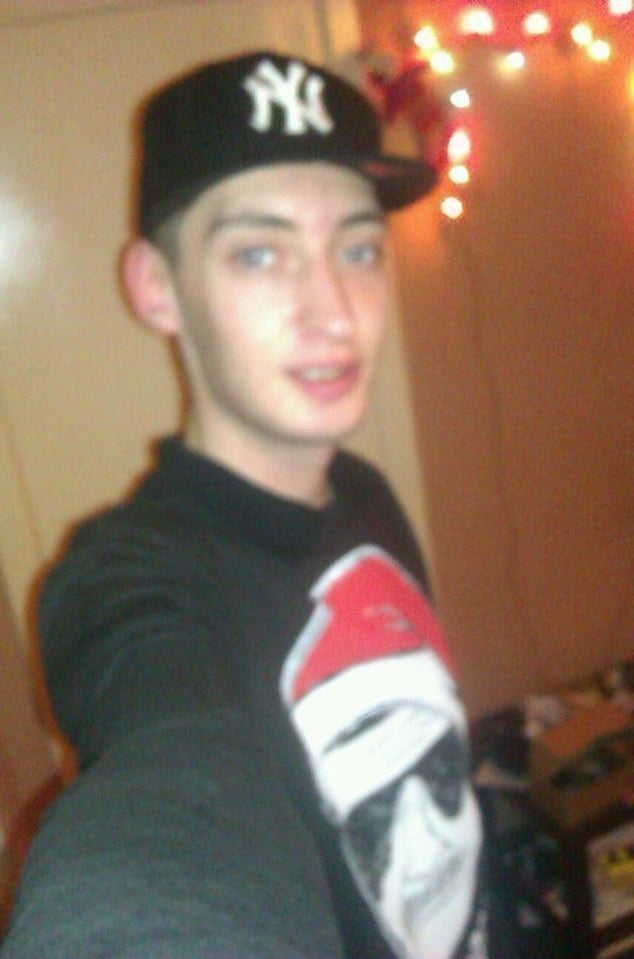 The body of Daniel Smith, 23, was discovered beside a railway bridge and next to a multi-storey car park on Irwell Street in Salford in the early hours of 20 January.
A police postmortem found he died of "multiple injuries". When police arrived at the scene, the tent was on fire. Police said the fire was started deliberately, but it is unclear whether that is how Smith died.
On Wednesday, Greater Manchester police charged Adam Acton, 24, and Luke Benson, 25, both of no fixed address, with Smith's murder.
The pair appeared at Salford magistrates' court on Wednesday and were remanded in custody until they appear at Manchester crown court on Friday. They were two of 10 people who were arrested in total in connection with the incident.
Detective Superintendent Jon Chadwick said: "A lot of work has been done with regards to this investigation and we have made quite a large number of arrests but there is still much more to do."
Tributes were left at the scene by his friends but little is known of Smith, who is originally from Ashton-Under-Lyne, on the eastern side of Greater Manchester. Police said his family were being supported by specialist officers and working with detectives but did not wish to talk to the media.
Smith's case has raised fears among homeless people in the area, who worry that they too could be targeted.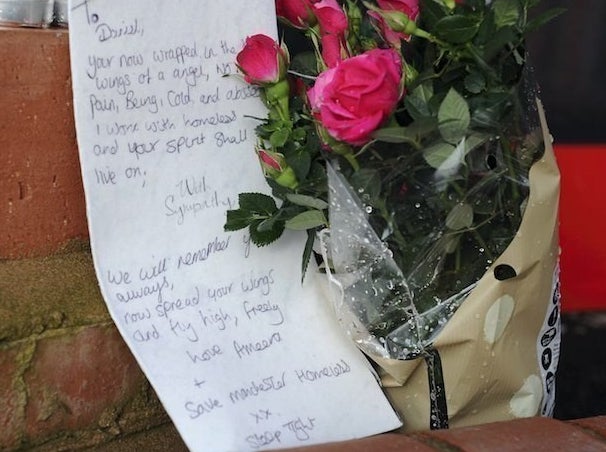 "These guys are really, really vulnerable," Stephen Rowley, a support and outreach worker at Barnabus, a Christian charity that runs a drop-in centre in the city, told BuzzFeed News. "It's extremely dangerous out there – even in his spot where he had his tent pitched it's quite a public place, and it's sent shivers through everybody.
"A lot of people have been coming in and talking about being nervous, being frightened, and they're now moving their tents a little bit out of town. It's definitely had an effect on homeless people here."
Rowley said he deals with as many as 18 people a day – some have drug and alcohol dependency problems, while others are just victims of bad luck.
"You've got men and women, young and old, some with mental health issues," he said. "A lot of people have just been forgotten. They may have been in the services over the years and were problematic, so eventually the services just said 'there's nothing more we can do for you'.
"There are people who didn't have enough for the rent and are now out on the street."
Smith's death has shed a light on the wider problem of homelessness and housing security in a fast-growing city.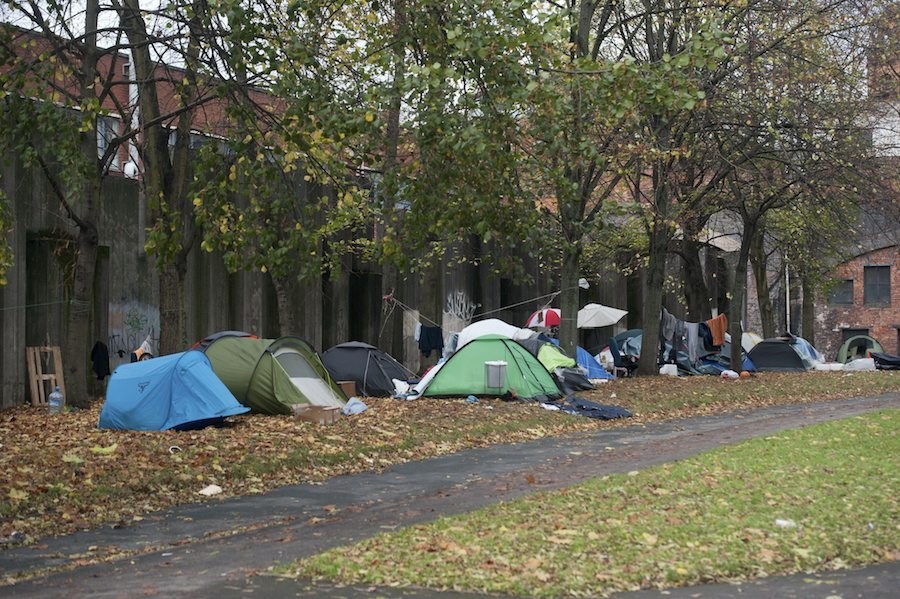 According to figures from Manchester city council from December 2015, there are up to 70 rough sleepers in the city on any given night, including 27 who sleep in tents.
The overall figure in 2014 was 43, while in 2013 it was just 27.
According to the Booth Centre charity, in June 2015 the figure was at least 80 and there were an extra five new rough sleepers adding to the total every day.
Rowley said he thought the council's rough sleeper figures sounded too low, partly because "they only counted people while they were asleep", and also because so many people continue to be attracted to what they've heard is a booming, prosperous city.
"You've got chaps coming in from out of town and because they have no Manchester connections the city council won't entertain them," he said, "plus there are a lot of foreign nationals with no national insurance number and no address.
"They all want to work but because the kind of work that they do there's no paper trail, there's no evidence that they are trying to work."
Among those who are living on the streets are dozens of rough sleepers who have pitched their tents on a patch of land near Piccadilly station. The camp emerged back in September and has evolved into small shanty town of tents and washing lines.
A spokesperson for Manchester city council said its annual rough sleeper figure was a "snapshot" and admitted the real number could be higher. The council also pointed to the opening of two homeless facilities in the inner-city neighbourhoods of Hulme and Harpurhey, which along with new spaces at other centres will make another 165 beds available.
The council also helped set up the Big Change Fund last year in partnership with several homelessness charities in the city. It is designed to support effective giving, instead of people giving money to beggars.