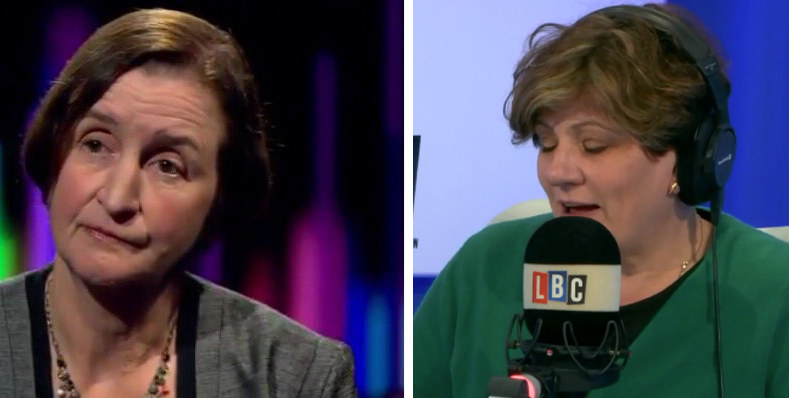 Two Labour shadow ministers appeared to be at odds on Friday night over whether the Trident nuclear deterrent be safe under a Labour government – despite the party committing to keeping it in its manifesto.
Shadow foreign secretary Emily Thornberry told LBC radio on Friday night that, although it was Labour policy to keep Trident, she couldn't commit to this being the case after a defence review, which Jeremy Corbyn has promised should Labour win the general election on 8 June.
"No, of course not, if you're going to have a review, you have to have a review," she said.
When pressed by interviewer Iain Dale, she said: "We need to make sure our policy is up-to-date and meets 21st-century threats.
"There was a time we gave up on sabres or horses – you need to keep updating your defence policy and meeting the most pressing and obvious needs."
Just a few hours later, Labour's shadow defence secretary, Nia Griffith, appeared on Newsnight to point out that Trident renewal had been agreed as party policy at last week's manifesto meeting and repeated at party conferences.
Asked for her reaction to Thornberry's comments, Griffith said: "With all due respect, Emily is not the shadow defence secretary – I am. We had a long meeting on Thursday at which we agreed the manifesto, and no one has suggested removing Trident from the manifesto."
The manifesto explicitly supports renewal, while also committing the party to leading multilateral efforts on nuclear disarmament.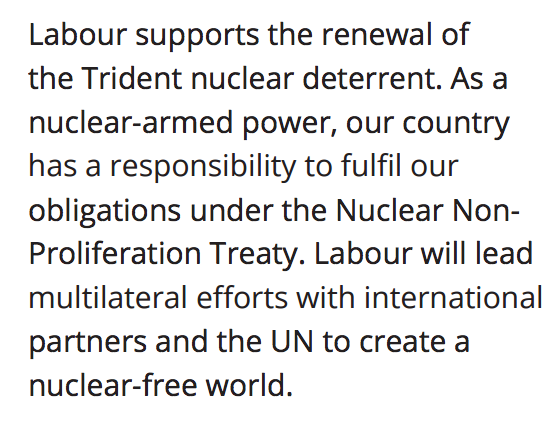 Speaking on Radio 4's Today programme on Saturday morning, former shadow transport minister John Woodcock, the Labour candidate in Barrow and Furness, said work was already well underway on the renewal project.

"Whether you're in favour of Trident renewal or not, it's kind of tough now because it's happening," he said. "We had the vote last year, we've put the project past the point of no return.
"Where I am now I can look over at Barrow shipyard, which is employing 9,000 people and has already cut steel on the submarines, so this is going to go ahead."
Trident nuclear missiles are kept onboard a fleet of four Vanguard submarines that have patrolled beneath the waves since the 1990s.
This generation of submarines are due for replacement at some point in the 2020s, with the cost spiralling into tens of billions of pounds. Greenpeace has claimed that the final Trident replacement bill could reach £34 billion.
The House of Commons backed Trident's renewal in 2016 by 472 votes to 118, with 140 Labour MPs backing the motion and voting against Corbyn, who opposed it.