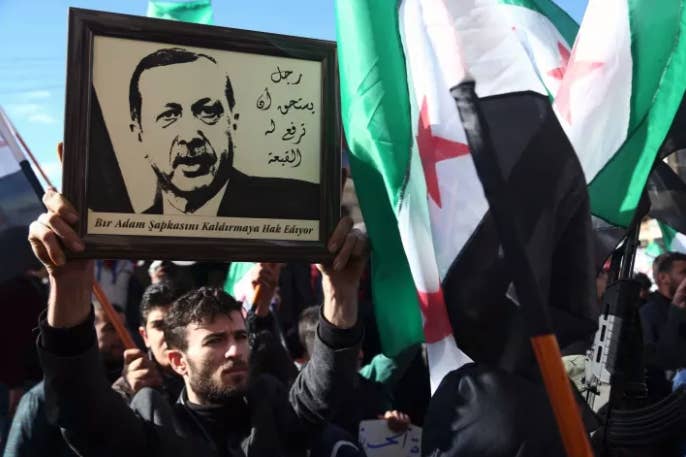 At least two Turkish troops were killed on Saturday as a military helicopter was shot down in the mountainous border region between Turkey and Syria, prompting the country's president to promise that those responsible will pay a "heavy price".
President Recep Tayyip Erdogan said in a TV address: "One of our helicopters was downed just recently.

"These things will happen; we are in a war. ... We might lose a helicopter, but they'll pay the price for this."
Turkey's state news agency, Anadolu, originally said the attack happened in Turkey's southern Hatay province, which borders Afrin to the west, a region that's become the focus of Turkey's latest military excursion into Syria.
But the agency later tweeted that the helicopter was downed in Syria itself, citing the Turkish prime minister, Binali Yildirim. The PM also confirmed the aircraft was a two-seater T-129 attack and reconnaissance helicopter.
Kurdish news sources said the the helicopter was shot down in Afrin's Rajo district.
A video uploaded to a YouTube channel affiliated with a Kurdish militia, YPG (or the People's Protection Unit), claimed to show the helicopter being shot down in a village called Qadi.
The attack came just hours after Israel said one of its military jets was shot down in Syria. Turkish forces have been leading a counteroffensive against Kurdish militias since late January.

Turkish forces claim that hundreds of Kurdish militia fighters have been "neutralized" in a series of military sorties, while militias such as the the YPG had before Saturday claimed more than a dozen Turkish casualties.
At least 17 Turkish military personnel have been killed in the three-week offensive to clear Afrin of the Kurdish YPG militia. The downing of the helicopter and Erdogan's strong words afterward suggest no quick or easy end to the operation, which has complicated US efforts to fight ISIS in northeast Syria as well as efforts to end a conflict which has already left half a million Syrians dead and displaced half the country's 24 million people.

Earlier on Saturday, an Israeli jet was shot down by anti-aircraft fire in Syria, after Israel began new raids following the interception of an Iranian drone.