Train Delays Blamed On "Strong Sunshine"
Commuters were not happy with "sunshine" being given as the reason for late trains.
There are excuses for train delays, and then there's this: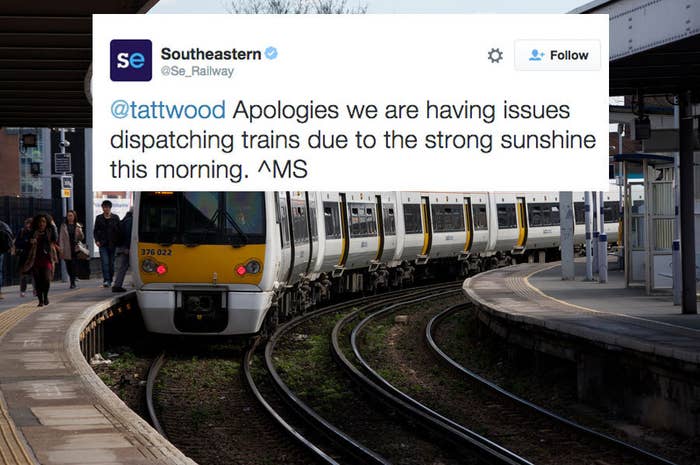 Southeastern railway tweeted that in response to passenger Tom Attwood, who was at Lewisham station on Tuesday morning. He responded:
But the company said it's a serious problem. In a tweet to another angry passenger, it said drivers going through Lewisham couldn't see the dispatch screens.
One passenger asked, quite reasonably, how trains run at all in hot countries, if sunlight is such a problem.
But the company said "somebody could be hurt" if the trains ran in such conditions.
The company also claimed on Twitter that the sun made it hard for drivers to see CCTV monitors that show whether it's safe to open and close train doors.
It's certainly a newer entry in the traditional list of late-running train announcements.
The announcement left people wondering whether they'd actually stumbled upon a parody account.
This isn't the first time train drivers have complained about sunlight causing a problem. Southeastern issued a warning to drivers in 2012 about the dazzling reflection caused by the Shard skyscraper at certain times of the day, as trains pull into London Bridge.
But in 2012, Southeastern told drivers to "slow down when visibility is poor" and wear sunglasses if necessary, rather than stop altogether.
It is apparently still a problem.
Here's hoping the sun learns to stop interfering with key commuter routes.