Update – 10 p.m., BST: Clarkson has now posted a statment online in which he asks for forgiveness. He says:
"The full rushes [raw TV footage] show that I did three takes. In two I mumbled where the offensive word would normally occur. In the third I replaced the word altogether with teacher.

"When I viewed the footage several weeks later I realised that in one of the mumbled versions if you listen very carefully you can actually hear the word I was trying to obscure.

"I was mortified by this, horrified. It is a word I loathe and I did everything in my power to make sure that that version did not appear in the programme that was transmitted ...

"And as I'm sitting here begging your forgiveness that obviously my efforts weren't quite good enough."
Jeremy Clarkson, Top Gear presenter, best-selling author and newspaper journalist, has been accused by the Daily Mirror of using the n-word in an unbroadcast Top Gear clip.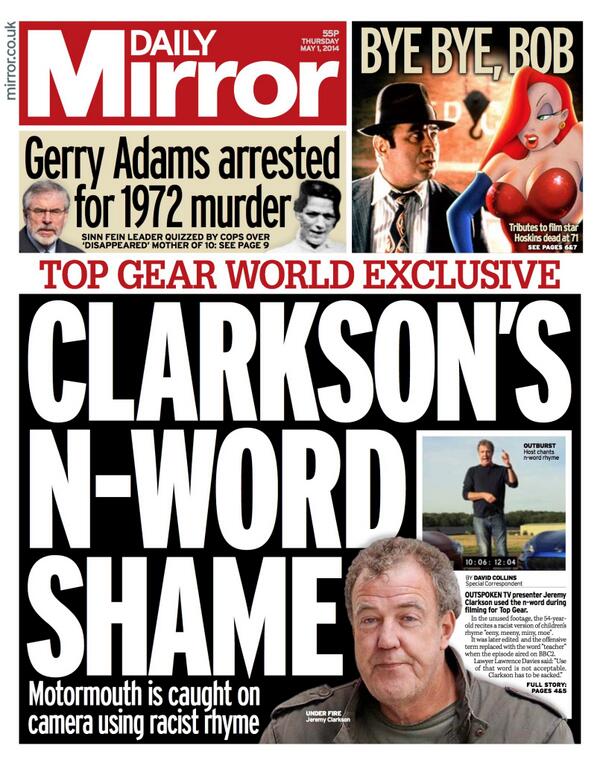 While filming for an episode that aired in February 2013, Clarkson recites the "eeny meenie minie moe" nursery rhyme to help choose between two cars.
He strongly denies it.
His Top Gear co-star James May came out strongly in his defence, despite calling him a "bellend".
In the Mirror's poll asking whether he should be fired, 72% of readers say no. Some, including Clarkson's nemesis Piers Morgan, have compared this to when football pundit Ron Atkinson, thinking he was no longer broadcasting, said the n-word.
That gaffe effectively ended Atkinson's prolific career as a summariser at big football tournaments, as well as his regular column in The Guardian. Just last week, Top Gear producer Andy Wilman had to explain why Clarkson used a term considered offensive to some Asian people.
It never seems to be that far from controversy, but Top Gear remains one of the BBC's most successful and lucrative brands at home and abroad.