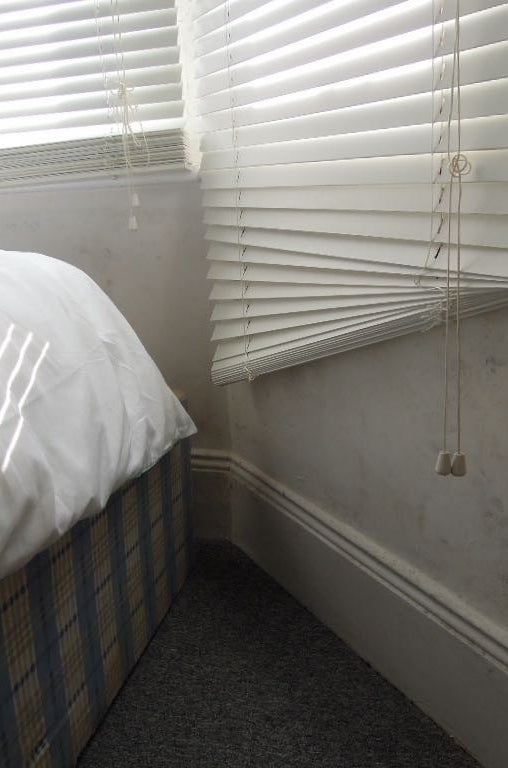 For someone who needs a knee replacement, Mary can work her way up two flights of stairs surprisingly quickly.

Leaning on her walking stick, the 63-year-old clambers up and down these steps every day to get in and out of her tiny flat in Brixton, south London. Having already had one knee replaced, she should not be climbing stairs.
Before she moved in, Mary's home was described to her as a "one-bed flat", but most people would call it a bedsit. It's a single room no bigger than an average-sized bedroom, with a kitchen, a bay window, and a separate, tiny bathroom.
The walls are pockmarked with black mould. For Mary – BuzzFeed News is using a fake name at her request – this isn't just an inconvenience. She is slowly going blind due to a detached retina in her right eye and glaucoma in both eyes. She no longer leaves the flat after dark.
"I'm begging them to move me so I can go in for the operation, because I am really losing my sight," she tells BuzzFeed News, leaning against a stack of boxes containing her belongings. She prefers to stand – it's easier on the knee.
"My vision is really bad. Even daytime is night. That's how it is. My retina is mobile, it's floating around. I just need the operation.
"I'm not keeping quiet, but what can I do? I need help. My operation is an open operation. If I can move this evening, tomorrow I'm going in for the operation. I ought to have gone in January but I didn't – it's dangerous. I'm losing my sight every minute of every hour."
She was supposed to have had an operation in January, and the situation is so urgent she's been told she could be admitted to Moorfields Eye Hospital within 24 hours – but the consultant is refusing to let the operation happen while she lives in a mouldy flat. The risk of infection from the spores post-operation is too great, she was told.
There is no immediate way out for Mary. Like so many renters in London and across the country, she has an assured shorthold tenancy agreement, the standard private rental contract.

Even though her rent is paid through housing benefit, neither the council that foots the bill, Southwark, nor her local authority, Lambeth, have direct responsibility to ensure the quality of her home.
To be rehoused, she'd have to be declared homeless – and that's not the easiest thing to do when you live in a flat, however cramped or damp-ridden.
So Mary is trapped in a flat that is making her ill, with life-changing consequences. But she is just one of hundreds of thousands of Londoners in private rented accommodation suffering from poor housing.
A YouGov poll of 739 Londoners commissioned by housing charity Shelter and published on Wednesday suggests that 60% of people renting in the capital – the equivalent of 1.5 million people – have experienced poor housing conditions in the past year.
The poll showed that 39% of renters complained of damp or mould, 26% said they'd experienced poor insulation or excess cold, and a quarter said they had suffered animal infestations such as mice and cockroaches.

Some 14% said they had experienced problems with electrical appliances, while more than 15% said their home was poorly secured.
Campbell Robb, Shelter's chief executive, said: "Every day at Shelter we hear from London renters who are dealing with appalling conditions and, shockingly, most are paying extortionate rents for the privilege.
"We should all have a place to call home – somewhere warm, safe, and secure – but for more than a million Londoners, home is cold, damp, and often downright dangerous.
"It's about time London's 2.5 million renters were given a better deal. Renting in the capital doesn't have to be like this, and the mayoral candidates need to show that they will take action to protect people from unsafe conditions."
The government's housing and planning bill, which is currently working its way through the House of Lords, contains measures to protect people in private rented accommodation and plans to introduce tougher measures for neglectful landlords.
However, an amendment to the bill to ensure landlords are legally obliged to make sure homes are fit for human habitation was defeated in the House of Commons after opposition from Conservative MPs. Marcus Jones, the local government minister, said the proposal would mean "unnecessary regulation and cost to landlords".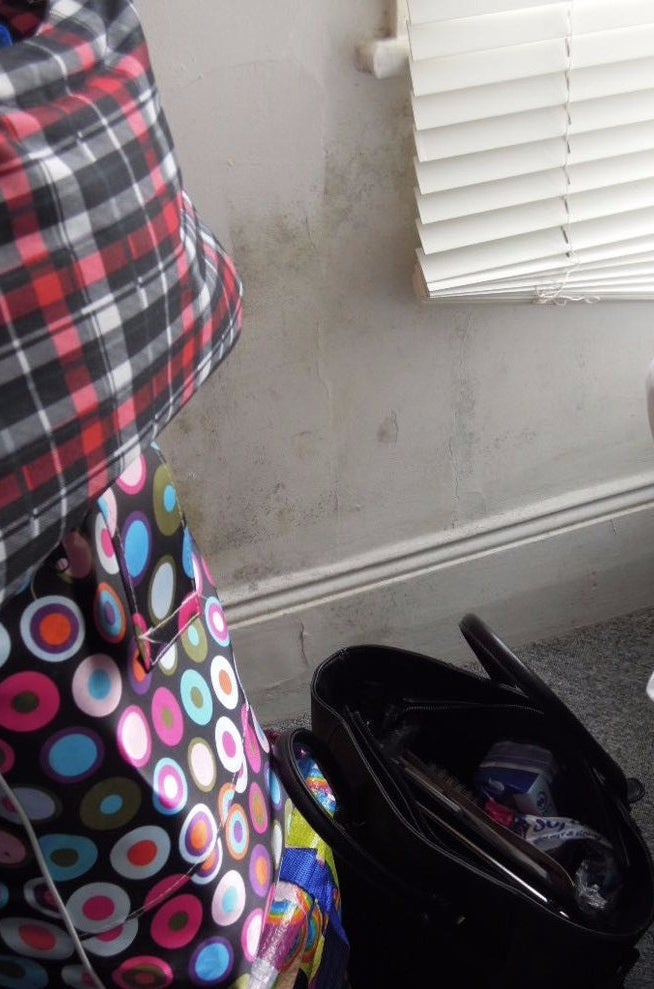 For Mary, that political debate could not feel more remote. All her belongings are now kept in bags and boxes to protect them from mould – she's thrown several things away that have been discoloured and ruined since the problem started in July 2015. She only moved in three months before that, after being declared homeless.

To be trapped in a mouldy flat that's unfit for her, Mary pays more than £200 a week. Or rather, the borough of Southwark – where Mary used to live – pays it in housing benefit directly to the landlord.

Mary is unable to work. A talented baker, last year she started a bakery course at Victoria Kingsway college and harboured hopes of starting her own business. She still hopes to return to the course once her eyes are fixed.
But not only have doctors said they wouldn't carry out eye surgery while she lives in the flat, she can't have her bad knee replaced until she lives somewhere without stairs.
Mary has complained about the mould to the letting agent, Investing Solutions – the same company criticised in 2014 for charging £255 a week to tenants on housing benefit for studio apartments in Islington that were described as "worse than prison cells".

Environmental health officers from Lambeth council – the local authority that covers Brixton – have visited several times and the department is recommending that Mary is moved. Lambeth has also written to Investing Solutions with recommendations on how it could minimise the mould, which it said were not acted upon.
A letter from an environmental health officer to Mary sent earlier this year and seen by BuzzFeed News said: "I was disappointed to find that since the flank wall had been cleaned following my visit in December, the mould had returned and further areas of the front wall above and below the bay window were now more significantly affected.
"However, this is to be expected as the recommendations that I gave in my letter to the company you are renting the room from, Investing Solutions, have not been carried out."
The letter said the environment department supported Mary's opinion that she should be rehoused. But it's not that simple – and Mary's case shows how poor and vulnerable people are housed in London, who profits from it, and who's responsible for their welfare.
Mary got the flat through a charity called South London Single Homeless Project, which referred her to a charity called Fresh Start Housing, which in turn refers homeless people, including many ex-prisoners, to letting agents and landlords who have a track record of housing them.
Fresh Start then found her the Brixton flat via Investing Solutions, which liaises with landlords to find suitable rented homes for homeless people.
Last year the BBC revealed that the founder of Investing Solutions, Samir Patel, was a director of Fresh Start Housing when it launched in 2010. Investing Solutions and Fresh Start are based in the same building in Battersea, south London.
Investing Solutions received £5.5 million in housing benefit in the two years to November 2015, much of which was gained through referrals from Fresh Start.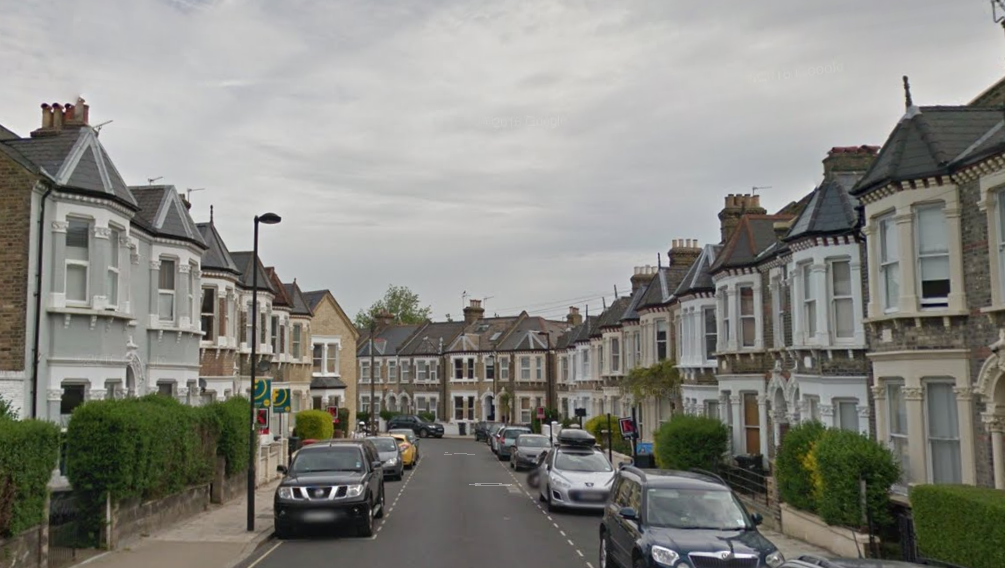 After BuzzFeed News approached Investing Solutions for comment, Patel said he was "shocked" to learn of the conditions in Mary's flat and said he would try to find her a new home.
Patel sent a timeline of correspondence between his company and Mary that showed the mould problem was first raised on 1 December 2015 and that a contractor visited the flat in January to treat it. Mary said the mould came back soon after that visit.
Nevertheless, on 8 January the job was signed off as "completed" and Investing Solutions said it didn't hear from Mary again after that.
Patel told BuzzFeed News: "Whoever our tenants are, as soon as we get notice of something going wrong we pass it on the landlords and we keep chasing them, so it's their obligation to sort out all the maintenance."
The owner of the building, a company called Bazaar Investments Ltd, employs a property management company, Tailor Made Management, to look after the maintenance of the flat.
Tailor Made told BuzzFeed News in a statement that it was alerted to the damp and mould in the flat on 17 December by Lambeth council. The company's maintenance contractor went to inspect and found the problem was the result of condensation.
Essentially, the company then told Mary to open a window and turn the heating on to solve the problem.
"Our advice to the occupier placed in the property by our tenant was to increase ventilation flow and the heating was ignored and unfortunately also found it necessary to complain with our proposed remedy to assist with the control of the condensation as an interference on our part," the company told BuzzFeed News.
"Our maintenance contractor attended to treat the mould and damp leaving the property mould free. Due to the building's age the landlord is unable to improve the thermal values which would reduce the impacts of condensation, for instance improve the insulation within the cavity."
Tailor Made said that because of this problem, it is about to serve notice all 11 flats in the building to regain possession and carry out refurbishments in June. Investing Solutions said it would try to rehouse all the tenants elsewhere.
While Mary doesn't know where she'll go next, she won't be in this flat for much longer.
Mary is being advised by Shelter after calling its helpline and is now being assisted in applying to become statutorily homeless due to the poor conditions in the flat. Southwark has already turned down this request and now Lambeth is considering the case, but it's likely the application will be rejected.
BuzzFeed News has contacted both local authorities for comment.
And while people trapped in poverty struggle with poor housing, better-off Londoners continue to accrue unprecedented wealth through property. Mary's flat is on the second floor of what was once a single terraced house with a single bathroom and has been split into 11 flats, all managed by Investing Solutions.
Land Registry data collated by property website Zoopla estimates that as a single address the property would be worth more than £1.2 million, almost £500,000 more than it was worth five years ago.
CORRECTION
Shelter surveyed 739 people for its London housing standards poll. An earlier version of this post stated an incorrect number.