If you ever launch a product or write a song featuring the phrase "this sick beat", you might be getting a call from Taylor Swift's lawyers, because she's just applied to register it as a trademark.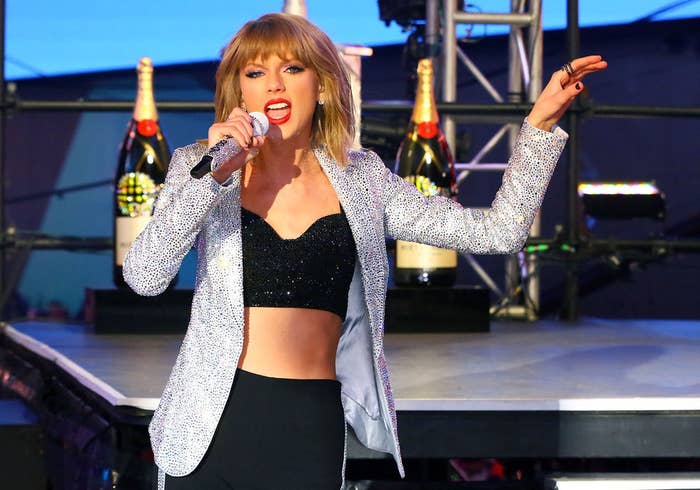 As Vox pointed out, Swift has applied for a list of phrases from her 1989 album to be trademarked, mainly related to their use in merchandising. The full list is here, at the Justia US trademark database.
It's a defensive move designed to stop retailers and clothes manufacturers cashing in on her success with knock-off products featuring lyrics and song titles.
So if you want to make a T-shirt with "this sick beat" on it, you could now get a cease-and-desist letter and lawsuit for your trouble.
There was no application for "Shake It off".
And it's not just T-shirts: The applications cover everything from skin cream to Christmas stockings. Applications for "party like it's 1989" would prohibit anyone from putting the phrase on:
Musical instruments; accessories for musical instruments; guitars; guitar accessories; guitar picks; guitar straps; drumsticks; paper products; printed products; printed publications; stationery; stickers; decals; decalcomanias (whatever the hell they are); removable tattoo transfers; all-purpose carrying bags; bags; handbags; backpacks; totes; shopping bags; luggage; luggage accessories; wallets; key wallets, home décor; furniture; containers; pillows; cushions; frames; mirrors; ornaments; wind chimes...
...deep breath, we're not done yet...
...beverageware; glassware; dinnerware; disposable dinnerware; tableware; cookware; kitchenware; household utensils; lanyards; straps; cloth bags; canvas bags; storage bags; kitchen linens; table linen; bath linens; bed linen; household linen; pot holders; towels; beach towels; blankets; throws; wigs; ribbons; bean bags; Christmas tree ornaments; suncare products; non-medicated skin cream...and many more.
So, short version: Maybe don't be tempted to make your own Taylor Swift merchandise.