Family courts across England are continually disclosing the safe addresses of domestic violence survivors to their abusive ex-partners by accident, BuzzFeed News has learned.
MPs, lawyers, campaigners, and survivors have criticised the civil court system for inadvertently letting abusive stalkers know the addresses of the women they have terrorised, which in some cases has led to more stalking and threats.
BuzzFeed News spoke to two women whose addresses were revealed via court documents to the ex-partners they were applying for orders against, in both cases apparently due to human error, leaving them vulnerable to further abuse.
Labour MP Jess Phillips, who campaigns on women's rights issues, told BuzzFeed News: "I hear again and again cases where a victim's private data is shared with their perpetrators. It happens in social services, in our courts, and elsewhere. It can, and does have, fatal consequences and speaks ill of some professionals who do not understand the nature of domestic abuse. The government must undertake a review and then take action."
Claire*, who is in her early fifties and lives in the North East of England, left an abusive marriage of 16 years in 2012 for her own safety, triggering a long period of obsessive stalking from her ex-husband that has only recently subsided.
This prompted her in 2013 to get a non-molestation order (NMO), an injunction that prevents domestic abuse perpetrators from contacting or threatening past victims, against him. Due to cuts in legal aid in 2013 for family court cases, Claire continues to represent herself.
When she filed some divorce papers at Newcastle family court last year, the paperwork asked for her current address. Because of the NMO, her safe address – which was unknown to her abuser – should have been redacted so it didn't turn up in the papers that are sent to both parties in a civil suit. But instead it was included unredacted and sent to her ex-husband within a week.
"I went into the court offices in September [2016] just to file the usual divorce forms, to tell them of a change of address," she said. "I was advised to put a note on there to remind them that there's a non-molestation order and my address isn't to be given to the other party. And within a week they had sent it straight to him. They had completely ignored the note.
"So within the month he was leaving takeaway coffee at my front door to let me know he knew where I was. It sounds like nothing, but it's quite horrifying really.
"The stalking became horrendous, I had a panic button. He was crackers. He was patrolling the streets every day – he was very well-off and had paid a private investigator to follow me everywhere. It's still not great, but he's calmed down an awful lot."
The stalking reached a peak when she claims he followed her on holiday to Mexico.
"I went abroad for a break and within a couple of days there was a note under the door that had been sent to the hotel to let me know he knew where I was. He was waiting at Manchester Airport when I landed. I had to go to the British transport police. I had to get a train back to Newcastle and he raced the train in his car and was outside my front door when I got back. It was pretty full-on."
Claire puts the disclosure down to nothing more than human error, but while it is the policy of HM Courts and Tribunal Service to investigate any disclosure of safe addresses, she has yet to even receive an apology or explanation.
"The people there are lovely and if you spoke to any one individual member of court staff and told them what had happened they would be horrified. But I think it is massive incompetence. I'm not impartial, because it fucked my life, but it felt like negligence to me.
"I mentioned it to the judge, who looked over his glasses and and shook his head as if to say, 'Bloody hell.'
"We need some light shining on this issue and for the courts to get their act together. I'd like to go and talk to the court office staff and say, 'I know you're all really nice and you don't mean it, but you could get someone killed doing that.'"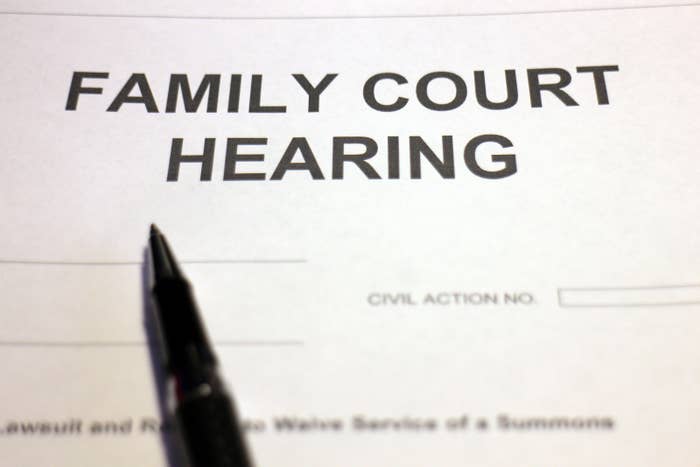 Jane*, who is in her late thirties and from the West Midlands, got an admission from staff at Coventry family court that the disclosure of her address to her abusive ex-partner last month was an administrative oversight.

"It took 24 hours before they admitted they had given him my address," she said. "They said, 'Actually, it was the same paperwork, and yes, he's got it. It's an oversight on our part and we should have marked it out.'
"I said, 'I don't think you understand the implications of that for me. That address is actually my parents' address – it's not just me, it affects other people.'
"It's just a nightmare, because nobody seems to know what to do. Why should I give up my life and all my friends and family and my job to move out of the area? I'm staying put at the moment but constantly looking over my shoulder."
In police interviews Jane's ex-partner said he didn't know where she was living, and until the court sent out the paperwork he had no firm idea she still resided in the area.
"And speaking to Warwickshire police, this is the second time that Coventry [family court] have done this in eight weeks," she said. "So I'm not an isolated case, and it would seem that they haven't learned anything."
Jane split from her partner in 2015 after a year together. The NMO Jane then obtained expired on 20 August this year and she went back to court to get an extension late last month, when her address was exposed.
But it hasn't been a straightforward process. She said her ex-partner repeatedly evaded the court bailiffs who turned up to his door to serve the order.
"He's got cameras so he would then ring them up and tell them what they were wearing – he'd say the paperwork had been sent but he wasn't prepared to accept it," Jane said.
"He said he wanted it served electronically, so I had to go back to court, at further cost, to get an order to say it could be emailed to him."
Jane hired a barrister – she qualified for limited legal aid – to avoid her abuser cross-examining her in court.
"I wasn't in a state to be cross-examined by the perpetrator – there's no way I could have dealt with that," she said. "It's barbaric. It's really difficult because you're stuck between a rock and a hard place. I'm lucky because I haven't got children involved, but it is a nightmare."
Before she left her relationship, Jane had for some years been campaigning to improve the rights of domestic violence survivors. She has an ongoing dialogue with MPs and has a meeting scheduled with the Home Office officials to discuss potential changes to the system.
"When I was going through the system I felt I was constantly victimised – I had to tell my story over and over again. There was no joined-up working. There's quite a few areas I'd like to get involved in.
"I'd like other women to know that sometimes when professionals say no to you, actually you can go and do it yourself. Hard as it was, if you're armed with the right support and advice you can do it."
Rachel Horman, head of domestic abuse, stalking, and forced marriage at Lancashire-based law firm Watson Ramsbottom, said these unauthorised disclosures are far from rare and are a result of domestic violence not being taken seriously.
"I see this happening far too often," she said, "particularly in cases concerning children where the location and address of mothers who have fled violence are inadvertently disclosed putting them in enormous danger. These mothers then often feel compelled to move again for their safety yet can be criticised for causing disruption to the children.
"The disclosure happens due to a lack of care, and also in my view because domestic abuse is not actually still not taken seriously, despite lip service being paid to this. The family courts should be a refuge and a protector for clients rather than putting them at further risk, which is unfortunately too often the case at present."
In some cases the courts can actively force women to give up their safe addresses, with the threat of jail if they refuse.
In 2013 Eve Thomas, from Greater Manchester, fled 21 years of domestic violence to seek refuge at a friend's house nearby that she and her children had used several times.
She calls it a "vile, vile relationship" with frequent threats of violence and controlling behaviour. Her ex-husband was convicted of battery in 2011 and received a suspended sentence. Thomas had waited until her daughters were over 17 before leaving so they couldn't be caught up in a custody battle.
"There are many reasons that prevent you from leaving," she told BuzzFeed News. "One was that I knew I would be unsafe and I knew I would need to relocate in order to be safe and that the UK couldn't protect that safe address."
Soon after she left, Thomas appeared in Bolton county court to settle an unrelated matter: an unpaid debt of £929 claimed by her a friend of her now ex-husband.
When the court asked for her name and address, a standard part of the legal process, she refused to give up her safe address and was held on suspicion of contempt of court.
Thomas was fully prepared to go to jail rather than tell the court, and by extension her abuser, where she was staying. The judge said she could provide her safe address to the court in a sealed envelope, but warned there was no guarantee it could be kept from the opposing party if they made a claim. A court official told her to "stop being awkward", she claims.
She said: "It forced me to have to give quite in-depth disclosure to the civil courts in order to get them to protect my safe address and to get them to understand the severity. This is a matter of life and death.
"They were ready to send me to HMP Styal for two weeks. They would have then brought me back to court and asked me again for my safe address and of course I would have refused it so I would have been back in court and that would have been my life."
At the last minute a friend stepped in and paid the debt, meaning that the initial claim was settled and the threat of jail for Thomas was removed.
Her case inspired so-called Eve's Law: proposed legislation that would give legal protection to the secrecy of domestic violence victims' safe addresses and prevent courts from forcing their disclosure. The idea won backing from Labour MP Dan Jarvis, then shadow justice minister, who raised it in the House of Commons. It was backed in principle by the then home secretary, Theresa May, who introduced a voluntary code to protect safe addresses but stopped short of introducing legislation.
Thomas founded the Safe Protection Service, a social enterprise that acts as a single point of contact for victims of domestic abuse and assists them in keeping safe addresses secret. She argues that it's not just courts that can disclose safe addresses – all manner of public and private bodies can do it too.
"We've had victims being found through Companies House, through the NHS, through the police service, through the DWP [Department for Work and Pensions], through [the Department for] Education, through business and industry across the UK, through mobile phone providers, utilities, everything. It's so easy to breach.
"Usually it's human error. I did a test with the local authority and I was actually given my own safe address over the phone. All I had to provide was a national insurance number. And that was just by saying, 'Can I check you've got the right address?'
"It's scary. That's why we've done this safe protection service. And it truly saves lives because it cuts those pathways off. These addresses really do need protecting."
As for the courts, Thomas said the service had become "fossilised" and needed overhauling when it comes to data protection and vulnerable people.
"Some of these victims have not left these violent relationships yet," she said, "and we've got victims who won't leave because they know that their safe address won't be protected. What's the point in leaving, reporting it [abuse], and going through the system to have safe addresses exposed?'"
Katie Ghose, chief executive of Women's Aid, said: "It is shocking that in these cases the courts have shown a complete lack of understanding of the danger posed to survivors of domestic abuse, which can often continue long after a relationship has ended.
"On average, two women a week in England and Wales are killed by a partner or ex-partner, with 76% of women killed after separation being killed within the first year of the relationship ending.
"In these cases, the courts must recognise the serious danger they have put these women in and commit to ensuring that the same mistakes are not made again, by training judges in identifying domestic abuse and understanding that it does not simply stop when a relationship ends.
"This is a matter of life and death, and the courts need to take domestic abuse seriously."
A spokesperson for HM Courts and Tribunal Service said in response to the cases highlighted by BuzzFeed News: "It is absolutely vital that domestic abuse victims have the confidence they need to come forward and report their experiences.
"While these incidents are extremely rare, we do not underestimate the considerable distress this can have on victims. We take all errors extremely seriously – especially those that jeopardise the safety of victims – and will always undertake a full investigation where incidents like this occur."
The spokesperson added that domestic abuse victims can provide an alternative to their safe address if an address is required in civil court proceedings and that any errors would be investigated as a matter of course.
* Names have been changed.