Police and prosecutors need to improve their response to online hate crimes and ensure that cases are properly investigated despite a lack of resources and digital expertise, according to three people who were targeted by a notorious convicted neo-Nazi troll.
BuzzFeed News spoke to victims of Joshua Bonehill-Paine, 24, who has a string of convictions for spreading malicious rumours and racist abuse over the course of several years using his blog and a complex litany of fake accounts.
They spoke of a "postcode lottery" and an inconsistent approach to online harassment and abuse, and described officers who professed to have little or no digital knowhow.
Earlier this month, Bonehill-Paine was convicted and sentenced to two years in jail for racially aggravated harassment after writing five blog posts about Luciana Berger, the Labour MP for Liverpool Wavertree. The posts, one of which was headlined "The Legacy of Operation Filthy Jew Bitch", mixed anti-Semitic fantasy with crude pornographic imagery featuring Berger's face.
Bonehill-Paine was already serving a sentence of more than three years for making digital posters that referenced the Holocaust to advertise a far-right "anti-Jewification" rally in north London in 2015.
Speaking to BuzzFeed News in her office in Westminster one week after the verdict, Berger, 35 – who still often receives anti-Semitic abuse on Twitter – highlights her hope that the conviction will encourage victims of manner of abuse to come forward.
But despite praising the way her case was handled by police and prosecutors, she admits to being frustrated at inconsistencies in the way such crimes are handled.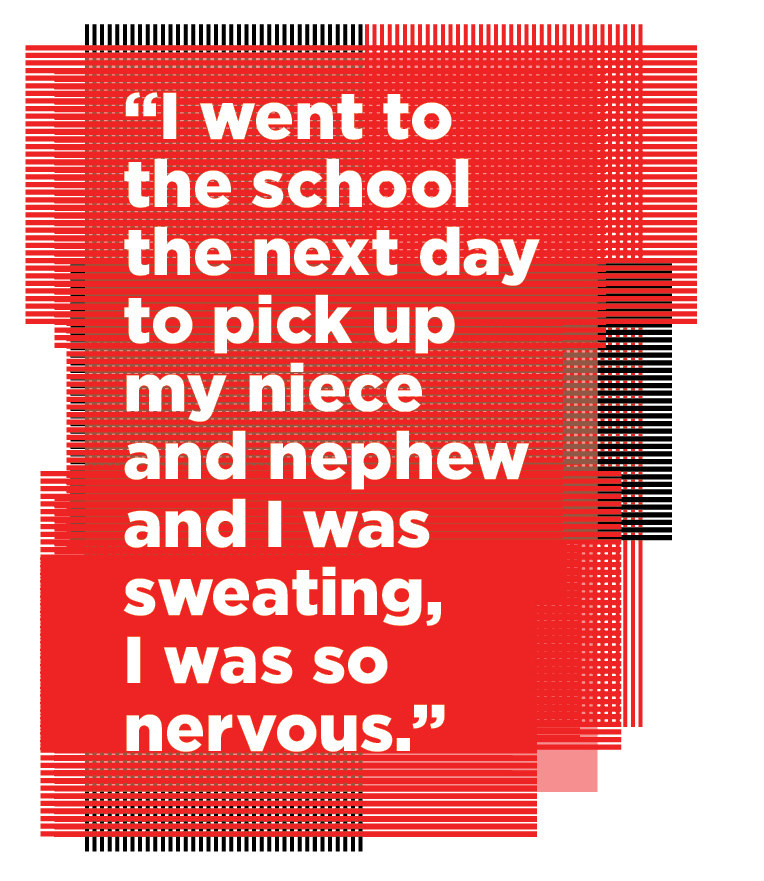 "I hope that this case provides some comfort and reassurance to other victims of whatever kind of harassment, whether online or offline, that they will be taken seriously by the police and the Crown Prosecution Service and there is a real drive and commitment to see these things prosecuted as crimes," she says.
"I'd just add the caveat that we need to ensure that these bodies have adequate resources to do their jobs properly. And there is a postcode lottery. Unfortunately this is now my fourth case – I've had to engage with three different police forces.
"And in the case last week, it took us two years to get to court. I don't want to deter anyone by this, but it's important that no victim should wait that long. I know it's because of caseloads and the CPS being in London… There is a disparity there and we need to address it."
Bonehill-Paine is the fourth man to be convicted of anti-Semitic abuse against Berger. The third, 28-year-old John Nimmo from Gateshead – who was also, in a separate, earlier case, one of the first people to be convicted for Twitter abuse in the UK – pleaded guilty at Newcastle crown court in July of sending Berger a death threat. Nimmo has said he is writing in support of Bonehill-Paine.
But Nimmo appeared in court just one week after sending emails to Berger, one of which said "You are going to get it like Jo Cox did" alongside a picture of a knife. He will be sentenced in January. In stark contrast, it took two years for the Bonehill-Paine case to reach court.
Berger says it can be easier for MPs and public figures to cope with serious abuse.
"I'm fortunate to have a platform and a voice as an MP, I have a really strong support structure through my family, and I happen to be at this moment in time pretty resilient – maybe at a later moment I wouldn't be," she said.
Berger said few people really understand the full extent and severity of the abuse she still receives to this day, particularly on Twitter.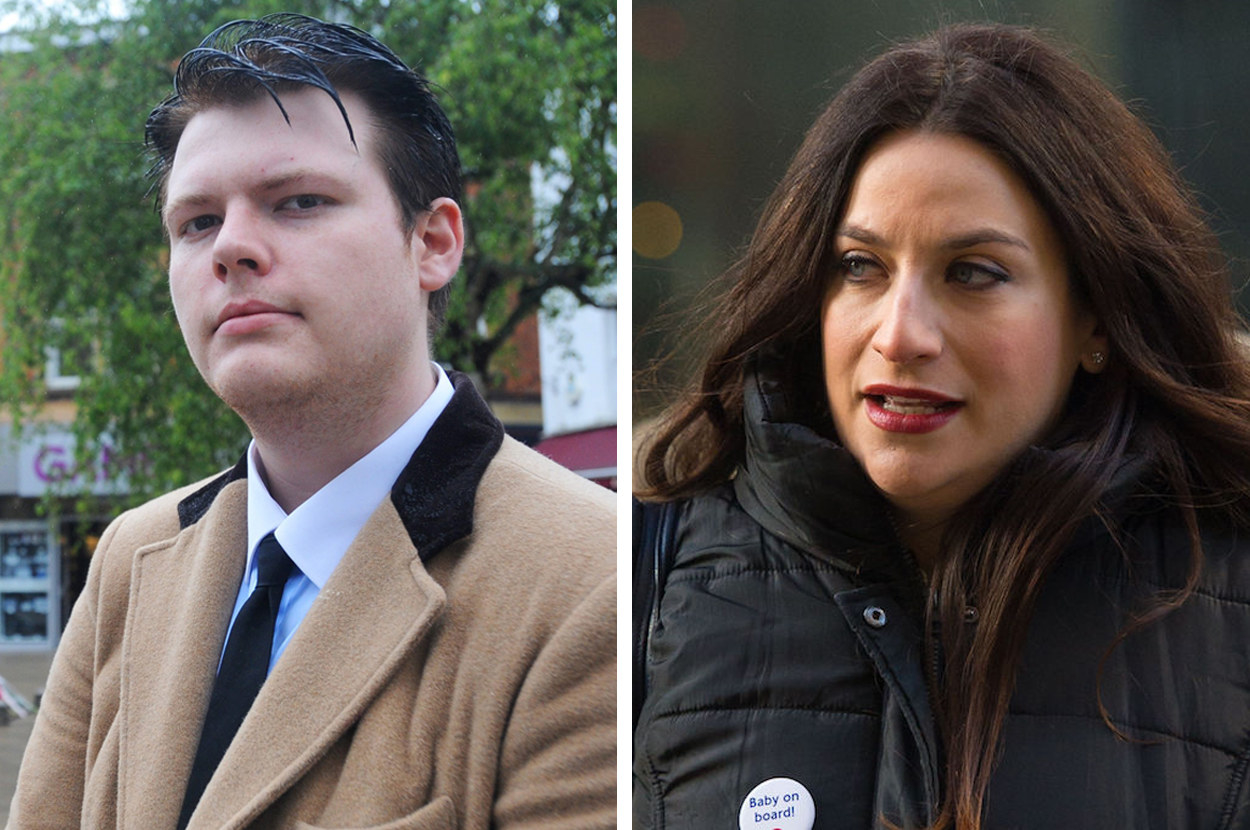 And despite successful convictions against people who've abused her in the past, Berger doesn't routinely report abuse to Twitter or to the police. The anonymous abusers, many of whom use multiple accounts and proxy IP addresses to hide their location, are needles in a hate-filled haystack.
"I've got a technology background, so I've got an idea looking at something whether it's even worth the police's time to try and trace it," she says. "More often than not they can't."
Twitter asked her if she had reported a collage of particularly offensive tweets she'd shared with journalists and colleagues earlier this year.
"And I just said no, because frankly there doesn't seem to be much point," she says. "I said that you only have to search for this term to see that even when we do report this stuff, they're selective in terms of the stuff they choose to keep up and the stuff they choose to take down.
"I know they have suspended some accounts that were tweeting in the wake of the verdict and it's not that they aren't taking any action, but I'm not sure what the exact policy is, it's not very clear. They do take action, but it's not universal, it's pick and mix."
Berger points out that some tweets sent as an orchestrated campaign against her in 2014, centred around the hashtag #FilthyJewBitch – started by a far-right group in the US but eagerly encouraged by Bonehill-Paine, his trial heard this month – are still online.
And in her conversations with Twitter she raised the use of the anti-Semitic insult "kike". Could they stop its use? she asked. The answer: People might use that word as part of legitimate debate and news reporting. Twitter has long faced questions over its ability to filter out hate speech.
"But even if you'd want to report on anti-Semitism, you wouldn't want to report on the word 'kike'," Berger says. "Clearly any post that word isn't going to be nice, or anything reported [as news]. So there's an issue to do with language, the kind of the thing they choose to host on their site."
Does she think parliament can do anything?
"Some of it's beyond our control… It's quite difficult for parliament to do anything, because what are the mechanisms by which we hold them to account? They're American companies. The point that was raised in court [by Bonehill-Paine's barrister] about why I didn't get an injunction. Well, firstly I don't have the resources to do that – I went to police, that was the action I took.
"In terms of something like [US-based blogging platform] WordPress, what opportunities are there for anyone in the UK to have stuff taken down and hold those companies to account?"
Twitter declined BuzzFeed News' request for comment for this article and instead referred us to its recently expanded hateful-conduct policy and the new ability for users to mute keywords, phrases, and entire conversations in their notifications.
Bonehill-Paine's trial this month heard that in February 2015 he pleaded guilty at Yeovil magistrates' court of making malicious communications and of harassment against five people. He accused each of them of being a convicted paedophile and distributed mocked up "wanted" posters listing their invented crimes. He was given a three-month suspended jail sentence.
A criminal behaviour order obtained by the CPS at this month's trial bans Bonehill-Paine from contacting or mentioning the five online. The court heard of the lasting psychological and personal damage the allegations had done to these victims.
One of them, Maggie Chapman, told BuzzFeed News that at the peak of Bonehill-Paine's campaign against her a police car patrolled past her house hourly to check vigilante attackers hadn't taken the paedophile allegations seriously.
She says Bonehill-Paine targeted her, her sister, and her niece with abuse and death threats and posted an image of her son, who is autistic, on child abuse websites. Alongside the image was Chapman's home address and an invitation to "tell her what you'd like to do this boy, she loves it".
She claims that in response, the police asked her why she couldn't just ignore it.
"I contacted the police, who were next to useless. They don't know how to deal with things like this," she says. "The sergeant was absolutely brilliant but he admitted that he had no idea how to deal with this. He said: 'I don't even know how to turn a computer on.' I'm thinking, Right, OK."
Chapman, a 53-year-old UKIP activist from Berwick-upon-Tweed, was introduced to Bonehill-Paine after he joined the party in 2013. No one suspected anything odd about him at first, she says. Then, in the wake of the murder of Lee Rigby in Woolwich in May that year, he began raising money for the Fusiliers' Aid Society (FAS) and planned a demonstration "against extremism".
Chapman says Bonehill-Paine made a significant sum from donations and selling T-shirts but claims that she contacted the FAS and was told that the money had not been received. Instead, she says, a small amount of the total raised was gifted to the military charity Help for Heroes. The FAS did not respond to BuzzFeed News' request for comment by the time of publication.
"I inboxed Joshua privately and said, 'What's going on?', and he blocked me. I made this public and it just started from there.
"I woke up one morning and all over Facebook and Twitter it was 'Maggie Chapman is a paedophile from Berwick-upon-Tweed'. Berwick's a small place. If someone wanted to find me they would just have go to town and ask and they'd be sent to my door.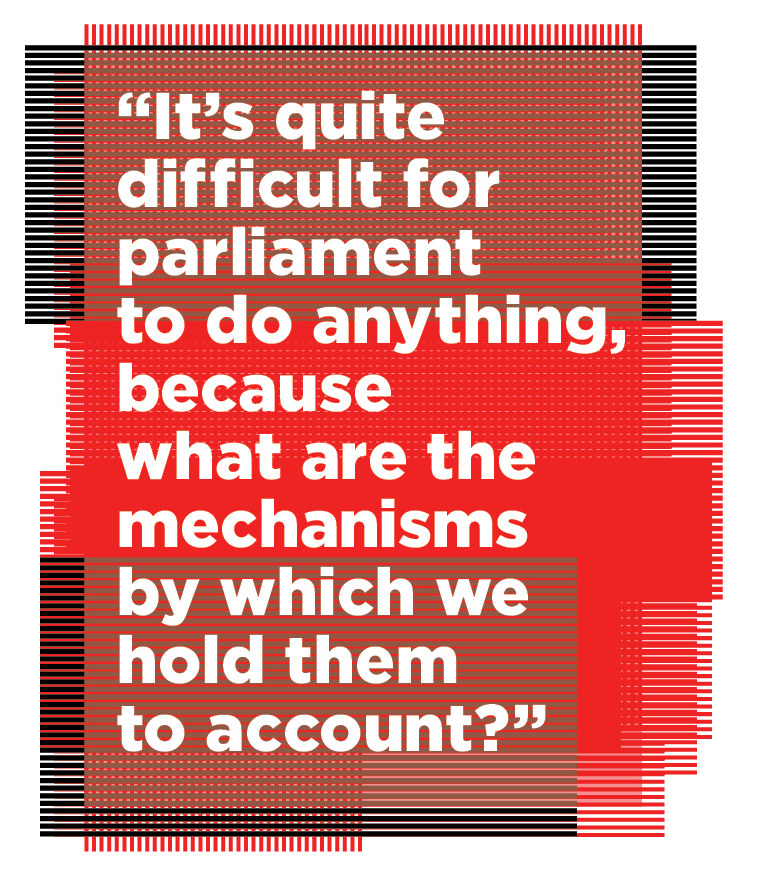 "And some of the things he put in there… He went into great detail about how my dad had abused me (he didn't, my dad died when I was young) and how he passed me around, how I abused my autistic son – he said I dropped my son on his head when he was a baby and that caused his autism, he said I was an alcoholic… It was horrible."
Another of Bonehill-Paine's victims at the time, who was also branded a paedophile along with her son and daughter, was hospitalised after a heart attack brought on by stress, Chapman says.
Chapman is a tough, combative person but admits her life has been affected by the allegations against her.
"I still sometimes get it to this day: If I'm in a debate with somebody they'll go, 'What would you know, you got done for child abuse.'
"I just say, 'Och, go away.' But at the time it was… I was on sleeping tablets and everything, I was that bad. You were getting up in the morning and thinking, What's next?
"I'm not one who frightens easily. If someone had come to the door I'd have taken my chances. But my sister and the others got it.
"He said he was going to come to my door, he was going to put a meat cleaver through my head, he was going to shoot me, he was going to set my house on fire, he was going to go after my grandchildren…and this isn't just in private but on Facebook and Twitter.
"Social media is such a big part of people's lives now. The police were saying, 'Well, can't you just ignore him?' When you add them all up, I think in the end he had 189 alternative accounts, so no, you can't really ignore him."
And yet she was still told by her local police, one of whom she says was in tears reading the abuse, that there was little they could do. They said two officers from Berwick station were due to be trained in social media awareness. The police were caring, she says, but apologetic that they couldn't do more.
Chapman says that only after high-profile figures such as Berger were targeted did police and prosecutors start taking her case seriously.
"At that point we'd had years of this and nothing was done," she said. "But as soon as someone famous or an MP gets targeted, bang: That's it."
However, Chapman praises Yeovil CID, which ended up coordinating the different allegations against Bonehill-Paine from across the country.
"The CPS needs to realise that the common man needs as much protection as anybody else," she says. "These are absolute nutters we're dealing with here."
In response to this article, Northumbria police told BuzzFeed News they did deal with Chapman's complaint in 2014 and took a statement but sent the evidence to Avon and Somerset police to deal with, as this was Bonehill-Paine's local force.
Chief Inspector Aidan Sloan said: "Northumbria Police is not aware of any issues about the way this case was dealt with at the time. However, we would be happy to meet and discuss any concerns now raised."

Another of the five victims of Bonehill-Paine's malicious communications isn't political in the slightest – he says he thinks he's voted only once.
But Joe Carlisle, 36, from Bradford-on-Avon, was still branded a convicted paedophile, exacerbating his anxiety and depression, all for one tweet he sent to Bonehill-Paine disagreeing with the latter's twisted worldview.
"I'd only been on Twitter for a couple of weeks," he says. "I'm not in any organised politics or anything like that. I took umbrage at Bonehill's defence lawyer, who said 'they're all political opponents'. I've only voted once in my life I think.
"I saw Bonehill on there saying all gays should be murdered, all left-wing people should be took out and shot. And I made a comment saying 'clearly, that's not correct' – it was just one comment.
"And then the next thing I got all these alternative accounts with stupid names interrupting conversations I was having, saying, 'Block Joe, you shouldn't follow him, he's looking at pics of your children.'
Bonehill-Paine said Carlisle was sending "dick pics" to his 12-year-old child – in fact, he has no children.
Carlisle lives next door to the school where his niece and nephew go and occasionally picks them up.
"And Bonehill was saying this [on Twitter] to a woman who had kids at that school. I was lying up all night thinking that someone was going to take it seriously – if that gets out, [that] there's a paedophile living next to the school, people don't always want any proof.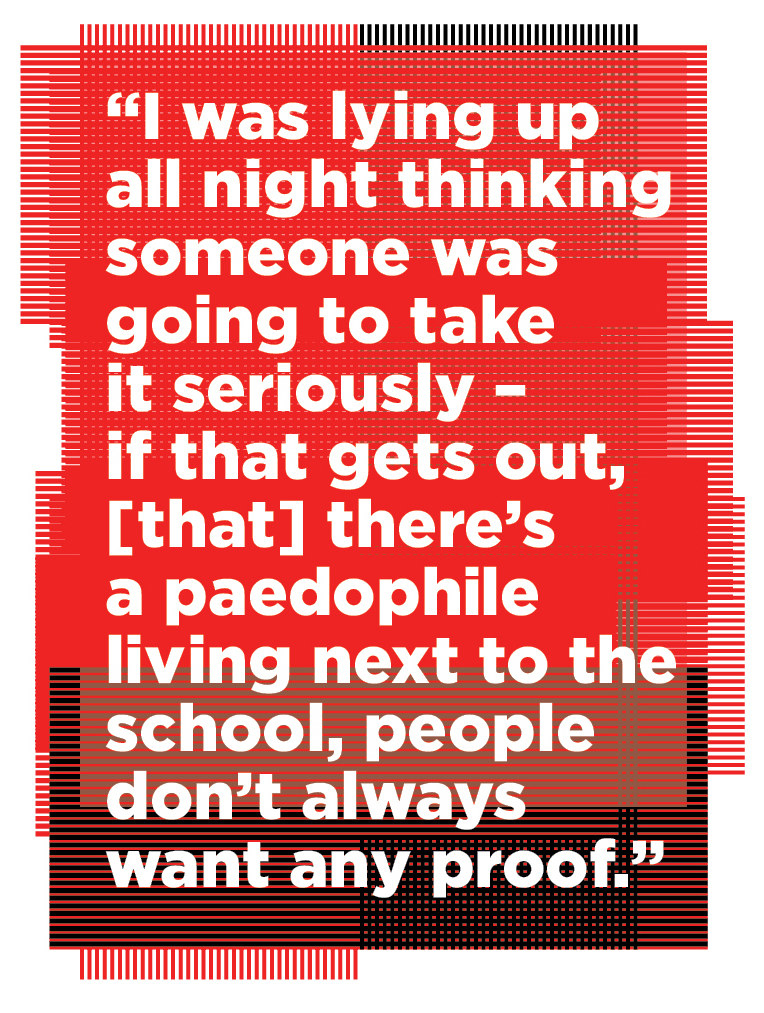 "I went to the school the next day to pick up my niece and nephew and I was sweating, I was so nervous. I was thinking, God, Jesus, please don't let anyone say anything. I'm never sure since whether people at the school are whispering about it."
Carlisle says he became reluctant to leave the house in case vigilante gangs attacked him.
He went to police the same day and says now he's pleased with their response – an officer came to see him the next day.
"But the officer didn't even know what Twitter was – he said he didn't know how to send an email. I'm trying to explain what it is and he's saying, 'But who can see this information?'
"They just have no grasp of the basics of it. It's not in their training or their remit unfortunately."
Carlisle says the sentence Bonehill-Paine received for this abuse – a three-month suspended jail sentence and an 18-month restraining order – shows the law doesn't properly punish those who indulge in serious internet abuse.
He too feels the conviction came after Bonehill-Paine began targeting public figures.
"I'm glad it's been dealt with correctly by law at last because he targeted someone who was worthwhile and important – that's why something got done, let's be honest," he says.
The problem is, he says, people who haven't been the victims of targeted internet abuse don't realise its effect.
"Because he's remote there's no immediate impact," Carlisle says. "And people don't always respond to distance fear. It's like the psychology of climate change deniers – you can just say it's not a real threat.
"But in the past, when you had to do it face-to-face, it was different. But there needs to be some sort of impact – they don't even get banned from Twitter, they just set up another one. You can't block an IP address, they just use a proxy. There's nothing Twitter can do."