This Is What It's Like To Be A Paramedic In London On Friday Night
BuzzFeed News joined a paramedic on the frontline of the emergency services' battle against drunken behavior, a crisis in mental health provision, and street violence.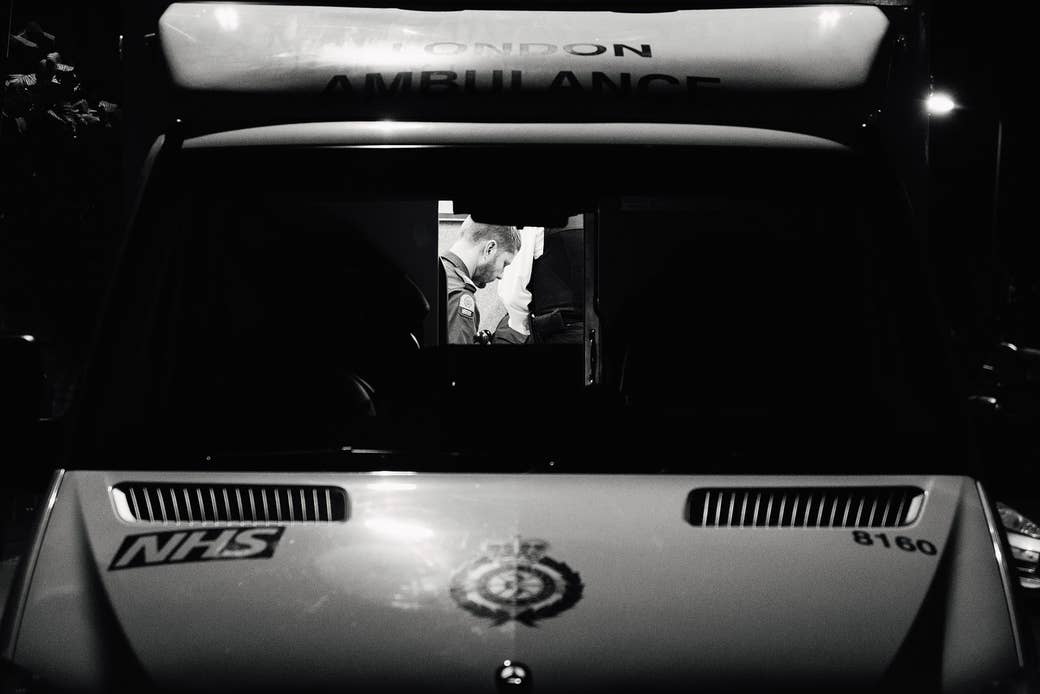 The radio flashes red at 1:12am, a sign that this time the call is serious. Using a frequency reserved for the most urgent of incidents, the police operator says there's been a stabbing on Shoreditch High Street.
The victim, an "IC3 male" (police jargon for black man) in his late teens or early twenties, has a wound 10 inches below his neck, possibly from a knife or a broken bottle. Some time later we hear the injury being described as life-threatening.
We're sitting less than a mile away from the incident, outside a housing estate in Bethnal Green, east London, in a London Ambulance Service car. Manned by a single paramedic, these cars – and they are Volvo or BMW cars, rather than regular ambulances – are part of the Joint Response Unit (JRU) team who on Thursdays, Fridays, and Saturdays are called to serious incidents in the capital.
Our guide for the evening, paramedic Jake Carlson, 28, a charming yet utterly focused New Zealander, should be speeding away right now, lights flashing, siren blaring.
But instead we must sit in the car and wait. All because someone with minor injuries is too drunk to look after themselves.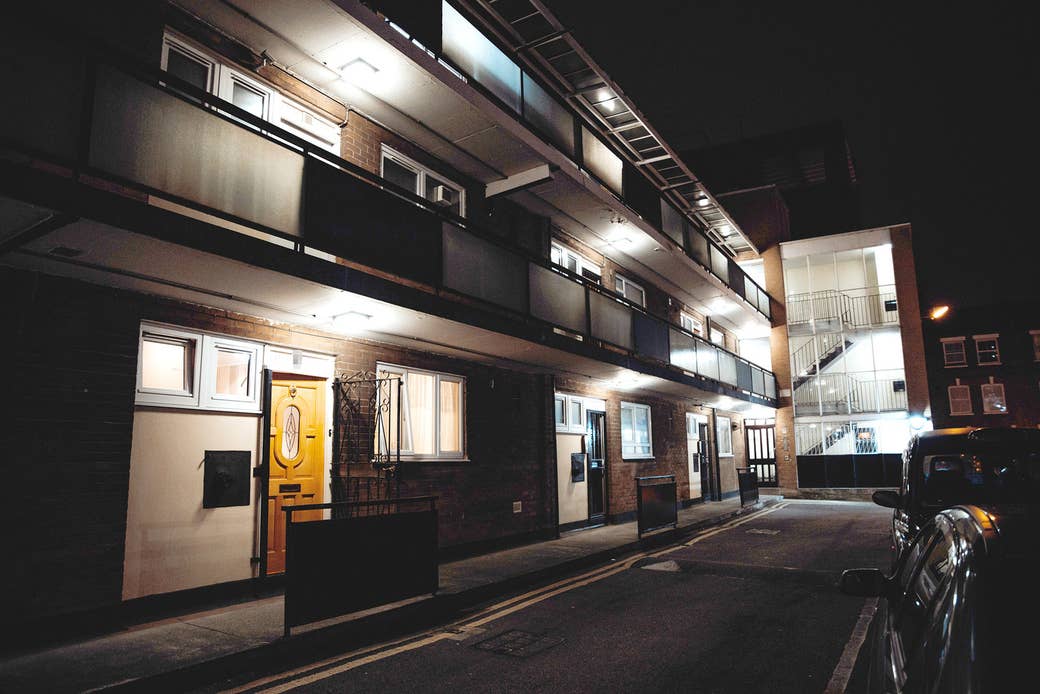 The London Ambulance Service (LAS) invited BuzzFeed News to witness a shift alongside one of its top paramedics to illustrate the strain that drunkenness puts on frontline NHS resources. Contrary to popular belief, the LAS will be called out to more alcohol-related incidents in August than any other month, including December.
We're waiting here because, earlier, a man in his 20s from eastern Europe was assaulted outside his flat, in the gloom of an estate's central courtyard. His neighbours found him lying covered in blood, just metres from his door.
Sat on the sofa of his neat two-bed home, he has a swollen face from being punched, blood splashed down his left calf, probably the result of being kicked, and a large bruise on his back from where his heavy frame hit the ground.
"I've only had two or three drinks," the man says. According to Carlson, they all say something like this. The patient soon after confesses to BuzzFeed News while the paramedic sorts out a taxi: "OK, yes, I have been drinking – but come on, it's Friday night," he slurs. His head keeps slowly lowering, until it eventually lands on the armrest.
Carlson gives him some paracetamol and a sling for his arm, but the patient will need to go to hospital for X-rays. He doesn't need a paramedic for that, and people are encouraged to get themselves to hospital where possible, to save on precious resources.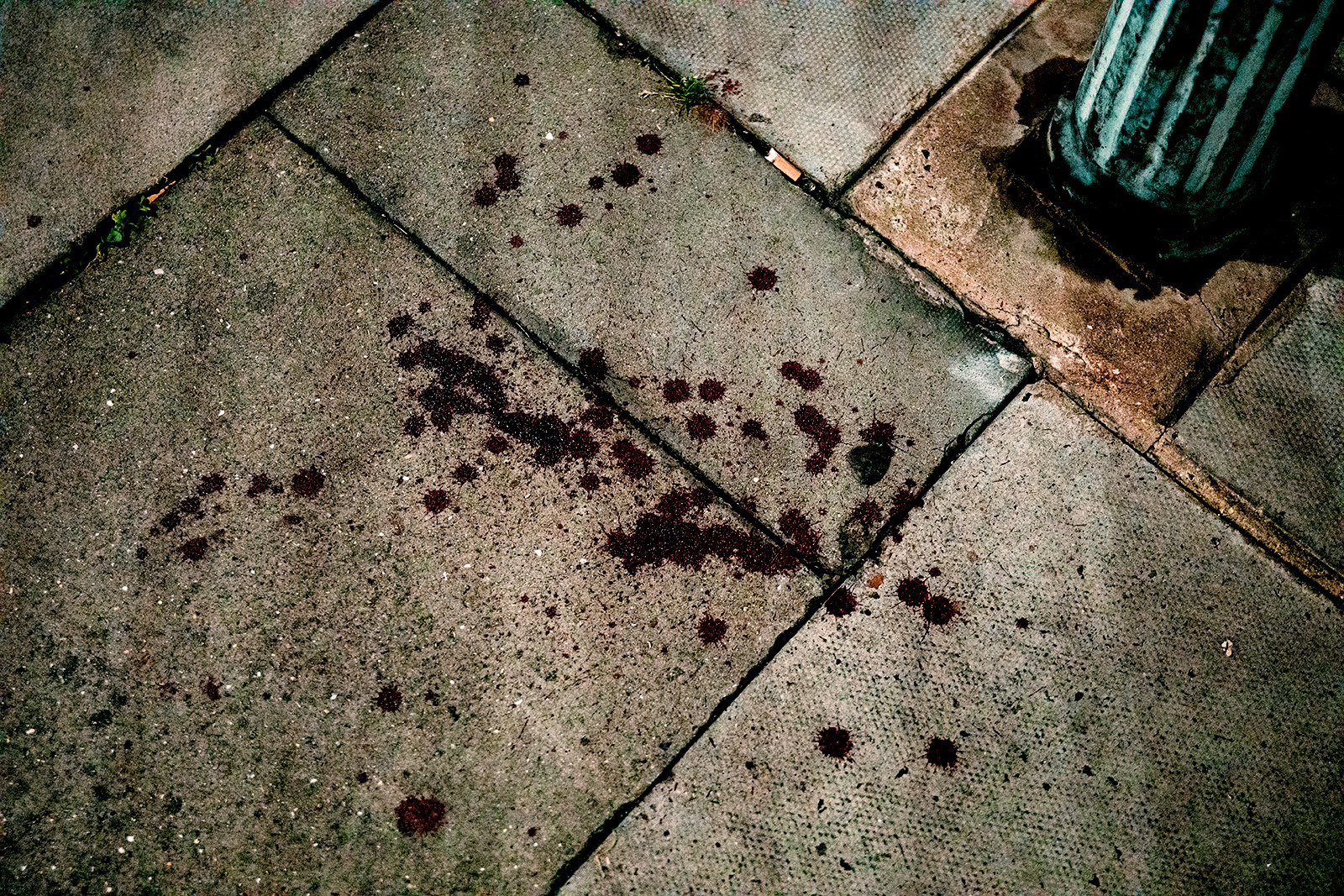 But this man is so drunk that not only can he not be trusted to order a taxi, he cannot be left alone. He has no friends or family nearby and his wife is away on holiday. So Carlson must order him a taxi to take him to accident and emergency, and wait parked outside until it comes. At 1:16am, it finally arrives.
This is an example of the kind of thing the NHS is trying to highlight through inviting a reporter out tonight: A highly specialised medic trained in rapid trauma response, who's recently dealt with everything from major terror attacks to acid attacks, gruesome road traffic accidents, and stabbings, has just spent an hour making sure someone gets in a taxi.
"This is the sad reality of it. OK, this guy has been assaulted and he has been injured and we're here to help him – but he can't be left alone because he's been drinking," says Carlson. "If you came out for this entire [12-hour shift] you'd see maybe two or three more of these.
"The only reason I'm waiting here now [parked outside] is because he's asleep and he might not open the door. And then if he doesn't open it we might have to break the door in, which will create a whole bunch of other issues."
Newspapers might love to cover stories of Christmas party drunkenness, coining "Mad Friday" to describe the last working Friday before Christmas and publishing lurid pictures of "revellers" vomiting on street corners. But in August 2016 the LAS dealt with 6,653 alcohol-related calls, 650 more than in December. A quarter of all these occurred between midnight and 6am on Saturday and Sunday. In some cases, people don't need medical help at all.
"A lot of the people our control room and ambulance crews respond to on Friday and Saturday nights don't need an ambulance – they need a friend to take responsibility to get them home safely and look after them," the LAS's medical director, Fenella Wrigley, told BuzzFeed News.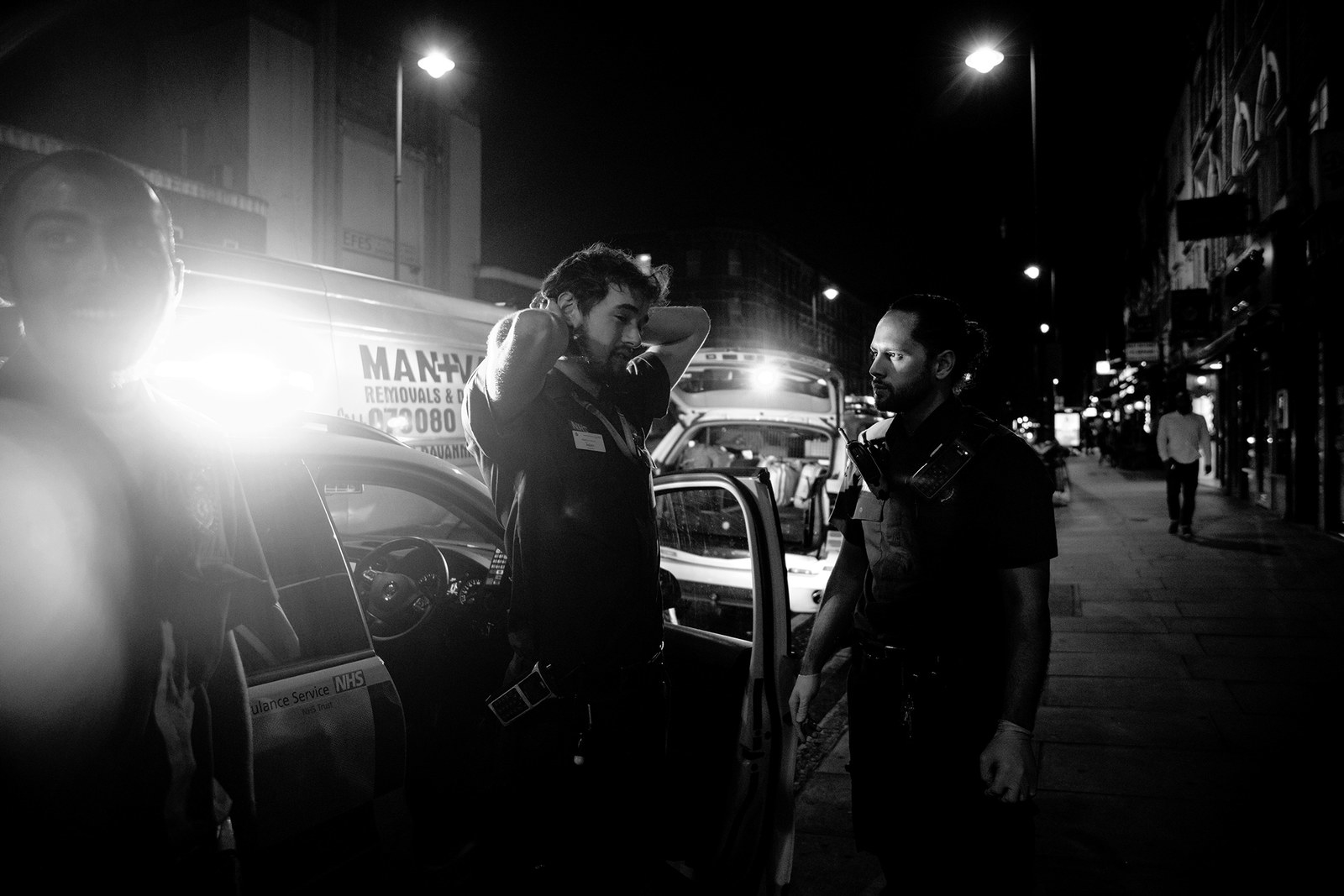 The night before we meet, Carlson was called to help a drunk woman on the bottom deck of a London bus who was covered in vomit and sat in her own urine. The driver hadn't even noticed.
"Don't get me wrong, I've had mad nights, I've been pretty bad. But I've never been that bad," he says. Carlson moved with his wife four years ago from Wellington, New Zealand, which he says has a similar drunkenness problem thanks to its lively nightlife.
This August the LAS launched its first summer drinking campaign, #NotAnAmbulance, urging people to think twice before getting so drunk they can't walk, to plan a route a home, and – crucially – to look after any friends on a night out who may have enthusiastically ignored this advice.
On a Friday night this month, BuzzFeed News saw the effects of booze, but also the role the ambulance service plays in responding to people in mental health crisis, as well as experiencing just how frantic and fraught a typical night is for these first responders.

At the start of the night, we meet at LAS headquarters near Waterloo station, where a control room of 50 to 60 call handlers and dispatchers organise a service that covers up to 8 million people with military precision. Then we set off to Carlson's patch, the London borough of Hackney.

Carlson's radio beeps and bleeps apparently at random, interspersed with police dispatchers keeping officers informed of the latest 999 calls from the public; JRU responders listen in to the Met's radio and the police request their attendance. Carlson explains that in the event of a terror attack, we may not be able to tag along, which seems reasonable.
One study on the effectiveness of the unit showed that it reduced the need for patients to go to hospital and cut the average time police spent waiting around at a crime scene – for example, for an ambulance to turn up – from 36 minutes to seven. Over the course of a weekend the JRU can save up to 12 hours of police officer time, the report said.
Suddenly, just after we've sampled what Carlson says is the best Kiwi coffee in town, the radio bursts into life and there's a report of a large fight on Mare Street, but the LAS is not required. Then another report: A man with mental health problems has absconded from hospital with a cannula still in his arm; police are in pursuit, the LAS is not required.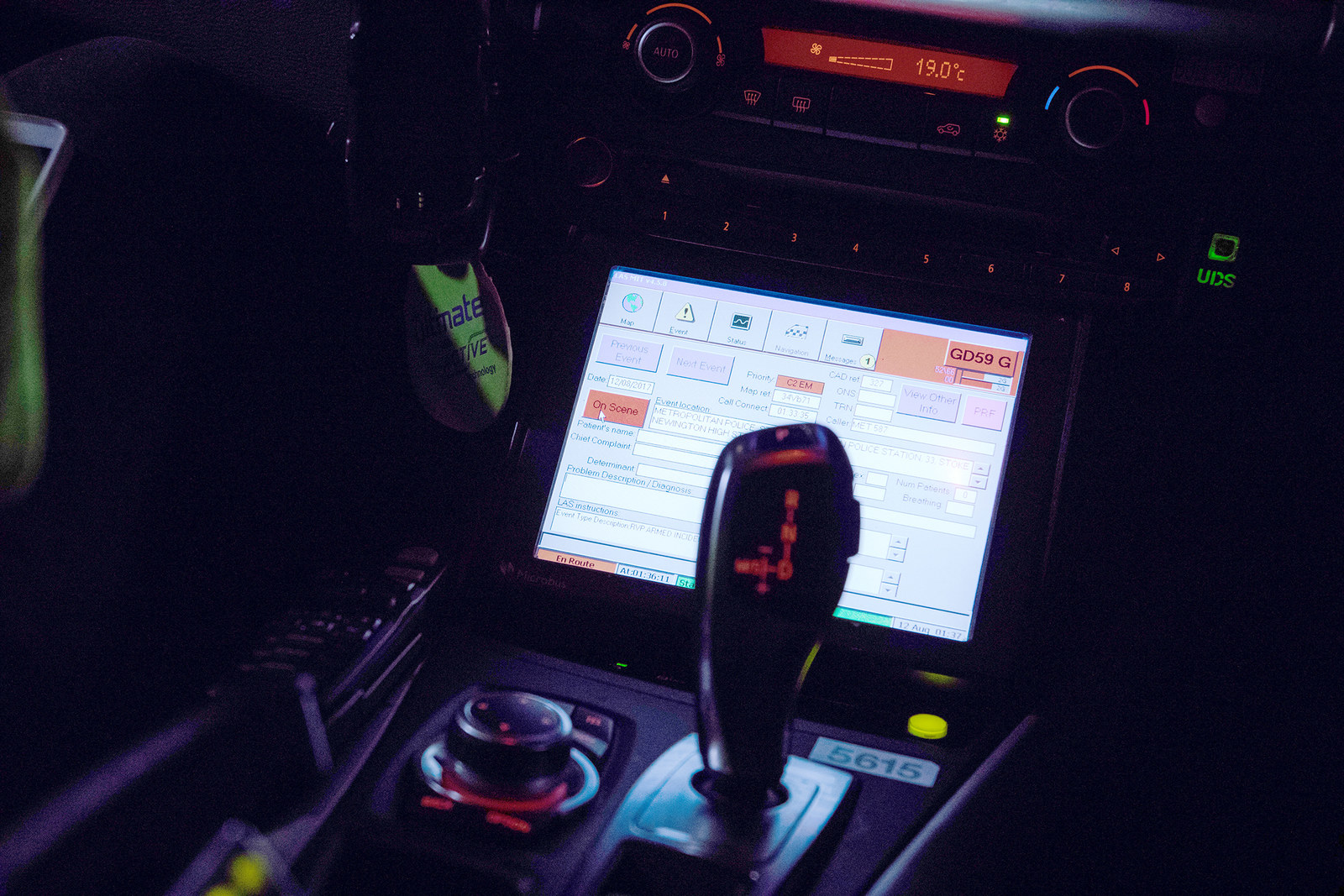 In a 10-minute period we hear of four reports of assaults and robberies carried out by moped riders, currently one of the scourges of law enforcement in the capital. Soon after, Carlson radios through to tell the police he's seen a black moped with no number plates riding north on Kingsland Road. Minutes later we hear a report of an elderly woman being assaulted by the rider of a black moped on Kingsland Road. The vehicle is later found abandoned; the helmeted riders remain at large.
Police are reluctant to pursue moped riders, who are blamed for a recent spate of crime in the city, for fear that they will face reprisals should the riders be injured.
And moped crime is linked to the recent rise in acid attacks. Carlson, who's helped several acid attack victims, says everyone in the profession paused for thought after a paramedic was flagged down by a group of people apparently in need of help in Tottenham, north London, at 1:30am on 18 July and sprayed in the face with an unknown substance. It was not thought to have been acid, but the female paramedic still required hospital treatment. Exactly like Carlson, she was working alone late at night.
Our first real call of the evening comes at 9:29pm. A teenage boy has been beaten with a baseball bat near Stamford Hill. We race there, across a distance of more than 3 miles, in less than five minutes. Carlson drives with confidence that the cars in front will hear or see him and get out of the way. They always do.
We arrive to find a 14-year-old boy who has been set upon in a nearby park by as many as 10 attackers. He was punched to the ground, was kicked while on the floor, and had his wallet and phone stolen. The imprint of an attacker's trainer sole is clearly visible on his forehead. He is shaken and is slurring his words. He rates the pain as 6 out of 10. Carlson gives him some painkillers and ambulance is called to take him to hospital.
Then follows 15 minutes of paperwork – two sheets must be filled in on the details of the incident, before they are placed in an envelope, which itself must be filled in – and there is a rare period of calm and a chance to ask about the pressures of the job.
Carlson says it does get quiet like this sometimes, but he's not complaining. "And at any point you can go from someone who's had too much to drink to something like London Bridge."
He was one of very first responders on the scene just after 10pm on 3 June – three minutes after the first 999 call – when three terrorists killed eight people and injured 48 with long knives around Borough Market. He was treating people while the attack was in progress after responding to what he thought was a normal call.
"That started as an RTA [road traffic accident]. I just thought it was a routine thing but then you get there and think, This doesn't look like an RTA!
"I was there when the shots were being fired. I didn't know if it was them or us. I was just around the corner from it."
After six years in the profession, Carlson has trained himself to sleep after his 12-hour night shifts. It took a couple of years and the use of blackout blinds. He says he slept for 45 minutes that night.
Part of the appeal of the job is not knowing what might be around the corner. Carlson has delivered seven babies in his career so far, the most recent the week before we meet. "The human body just knows what to do," he says. None of the women nor their babies needed hospital treatment.
There are currently 12 JRU paramedics in London, each attached to a single borough.
Despite its past reputation as run-down and crime-ridden, Carlson's allocated area, Hackney, has reinvented itself through urban renewal to become one of London's liveliest boroughs. Kingsland Road, the stretch running north to south from Dalston to Shoreditch, is now littered with bars, pubs, and clubs, as well as restaurants founded by Turkish and Vietnamese immigrants long before gentrification took hold, now enjoying a new lease of life.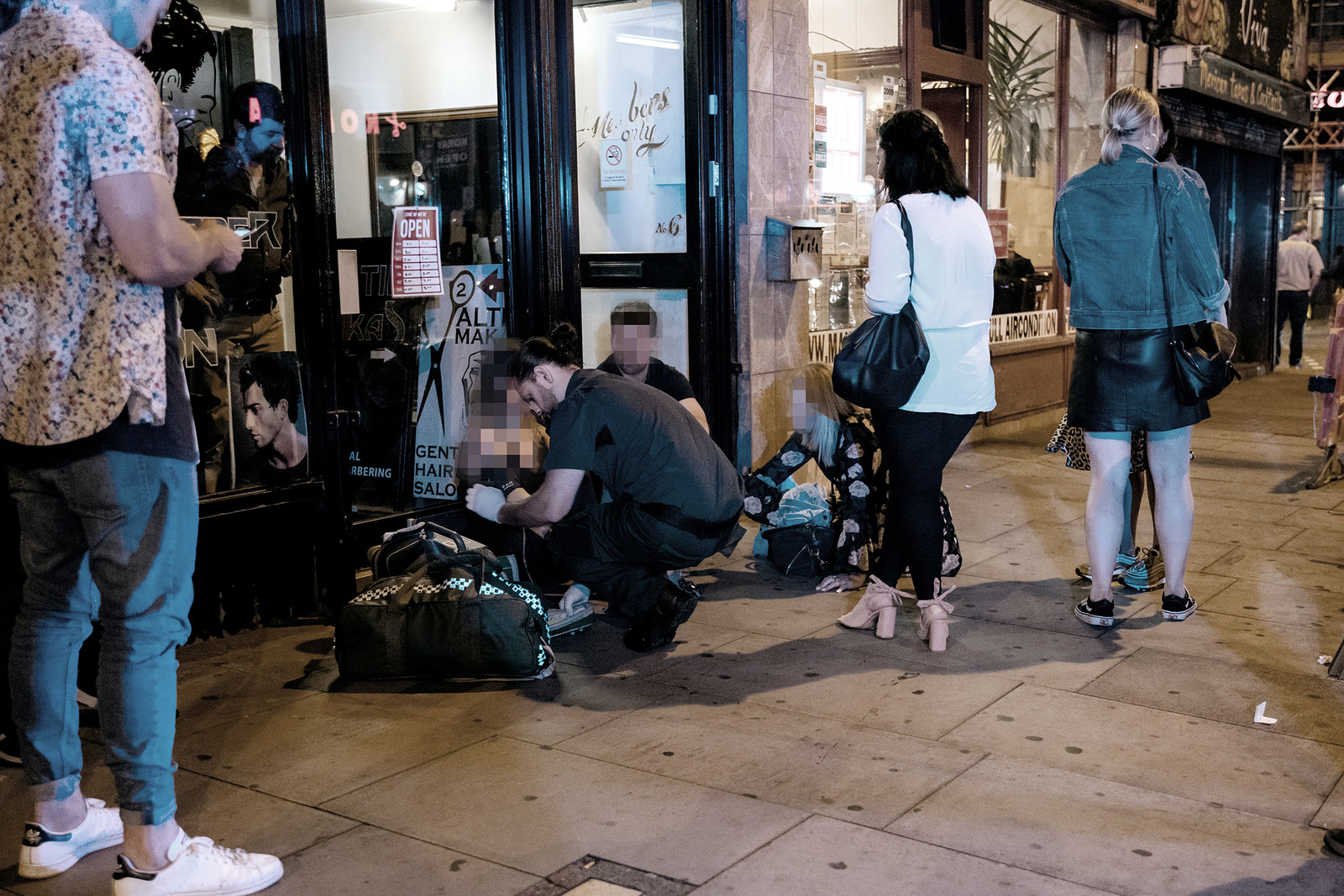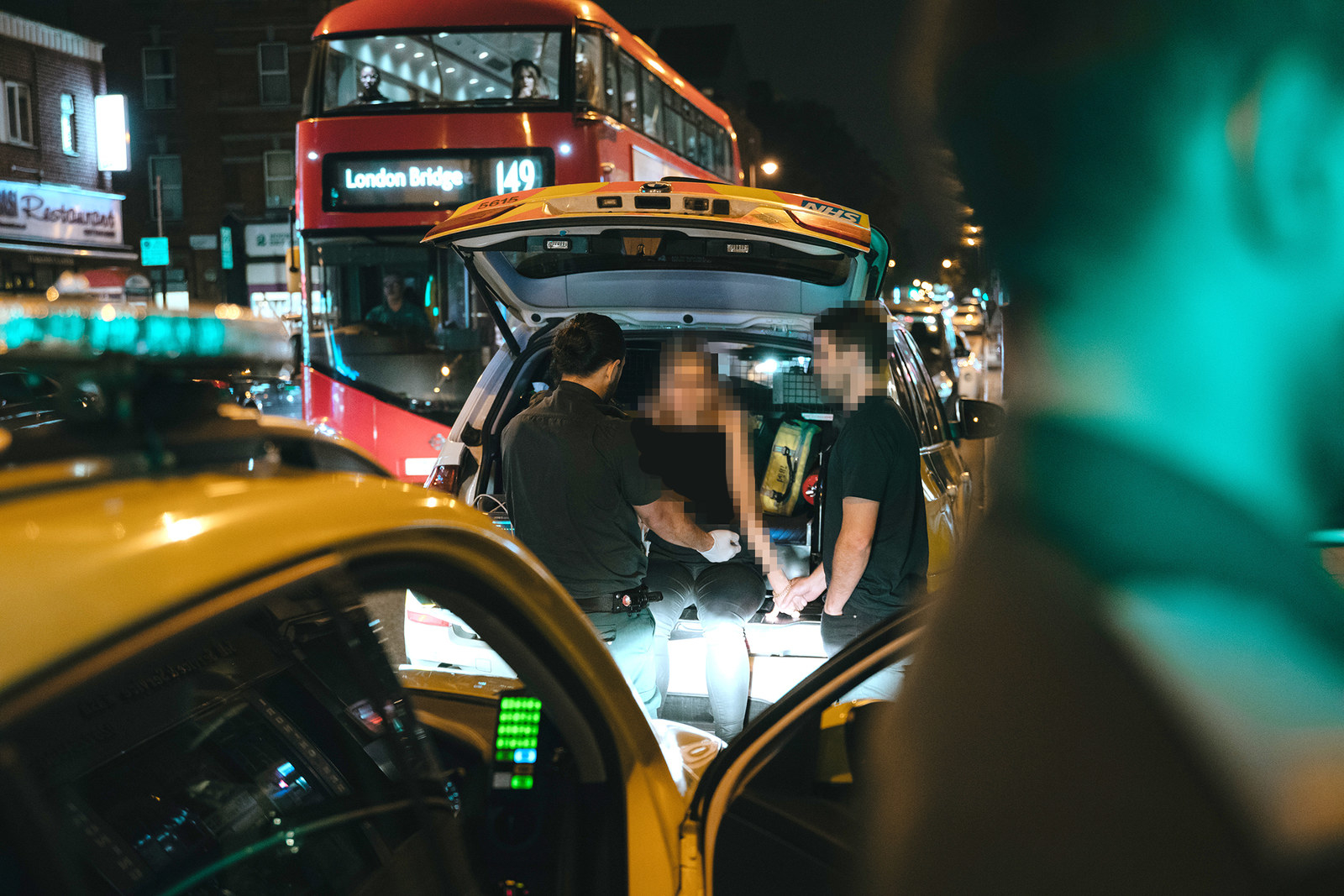 The LAS says Hackney is the fourth-worst borough when it comes to alcohol-related incidents, with 3,272 during 2016 – almost nine a day on average. (Tourist-heavy Westminster comes out on top with 4,830 incidents, more than 13 a day.)
At 10:20pm we're called to Kingsland Road, now teeming with people. A 27-year-old woman is suffering from chest pains and screaming, a caller says.
We find the patient lying on the ground outside a restaurant. She's no longer screaming but looks dazed and is starting to sit up. Carlson asks her a series of questions, including how much she's had to drink and whether she's taken any drugs.
Her friends, relieved that the emergency appears to be over, are now laughing and even taking selfies and pictures of her being treated. "She was really screaming a minute ago. Honestly, you should have seen it. It was scary," a friend says. "She's only had half a bottle of wine."
She's able to walk into an ambulance for further tests. This kind of thing, Carlson says, is normally drug-related, but in this case we just don't know.
At least this time the woman's friends stuck around to help. The problem the LAS faces is not just people getting drunk, it's drunk people being abandoned.
"People's mates leave them," Carlson says. "You turn up and help and ask whether one of them can take them to hospital and they say 'Isn't that your job?' Or even worse, they wait until the ambulance gets there and then they scarper."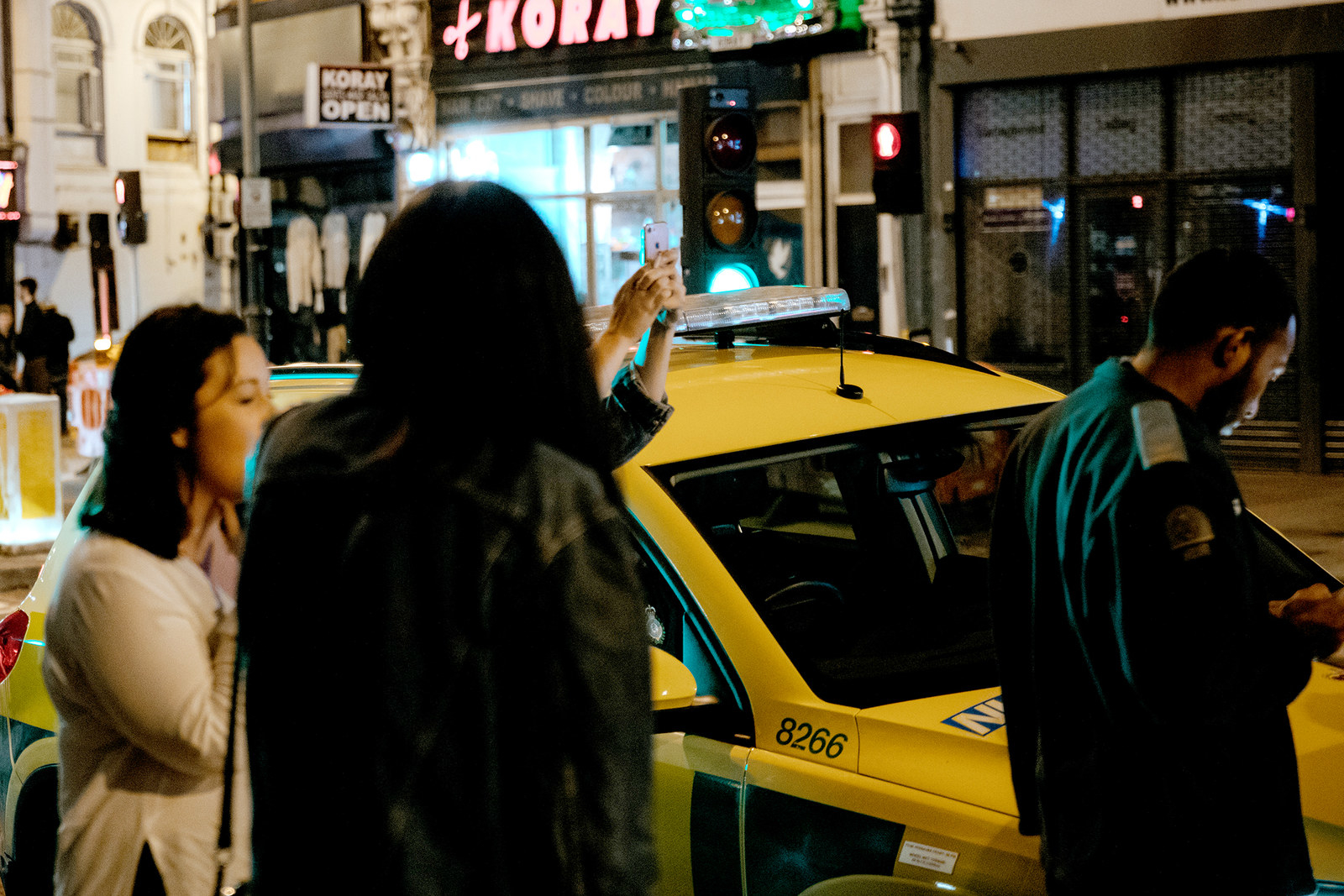 If drink and drugs are the biggest concerns the ambulance service has right now, they must be followed very closely by mental health.
At 11:15pm we're called to a quiet residential street in Stoke Newington after a report of a fight in a flat. Someone may have threatened someone with a knife. The police have dealt with that, but now the 55-year-old man who lives in the flat, on the first floor of an old Georgian townhouse, wants to jump off a bridge.
"I think I want to go to hospital… I am in the process of being evicted. I am in shit up to my neck. I was thinking of going through with it and jumping off a bridge," he says.
Carlson asks him a series of questions about his health – he admits he took crack cocaine earlier that day – and he reveals he suffers from paranoid schizophrenia.
After a long discussion it's decided that the patient will be driven by the police to Homerton hospital for assessment.
However, that's not the end of Carlson's job: We have to follow the police car to the hospital because of what he calls "red tape". According to the rules a paramedic has to come with the police and be there when the patient arrives at hospital.
"Hospital is not the best place for these people, but where else do you go? It's hard to get admitted after hours to a mental health unit," Carlson says.
According to figures from Luciana Berger, the Labour MP for Liverpool Wavertree and former shadow mental health minister, in 2016–17 ambulances across the UK helped 172,799 patients in mental health crisis – 30,000 more than in 2014–15. The LAS dealt with nearly 30% of these calls.
Also, the number of paramedic hours spent dealing with these cases reached 55,000 last year, a 32% increase, while the time spent on this in London rose by 45%.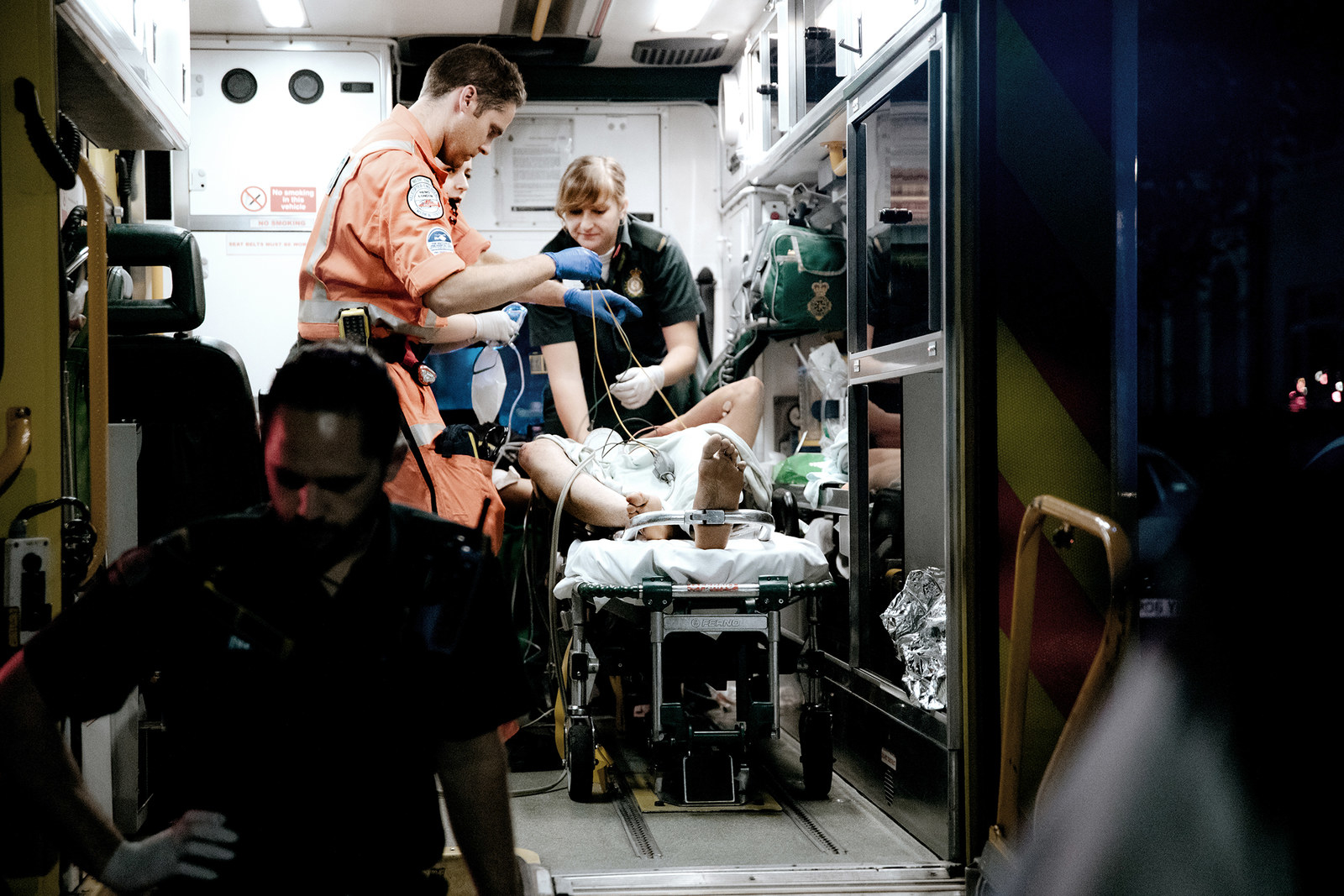 While we wait at the hospital, at two minutes past midnight we hear over the police radio that a man has been hit by a lorry. It's another urgent incident that we can't attend. We learn some time later that the victim has died – one of two road traffic accident deaths during the night.
After BuzzFeed News leaves, Carlson goes on to deal with a young man who appears to have taken a drug (perhaps crystal meth) and has been found in Finsbury Park wearing no trousers, a car crash off Hackney Road, and a stabbing in Stoke Newington, the result of a nasty fight.
The pressure on ambulance services around the country continues to grow. According to the National Audit Office, between 2009–10 and 2015–16 the number of calls per year increased from 7.9 million to 10.7 million. Only one of the UK's 13 services met its target response time of eight minutes in the 16 months to November, and cuts and staff shortages have been blamed for the crisis. An ageing population plays a role in this, as does varying availability of primary care service.
But the strain that alcohol-related incidents put on these services is huge – and some think the official stats underestimate this.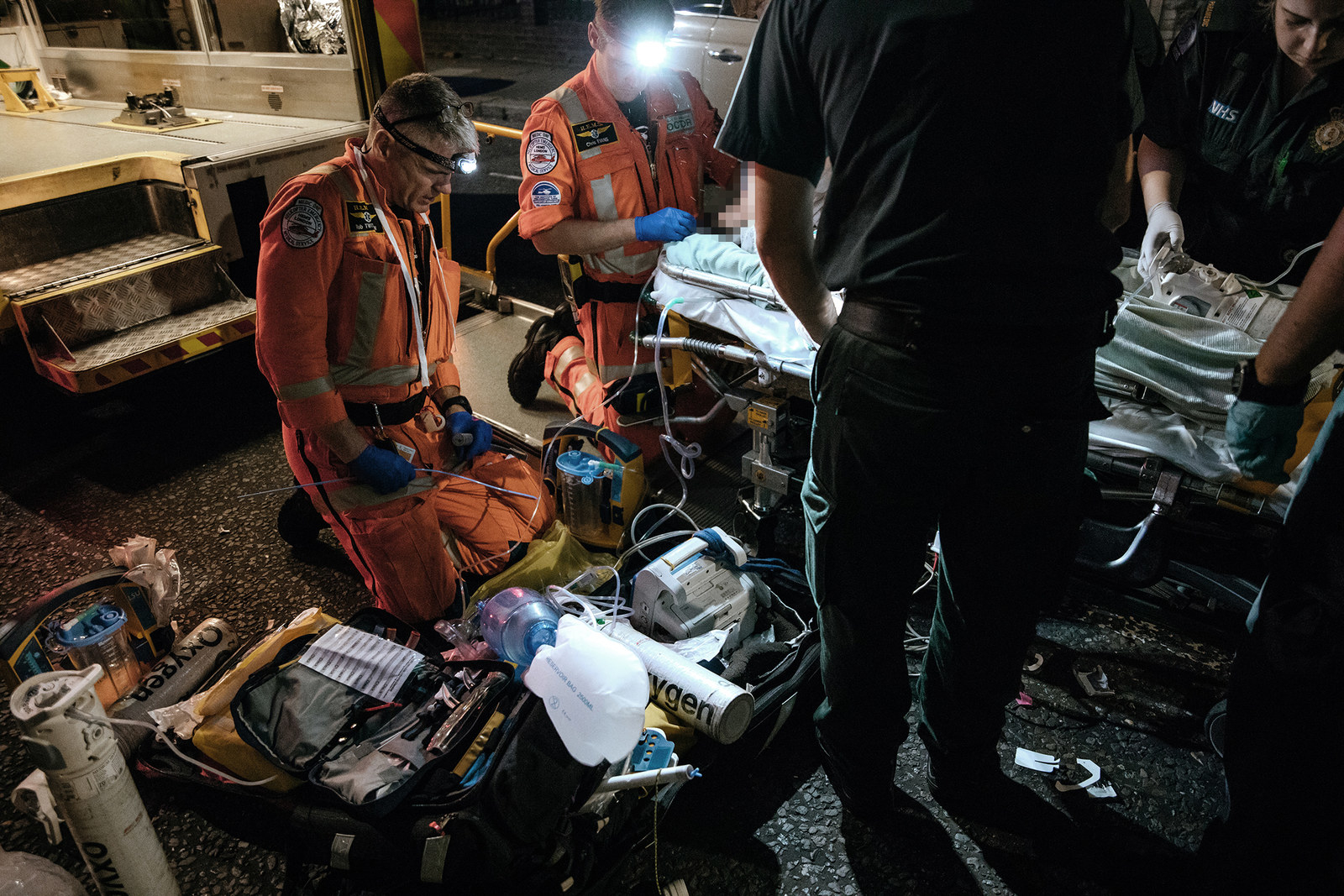 It's been reported that 6% of LAS callouts are related to alcohol, but some London paramedics say this is laughably low. One anonymous respondent to a 2015 survey said:
"Alcohol plays a far bigger part in our workload than what is reported. This is because it requires the clinician to use the code '62' on the paperwork. A classic drunk person who falls over and has a head injury will however be recorded by many clinicians as '03' (fall) and '75' (minor head injury) but they wont [sic] necessarily add '62' (alcohol-related) to the form.
"This is why the absurdly low figure of 6% of calls are alcohol-related, when in fact it's more like 60% across the trust and 80% in the West End/central areas."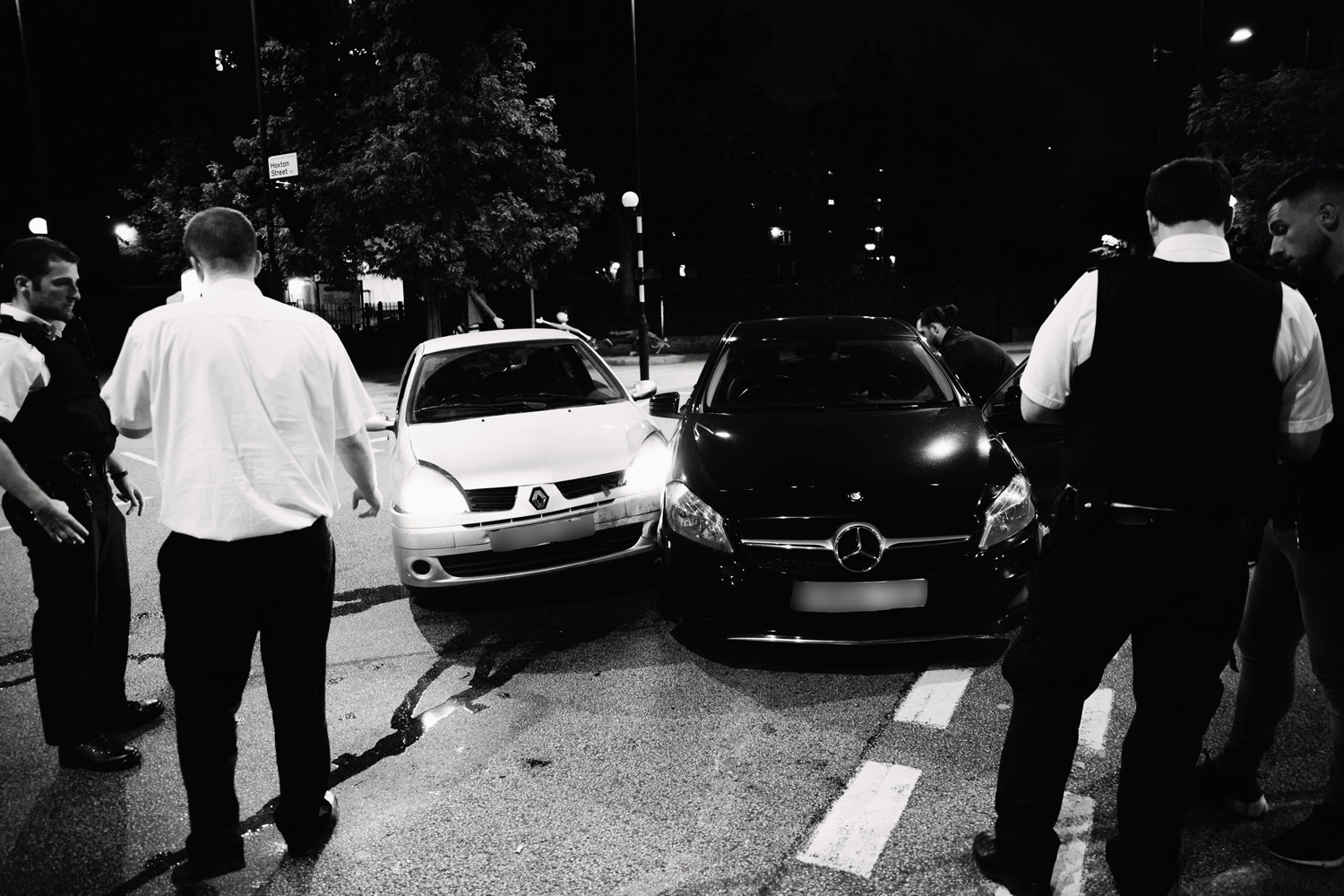 So, by drinking less, grabbing a bite to eat before heading out to get sloshed, and looking after each other on a night out, people could potentially be saving lives.
Wrigley from the LAS says: "Drinking too much puts people in a vulnerable situation. If you cannot look after yourself you risk injury by falling or being less aware of traffic and other hazards. You also risk losing your phone and keys, leaving you stranded on the streets.
"Many people who have drunk too much end up in arguments and tussles with others – something which, when sober, they would never be involved in. We're asking people to drink responsibly and if their friends do drink too much and need help, look after them so they don't end up alone, vulnerable, and in need of an ambulance."