You may remember that Donald Trump said on Monday that police in London "fear for their lives" in areas that have been "radicalised" by Islamic extremism.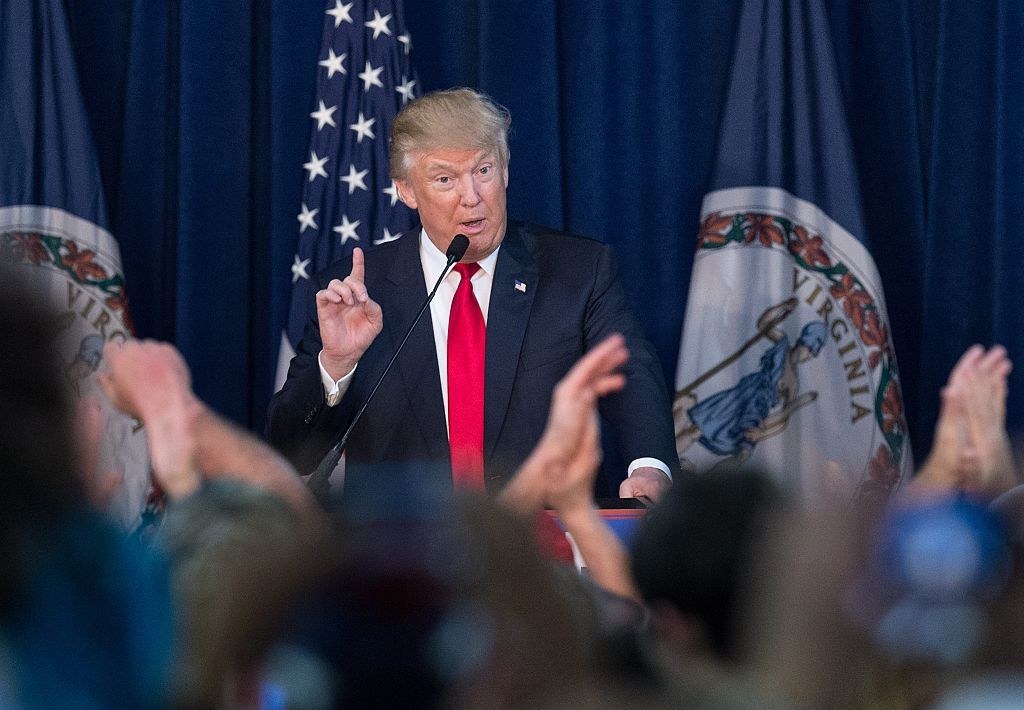 London's mayor, Boris Johnson, said this was utter nonsense, a petition calling for Trump to banned from the UK reached 100,000 signatures, and a lot of Brits simply took the piss out of him.
Nevertheless, some people took Trump's point seriously, including this chap on the /r/PoliticalVideo subreddit, who posted a long list of links to news articles to support the claim.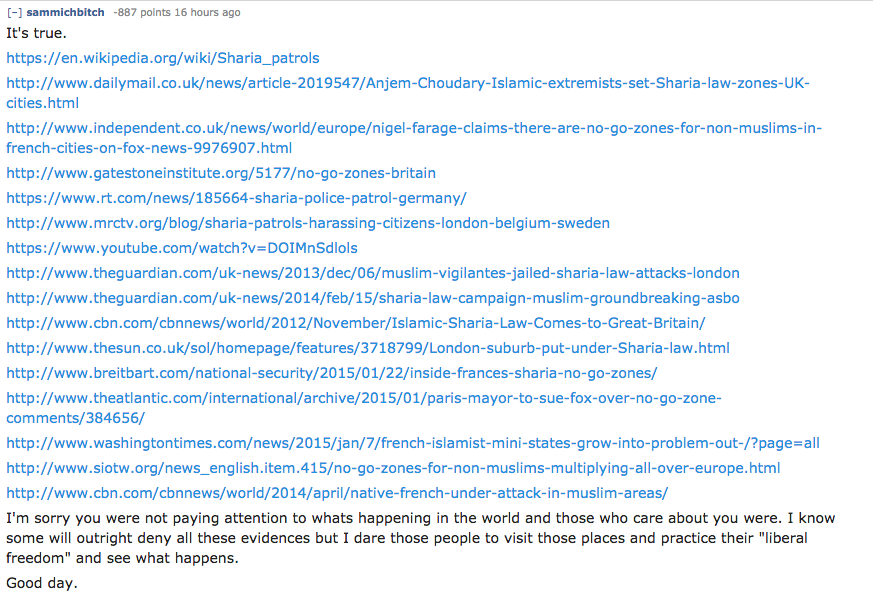 "Sammichbitch" wrote: "I know some will outright deny all these evidences but I dare those people to visit those places and practice their 'liberal freedom' and see what happens."
But then "North_London_Gunner" – better known as 18-year-old political blogger Sam Glover – replied:
No it isn't you absolute moron. I live in London and I can tell you there is absolutely nowhere that the police will not go.
The stakes then got higher when Sammichbitch dared Glover to go out in Woolwich, in southeast London, holding a bottle of wine and see what would happen.
I dare you to go to Woolwich, Birmingham, Bradford and Dewsbury holding a bottle of wine and see how quickly your ignorant and protected bubble will burst. You don't have to drink the wine, just hold it when you go to those place. I dare you.
Woolwich, a diverse and multicultural inner-city area, is where soldier Lee Rigby was killed by two men inspired by Islamic terrorism in 2013. This didn't bother Glover – challenge: accepted.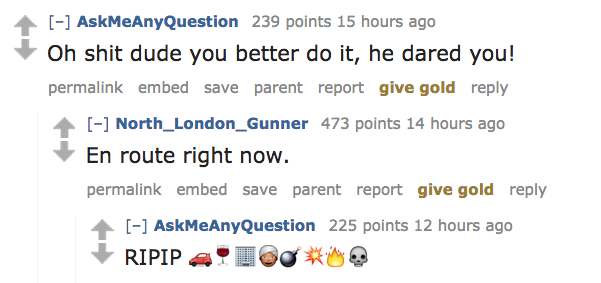 In the video, he wanders around the centre of Woolwich, not encountering anyone or anything of note.
In the video, he says:
"Alright mate, so here I am in Woolwich Market with a bottle of wine...
"So you claim I should get attacked any minute by a bunch of jihadists, presumably, but fortunately they're nowhere to be seen.
"I'm going to walk around Woolwich for a bit and prove to you there are not sharia police, sharia patrols, and there's not anyone here in Woolwich who plans to attack or murder me for drinking a bottle of wine.
"You told me not to drink it but I think I will."
Glover told BuzzFeed News he had become frustrated and bored by the myths about religious extremism in the UK.
"Reading back on my comments it does sound as though I was quite annoyed/angry, but really what I was feeling could better be described as exasperation and boredom with the same old myths being propagated by the same people," he said.
"I'm not sure if you remember when that Fox News analyst had to apologise when he said that Birmingham was full of sharia patrols, but I kind of assumed that that kind of killed the whole issue, so it was disappointing to see that cities in the UK are still wrongly being used as a justification for anti-Muslim policies."