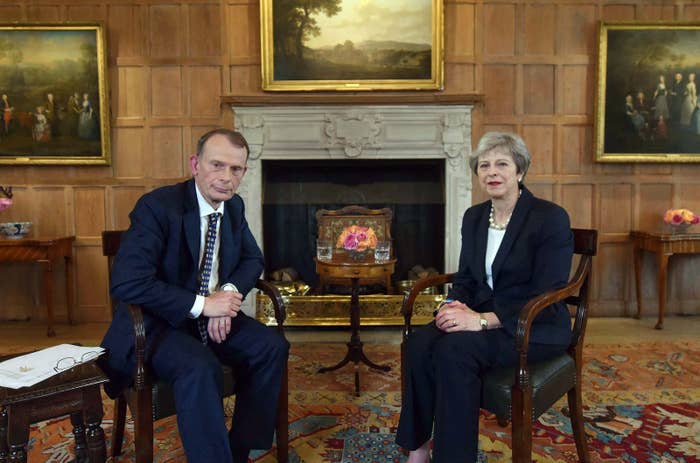 The NHS in England will receive an extra £20 billion in funding over the next five years as part of a "present" to mark 70 years since its formation, partly funded by a so-called Brexit dividend the UK would receive after it leaves the European Union.
But economists, former government advisers, and opposition MPs were quick to argue that the supposed dividend from Brexit is a false promise and that any significant increases to public spending will have to come from so-far unspecified tax rises.
Speaking on The Andrew Marr Show on Sunday, Prime Minister Theresa May hinted that taxation was an option.
"As a country, we will be contributing more, a bit more, but also we will have that sum of money that is available from the European Union," she said.
A Downing Street spokesperson said: "[In] addition to the Brexit dividend we will have to contribute a bit more as a country – but we want to do that in a fair and balanced way and will seek views on how best to do it. That will be set out in future budgets."

May referred to the controversial claim made by Vote Leave campaigners during the Brexit referendum campaign, which claimed that the NHS would receive an extra £350 million a week post-Brexit – but while that figure has been repeatedly questioned, she claimed that by 2023-24 there would be about £600 million extra for the health service.
Paul Johnson, director of the Institute for Fiscal Studies and a former government economist, tweeted, "There is no Brexit dividend."
Tory MP Sarah Wollaston, current chair of the health and social care House of Commons select committee and former GP, said that the dividend was "rubbish".
Labour's shadow chancellor John McDonnell said that the announcement wasn't just a "magic money tree" – meaning an uncosted but expensive policy – but a "magic money forest."
In Sunday's interview, May also said that the real-terms annual funding increase for the NHS would be 3.4%, which is higher than over the course of the coalition and Conservative governments but significantly less than under the last Labour government.
The Office for Budget Responsibility has said that the NHS needs funding increases of 5.3% for the next 50 years – equivalent to about £110 billion – just to meet rising demand for services as the population ages.

The government has, as Paul Johnson and others have pointed out, accepted the OBR's forecast that Brexit will result in UK public finances being weakened by around £15 billion a year.