The Very Strange And Very English Reburial Of Richard III
Even 500 years after his death, the king's supporters still kept the faith – and now they have had their vindication. BuzzFeed News talked to the Richard III super-fans on their day of jubilee.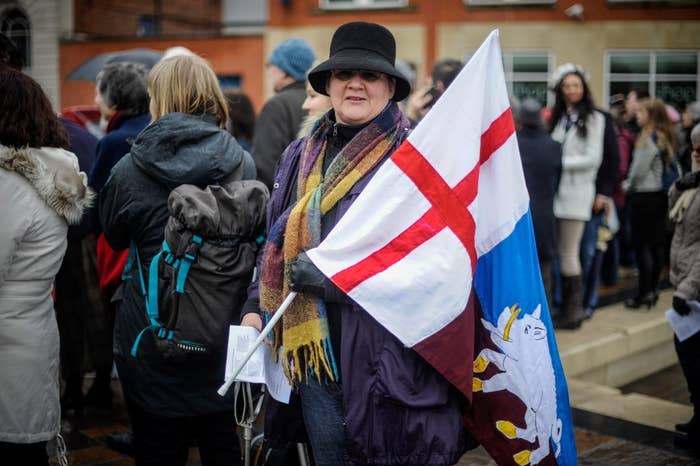 As with most funerals, there were tears. But here they weren't of sadness, but disbelief.
This was something the supporters of Richard III thought they would never see: the villain of the Elizabethan era, fictionalised as a cruel madman, laid to rest in a ceremony fit for a king.
For Ricardians, as they like to be known, the king's burial in Leicester Cathedral on Thursday was the culmination of a 90-year campaign to rehabilitate the reputation of the last Plantagenet king, who was bludgeoned to death in battle at Bosworth Field in 1485.
For them, today was a very big deal.
The Richard III Society was formed in 1924, "in the belief that many features of the traditional accounts of the character and career of Richard III are neither supported by sufficient evidence nor reasonably tenable".
It was the society's campaigning and pestering that eventually led to the digging up of a car park in Leicester and the discovery of a skeleton that, after DNA testing, turned out to be that of Richard III – much to the astonishment and disbelief of almost everyone.
"I never thought I'd see him being laid to rest," said Alison Fisher, 52, from Leicester, who had brought her Ricardian flag. "When I heard they'd found a body, I thought, It's got to be him, it has to be him. I was at home when they made the announcement [that it was Richard] and I started crying. I was very emotional."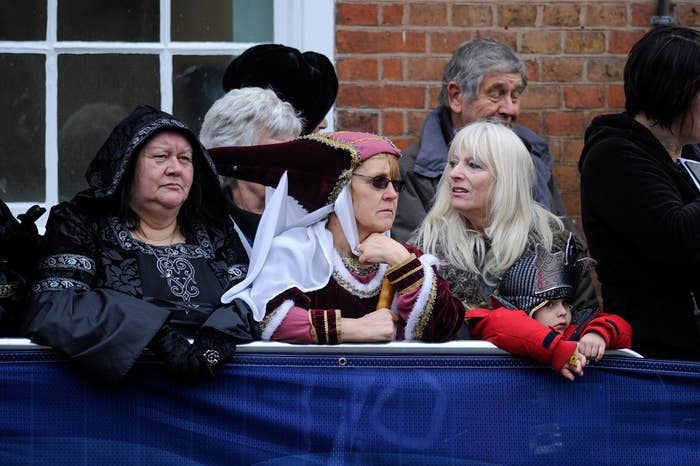 Maria Griffin, originally from Cardiff but now based in Wiltshire, told BuzzFeed News she's been a Ricardian for 50 years – and she has no time for talk of Richard's evil deeds, or the question of the "princes in the tower" (his two murdered nephews, Edward and Richard, who were next in line to the throne).
"He was only king for two years," she said. "So I don't know where he found the time to kill all these people. I still do not think he killed the princes – there was a lot of evidence to the contrary that was lost during the Reformation."
Maria was in Leicester with her husband David, both in 15th-century dress.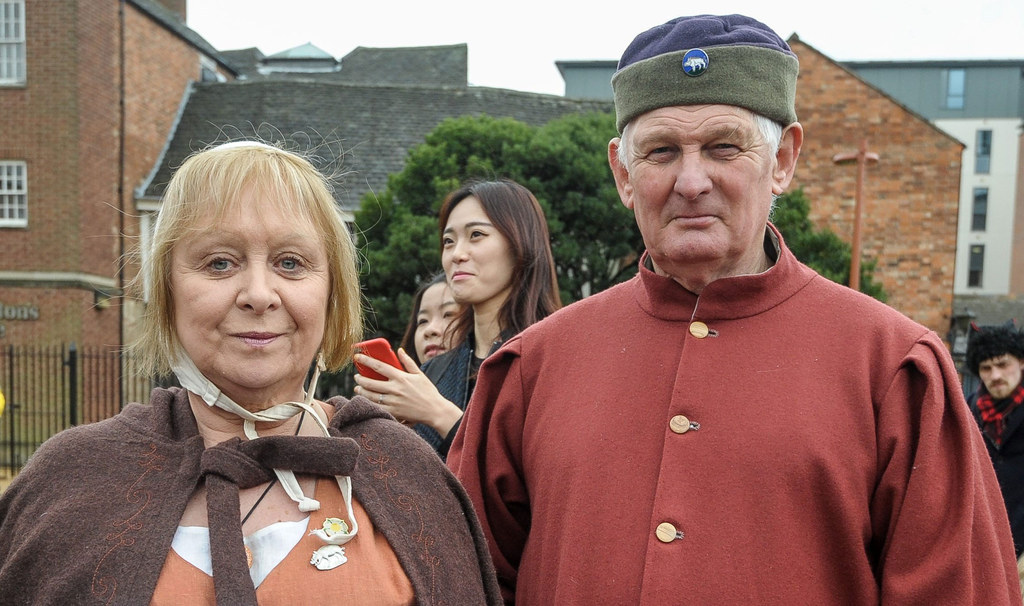 According to the Ricardians, Shakespeare has a lot to answer for.
They see the Bard as the stooge of the Tudors, who painted Richard as a villain for political reasons. But others, like Maria Griffin, are more balanced.
"I feel a bit sorry for Shakespeare," she told BuzzFeed News. "He had to be careful to keep his head, he was writing for the times. [But] he made Richard into this pantomime character."
Liz Veasey, 56, from Leicester was here with several people whom she met online via the Richard III Society, the Bosworth Battlefield Hereitage Society and Facebook. The whole week of celebrations has been like a convention for Ricardians, who are basking in the affirmation and validation of what they've been saying for 90 years: a) Richard was buried somewhere in Leicester, and b) he should be given a proper funeral.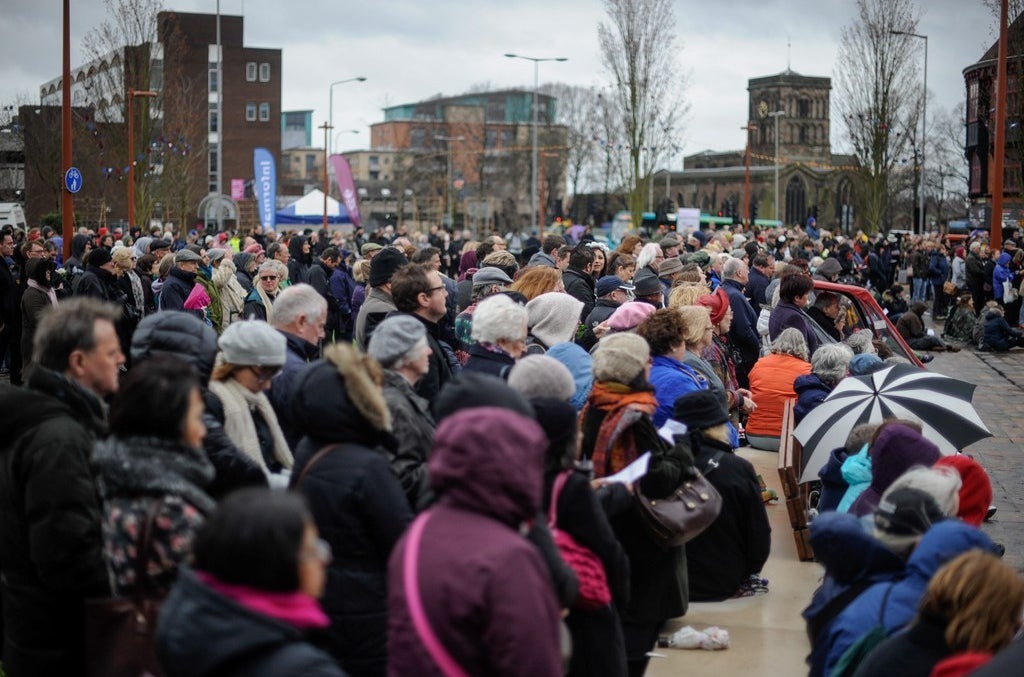 "We'll never see anything this again," said Catherine Hingson, 49, from Leicester, who explained that the day to her was about celebrating Christian heritage. "A medieval king being buried in the 21st century. I just came to be able to experience it."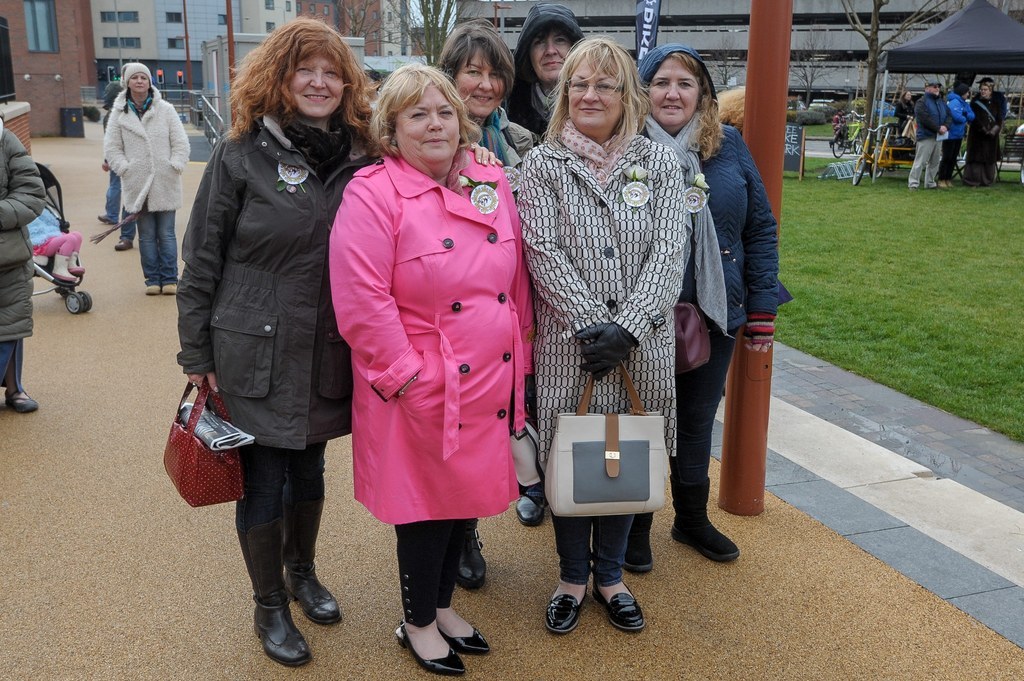 Pauline Carroll is one of the archaeologists with the University of Leicester who uncovered Richard's skeleton. Wearing a crown of white roses, the Leicester-born 34-year-old summed up why she had to be here in one word: "Historic".
"It was archaeology at its best; it don't happen like that every day," she said. "You usually spend you time on your hands and knees in mud, thinking, Tomorrow will be better.
"And once we'd actually realised that this could potentially be him, it was jaw-dropping; no one could believe it. On the second day, which was my first day, I was about a metre and a half away from his grave."
Paul Cowles, 50, dressed in a simple green coat, told BuzzFeed News he was proud of his home city and its increased international standing.
"It's an international occasion," he said. "It's great to see so many people from around the world here."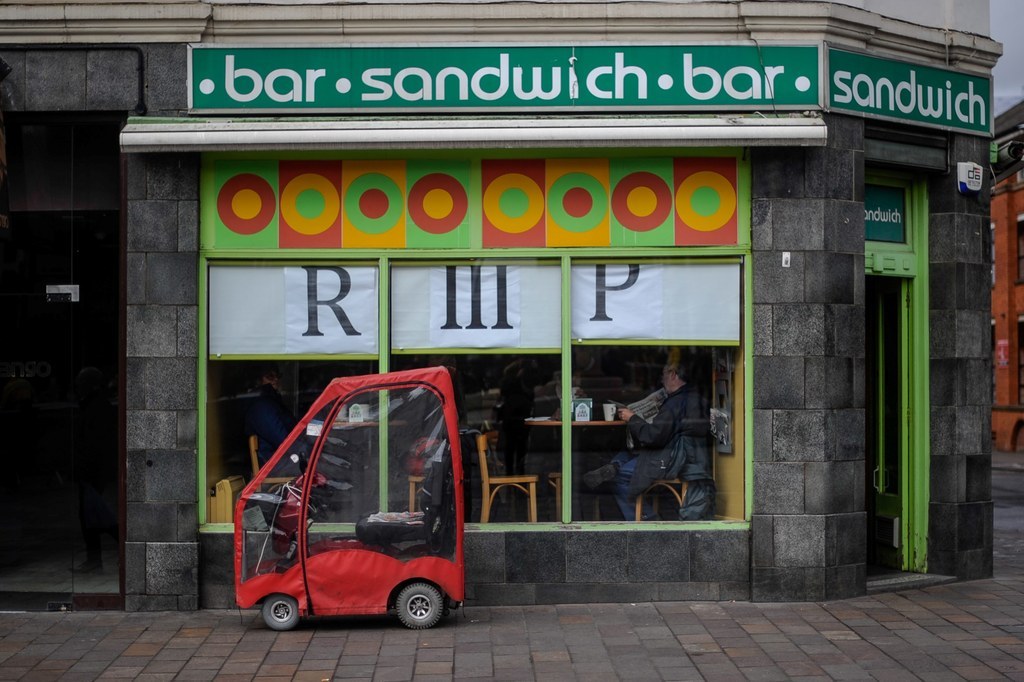 George Tindle, 53, also from Leicester, is not a die-hard Ricardian. But he was still chuffed that so many tourists seemed to be having a good time here.
He pointed out, however, that this entire week's celebrations are down to an oversight.
"Leicester is the city that loses kings," he said. "They should put that on the road signs on the way in: 'Leicester: losing kings for 500 years'. There are others here, you know, that they haven't found."
What does he make of such an international media circus descending on the city, to celebrate a man who – even by the standards of the time, and without the Shakespearean gloss of Tudor propaganda – was a power-hungry killer?
"He's responsible for the justice system, the accused being found guilty or not. A lot of countries in the world don't even have that yet," he said.
Plus, not every ruler is perfect, he argued: "Sometimes bad things have to happen to make something good happen. Genghis Khan wasn't a pleasant person, but he did a lot of good things."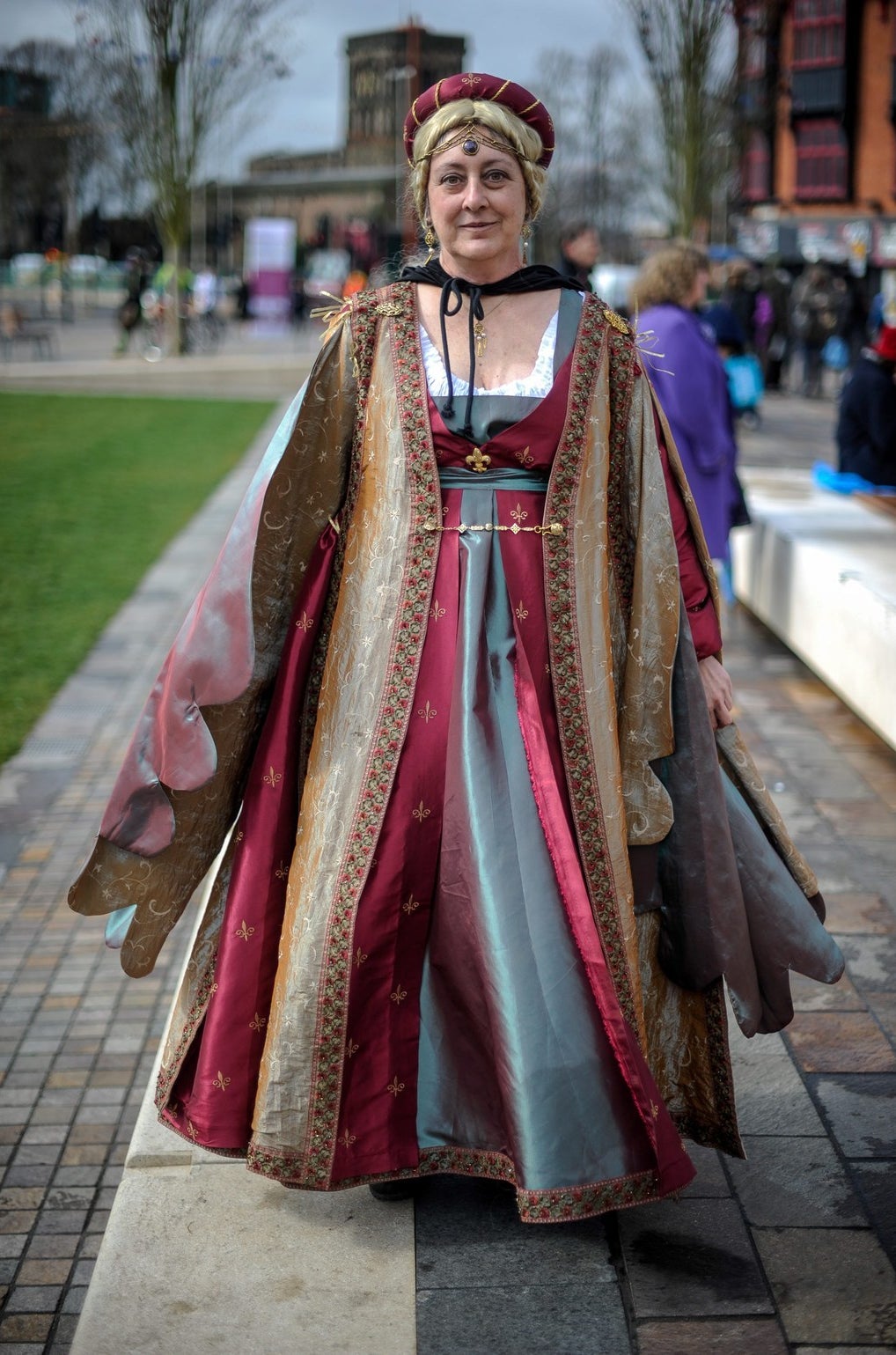 One of the best dressed visitors was a middle-aged woman who'd flown in from St Louis, Missouri, and would give her name only as Alice. She makes costumes for local events and productions back home, and was wearing a copy of a dress from a Florentine painting from 1485.
"I've lived through some amazing events in my life: the assassination of Kennedy, the moon landings, the death of John Lennon… But then this happens, they find the body, they have the DNA, and I had the money to come and here I am."
She described herself as a recently converted Ricardian, not quite at the extreme end of the spectrum. She said she believes the recent rehabilitation of Richard's reputation "will give them another 500 years of something to talk about, because there will never be an answer".
"It's like an Agatha Christie novel with the last chapter missing. We'll never know, but we can keep talking about it."
As for the ceremony itself, it was a quaintly English exercise – polite and genial yet still smothered in pomp and ceremony.
For anyone wondering how you should mourn someone who died 500 years ago: The answer, it turns out, is in a very English manner. Standing still. In the rain. For hours.
Standing outside the cathedral, in the bleak drizzle, watching proceedings on the big screen, it felt like the World Cup for Wolf Hall fans. But it wasn't just Ricardians in the crowd: The onlookers included office workers who'd popped out to see the fuss, solicitors hanging out of windows, publicans standing in doorways, and locals who'd taken the day off so they could tell their grandkids.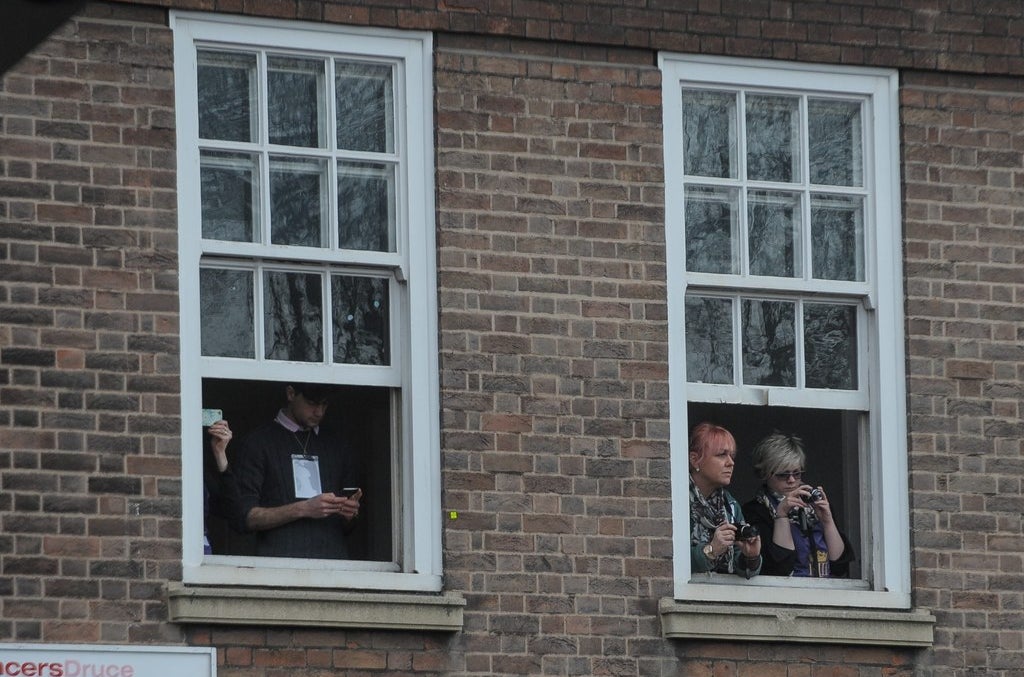 The presence of Benedict Cumberbatch gave the day an air of glamour, and produced an attendant gaggle of tourists – some of whom were Chinese – hoping to catch sight of him entering the cathedral, or reading a Carol Ann Duffy poem, on the big screen.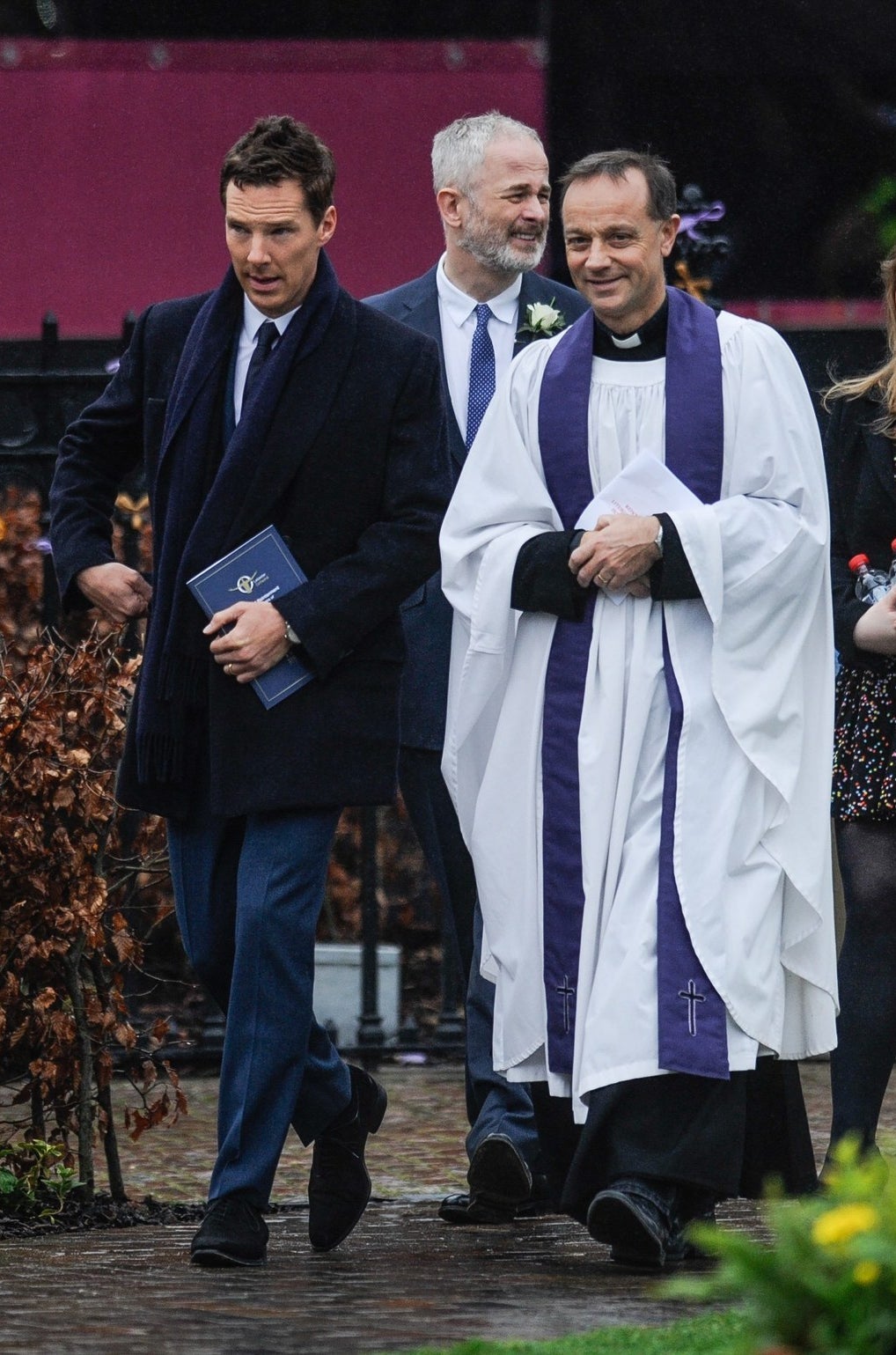 For some, the emotion was overwhelming.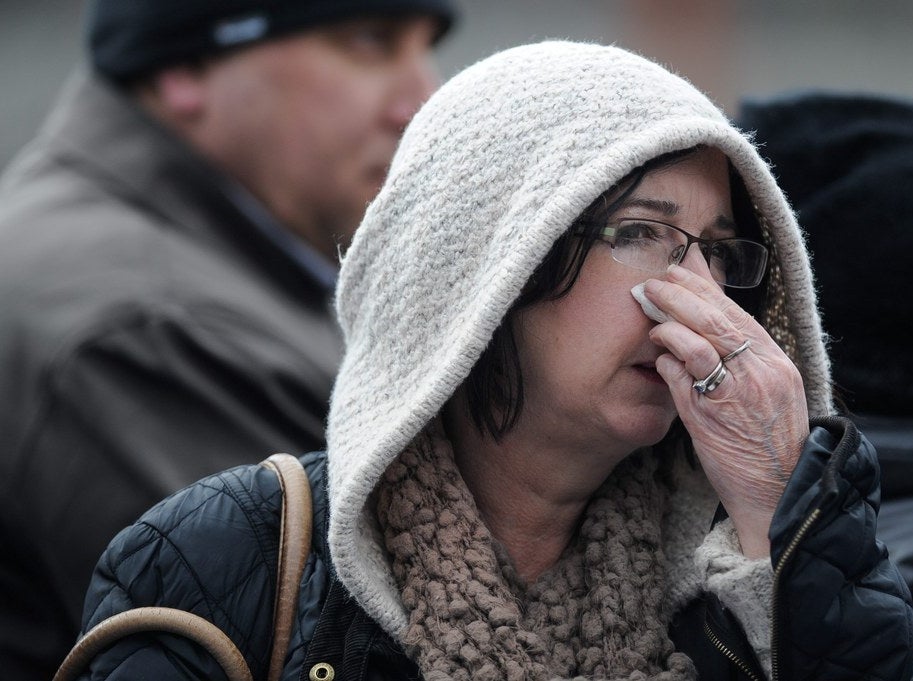 While the debate on who Richard really was will rage on for all time, as of today he is no longer the only English king since the Normans not to be given a proper burial.
And for the true believers, it was a vindication of their faith. After the ceremony, Renate, who'd flown in from Frankfurt for the week tugged on this reporter's sleeve and pointed to the brightening sky: "Did you see that? When the sun came out at just the right moment?"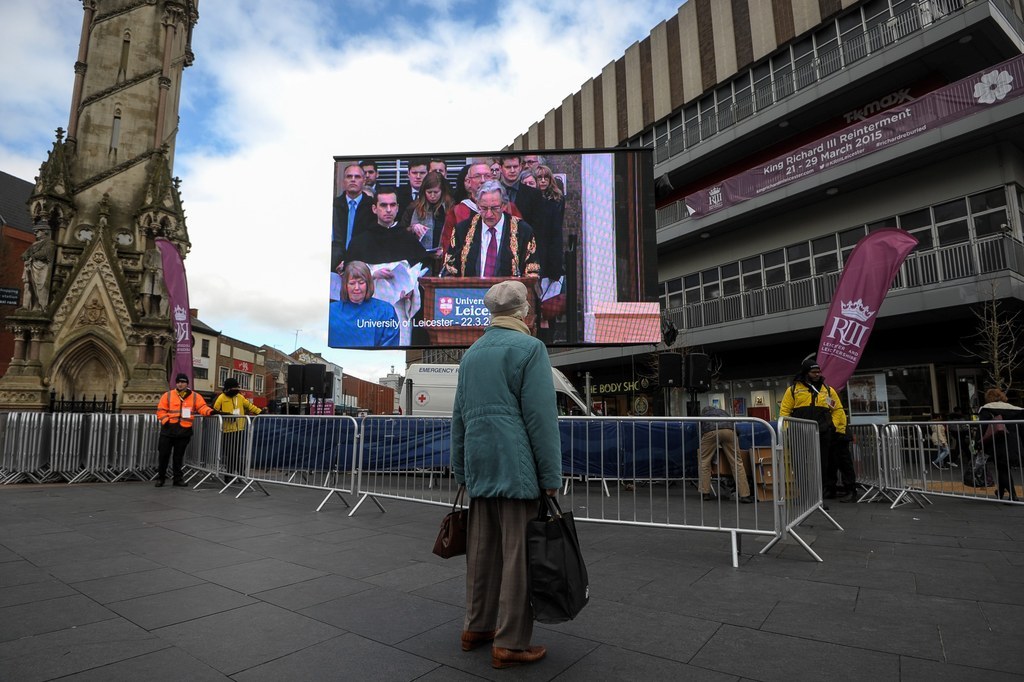 An earlier version of this post wrongly attributed quotes from Alison Fisher to Liz Veasey.