People living in 70 private rental flats in two new-build London housing blocks are being evicted by the government to make way for people whose homes will be demolished as part of the High Speed 2 (HS2) rail project.
Stanhope and Winchester Apartments on Stanhope Street, near London's Euston station, are being evicted at the end of this month by HS2 Ltd, the government's arm's-reach company that oversees the vast £56 billion project to build a new rail link between the capital and the West Midlands, Manchester, and Leeds.
The homes will then be used to house council tenants from nearby social housing that is being demolished as part of HS2's construction.
A letter sent to private tenants in the apartments on 28 July, from law firm Eversheds Sutherland, said: "We act on behalf of the Secretary of State for Transport [Chris Grayling]. As you may be aware from discussions with our client's agent LSH, vacant possession of the Property is required as part of the High-Speed 2 scheme."
The letter adds that any tenants requiring advice should contact a solicitor or the Citizens Advice Bureau, and if they need help finding a new place to live they should contact the local council.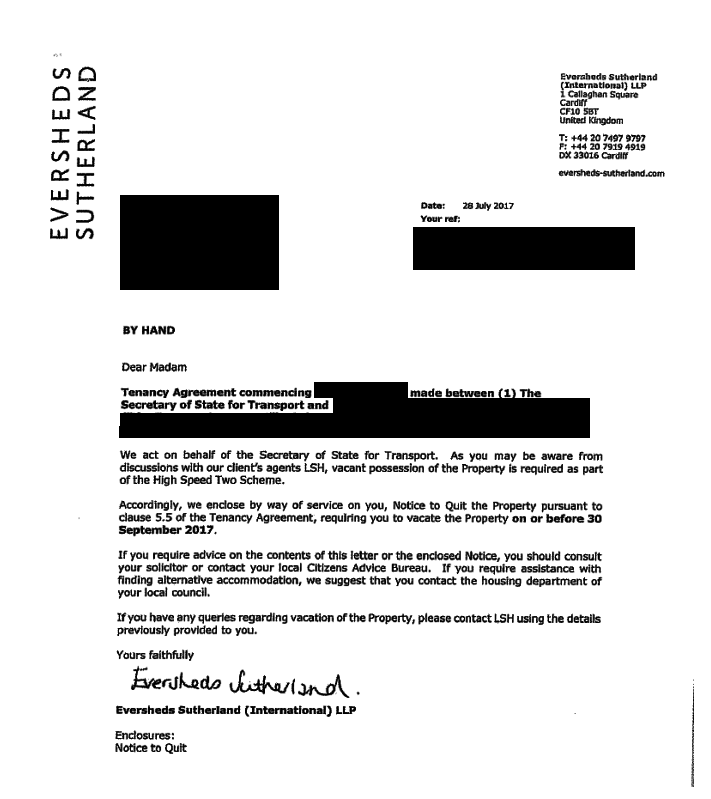 BuzzFeed News spoke to one tenant who has lived in Stanhope Apartments for two years and who reacted with disbelief when she received a letter informing her she had two months to find a new place to live.
The tenant, who asked not to be named while she was still living at the property, said: "They didn't get in touch about renewing the contract in May. I just kind of left it as I thought they're only going to charge me admin fees if I say anything, or put the rent up.
"They said even though it's because of HS2 I wouldn't be due any compensation because I'm a private tenant. I understand that, but it's a massive inconvenience. I don't understand why they didn't mention this when everyone moved in.
"I have managed to find somewhere new but it's a shame because this is such a nice location.
"It's an inconvenience for me, but is it [HS2] worth the money they are spending and the stress they are causing everyone else? They should be looking more at things like high-speed broadband."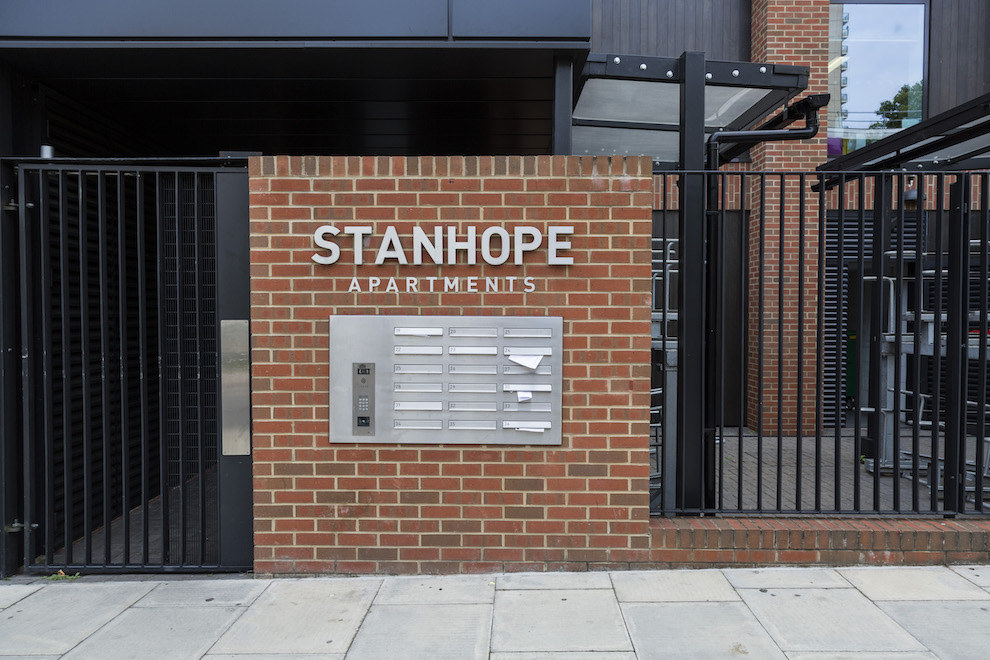 The Stanhope and Winchester blocks were built by Camden council in 2014. In 2015 the council sold them to HS2 Ltd so there would be somewhere for local people to move to once their council-owned blocks are demolished. This plan was published by the council, but the tenant BuzzFeed News spoke to said they had not been informed of any plans.

The buildings' managing agent, Lambert Smith Hampton, said in correspondence with one tenant that while there had been no "formal" communication on the matter, the company did send out regular communications, which should have made the situation clear.
LSH said to the tenant: "It is not possible to extend your date of occupation beyond the 30th September as you request. Nor I regret, are Camden in a position to assist the Secretary of State's tenants find homes on the open market."
A sales brochure from February 2015 advertising a £525-a-week two-bed flat in the development, which can still be seen on the Rightmove property website, does not mention HS2's involvement or ownership.
HS2 work will see the demolition of three social housing blocks on the Regent's Park estate – Eskdale, Ainsdale, and Silverdale. As well as using the Stanhope Street flats to house displaced residents, Camden is building 90 new homes nearby as replacements for council tenants and leaseholders.
HS2 will also see 14 properties on nearby Melton Street and Cobourg Street given compulsory purchase notices. Among these is the Bree Louise pub, a popular spot for real ale aficionados a stone's throw from Euston, which will close on 20 November before being demolished.
The new line aims to cut the rail journey time from London to Manchester roughly in half, to one hour and eight minutes. The first phase is due to open in December 2026, but MPs on the public accounts committee have said this deadline is "ambitious".

An HS2 spokesman said in a statement: "HS2 will transform Euston station, almost tripling capacity at peak hours to meet rising passenger demand and helping to create a new gateway to the capital, together with thousands of new homes and job opportunities.

"As part of the project, we are paying for new council housing to replace flats lost during construction. That included the purchase of the Stanhope and Winchester apartments three years ago to allow people to be rehomed in the local area. We are now preparing to hand over the management of the buildings and expect the first council tenants to move in next year."