From 762 feet in the air, this isn't a bad shot of comedian Michael McIntyre.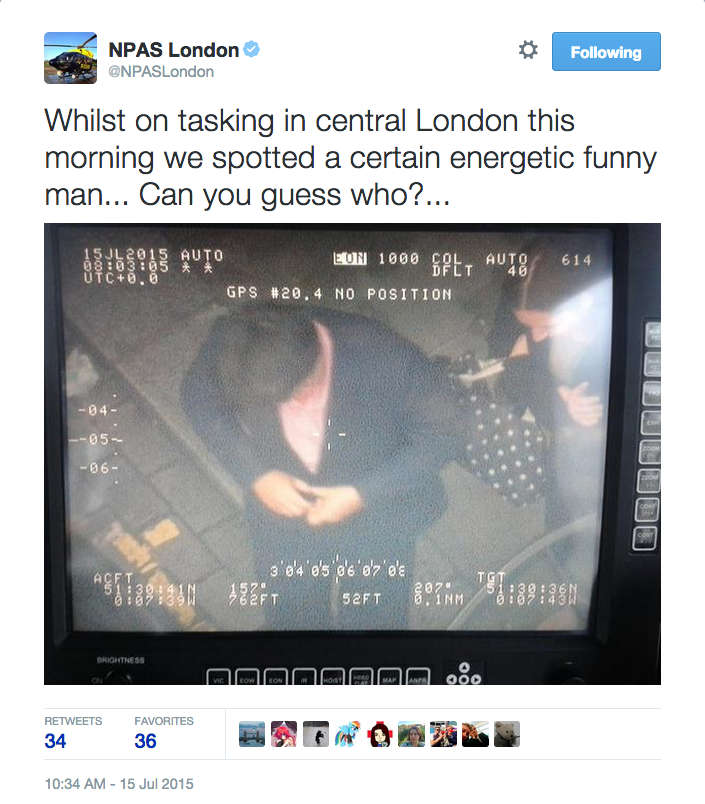 The National Police Air Service (NPAS) London tweeted the image at 10.30am on Wednesday, asking its 121,000 followers to guess who it was. The account deleted the tweet at 1.30pm.
Many on Twitter reacted with alarm that the helicopter could pick out someone on the street so clearly and that whoever runs the account thought it was a good idea to identify McIntyre, even lightheartedly.
The NPAS has helicopters across England and Wales and supports regional police forces by tracking people and vehicles form the air and observing public events.
Open Rights Group, which campaigns against unaccaountable surveillance, questioned whether the NPAS was in the spirit of the surveillance camera code of practice.
And it wasn't the only one.
Tony Porter, the independent surveillance camera commissioner, tweeted this afternoon that he wanted to speak to the Met's south London borough commander, Simon Letchford, about this.
The @NPASLondon account has gained popularity since it launched in 2012, by posting panoramic images of London and giving an insight into how helicopters support police work.
The Met said in a statement: "This tweet does not as far as we know constitute a breach of data protection legislation.
"The tweet has been deleted due to a negative response on Twitter."
The NPAS said in an emailed statement: "We are aware of the tweet and as far as we are aware it does not breach any data protection legislation. We feel however it was inappropriate and it has since been removed.
"We will be speaking to the person who posted the tweet."
BuzzFeed News has contacted McIntyre's agent for their reaction and we will update when we hear from them.
The picture is now being investigated by the Information Commissioner's Office over a possible breach of data protection laws, the Press Association reported.
"Police forces, like all other organisations, must comply with the Data Protection Act," a spokesman said.
"The police especially must ensure that they have legitimate grounds for processing personal data and disclosing images of this nature without a justifiable policing purpose could potentially breach the Data Protection Act. We will follow this up with the force concerned."