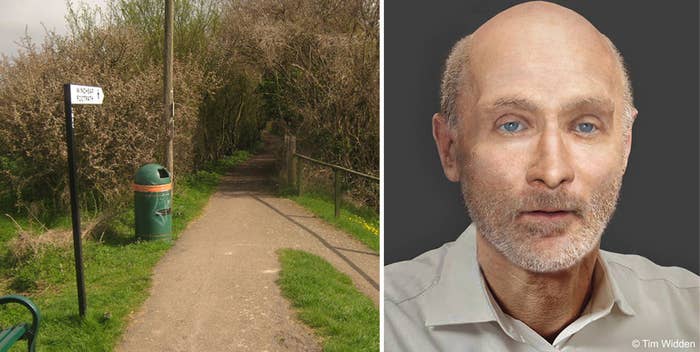 It was earlier this year that a dog walker came across what he thought was a pile of rubbish in a field outside Canterbury in Kent.
As he got closer, he realised he was staring at the body of a man, stripped to the waist, with his arms folded across his chest.
Next to him was a mobile phone, from which police could retrieve no data, a black suitcase, a wedding catalogue addressed to a woman called Mandy Martin, and an unregistered Oyster card. There was also a textbook on Christian approaches to psychology that was first published in the 1960s.
A coroner, who ruled on Monday that the man died of natural causes, said he was clearly someone who "did not want to be found".
Nine months after his body was found on 3 February, police are no closer to knowing the man's identity, despite a Europe-wide search of DNA databases.
In a further twist, the man had no teeth, so police weren't able to check them against dental records – one of the most reliable methods of identification.
Detectives thought they might have uncovered possible DNA matches from a glass decanter and some glasses, but it led to nothing.
Acting Detective Sergeant Gary Stamp told the Kent Messenger: "There were no signs of injury, no clues in his clothing. His fingerprints had no match and we couldn't match any DNA samples. We went right across Europe to try to find the identity of this man.

"We carried out extensive house-to-house inquiries and talked to fruit pickers in the area but we found nothing.
"We also went to two homeless centres in Canterbury and they couldn't help. We got numerous names but gradually they were ruled out. We couldn't do dental checks as he had no teeth."
Police believe the man was in his late fifties or early sixties, possibly from Eastern Europe, and in April released an e-fit of what they think he would have looked like in the hope someone would come forward with information, but no one has.
Ian Gollop, the assistant coroner for northeast Kent, told detectives at an inquest last week: "You have made a very thorough job trying to trace him. This is clearly a man who didn't want to be found and was living at the edge of existence. You couldn't have done any more but sadly we have to close the case."
Kent police confirmed to BuzzFeed News there are no new lines of inquiry and the investigation into the man's identity is effectively over – unless new evidence comes to light.
In January, officers from Greater Manchester police finally identified a man found dead on Saddleworth Moor after a year of inquiries, including a breakthrough with CCTV.
David Lytton, nicknamed "Neil Dovestones", was discovered with £130 in cash, three train tickets, and an empty medicine bottle with a label written in Arabic.
Anyone with information about the case in Kent is asked to contact the police by phoning 101 and quoting the code SI/ZY/1363/17.