The Police Can't Cope With The Number Of Mental Health Cases They Deal With, Report Warns
Her Majesty's Inspectorate of Constabulary said healthcare provision had been cut back so much that police "are often being used to fill the gaps that other agencies cannot".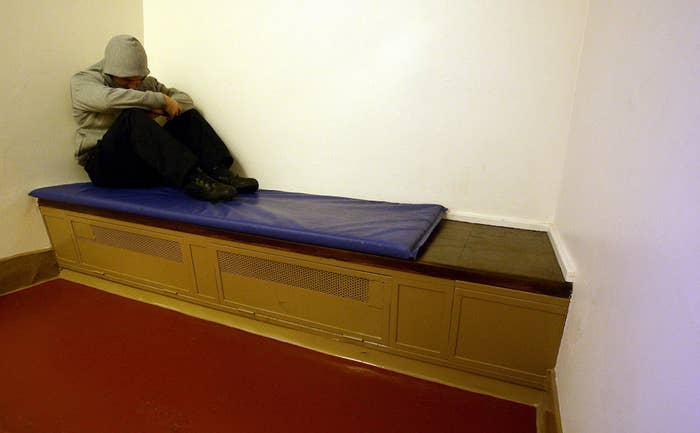 Police forces across the UK are unable to cope with the increase in the number of people suffering mental health problems they deal with on a daily basis, due to cutbacks in other public services, a report has warned.
The annual State of Policing report from Her Majesty's Inspectorate of Constabulary (HMIC) said that forces were "increasingly being used as a service of first resort" in some areas, where no ambulances are available.
Sir Thomas Winsor, the chief inspector, said in his foreword: "Until mental health is given the same priority as physical health, in resources including funding, the police will continue to play too large a role in dealing with people with mental health problems.
"By the time the police become involved, many opportunities to intervene – to prevent mental ill-health deteriorating to the point at which people are in danger – will already have been missed.
"This is ineffective and expensive. In a well ordered and compassionate society, we should not rely on law enforcement officers to support people who need medical care."
Too often mentally ill people who have committed no crime are still spending the night in a police cell, the report said, because "they are too vulnerable to be left alone but there is no bed for them in a healthcare facility".
"The provision of mental healthcare has reached such a state of severity that police are often being used to fill the gaps that other agencies cannot," it said.
Police leaders have for years complained they have struggled to deal with the sheer number of mental health-related callouts. In one case in 2015, a mentally ill man was held by police for 64 hours while a suitable clinical placement was found for him.

The report stressed that prevention of mental illness was more effective – and this could only be achieved through investment in health services:
By the time depression or some other mental disorder has been allowed to advance to the point that someone is contemplating suicide, or engaging in very hazardous behaviour, many opportunities to intervene will have been missed by many organisations.

When that intervention takes place on a motorway bridge or railway line, or when someone is holding a weapon in a state of high distress, the expense to all concerned is far higher than it should be. The principal sufferer is the person who is ill, especially when it is realised that his or her suffering could have been much less or even avoided altogether.

The economic arguments for earlier intervention intensify the health and moral ones already in play.
Research carried out by Ipsos Mori for HMIC found that only 2% of the public believe the police have the greatest responsibility when it comes to the safety of people with mental illness of learning difficulties.
In her first speech of 2017, Theresa May pledged to "transform" the way mental health was dealt with, particularly among young people, although her intervention was criticised for lacking substance or funding commitments.

Vicki Nash, head of policy and campaigns at Mind, the mental health charity, said: "Mental health is core police business, as police will always be a possible first point of contact for people in crisis and they have specific powers under the Mental Health Act to detain people who are very unwell under section.
"But they should not be plugging the gaps created by failings in health services. People with mental health problems should get appropriate help and support as early as possible to prevent them becoming so unwell that they end up in crisis, which is when police are more likely to become involved.
"If the police do need to be involved in helping someone in crisis, they can only do this properly with the right support from the NHS, which needs adequate resourcing so that people are treated in a safe, therapeutic environment."
Elsewhere, the report warned that police are "not keeping pace with the way technology is changing people's lives", adding that 42% of the public do not have confidence in their local force's ability to deal with online crime.
Sandra Horley, the CEO of Refuge, the domestic abuse charity, highlighted the report's evidence of very different outcomes for complainants of abuse – the arrest rate ranges from 25% in some areas and 83% in others.
"Women deserve more from police forces," she said. "They deserve to be listened to and believed. They deserve the right to be treated compassionately and respectfully by police officers, and ultimately to see violent men prosecuted for their crimes."
More generally, HMIC's inspectors rated just one police force, Durham, as "outstanding" in terms of its overall effectiveness, while eight were said to require improvement and one, Bedfordshire, was rated "inadequate".
Brandon Lewis, the policing minister, said in an emailed statement: "People experiencing mental health crisis need to be supported by health professionals in the right place, which is not a police cell. The police cannot provide the specialist care needed, which is why the government has invested an additional £1 billion by 2020 to improve mental health services.
"Significant progress has been made by the police and health partners in halving the use of police cells for those detained under the Mental Health Act in recent years, and the government intends to go further through banning the use of police stations for this purpose for under 18s and restricting their use for vulnerable adults."