Away from the carefully stage-managed campaign events and stump speeches where Theresa May can be seen answering preselected questions in front of Conservative party activists ahead of the general election on 8 June, she can bank on the unfailing support from an entirely different group of people.

The prime minister is the focus of a small but fast-growing online fandom, expressed through social media posts and memes created primarily by young women based in the UK and around the world who are inspired by her fashion choices and unflashy political style.
BuzzFeed News has spoken to a handful of young May supporters – some of whom proudly call themselves "Mayllennials". While they are united in their admiration for May, many are nonpartisan and stop short of supporting the Conservative party's centre-right policies.
Typically, internet fandoms are centred around singers, film stars or someone with a bit more currency in mainstream youth culture. But like the fandom associated with former Labour leader Ed Miliband – the Milifandom – that emerged in the run-up to the 2015 general election, the Mayllennials defy conventional wisdom.
But there's one big way this differs from the Milifandom: Many of the May supporters BuzzFeed News tracked down would only speak on the condition of anonymity and asked that this article posted no links to their blogs, for fear that anti-Tory activists would personally target them and send abuse.


One of several Theresa May appreciation accounts on Instagram, itsgonnabetmay posts daily pictures, memes, and news coverage from the campaign trail as well as archive pictures from May's long career as a Conservative activist and politician.
Its creator, a 20-year-old British woman now living in America, told BuzzFeed News she started the account because of the lack of Instagram accounts being positive about May that "aren't being run by [the] far-right".
She said she admired May's "ability to get the job done while still being able to loosen up sometimes". But she made it clear that despite being a fan of the prime minister, that admiration doesn't extend to the Tories generally.
"I'm mostly interested in TM and she's the reason I tolerate the Tories," the woman said, "although I hold views considered to be progressive by most of the Conservative party in the UK."
She was clear about one thing, though: The Mayllennials are definitely a thing.
"The term shows just how vibrant TM's support base is," she said. "You've got young people supporting her. In fact you may consider her the UK's Justin Trudeau. Yes. I'm a Mayllennial."
One young British female Theresa May fan, who asked not to be named, said she started her May-related Tumblr blog recently, after looking for "positive, fun" content about May online but not finding any.

She said she was a Conservative supporter but that she was more interested in May herself. The fandom is essentially like any other you could find on Tumblr, she said:
"People just want to have fun online sharing their enjoyment of the people they admire and support with other like-minded tumblr users.
"I think so many young people are appreciative of TM because we not only believe that she's the best person for the job, but that she's redefining the role of leadership by doing away with a lot of the fuss."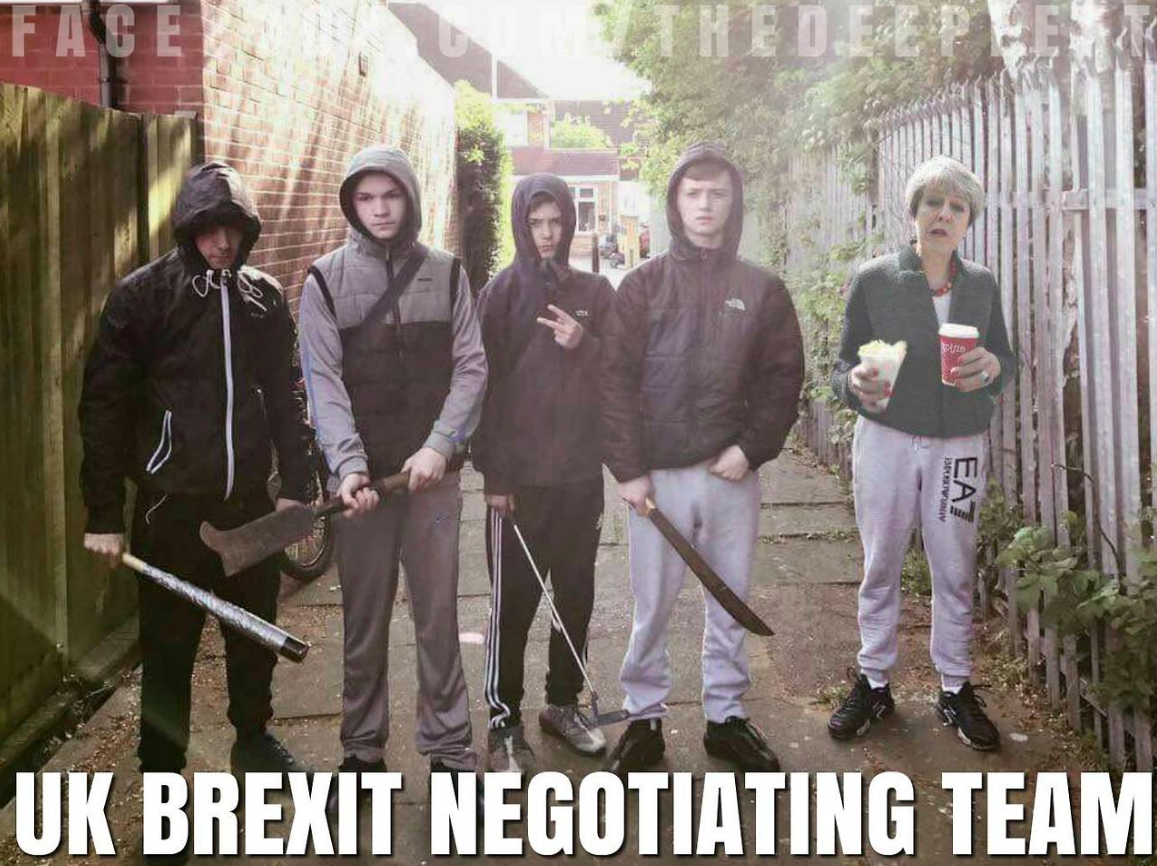 She added that for many fans, the May's fashion choices were key. Instagram accounts such as theresamaystyle, which simply details what she wears, are among the most popular May-related accounts online.
"She's also redefining the image of professional women. In the past there has been this perception that if you cared about fashion then you weren't serious about your job. TM clearly states that you can do both and neither is a reflection on the other."
On why she and other May supporters were so shy in being public, she said: "You'll notice TM's official social media pages get very little engagement from her supporters, and I think it's all for the same reasons – fear of negative responses and arguments starting as a result."
But don't compare this to the Milifandom though. "My limited understanding of the Milifandom is that they were teenage girls with a crush on him? Well we're all older and admire TM as a person and role model so I'd have to say no, we're not at all like that," the blogger said.
Rachel, 27, a grad student from Missouri, is one of several foreign May fans. She first became aware of her when May won the Tory leadership contest last July. A teenage fan of Margaret Thatcher and also a Trump voter, Rachel was impressed by May.
"I loathe the leftist thinking that women, in order to be successful, should adopt all the worst characteristics of men," she said.
"I'm always thrilled to see right-wing women holding prominent offices—I think it's important for young girls to see women in government, but I also think it's important for the world to see that the left has no exclusive claim on the advancement of women. I loved her comment in her first Prime Minister's Questions that what the Conservative Party does for women is to keep making us prime minister.
"And I especially love that she feels no need to make herself appear less feminine, with skirts and leopard heels and gorgeous evening gowns like that one that went to the Lord Mayor's Banquet, while the Americans are left wondering if Hillary Clinton would spontaneously combust if she touched something that wasn't a pantsuit."

A popular Mayllennial Tumblr is The Last Woman Standing, a parody account that speaks in May's voice. The woman who runs it, who is based in Southeast Asia and requested not to be named, said that for many young fans May is seen as inspirational – even though they are not completely in step with her politics.

"These young women who like her, not all of them agree with her policies, including myself. In that case, she is seen as an inspiration in the sense that she inspires future generations of women to be better leaders than her," the woman said.
"I started the parody blog because I like Theresa May so much. Of course, that doesn't mean I endorse ALL her policies. There are policies of hers that I disagree with.
"In general, I do not agree with much of what the Conservative Party stands for. In fact, if I could vote in the UK, I would be likely to vote for Labour since they are the closest to my political beliefs. It's probably Theresa being the Conservative Party leader that makes the Conservatives seem tolerable."
Asked whether she considers herself a Mayllennial, she replied: "I believe that's what Theresa May's fandom is called, if so, then yes, I would call myself a Mayllennial."

Another Tumblr blogger, who is 22 and from Belgium, when asked to comment on her involvement in the Theresa May fandom, was cautious and asked for anonymity. "These are volatile times. Theresa May supporters aren't BuzzFeed's target audience and I don't want to attract social media trolls," she said.
She started her blog some months ago, before the snap election was called, because she was uncomfortable posting May-related content on her personal blog in her own name.
"I feared some of my friends, especially those living in the UK, might turn against me. If there were people on tumblr who liked Theresa, I'm sure they would find me through my new blog, and I would find them. And that's exactly what happened."
Asked whether she would consider herself a Conservative supporter, she said: " No, not at all, she merely interests me as a person and a leader. I don't share most of her beliefs. In my country, I have always been a supporter of our own green party (Groen)."
Outside Your Bubble is a BuzzFeed News effort to bring you a diversity of thought and opinion from around the internet. If you don't see your viewpoint represented, contact the curator at bubble@buzzfeed.com. Click here for more on Outside Your Bubble.