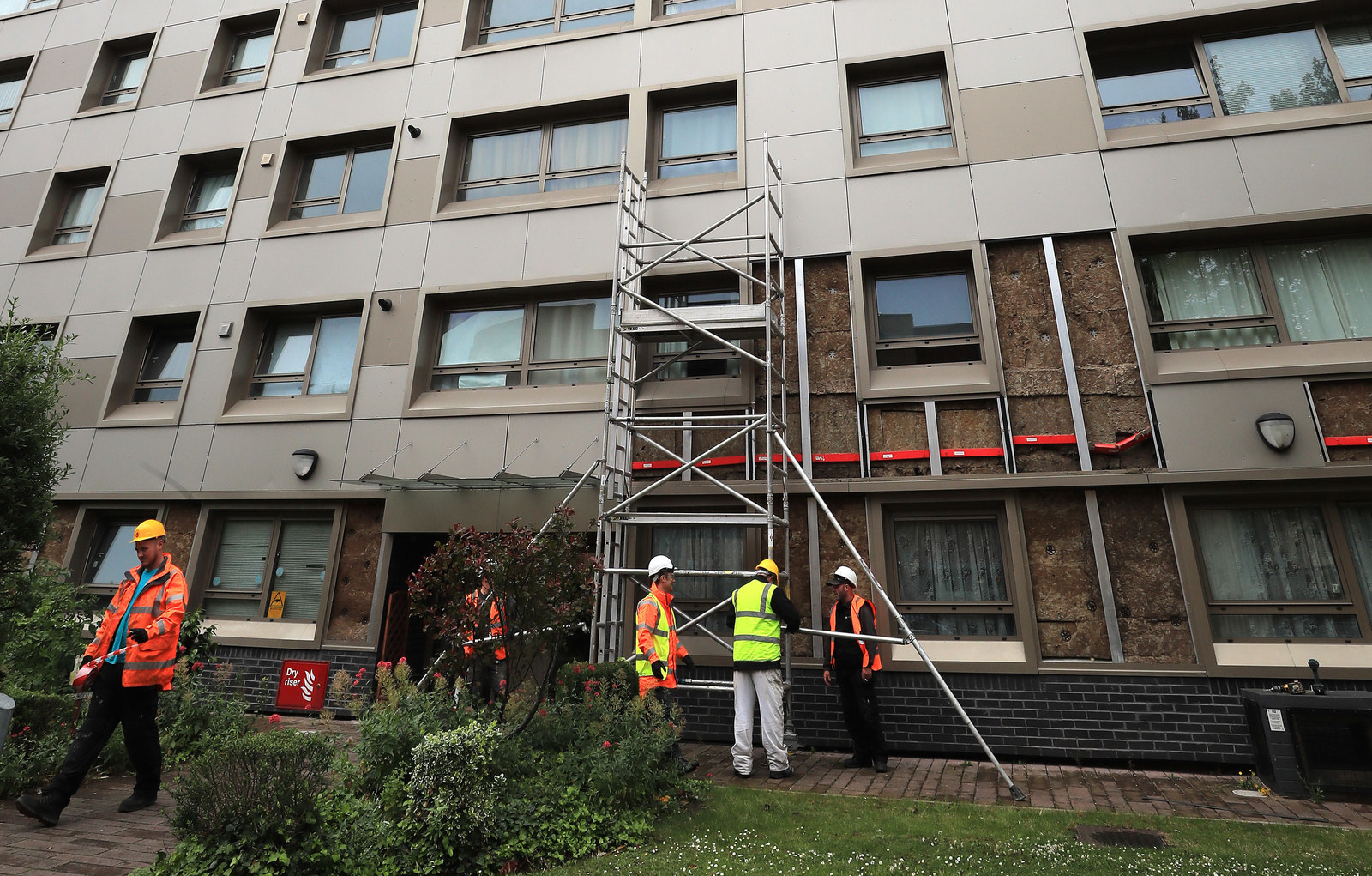 The government has so far tested one-third of the residential towers in the UK that have external cladding, and doesn't know exactly how many have the variety which was used at Grenfell Tower.

Labour has strongly criticised the government's testing regime for being too slow and confusing, with an inadequate level of advice for landlords and tenants.
On 20 June, six days after Grenfell, the permanent secretary of the Department for Communities and Local Government wrote to owners and landlords across the country requesting that they send in samples from any towers which have aluminium composite material cladding, the type used at Grenfell, which fire safety experts and eyewitnesses said played a key role in the spread of the fire.
On Wednesday the communities secretary Sajid Javid said 224 buildings have so far been tested, and that all of them failed the combustibility test.
There are thought to be around 600 towers in the UK which have cladding of any sort. Many of them, like Grenfell, are towers from the 1960s and '70s that had panels added as part of refurbishment works.
Not all of these towers have ACM cladding, but a DCLG spokesperson wouldn't confirm how many suspected towers have yet to be tested, or when this would happen.
Javid told ITV News: "As of today 224 buildings have failed that test and the immediate priority is absolutely to make sure when a sample is sent in for testing and if it does fail that initial test to inform the local fire and rescue service and make sure they are on the scene and are doing everything they need to ensure those residents that those buildings are safe."
Asked whether the less fire-resistant type of ACM cladding was illegal, he said: "It's noncompliant under building regulations for buildings that are above 18 metres. So that's a tower that's typically above six storeys.
"I don't think we can say that we have all the answers yet. And after this emergency process of securing these buildings these are exactly the kinds of question that need to be answered."
All the tests are being carried out by the Building Research Establishment at its test laboratory in Watford. Theresa May has previously claimed that up to 100 samples could be tested a day.
A spokesperson for the Local Government Association told BuzzFeed News that of the 166 councils that own housing stock in England, only 16 have tall residential towers and that all these authorities had sent in samples, which all failed the combustibility test.
Last Thursday, on the advice of its fire safety expert panel appointed after Grenfell, the DCLG ordered a new round of tests from the BRE that will test not just the individual panels, but also the insulation as part of a combined system. Six different commonly used combinations will be placed on a 60ft structure and exposed to a flame for up to 60 minutes to see how they react.
John Healey, Labour's shadow housing minister, told the House of Commons during a debate on the forthcoming Grenfell public inquiry that the delays and uncertainty surrounding the tests showed that the government had been "off the pace at every stage".
He said: "Today is 24 days on from the start of the government's testing programme, about which was said that 'We can test more than 100 buildings a day,' but so far only 224 tests have been done, almost all on one type of filler in one type of cladding.
"It is totally unacceptable that ministers still don't know and can't say how many of the country's other towers are unsafe. And the government's testing programme is too slow, too narrow and too confused. This is a testing programme in chaos."
Healey said he had heard of housing associations that wanted to have their material tested but couldn't due to organisational problems, and pointed out that a housing association in Salford has halted work to remove cladding from eight blocks because of "unclear" government advice.