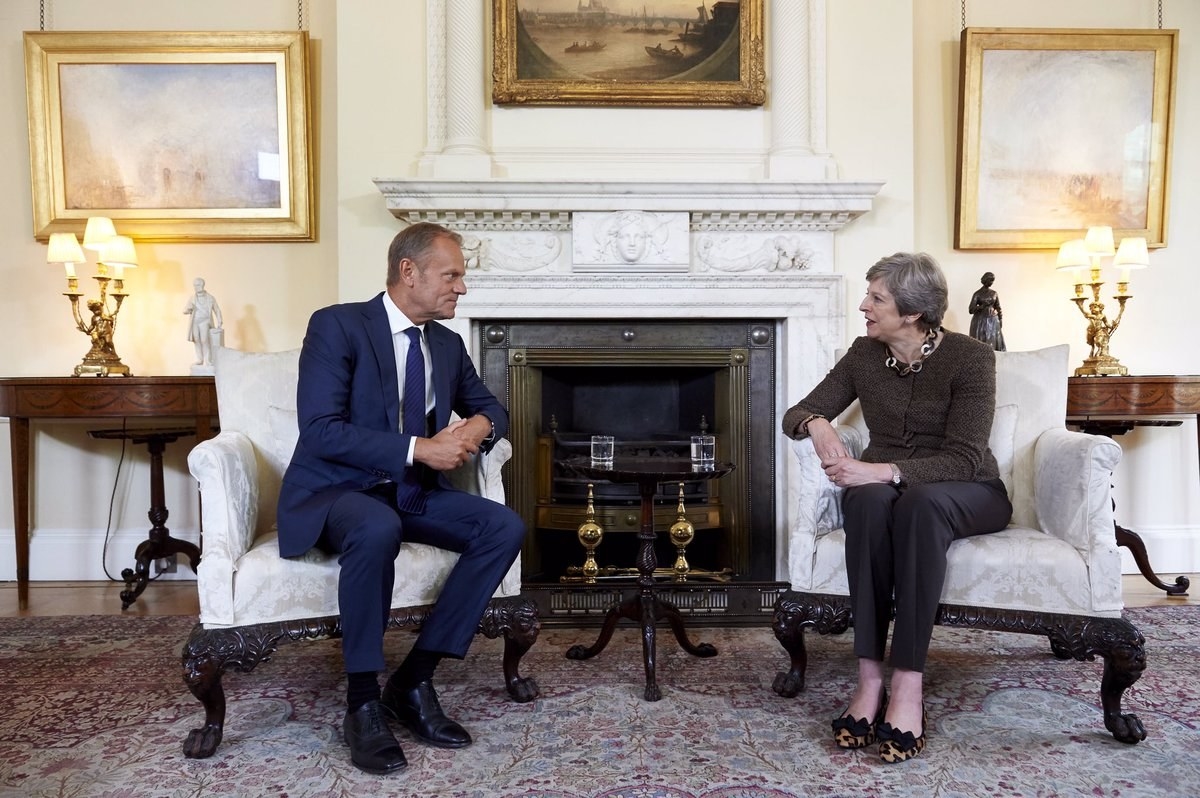 Brexit talks have not yet progressed enough for the European Union to consider discussing its future relationship with the UK, according to the president of the European Council.

Speaking outside Number 10 Downing Street on Tuesday, Donald Tusk said he was "cautiously optimistic" about the talks and that he hoped the UK's "cake and eat it" position was coming to an end after Theresa May's more conciliatory tone in her speech in Florence on Friday.
The UK side has long been frustrated by the EU's insistence in holding talks on the exit deal and any future relationship – including a crucial free trade agreement – separately.
Tusk said: "I feel cautiously optimistic about the constructive and more realistic tone in the prime minister's speech in Florence and of our discussion today. It shows that the philosophy of having a cake and eating it is finally coming [to] an end. At least, I hope so.

"And that's good news. But no one [can] ever tell me that Brexit is a good thing, because as I have always said in fact Brexit is only about damage control, and I didn't change my opinion.
"As you know, we will discuss our future relationship with the UK once there is so-called sufficient progress. The two sides are working and will work hard at it – but if you ask me, and if today member states asked me, I would say there is no sufficient progress yet."
His words contrasted with May's in Florence, when she said: "It is clear that, thanks to the professionalism and diligence of David Davis and Michel Barnier, we have made concrete progress on many important issues."
In her speech, May said she wanted a transitional phase after the UK formally leaves the EU in March 2019 – but she disappointed some on the EU side by not providing more clarity on the UK's position on its financial commitments towards the EU, and what kind of relationship Britain wanted in future.

The latest round of talks are taking place this week in Brussels. Davis, the UK's Brexit secretary, said on Monday that there had been good progress on movement of UK citizens across the EU and the Northern Irish border.
On payments, he said the UK would "honour commitments we have made during the period of our membership. But he added that any conclusion on this could only come as part of a new "deep and special partnership".
Meanwhile, Barnier, the EU's chief negotiator, said on Monday that to discuss the UK entering a transition period was "currently not part of my mandate", but reasserted the EU's position that all the rules of the single market must be followed during any transition.

He said talks this week would include the transition and that both sides could "get the clarity that is needed to make progress".
May complained to European leaders in bilateral talks last week during the UN General Assembly in New York that the format of the Brexit talks was too rigid, officials present at meetings told BuzzFeed News.
Government officials present at these meetings said May described the EU's refusal to hold talk on the UK's exit and any future relationship as a problem. She also talked about money in the context of an overall deal, the same diplomats said.
EU sources BuzzFeed News has spoken to said they don't think "sufficient progress" will be reached by the end of the October European Council meeting for talks to move on to discussions about the future relationship, unless something dramatic happens between now and then.
Instead, the October meeting of EU heads and governments is seen as a stepping stone to December's summit. The hope is that progress will happen by the end of the year.