The stepbrother of 16-year-old Becky Watts has been found guilty of her gruesome murder.
Nathan Matthews, 28, was also convicted of conspiracy to kidnap at Bristol Crown Court on Wednesday at the culmination of a six-week trial.
Matthews denied murder, but said that he killed Becky accidentally after an attempt to kidnap her went wrong.
Matthews' girlfriend, Shauna Hoare, 21, was found guilty of manslaughter and conspiracy to kidnap for her involvement in the killing.
Both had admitted charges of perverting the course of justice, preventing the lawful burial of a body, and illegally possessing two stun guns.
The jury of 10 women and one man took three and a half hours to return their verdicts in a complex and troubling case that took in more than 1,200 pieces of evidence.
Speaking outside the court after the verdicts, Becky's mum, grandmother, and brother said in a joint statement that Becky was "like a tornado and sunbeam all at once".
In a statement issued via the police the family said: "We would urge everyone who has teenagers to listen to your kids; don't ignore or dismiss what they are trying to say. If they are feeling worried about something, take your time to listen to them. Above all, cherish them as time with them is precious and can be too short."

It was also revealed on Wednesday that a serious case review will be held after sentencing to establish what contact local authorities had with Becky, Matthews, and Hoare and what interventions may or may not have taken place.
Bristol City Council confirmed to BuzzFeed News that the review will take place but declined to offer any more details. It is expected to begin after Matthews and Hoare are sentenced on Friday.

Becky is known to have seen a child psychologist and said during that session that Matthews scared her, while Matthews told the court that he suffered from anxiety and anger issues. Hoare lived in care as a teenager and is reported to have begun a relationship with Matthews aged 14 or 15.
Echoing other recent murder cases involving children, in which killers viewed images of sexual abuse, police investigators found that Matthews accessed violent pornography. The court also heard that he and Hoare exchanged messages about kidnapping teenage girls. The prosecution allege that they planned to use Becky as their "sexual plaything".
Detective Superintendent Mike Cloutier said outside the court: "Matthews and Hoare concocted a heinous plan to kidnap his stepsister Becky, for reasons that they have failed to fully disclose, other than she occasionally left items on the floor, which could have tripped up Nathan Matthews' mother.
"The body of evidence, however, has suggested a more sinister motive related to their deep-seated hatred of Becky and their twisted sexual desires."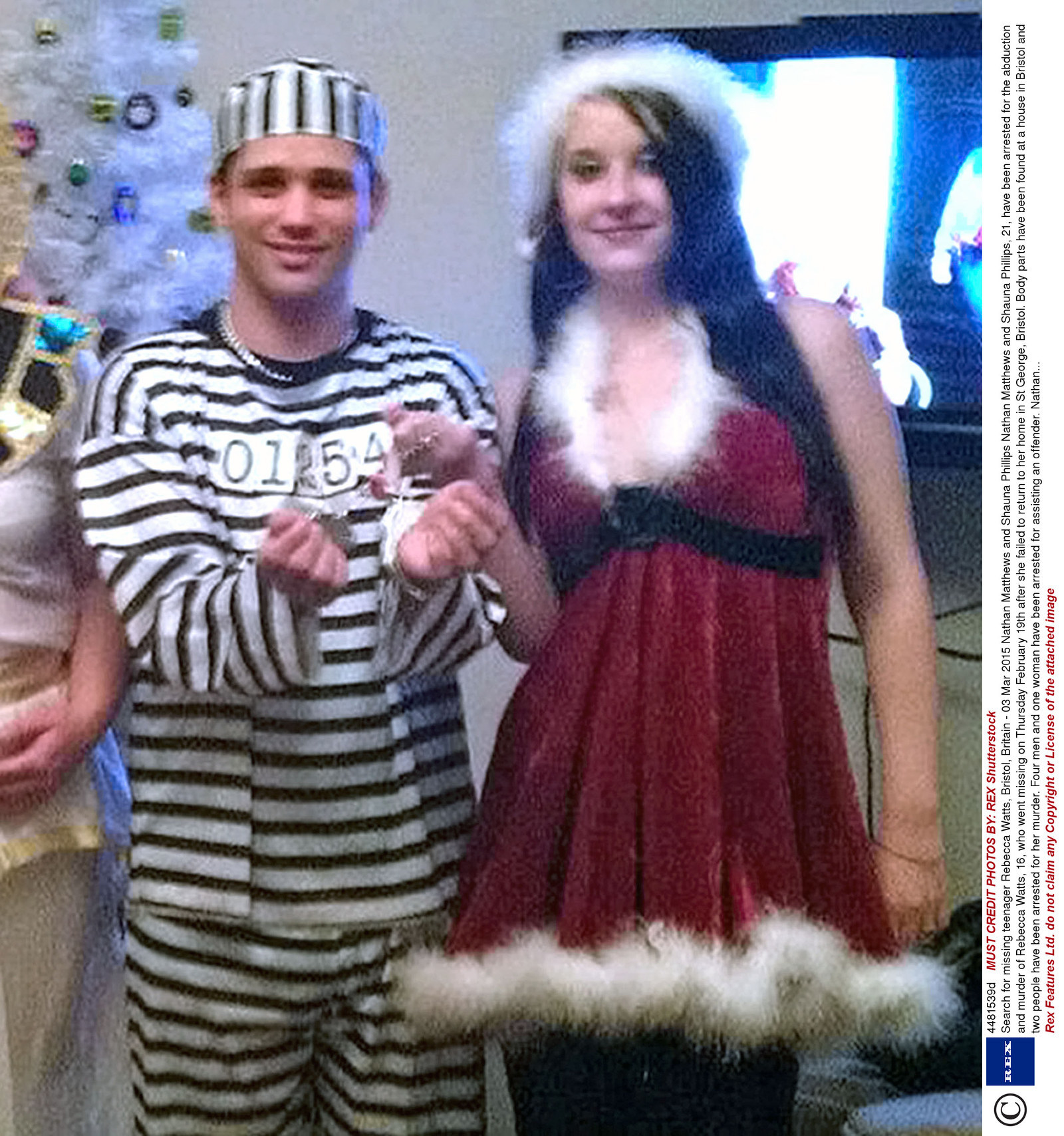 ---
On the morning of 19 February, Becky Watts was at home in the quiet Bristol district of St George's. Her bedroom was painted pink and like many a teenage bedroom was strewn with clothes, shoes, and makeup. There was a T-shirt scrawled with "good luck" messages from old schoolfriends.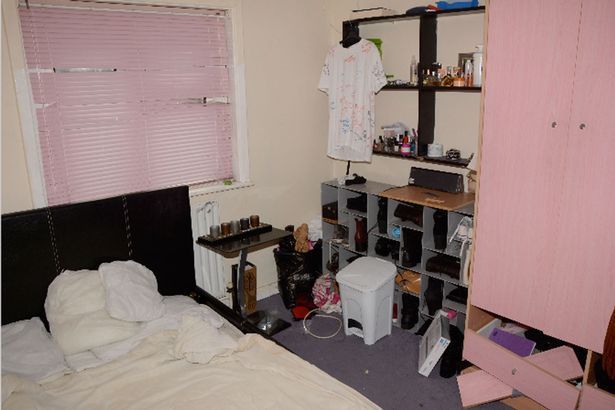 Becky was slight and short, just 5'1" in height and 56kg in weight, and was described as loyal and caring by friends and family.
At 10:50am Matthews – Becky's stepbrother – and his then-pregnant girlfriend Shauna Hoare left their home less than 2 miles away and drove to Becky's house, stopping at Tesco to buy batteries for their stun gun on the way.
Becky sent her last-ever text message, to a friend, at 11:03am.
Prosecutor William Mousley QC told the court that shortly after this Becky was suffocated in her bedroom by Matthews and Hoare. Police found evidence of a violent struggle in which Becky was "fighting for her life" and had a hand pressed against her mouth and nose.
Police initially said that Becky was probably wearing a onesie and a green jumper at the time of her death, but her clothes were removed before she was killed.
"There followed a deliberate, carefully planned, and grotesquely executed plan to cover up her killing," Mousley said.
The body was placed in the boot of Matthews' Vauxhall Zafira.
At 12:20pm on 20 February, CCTV footage showed Matthews buying drain cleaner from the Rajani Superstore in Bristol, before driving to a local B&Q store to buy a circular power saw, more drain cleaner, gloves, a face mask, and goggles.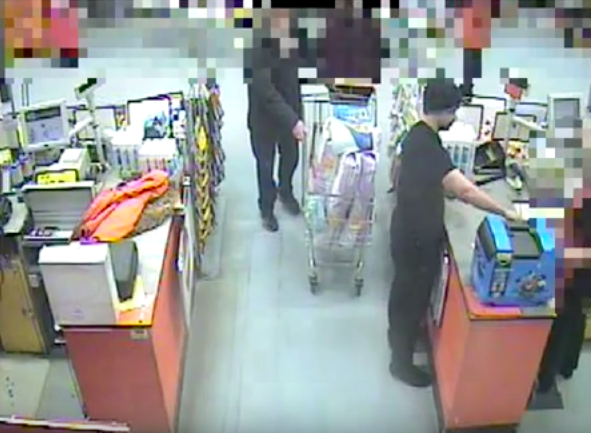 Matthews, a former army reservist, was relaxed enough to get the shop assistant to double-check the price of the £80 saw, to make sure he hadn't confused it with an item on a nearby shelf.
The court heard that Matthews and Hoare spent much of that day in Becky's house, alongside other family members, with Becky's body still in the car.
At some point on that day either Matthews or Hoare laughed while they watched a parody of "Do You Want to Build a Snowman?" from Frozen titled "Do You Want to Hide a Body?"
At 4pm, Becky was reported missing to the police. Still at Becky's family home, Matthews is said to have feigned "genuine concern" over her whereabouts although he didn't join in the search.
Hoare wrote on Facebook: "Hi can you keep an eye out for Becky Watts and if you see her message me or ring me as she is missing."
At 6pm Matthews and Hoare made their way to their home on nearby Cottonmill Lane and ordered food from the Chinese takeaway where Matthews worked as a delivery driver, with the body still lying in the car or on the floor of their bathroom.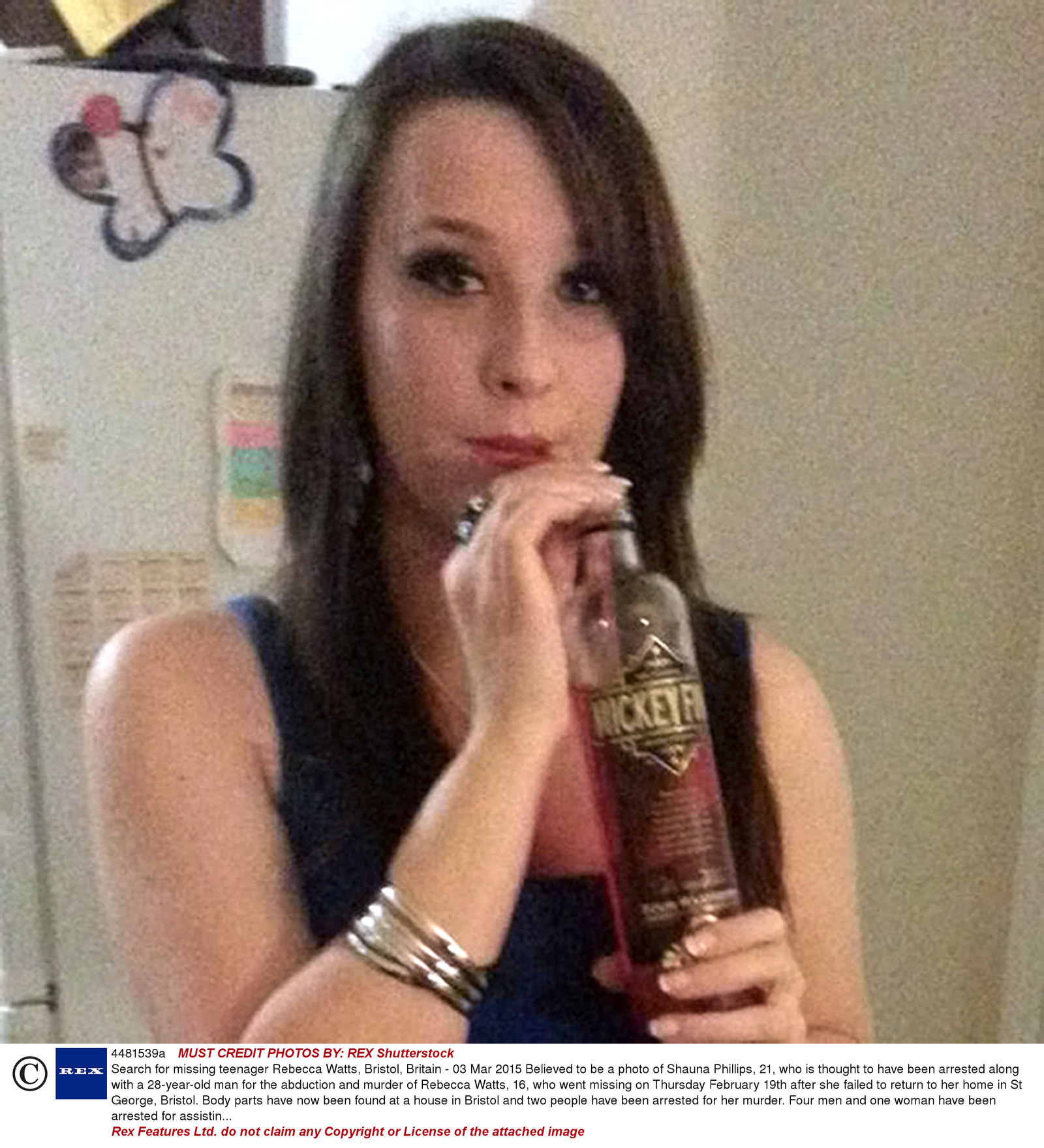 Hoare told police that the couple went home and played a Simpsons-branded version of Monopoly.
Police, family, friends, and local volunteers all joined the search for Becky after she apparently vanished without a trace. She had taken her phone, laptop, and tablet device with her but hadn't told anyone where she was going, police said at the time. Hundreds of leaflets were printed with the #FindBecky hashtag on them.
Becky's dad, Darren Galsworthy, said in a statement as the search continued: "We continue to hope that she will be found safe and unharmed but we will prepare ourselves for the worst."
Nothing could have prepared them for what happened next.
On 2 March, 11 days after Becky went missing, police announced the discovery of "body parts" at an address 80 metres away from Matthews and Hoare's home, on Barton Hill.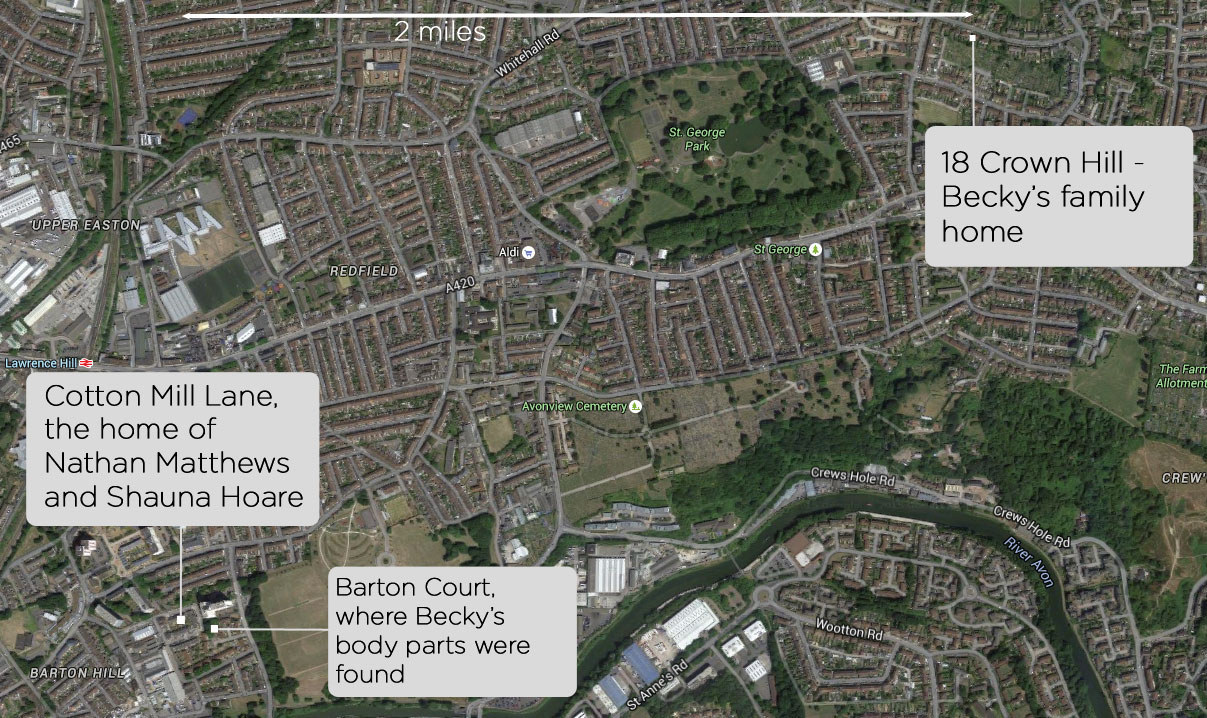 The court would later hear that she was stabbed 15 times after she died, before her body was cut into eight pieces using the circular saw in a bathtub at Matthews and Hoare's house. The remains were covered in metres of cling film and tied with duct tape and stuffed into a black and grey suitcase. Some body parts were found in a blue plastic box.
Becky's remains had been taken to Matthews and Hoare's house, where they stayed for three days, before being taken to the Barton Hill address in a white van by two contacts of Matthews in return for payment, the court heard.
Sarah Hainsworth, professor of forensic engineering at the University of Leicester, told the court, "It would be easier to conduct a dismemberment such as the one that I have seen if more than one person was involved."
Becky had to be identified by DNA.
The owners of the Barton Hill house, Karl Demetrius, 29, and Jaydene Parsons, 23, had earlier pleaded guilty to assisting an offender. They admit to hiding the suitcase in a shed in their house but said that they thought it contained cannabis.
They will be sentenced later.
Two other men, James Ireland and Donovan Demetrius, were acquitted of assisting an offender.

Why did Matthews, with the help of his girlfriend, try to kidnap and end up killing his own stepsister? Why did Hoare assist him?
The jury heard that Becky and Matthews' relationship had elements of sibling rivalry – despite their 12-year age gap.
Matthews told police during an interview that he had intended to kidnap Becky to "teach her a lesson because she was selfish and treated his mother badly". Eight days after she went missing, he was interviewed as a witness and openly told police he "didn't particularly like" Becky.
A witness who can't be named, who admitted to taking part in a sexual threesome with Hoare and Matthews, told the court: "He [Matthews] hated the way she treated his mum. I think he used the word 'brat' a few times. He just basically disliked her."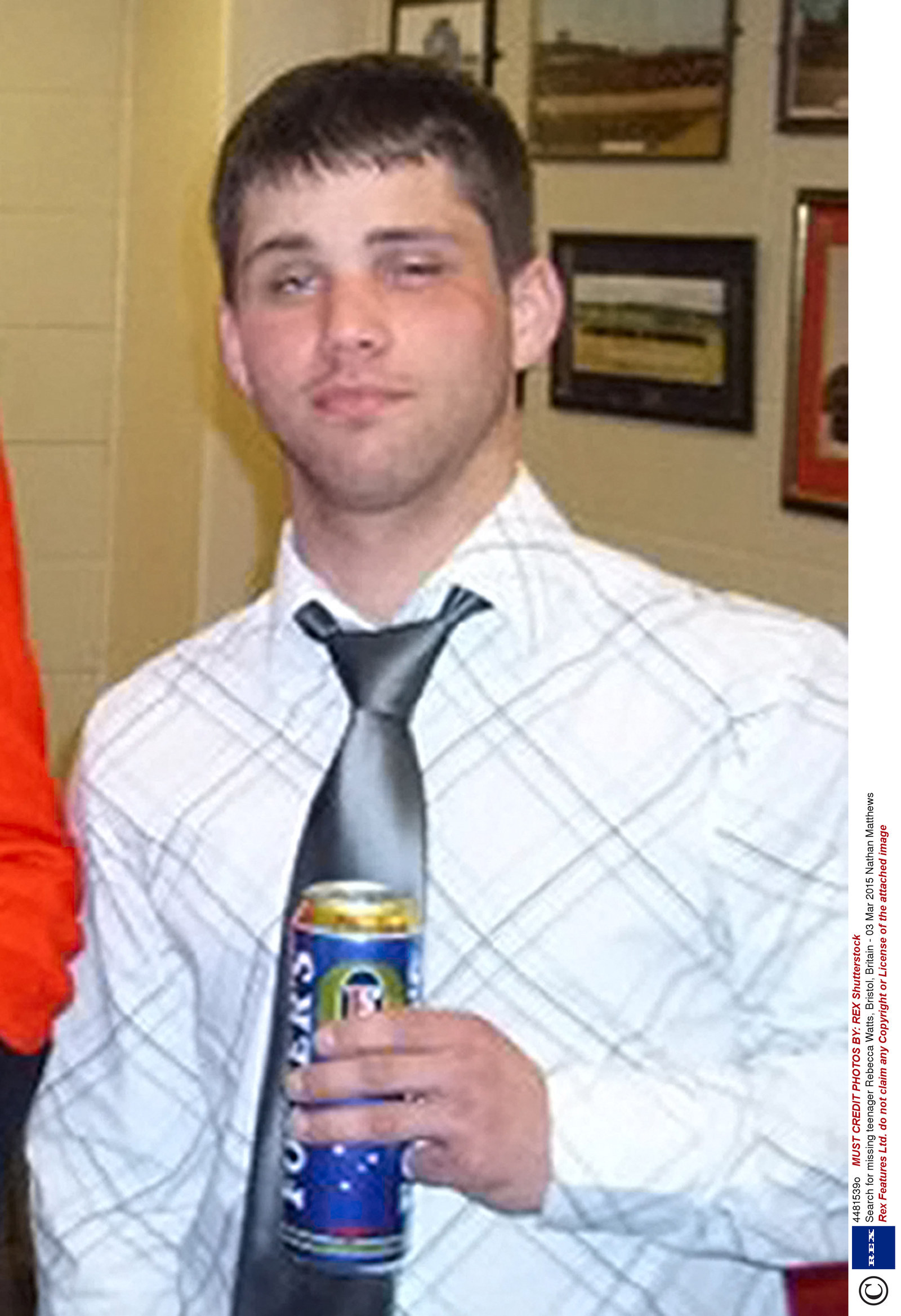 Hoare said in a police interview that both Becky and Matthews thought the other was getting "special treatment" from their parents.
Hoare also accused Becky of using her anorexia to get attention. She said Becky told people she was scared of being raped, and that this was another example of her trying to manipulate others.
"She knew how to work people, that kind of thing," said Hoare.

Though he may have said it in jest, Matthews had told Becky how he might murder her.
Courtney Bicker, 17, a friend of Becky's, told the court via video link that Matthews had "graphically described" how he would kill Becky on "numerous occasions".
"Even though she thought it was a joke she thought it was a bit serious. It creeped her out and scared her," she said.
And the trial also revealed a darker subtext to his and Hoare's motives.
"In addition to their apparent dislike of Becky, there is good reason to believe there was also a sexual motive behind the scheme, arising from a shared unnatural interest in attractive teenage females, and that a foreseeable conclusion to it being carried out would either be Becky's death or serious injury," Mousley said.
Matthews had, the court heard, an "unnatural interest" in attractive teenage girls. On his phone, investigators found a video in which a teenage girl was raped and the attacker's hand held over the victim's mouth.
Hoare and Matthews had a "shared sexual interest in teenage and petite girls," the jury was told.
The court heard that Becky had told a child psychologist she saw because of chronic shyness two years earlier that she "did not like Matthews and was afraid of him".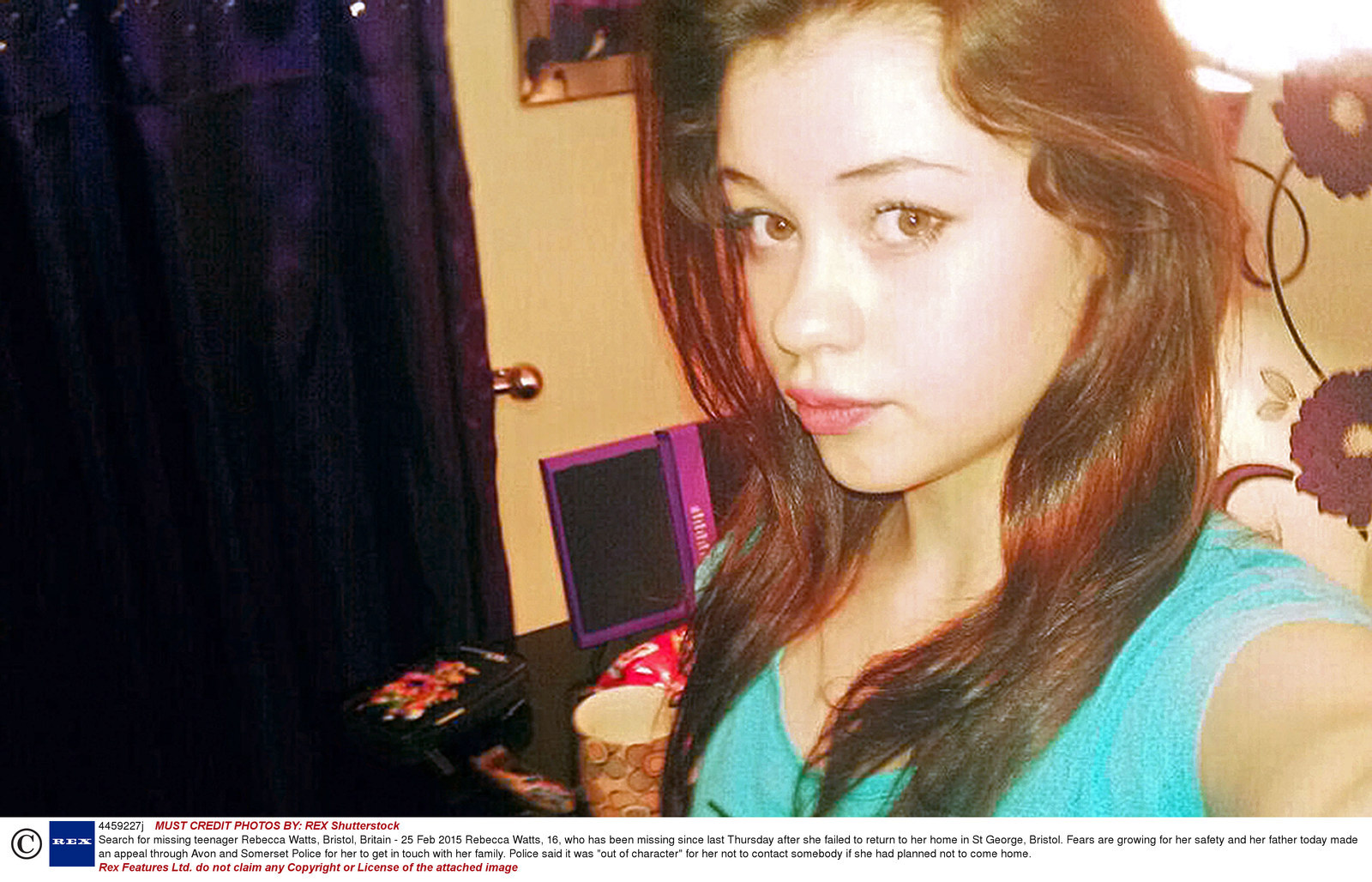 Giving evidence, Matthews told the court that he accidentally suffocated the 16-year-old when his kidnap plot went awry. He claimed to suffer from mental illness, anxiety, and anger issues.
He broke down in tears as he said he handcuffed Becky, punched her, and made her pass out through strangling her, before putting her in the suitcase.
"Something didn't seem right because she was not breathing. I checked for a pulse and she didn't have a pulse," he said.
Hoare claimed to have had no knowledge of the kidnap plot nor to have had any involvement in Becky's killing.
Rachael Scott, from the Crown Prosecution Service, said in a statement: "As I reviewed the evidence they gathered, it became clear not only that Nathan Matthews and Shauna Hoare had conspired to kidnap Becky Watts, but that their actions were motivated by their own sexual interests.

"Throughout the trial, Matthews maintained that he had killed Becky by accident during a bungled 'prank' to kidnap her. Having heard details of Becky's injuries, as well as the cold and calculated way in which he attempted to dispose of her body, the jury has today found him guilty of murder."
And now not just a family but an entire community has to come to terms with her death.
Speaking to ITV, Becky's mum, Tania Watts, said, "She made you feel alive. Everyone loved her. Knowing it's happened, it's like you are talking about someone else's kid.
"You shouldn't have to bury a child. There are a lot of people on this earth who don't deserve to be here but Becky was not one of them. She should be here."