Why? Guardian columnist and environmental campaigner George Monbiot wrote on Thursday of how he cooked and ate a dead squirrel he found while camping.

Naturally, Newsnight invited him on to do a Nigella Lawson impression, but with roadkill.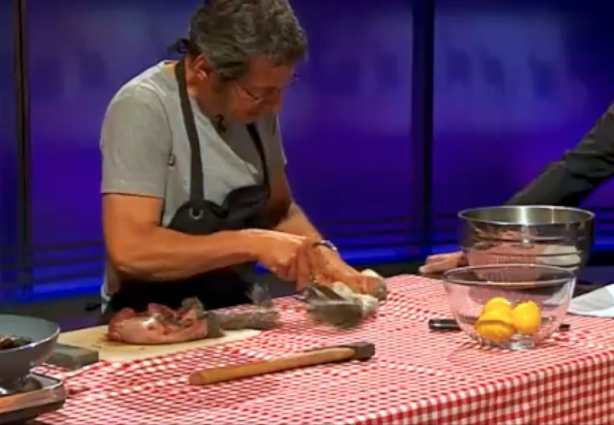 Let's just say it wasn't quite what people were expecting from a current affairs TV programme.
Some viewers wondered if they were dreaming.
It had the air of a Chris Morris spoof.
On the other hand, some were impressed by Monbiot's axe-work.
Not everyone was against the idea of eating squirrel, but some would draw the line at picking one up off a country road.
Others are waiting for the zombie apocalypse before considering it.
More than one person picked up on the fact that Monbiot and presenter James O'Brien were enjoying the animal in the most Silence of the Lambs way possible, with a "nice Chianti".
Meanwhile, Newsnight's deputy editor got some suggestions for future members of the commentariat who should appear on the show cooking weird food.
Away from the theatre of watching a man cook a squirrel of late night TV, Monbiot had some interesting things to say about the ethics of animal farming, while he was butchering the squirrel:
"I would regard almost all farmed meat as unethical, there are huge problems with it: The land take which deprives people of grain which would otherwise be grown for human consumption, pushing up the price; the welfare of the animals themselves; antibiotic resistance, it creates resistant pathogens; the manure and other forms of pollution going down into the rivers.
"There are a range of problems here and it's not all solved by going free range or organic."
When asked if there is anything he wouldn't eat, Monbiot replied "cats and dogs", because "There are cultural barriers which even rather feral people like me need to respect."
What a time to be alive.