On 16 April, police were called to the high street in South Norwood, south London, to follow up a report of suspected drug dealing. A witness captured the scene:
The video, which has now been viewed more than 1.1 million times on Facebook, was uploaded by Adrian Medford, 34, from London.
"I was inspired to put it onto Facebook because of what's been happening in Baltimore and Ferguson," he told the BBC.
The video shows a black man being spoken to by several police officers as he protests.
Police had been called to investigate a report that two men had been seen handing out "pouches of paper" to children. The caller described one of the men – thought to be the one featured in video – as wearing a distinctive bag across his body.
The man, who has yet to be named, says: "Take your hands off me ... Racist ... The way you've gone about this was wrong," while a crowd gathers. At one point he says: "You just come and lock up black people."
He tells the police: "You can't just come over and say I gave a child a parcel. What kind of madness is that?"
Taking off his bag, he says: "You're wrong, I did not give no parcel to no one. Look through my things, look at my stuff. ... I don't care what the member of the public said – do you see any kind of drugs or anything illegal on me?
"I want the children to see what you're doing, so that we know that you people are racist. We are not going to operate with you any more, that's it. ... Don't come over this side any more."
More officers turn up to deal with what becomes a large crowd of bystanders, and one officer threatens the man filming proceedings with arrest for using offensive language.
The man was eventually handcuffed and taken away from the high street to be searched, but he wasn't arrested and no drugs were found.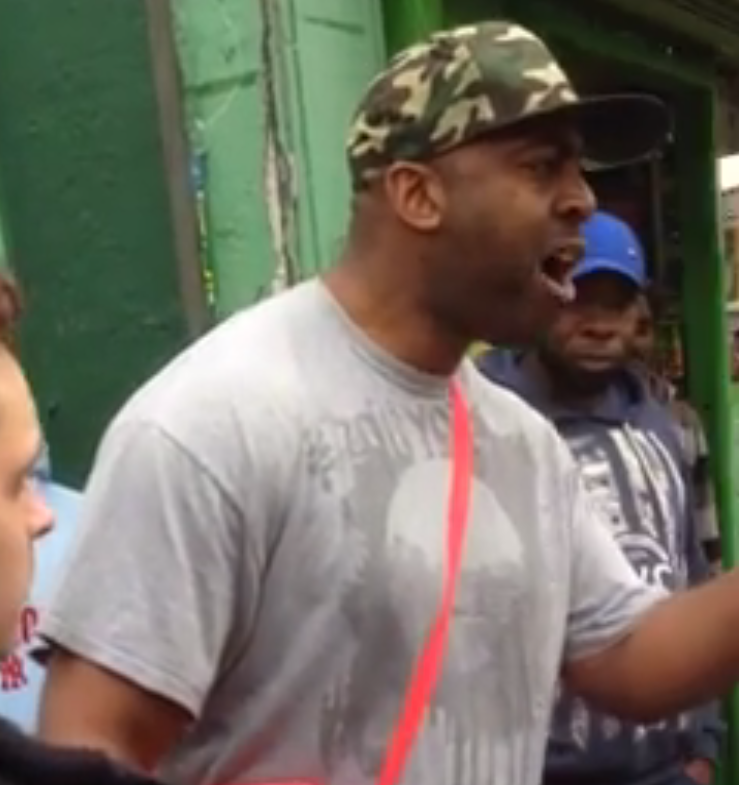 The Metropolitan police said in a statement:
Two local uniformed officers who were nearby went to speak to the men. During this time a crowd gathered and became increasingly hostile.

Other police units attended to provide crowd control and to enable other members of the public safe access to the area and pavement which was being blocked.

Due to the increased hostility faced by the officers the man was moved away from the location to deescalate tensions and so a search could be carried out safely.

The man was stop and searched under the misuse of drugs Act. No drugs were found. He was not arrested and advised accordingly before police left the area.
Commander Simon Letchford, who is responsible for borough policing across south London for the Met, defended the officers' actions in a blog post on Thursday.
He wrote that the officers acted in a "fair and proportionate" manner, and said the incident wasn't particularly out of the ordinary.
The incident "shows how a routine incident can be seen in different ways, is quickly viewed by more than one million people via social media and featured in the national news", he said.
"Having watched the film, I have no reason to be concerned about how the officers acted. The situation became difficult but they did what they needed to do in a fair and proportionate manner, considering the information they had."
Letchford disputed that there were parallels between the South Norwood incident and events in Ferguson and Baltimore, calling such a comparison in this BBC report "a bit strong".
BuzzFeed News has contacted Medford for comment and we'll update if we hear from him.