Slade Member Threatened BBC With Legal Action Over "Merry Xmas Everybody" Authorship Row
Jim Lea, the former bass player and songwriter with Slade, complained that two BBC programmes said Noddy Holder was the sole author of the band's most famous song.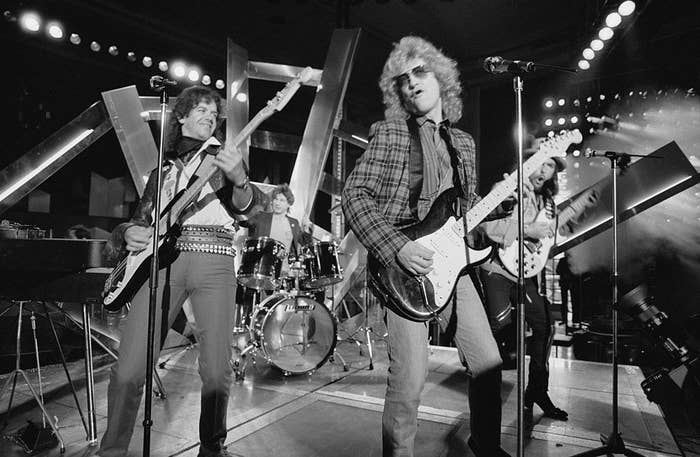 It might be the best-known Christmas pop song, but one of its co-authors is not so full of festive cheer when it comes to getting credit for writing it.
Jim Lea, the former bass player with Slade, who with singer Noddy Holder wrote "Merry Xmas Everybody", has complained to the BBC for claiming that Holder was the song's sole author.
The song, which topped charts on its released in 1973 and has sold more than a million copies, is still a mainstay of radio playlists in the weeks before Christmas – and the BBC has warned staff not to get it wrong when talking about the song on air.
An internal email, which has been seen by BuzzFeed News, was sent to staff this week.
It said that Lea complained during Christmas last year about two TV programmes, Top of the Pops 2 and Back in Time For Christmas, that Lea claimed had implied Holder was the sole author.
"The BBC agreed to correct these statements without any admission of legal liability," the email said.
"Jim Lea's lawyers have recently written to ask that any proposed BBC output does not repeat the suggestion that 'Merry Xmas Everybody' is the sole work of Noddy Holder. We wish to ensure that wider programme teams who are likely to refer to the authorship of the song are aware of Jim Lea's position that he co-wrote it."
Thought to be one of the most widely heard songs in the English language, "Merry Xmas Everybody" came to Lea while he was in the shower, he has said.
He told Native Monster in October: "Chas [Chandler, the band's manager] said 'The thing is Jim, it would be nice to be in the charts at Christmas'. And he said 'You know what, it would be even nicer to be number one at Christmas'.
"So I went into the shower and got the lovely warm water on me. I just said to myself – and I was almost talking to my own brain – 'Come on, do it now'. And lo and behold I pieced the whole thing together. I was really pleased with it. I got that melody – the chorus – and I thought what's it about?
"Then I remember what Chas had said. And I literally started singing 'So here it is, Merry Xmas, Everybody's having fun'."
The BBC declined BuzzFeed News' request for comment.
BuzzFeed News also sought to contact Lea through his record label.