Amazon has told people who bought certain models of hoverboards, the two-wheeled self-balancing scooters plagued by safety fears, to throw them away immediately.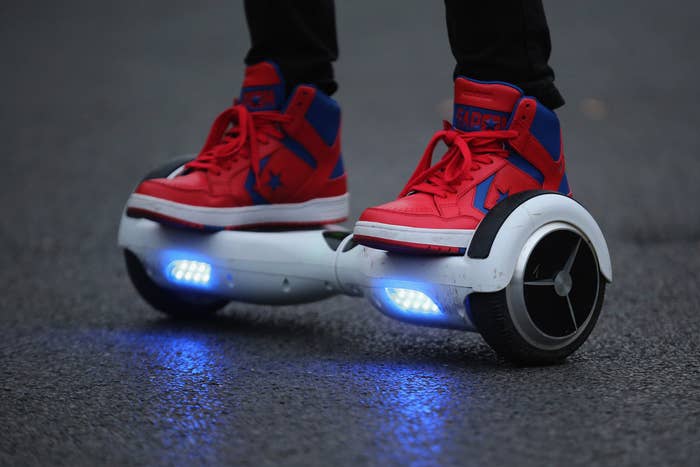 Despite warnings over their safety and the fact that they are illegal to ride in public, balance boards remain one of the hottest Christmas presents of 2015, with many people set to be whizzing around on them on the morning of 25 December.
But with just 10 days to go until Christmas they are increasingly hard to find in mainstream shops.
Several leading retailers have suspended the sale of certain models, or stopped selling hoverboards altogether.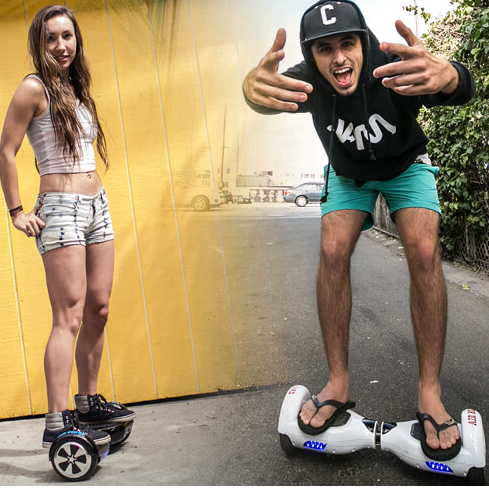 Tesco told BuzzFeed News it has suspended the sale of all hoverboards in its shops and online "as a precautionary measure".
Argos said in a statement: "Due to concerns raised by Trading Standards in relation to 'hover' boards from a range of manufacturing sources, we have decided to undertake additional testing on our Nevaboard product, which we sell exclusively in the UK.
"While we undertake these checks, we have temporarily withdrawn the Nevaboard from sale. Should any customer be concerned about their product, they can return it to their nearest Argos store for a full refund."
John Lewis's Oxford Street store had no hoverboards in stock when BuzzFeed News called on Wednesday morning – despite selling the product earlier in the year.
A John Lewis spokesperson said: "In light of recent reports, we have taken the decision to recall the 'hoverboard' branded as Selfy Stick Air Runner as a precautionary measure.
"We have sold less than 350 units of this product, which has not been on sale since 3 December, and we have had no reported issues. We have taken this decision whilst we carry out an additional level of due diligence and testing of this product, as the safety and satisfaction of our customers is our highest priority."
John Lewis is offering a full refund on the product.
However Hamleys toy shop on Regent Street in London was selling hoverboards on Wednesday – the Flywheel variety, made by Red5 – while technology shop Maplin had the Airwheel in stock in both one- and two-wheeled varieties.
A spokesperson for Toys R Us said it would continue to sell the iScoot model of hoverboard because it had passed all mandatory safety tests for both the UK and the EU.
Amazon emailed customers who bought a model with a non-standard UK plug with instructions to get rid of it "as soon as possible" and said the full cost would be refunded.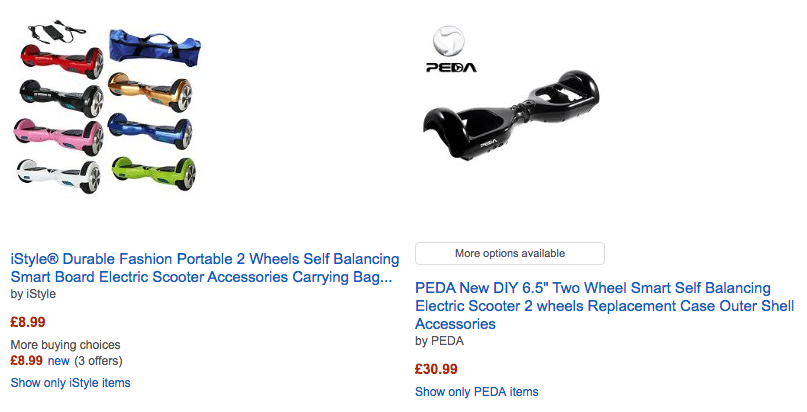 The retailer said: "Dear Customer, we've received information that your order purchased through the Amazon.co.uk website is unsafe for use as this product is supplied with a non-compliant UK plug.
"Please dispose of this product in a WEEE [Waste Electrical and Electronic Equipment Directive] certified location as soon as possible.
"Please note the refund was applied to the purchaser's account. If you purchased this product as a gift for someone, please notify the recipient and provide them with this information."
Amazon wouldn't confirm whether it had also banned the sale of hoverboards through its site, but on Wednesday a search revealed only listings for accessories and replacement parts, not the devices themselves.
Retailers acted after the ombudsman, Dean Dunham, said in a strongly worded statement that all retailers should stop selling "unsafe" boards immediately or face civil claims under consumer law.
"I would urge UK retailers to take the responsible step of removing unsafe hoverboards from sale or face the risk of the full force of the Consumer Protection Act, under which the retailer can be held liable for any injuries caused by unsafe goods," he said.
"Retailers who continue to sell hoverboards, that they deem to be safe, should also take note of the Crown Prosecution Service's position. They have made clear that for safety reasons it is illegal to ride these hoverboards in public (on the road or paths) and this important information should be communicated to the consumer at the point of sale."
Dunham urged anyone who's already bought one to contact the retailer to get a "written assurance" that it's safe to use and has a standard UK plug. Where people can't get such assurances they should simply ask for a refund, he added.
Earlier this month, trading standards officers said they had seized 15,000 out of 17,000 hoverboards that had entered the UK since October.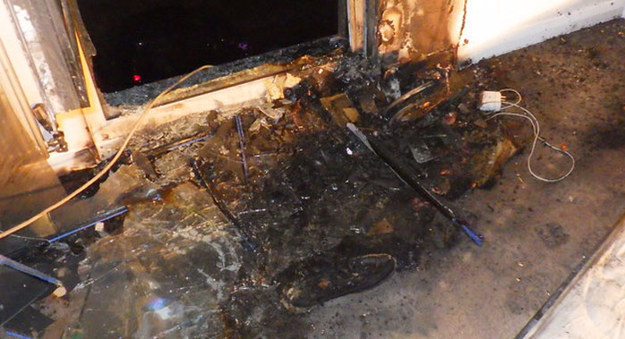 The London Fire Brigade has repeatedly warned that some models, particularly those without a UK-standard plug, are dangerous and should be avoided due to the risk they can overheat and explode while charging.
Many hoverboards are not bought through high street retailers, however, but through individual eBay and Gumtree sellers who have their own suppliers.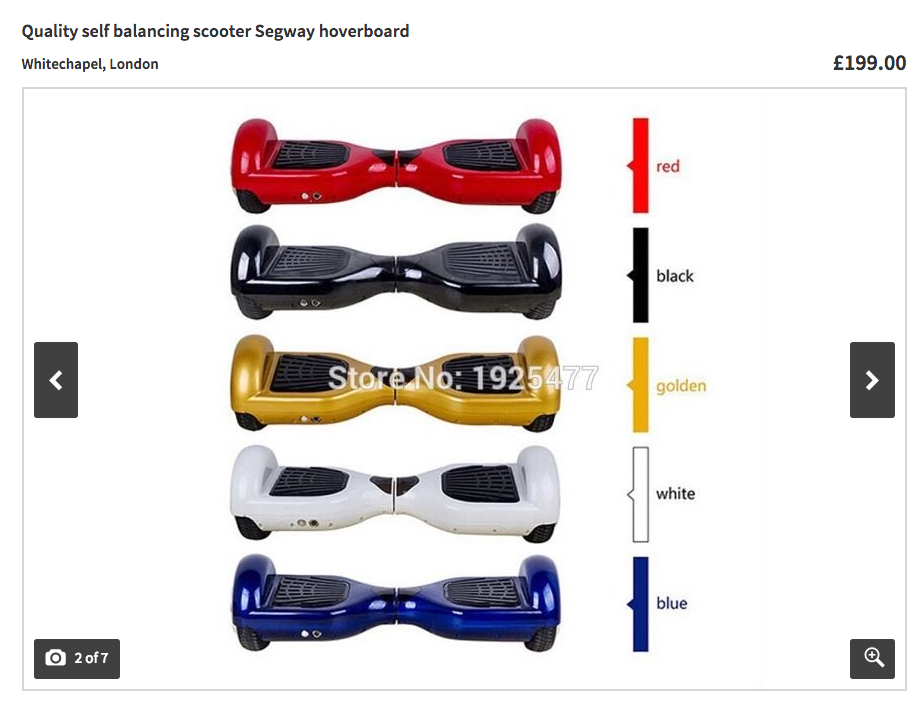 BuzzFeed News spoke to one seller based in east London, who would only give his name as David, who is offering hoverboards for £199. He said he's been selling them for three months and that some of his models are from China and some from the USA.
"Mine have got the proper charger and the proper battery, they are all fused," he said.
He admitted that the current publicity around hoverboards and doubts over their safety has had an impact – "sales have been really bad" – but he said he was not worried by the retail ombudsman's warning to retailers.
"Definitely, I will continue selling them," he said. "I'm planning to have my own website next year. I'm selling the right quality. I'm 100% sure that what I'm selling is right."