As prisons in England and Wales continue to be hit by steep rises in violence against staff, a record number of suicides, and an explosion in the use of new psychoactive substances, prisoners' diaries have given unprecedented insight into what life is really like for the 85,000-strong prison population.

In a series of 170 diaries – obtained by the Howard League for Penal Reform and published exclusively by BuzzFeed News – those inside have told of being endlessly locked in "airless cells", working in "sweatshop" conditions, and coping with food "not fit for human consumption".
The extracts also lay bare the boredom of prison life, where an ageing population sometimes struggles to access healthcare and clean clothing, let alone rehabilitation programmes. But there are moments of levity too: One diarist notes the irony of sitting in his cell watching TV prison drama Orange Is the New Black, while another is proud to have developed a tan as "my little protest against the system".
The Howard League, which campaigns for prison reform and this year celebrated its 150th birthday, placed an advert in the prison newspaper, Inside Time, asking prisoners to record what they did and felt on 2 September this year – the 290th birthday of John Howard, the 18th-century reformer from whom the charity gets its name.
All of the entries have been anonymised, and all the prisoners are male unless otherwise stated.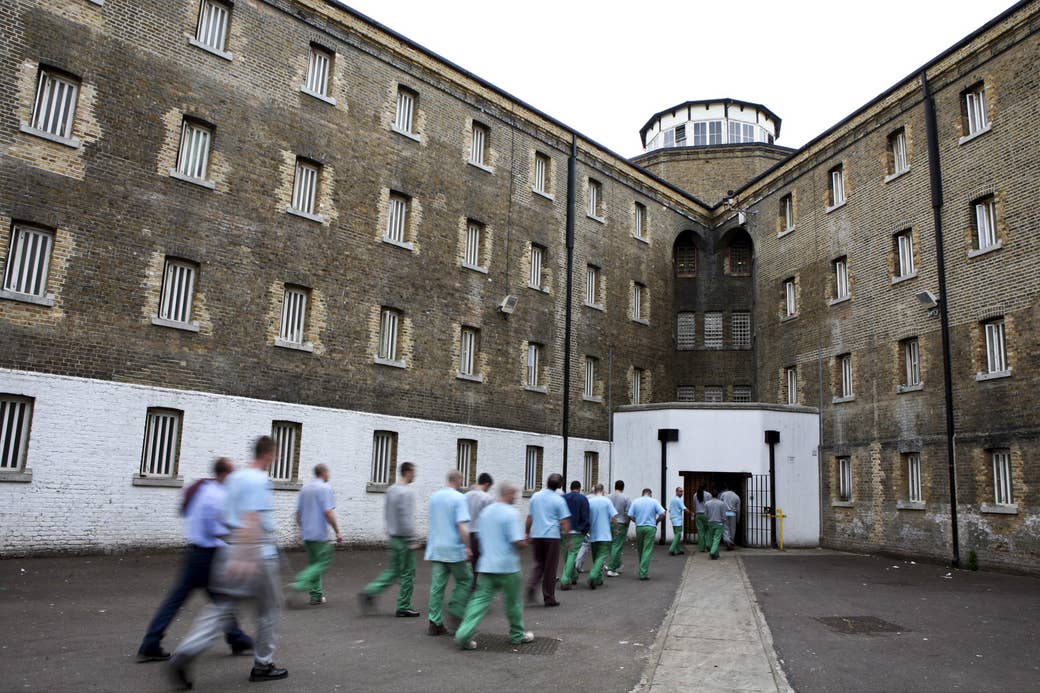 Frances Crook, CEO of the Howard League, said: "We would like to thank the men, women, and children, held in prisons across the country, who kept diaries as part of this project to mark the Howard League's 150th birthday. Their words provide a revealing snapshot of what life is really like behind bars.
"The diaries presented in this groundbreaking collaboration with BuzzFeed tell how people in prison can be locked up for hours on end in their cells with nothing to do and little to look forward to. How hopes of being engaged in work, education, and exercise can be dashed at the last moment because of staff shortages. How important it is for prisoners to have regular contact with their families.
"All this is set against a backdrop of system failure and tragedy: chronic overcrowding, rising violence, a growing number of incidents of self-injury, and the highest-ever number of people dying by suicide in prisons.
"We must do all we can to ensure that everyone can reach their potential and contribute to our communities in a positive way. This means ensuring that prisons are safe and decent, and used only as a last resort. Bold action is needed to stop throwing more and more people into these failing institutions, where they are swept away into deeper currents of crime and misery."
A Prison Service spokesperson said 2,500 extra officers and new security measures to stop drugs getting into prisons had already been announced, while a new £3 million national intelligence hub was targeting organised crime behind bars.

"The justice secretary has always been clear that it will take time to address these longstanding problems and we must grip the real challenges and risks that we face in the shorter term" they said.


"Breakfast packs are tiny – not enough to feed a child, let alone fully grown men who will do a full day's labour for pennies. Back to work still hungry, listening to all the lads talk of this morning's violence, deaths, riot, rooftop protests, cell smash-ups, nickings, etc. Same old same old but I try to always keep positive and help as many lads as I can. I look around me to see the old, the sick, the unwell, the disabled, those that should be in care or in homes, or in hospital, not in prison."

– Prisoner, 36, Channings Wood
"Breakfast is coffee with white sliced bread, marj, and a sachet of prison-issue 'orange spread', which I pretend is real marmalade… 8:25am: Just before work is scheduled to start at 8:30am, I notice there's a list on the Level 2 whiteboard of which laundry workers are required. Only 18 out of the 60 of us. No doubt due to the usual excuse of 'staff shortages', or maybe they've just run out of dirty linen to wash. Either way, I'm among the 'lucky' 42 who get a morning off."
– Prisoner, 46, Elmley
"I wake up at 8:30 and have to take my ADHD medication with my breakfast. I then get showered. I am hatching six duck eggs in my room at the moment and the last one hatched yesterday. I have six baby ducks in my bedroom in a box and am caring for them. After school I changed the ducklings' water and gave them some food. Peter, my key worker, is helping me look after them."
– Child, 16, Barton Moss

"0905 – Call for labour…on way to workshop subjected to verbal abuse from mains prison, luckily no liquids thrown at us today."

– Prisoner, 43, Liverpool
"The morning is unusual due to no work – whilst pay is dismal, work is preferable to sitting in cell. There is no exercise or activity out of cell in the AM. Time could be used better in prison. Unable to shower due to the lack of privacy over lunchtimes."
– Prisoner, 55, Oakwood
"Prepare a lemon drizzle cake that will cook in the servery hotplate tomorrow, using ingredients off canteen and traded with other inmates… Exercise cancelled due to rain. Fellow inmates I work in kitchens with come by asking about the cake, take them to servery where it's sat in fridge until tomorrow morning. Get good feedback which makes me happy. Look forward to sharing it out (approx. 20 portions) tomorrow as it lifts everyone's spirits."
– Prisoner, 34, Lewes

"Normally I work in the library on a Friday afternoon but today I had a visit with my mother and a mutual friend. The visit was from 2–4pm and they had caught the 7:30am train to get here. I've been in prison 10 years and I am so lucky to still get visits but I know how hard it is from them."
– Prisoner, 46, Channings Wood
"I work in the call centre. We handle a contract which is a very long script. I try to make the call personal, I complete the script but occasionally a question will provoke a small conversation. That feels good, having made a connection, however fleeting and tiny."
– Prisoner, 44, Dartmoor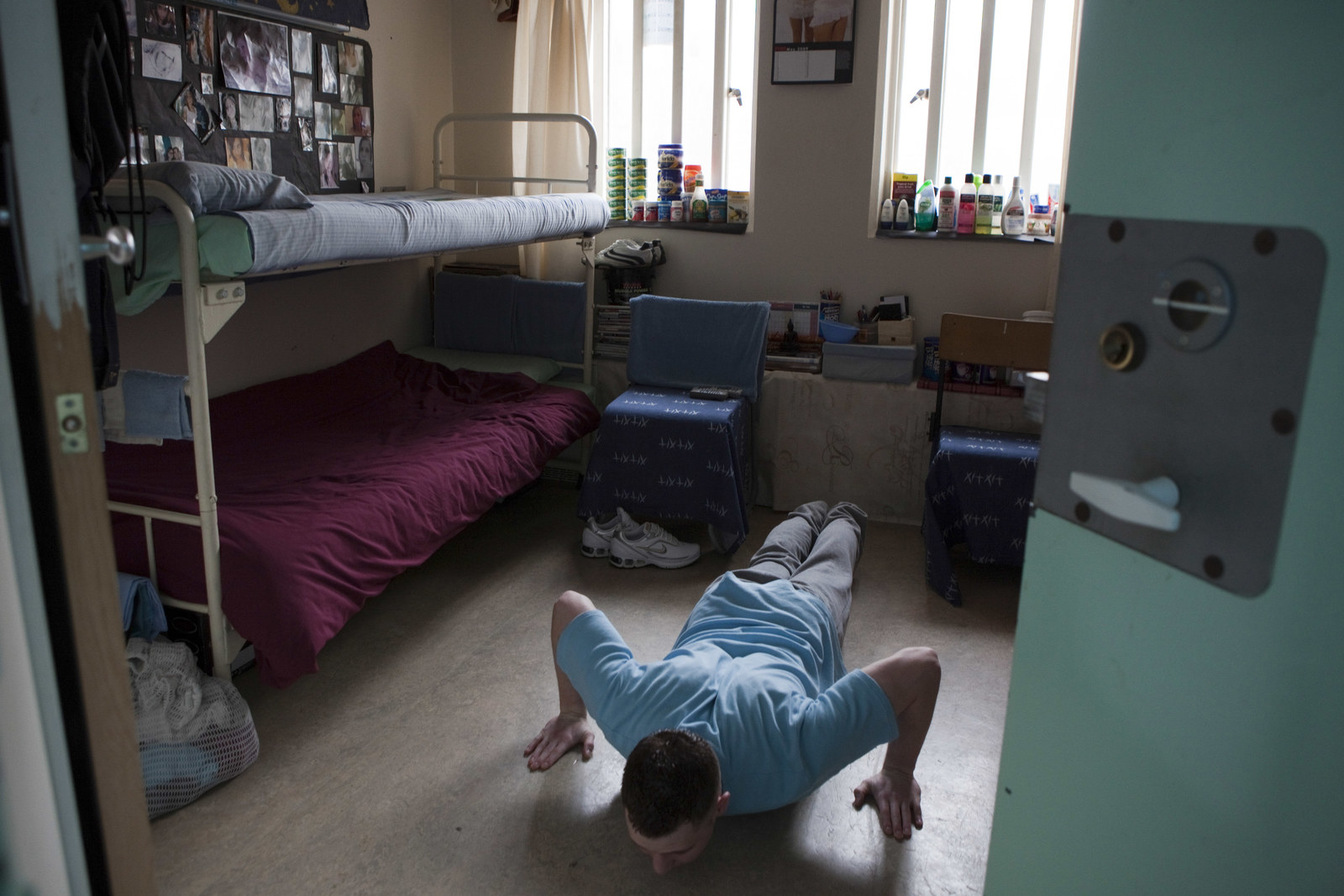 [On work tasks] "I'm not sure how this counts as 'purposeful activity' as it doesn't 'prepare' me in the slightest for employment post-release. The workshop is stiflingly hot – no ventilation or air conditioning. With (on average) 62p per hour and the temperature, it's the very definition of 'sweatshop'! NB not one member of staff has spoken to me all day. Exercise is allowed at 4pm. The weather is nice. I almost feel free and human again."
– Prisoner, 43, Risley
"I choose to work hard in the gardens, always doing the heavy jobs, it makes time go quicker and is tiring. Such a shame there is no qualification to be had at this prison…Went for tea. Chips, curry sauce, rice, yoghurt. Not good as usual. Hard, dry chips. Watery curry. Back on wing. TV and chat. Showered, read more of my book. Boring boring boring."
– Prisoner, 48, Low Newton
"The project is at an old people's sheltered accommodation and we work on the gardens. I met one of the ladies and she gave [name] and me a chocolate bar and a cup of tea. We work hard at the place and the old people really like us coming… I am trying to get fit and I spent part of the evening in the cardio room and doing some weights. I boxed before I came to Barton Moss and I want to keep it up for when I get out. After showering I got a phone call off my girlfriend and we spent 20 minutes on the phone. I then went to bed at 10pm."
– Child, 17, Barton Moss
"1330–1630. I was in further maths doing graph plotting of quadratic equations. It's one of the few higher-level courses offered; prison education is not geared for graduate level, as so many of us are here. Something akin to a soggy fish finger was served up as my main meal. Very poor. The crossword club was convened after unlock at 1750 with some very pleasant evening sunshine in the yard. We do well for outside time here, generally two and a half hours per day in two sessions."
– Prisoner, 62, Rye Hill
"At 1145 lunch is served. A rissole and a baguette with a bag of crisps and fruit. I eat in my single cell next to the toilet as we have no communal dining area. I go to bed at 2300. It is noisy on my wing as the seg unit is underneath us and not soundproofed … it can be very disturbing. My prison mattress and iron bed ensure another disturbed sleep and aching body."
– Prisoner, 59, Isle of Wight
"Just couldn't settle down last night. Started bleeding again from my mouth again. If healthcare weren't so useless I would get it checked out, but they would just give me paracetamol as a cure-all. Can't wait for lunch. Best, most edible meal of the week: fish & chips! Yet they still can't cook it right. Such a letdown, undercooked and they didn't provide enough food for everyone to eat. How can that be?"
– Prisoner, 25, Altcourse
"Lunch, what a joke, no change of menu for over a year. Have to try and eat, but it's hard to get it down."
– Prisoner, 52, Glenochil
"The afternoon is spent reading, doing crosswords and sudoku, etc. Going to the gym to keep fit used to be the preferred option, but the place has become too intimidating and unwelcoming that it's not worth the hassle any more. It's a real shame because there are so many overweight and unhealthy men here that could really benefit from an exercise program in the gym to help them prepare for release. The staff seem to have no interest in prisoner welfare at all and the management demoralise the staff by withholding money so that the whole place has spiralled down."

– Prisoner, 64, North Sea Camp
"After cutlery is counted we can then get on and do our own thing. Some of us went down to play football on the astroturf. This was a good game and we won. I don't go to bed until 10:15pm. I then chill in my room. I take melatonin at bedtime as I struggle to sleep."
– Child, 16, Barton Moss
"5:15pm, waiting for phone, when suddenly told the wing would be locked up till 6:30pm, even though this is an official association time. It's the second time it happened this week, usually without warning. It's because one of the two prison officers is needed to cover another wing, and my wing is often penalised. On average it happens twice a week, affecting inmates' plans for shower, phone calls, association, etc. Due to the lack of forewarning, this causes undue stress and disgruntlement, but no one dares to complain."
– Prisoner, 63, Littlehey

"Dinner was child-size portion as always and leaves a lot to be desired. I'd personally say the food served here is not fit for human consumption… I apologise if this account of prison life is bleak only it is a truth account of life here… [We have] vents which are so old they're blocked so I'm constantly yawning due to lack of oxygen in the cell and the heat is overbearing, but to complain or to put in a comp[laint] gets an X painted on your back and staff will target you."

– Prisoner, 39, Preston
"Bang-up 12 o'clock to 2:10pm, when dinner was served. Think it was food. Kitchen needs a good kick up the backside. All staff from the top down to prisoners working need training or sacking. Pleased to find a lost letter was found after months of being lost by the court or CPS. Very important to my appeal."
– Prisoner, 66, Lewes
"Bang up is early here on a Friday due to a regime change so now banging up at 5:15 for the night, unlock isn't till 11:30am tomorrow… That's another Friday done, another slow weekend to come then start all over again next week."
– Prisoner, 29, Norwich
"Walk some more around the football field for three-quarters of an hour. Sit down on a bench and look across the fields. Not long now till I hope to be released. Shower and clean teeth and into bed to watch TV. Asleep by 2140ish and that's it for another groundhog day at North Sea Camp. How is this getting me ready for release or protecting the public? Waste of time and money. Tomorrow will be the same."
– Prisoner, 49, North Sea Camp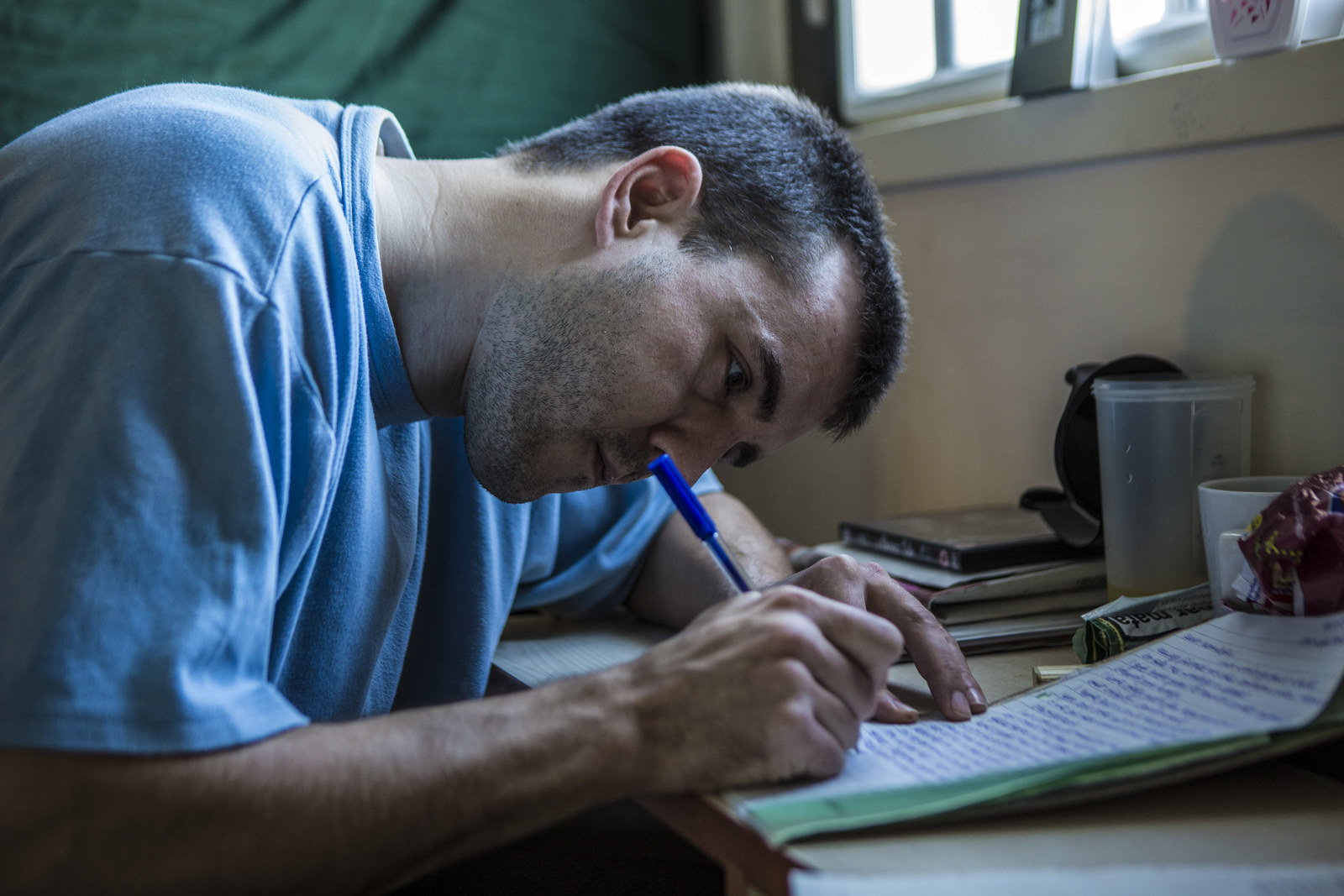 "And so [I] slip off to sleep where hopefully I will dream of my Cornish homeland."
– Prisoner, 72, Leyhill

"I have been doubled up with an inmate who is on suicide watch so every 60 minutes through the night the screw slammed the flap on the door. Didn't sleep well. The whole place is a joke."
– Prisoner, 48, Maghaberry
"The bed is a solid, flat wooden board. My body weight has slowly crushed it into a misshapen, double-dipped, torture device… Was woken, briefly, by night patrol at 8pm shining a powerful LED torch in my face to make sure I wasn't dead. Sometimes I wish I was. That would show him."
– Prisoner, 43, Bure
"I do not get much sleep as I have a floodlight about 30ft from my cell window, which tends to keep me awake at night as we are forbidden to have curtains. This is also embarrassing when using the toilet as I am on the ground floor. While the prison do provide fruit we get only one piece a day, either an apple or an orange and always in poor condition and unripe. In July fruit was removed from the menu as some prisoners had made 'hooch'. The governor did this to punish the whole prison for the actions of a few."
– Prisoner, Channings Wood, 58
"Lights out – Sleep. Hours out of cell: 5. Purposeful activity: None. Cups of tea: 6. Days left of sentence: One fewer."
– Prisoner, 46, Elmley
"Locked away at 9pm for the night, total bliss, relax and rest. Do it all again tomorrow. Do it all again. And again. Again."
– Prisoner, 52, Glenochil
"Though being Saturday tomorrow, we won't be unlocked until 8:30am. That's a long time to be in this room. Despite the apparent remit to 'change lives for the better' we never get to work on Friday afternoons, which once again meant that my afternoon effectively began when I returned from work at 11:15am … Our library session was cancelled for the second week running."

– Prisoner, 37, Peterborough
"We have a cold tea Fri/Sat/Sun, as we get locked up earlier… There is no work on a Friday afternoon or weekends."
– Female prisoner, 32, Bronzefield
"With a dreary and uneventful Sat/Sun ahead, I close my eyes and think of better times."
– Prisoner, age and location unknown

"Before I came into prison I was employed by the Prison Service as a principal officer. Allied with my sexual offending, this makes my situation very difficult at times ... Tried to phone wife and son but phone showing 'Temporary fault'. This is an ongoing problem, the impact of which is that I wonder if I'll get to speak to them today. This will affect my emotions and my mood if I do. ... 16:25 – Spoke to son so I'm relieved. He's been out shopping for new school uniform for when he returns on Tuesday. 22:30 – In bed. Laid for a while thinking/dreaming about the future, before falling asleep. It sounds clichéd but I do this every night, hoping I'll be given another chance."

– Prisoner, 45, Frankland
"Went to a spur to check in on a friend who was having contact with her baby boy later that day. We met in Holloway. We were both pregnant at the same time. I gave birth to my third daughter one month before she had her son, so I tried to support her through her loss. My daughter is with family but her son is being adopted.
– Female prisoner, 30, Bronzefield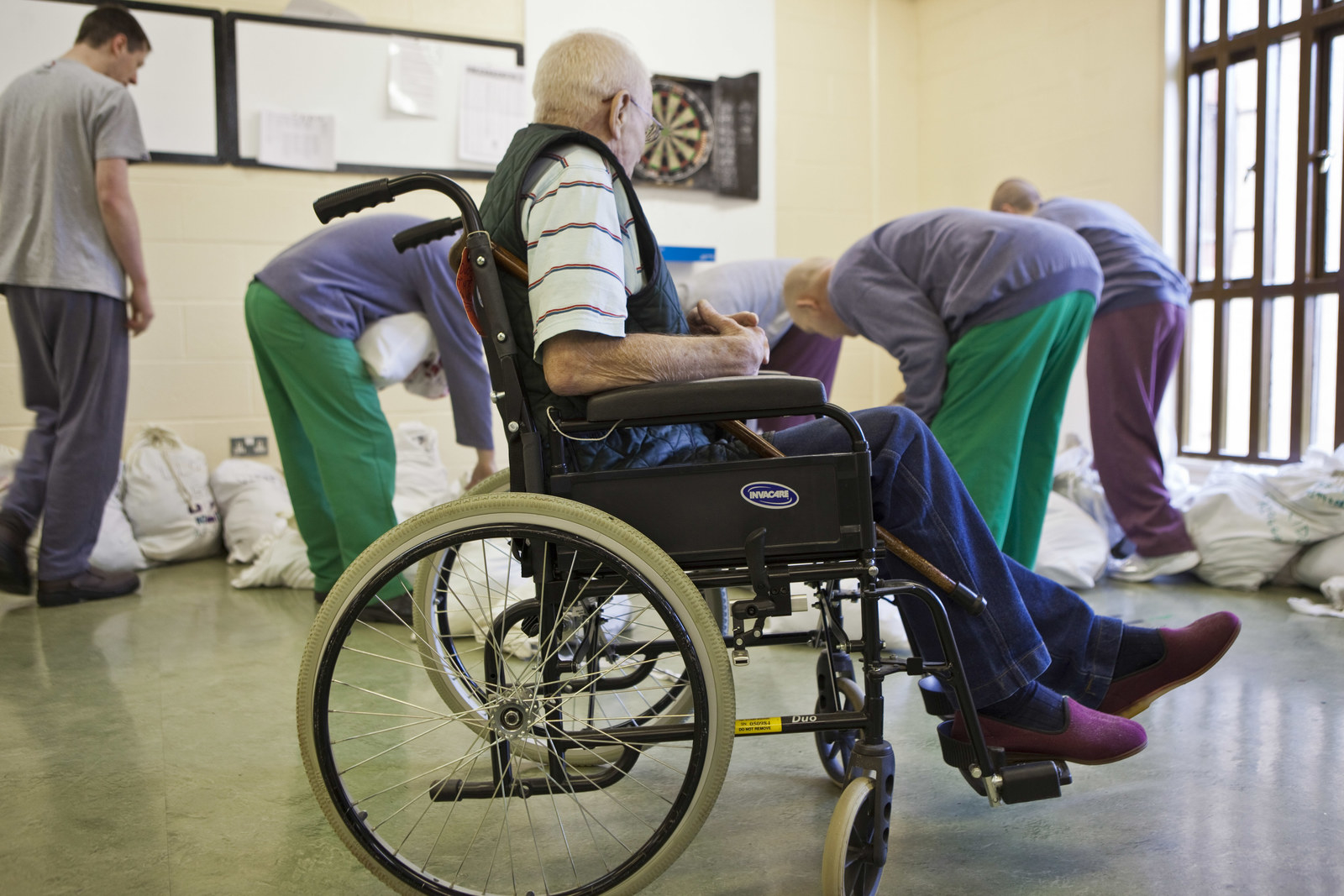 "I've been in five years but have a superb tan due to being out in the sun as much as possible. It's my little protest against the system. I was 51 yesterday, so called my parents and they sang me 'Happy Birthday'! Couldn't call on the day as a) association cancelled, and b) new governor has turned off phones for all day. Set up playdate with gay lad for Sunday when his padmate's on a visit, so off-wing."
– Prisoner, 50, Holme House
"Gather my apps and my first complaint form ready to hand in before class. Complaint is due to a letter I got yesterday telling me my family had just got their Christmas cards returned nine months after they sent them to me, which had left me feeling nearly suicidal, thinking I'd been totally abandoned after being imprisoned in September last year and not being told my communications were being deliberately blocked."
– Prisoner, 34, Lewes

"Heard a lot of commotion in the hall, thought someone dropped a chair or something accidentally. Went out to see what was happening when the noise got disruptive, seen a lot of officers running into the hall area. Didn't see anything but sure it was a fight. Lockdown."

– Prisoner, 55, Low Moss
"This establishment has a very high incident of violence, especially 'slashings'. I have been here over four years and the violence seems to be the 'norm' even with all their OBPs [offender behaviour programmes]."
– Prisoner, 65, Low Moss
"I've resided in various HMP establishments – Wetherby, Leeds, Garth, Lincoln, Hull, Risley, Manchester – from 1999 to present, and I've seen first-hand how the prison system has declined."
– Prisoner, 33, Hull
"It's become a dumping ground, a human warehouse where no one hears the screams of those in misery shut off from the world. Bang-up on all the wings due to total lack of staff, it's a daily event; never knowing what's happening from day to day. When will the government ever get it right? Not in my lifetime and about 200 years after the rest of Europe."
– Prisoner, 36, Channings Wood
"I have been waiting for a doctor's appointment for eight weeks. Maybe next week. (I put in for an emergency dental appointment as I broke a front tooth off – it was 41 days.) Yes we are banged up all weekend – that will be four out of four days this month. Perhaps they are going for the record. During the week when we are not working due to staff shortages, which is very regular, we are banged up for 22½ to 23 hours a day."
– Prisoner, 57, Moorland
"This staff crisis is becoming a nuisance, especially for Altcourse where it's more open so you need the staff if you're trying to get anywhere. How can a company that gets paid a lot of money provide poor services? Feeling a little lonely; I don't know what it is but the hardest thing for me at the moment is lovesickness. It's been six years of singledom and by reckoning it will be the rest of my life or at least the rest of my life sentence. I miss being in love. I suppose I should really worry about more important things but it's hard to ignore the emptiness inside. Bedtime awaits, the best time of the day."
– Prisoner, 25, Altcourse

"The self-harm / suicide thoughts are under control but I have slept most of the morning and a lot of comfort eating. Food was awful – but that may be my mental health saying so. I will say, however, that the officers I've spoken with are pleasant and helpful. This has been my experience of most officers."

– Prisoner, 48, Wandsworth
"I lay on my bed, the food wasn't great, and I worry about my pending parole board. I don't have to work this afternoon. An inmate arrives, and asks if I can write a poem for him. I promise I will have one done in the next hour or so. Time for a shower – it's relief for the pain, and my depressive mood. I'm still tired, and lay on my bed again. Can't sleep or won't be able to tonight. Thoughts of contacting my family the next day enter my head, and I wonder what I will tell them – do I tell them the pain I'm in, and the effects of the medication, or do I not burden them? I keep strong, and watch the TV, until I can keep away no longer. Sleep can't come quick enough."
– Prisoner, Whatton, 57

"I'm sitting here with door ajar, radio on, and the wing echoes with the sound of games, dominos, laughter, and chit chat. Also a constant jingle of keys and squawk of radios. Atmosphere is neither good nor bad, just 'is'. Kinda dull and boring. Reminds me of Waiting for Godot by Samuel Beckett. All in all, a pretty dull day. One of many hundreds done, and still to go in my sentence of 44 months. Lesson learned. Of course, the real sentence starts on release."
– Prisoner, 34, Hull
"Currently a 21-hour-per-day bang-up. ([For] three-and-a-half months.) Cells open 1415–1730ish to include lunch in cell, association, phone calls, shower, and exercise. 0930–1415 Time split between reading, doing puzzles, poppy dismantling, lying around and thinking. Not my turn for the gym today. All other classes – education, library, etc – cancelled. Bored shitless. I've given up on TV. It's a constant source of conflict with younger cellmates who insist on it being on all day – even when they don't watch it."
– Prisoner, 65, Lewes
"Apart from library time and one and a half hours in the morning and five minutes in the afternoon, bang-up all day. I would find long bang-up more difficult if I was not in a single cell!"
– Prisoner, 62, High Down

"We have an excellent library here that keeps me steadily supplied with the latest titles. Unlock 1pm. I go down to the 2s [first-floor] office to put my name down for the 2:45 gym session, which is the over-50s walking football… Sit and read until 2:30 then get changed into shorts and T-shirt, socks and shin pads, get my door locked and down to 2s to wait for the changeover. Unfortunately, as is quite common lately, our gym session is cancelled due to staffing issues. So it's an early shower and back to my book and Classic FM."
– Prisoner, 64, Wakefield
"Time for a bit of TV before sleep eventually comes. Might even watch an 18-rated film on TV, because you can't buy 18-rated DVDs or games no more. As usual I wonder about the petty rules and look forward to tomorrow. Another day done!"
– Prisoner, 33, Hull
"I'd have played on my PlayStation, Transport Tycoon, but it got nicked two weeks ago. By a mate who'd just spent 30 minutes telling me he'd stay out this time as he's turned the corner and gone straight! I love prison."
– Prisoner, 50, Holme House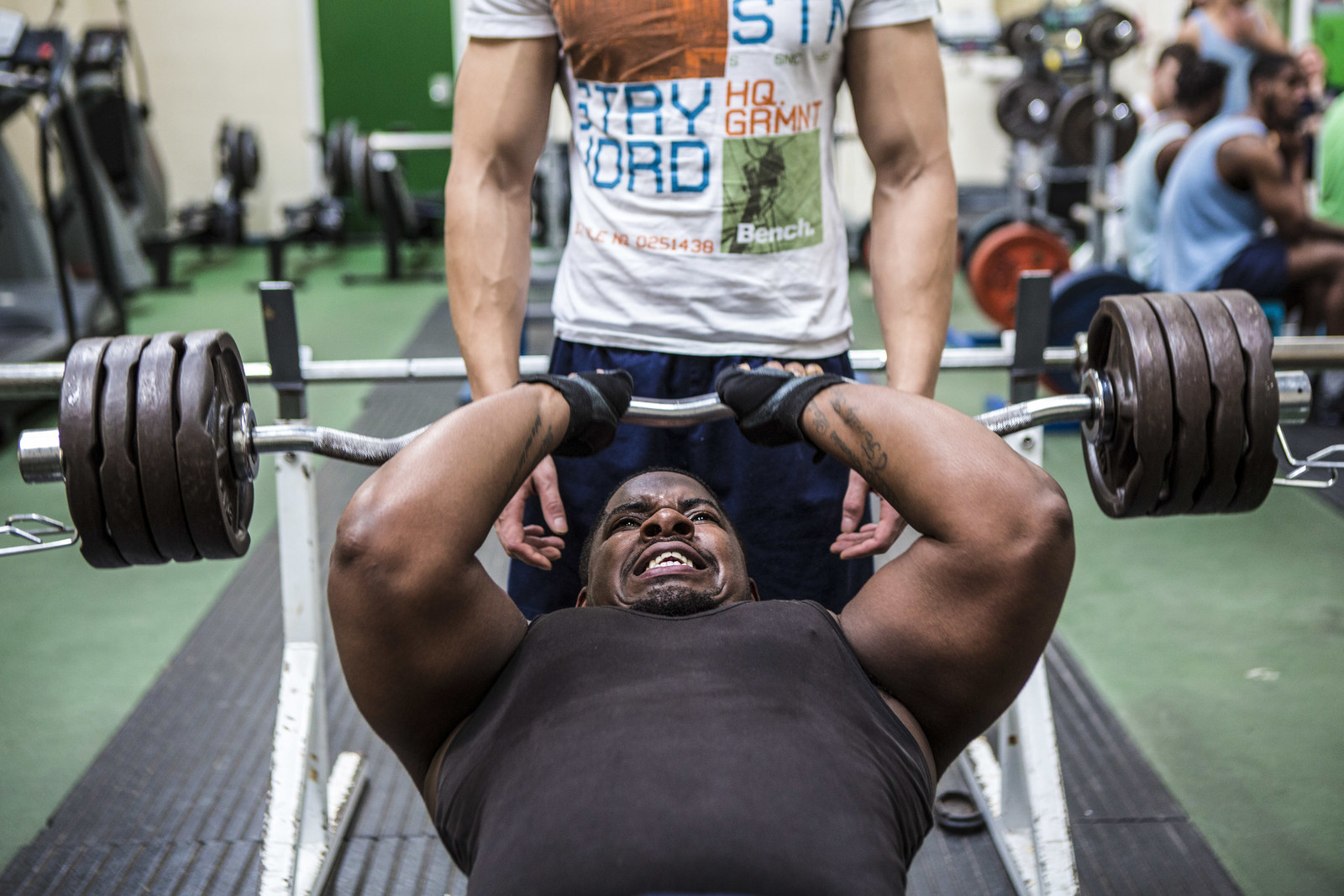 [On TV] "It provides access to the outside world, so I am very grateful for it. Before I escape this nightmare through my dreams, I will lay awake for a while until I can reconcile the madness of the place and somehow console myself for all the things that I didn't get here today – like every night."
– Prisoner, 37, Peterborough
"Unlocked at 1440 for library, came back to my cell and was locked up at 1510. Watched TV. Opened up for our hot evening meal at 1610. Locked up at 1635. My evening meal consisted of mushy peas, roast pots and breaded fish, and a jam doughnut. After my meal I listened to my radio. Took my medication. Had a strip wash. Sat on my chair and read my book, called Operation Iraq by Leo Kessler. Listened to my music, laid on my bed around 2000. Saturday tomorrow, hopefully we will be unlocked around 0830–0900."
– Prisoner, 67, High Down
"Life still evolves as the sinners of the world hang in suspended animation. I prepare my porridge and try to finish the last episode of Orange Is the New Black. The irony is not lost on me. A fellow inmate like myself eating porridge watching fictional inmates act out my reality. Monkey see – monkey do. Googlebox? No, more like shackledbox. Another groundhog day complete and I am still me. I think. Institutionalism is meant to degrade your identity and make you reliant upon a system. As far as I can tell my ego is in check and my reasoning is sound. I accredit this to avoiding TV soaps and prison healthcare."
– Prisoner, 37, Stafford
"I don't watch a lot of TV. Contrary to public belief that all inmates get the free full package from Sky, the nine channels that we get I find to be unwatchable in general, so I read. I usually get through 4–6 books a week."
– Prisoner, 64, Wakefield
[On self-help books] "All these books have really helped me to stay clean from drugs and turn me into a better man for my future. The RAPT [Rehabilitation for Addicted Prisoners Trust] course has helped me also a lot. I'm very grateful for the course."
– Prisoner, 26, Brixton

"The only way to dry clothes as there are no pipes on the ground is to hang them from the toilet curtain rail, which is 10 foot up on the ceiling. I reach by using a chair, a banjo case, a pile of books and four large Rubik's cubes. Yes I know, health and safety! We don't have much of a choice due to low wages: £1 a session, £11 a week."
– Prisoner, 53, Bure
"Get dressed. Red polo shirt, jeans, and boxers. (I hate boxers, but not allowed Y-fronts for some reason.) No shower today 'cos we had one yesterday."
– Prisoner, 67, Barlinnie
"[To clean cell] use homemade disinfectant – from a pine toilet block (purchased in the canteen) dissolved in water. Prison cleaning fluids have been essentially unavailable for approximately 12 months now – budgets are exceeded. I put some washing in the cell sink to wash. B wing has been one drier down (of two) for about three months now, but this week the one remaining drier also broke. People putting washing in have had it returned wet. There has been an ongoing rule that we can only put 10 items max into the laundry once weekly for this period. So you either do some yourself or you smell. There is no money to repair the driers. I think they're about 15 years old."
– Prisoner, 48, Wakefield

"On my landing there are 21 other men and it's very noisy. The walls between the cells are plywood and plasterboard. This means coughing, stereos, chatting, etc, is all quite audible even at end of landing. Slightly further away there is a UK/USA airbase housing fast fighter jets which, daily, perform manoeuvres over the prison with ear-splitting noise. The chapel has a new sound system installed and the musical accompaniment is allowed to be played at the blasting level. It's so loud we can't hear ourselves sing. If I raised the problem with the chaplain his response would be to tell the musician causing the problem of my 'complaint'. The musician would become offended by my 'remarks' and the chaplain would put me on report for 'causing trouble'. I would be punished with loss of wages or loss of association or both. So I won't bother."
– Prisoner, 43, Bure
"I am transgender but am sharing a cell with a male prisoner as the governor refuses to recognise my transgender status unless I submit to a diagnosis of gender dysphoria, which I object to seeing it as a method of control similar to the old diagnosis surrounding homosexuality that has been removed from the DSM [Diagnostic and Statistical Manual of Mental Disorders] leaving transsexuality as the 'supposed' abnormality to be sneered at… Write another letter to offender manager again setting out my views about the governor without using the F word directly. Will be interesting to see if this similarly blocked. Perhaps only nice comments about the 'idiot' governor are allowed out of the prison."
– Prisoner, 54, Whatton (a men's prison)