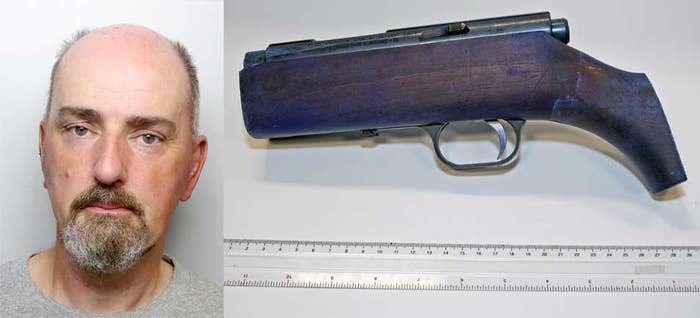 A police hunt is underway to establish who provided white supremacist terrorist Thomas Mair with the gun he used to murder his local MP, Jo Cox, in June this year.

Mair, 53, was convicted of her murder on Wednesday at the Old Bailey and told he would spend the rest of his life in jail.
But police are puzzled over how he came to obtain the German-made .22 sawn-off Weihrauch rifle used in the attack, which took place in Birstall, West Yorkshire.
Detective Superintendent Nick Wallen of West Yorkshire police said in a statement on Thursday: "Who supplied the firearm to Thomas Mair remains an active line of enquiry for the police. The firearm was stolen from a vehicle in Keighley in August 2015. The identity of who stole the firearm has not been established.
"We strongly believe that Mair was not responsible for the theft".
Police also believe the gun was once legally owned, although Mair himself has never held a gun licence.

The gun had been shortened to make it easier to fire with one hand from close range. To shorten a gun to that extent is in itself illegal – and police found no evidence that this shortening took place at Mair's home.
Speaking outside court on Wednesday after Mair's conviction, Wallen said: "My suggestion is that Thomas Mair has not been responsible for cutting the weapon down.
"But how he – an antisocial loner with no previous history, no criminal ring or individuals around him – how he came to be in possession of that gun is very much an active line of inquiry and I would like any assistance I can get."
The Old Bailey heard during Mair's trial that he watched this video, showing a young American man firing a similar sawn-off .22 rifle, nine days before carrying out the attack.
Mair was armed with 25 rounds of ammunition, including some British-made hollow-point .22 bullets, which are designed to expand upon impact and cause greater damage and are used by some hunters.