PETA's Porn-Inspired Anti-Dairy Advert Was Taken Down After Complaints
The ad, which had the slogan "some bodily fluids are bad for you" and a clear visual reference to pornography, was taken down after an intervention by Notts County FC.
Does this advert offend you? It was too much for Notts County FC, who demanded that a billboard version outside the club's Meadow Lane ground be taken down.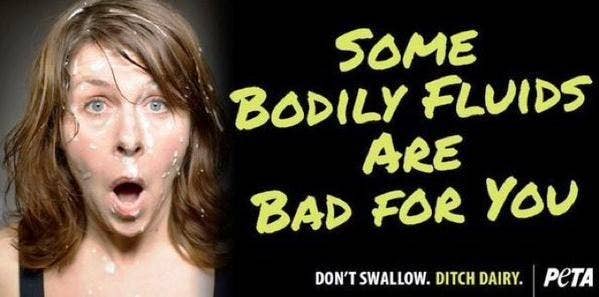 The ad was at the junction of Meadow Lane and Iremonger Road in Nottingham, right outside County's ground.
County's commercial director, Damian Irvine, told the Post that following his complaint, the ad agency responsible agreed to take it down on Friday. He said:
Once the content of this advert was identified we informed advertising company Space Outdoor who agreed the content was not in keeping with our community and family-focused values.

The agency committed immediately and proactively to change the advert effective Friday December 5.

Families coming along to Meadow Lane for our blockbuster Christmas matches against Swindon Town on December 13 and against MK Dons on Boxing Day will not be subjected to the ads.
Some argued that the ad was in bad taste and didn't help PETA's cause.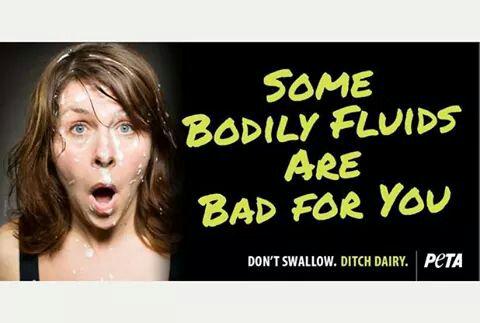 But the shock tactics are working, PETA director Mimi Bekhechi told the Post:
The billboard is a cheeky way to alert passers-by to the dangers of drinking cows' milk.

Dairy products wreak havoc on human health, and the dairy industry's routine cruelty to cows, who are used as nothing more than milk machines, should persuade anyone not to swallow products made with cows' milk.
Andrew Foster, from the ad agency Space Outdoor, which manages the billboard, told BuzzFeed News:
What I will say is that outdoor advertising certainly works, just judging by the amount of interest generated because of this.

But we have to balance the wishes of the client with the views of the community. We listened to everyone and removed it on Saturday.

As we are a local company we have to take in the local picture and decided we would listen to the community on this one.
The ad was a local campaign in Nottingham, but Foster said it was possible it could run elsewhere.