The bailiffs could arrive any minute and Rosa is on edge. There's a knock at the door to her compact but cosy ground-floor flat and she momentarily panics, springing to her feet. "Who is it? What do you want?" she shouts.

But it's not the bailiffs appointed to evict her but one of around a dozen activists and neighbours who have turned up to stop them. Their plan is to give Rosa another night, ideally longer, in the one-bed flat she's called home for seven and a half years.
Rosa, 69, lives alone at Dorchester Court, a Grade II-listed housing development of 96 red-brick flats in Herne Hill, south London. She was given two months to leave the property in October. Now, on a rainy Tuesday morning, her time is up.
Rosa is the victim of a "no fault" eviction, where tenants on assured shorthold tenancy agreements (ASTs) are forced to leave at the end of their contracts because they can't afford a rent increase.
She was told by her landlord that the rent was going up from £823 to £975 – an extra £150 a month, or £1,800 a year. She negotiated with them and suggested a compromise, but in the end the increase was too much for her. The landlord used section 21 of the Housing Act to regain a possession order for the property, and today is the day it's being put into action.
This is a problem facing people across the city. According to the English Housing Survey, between 2003-04 and 2013-14 the proportion of households in the private rented sector rose from 14% to 30%, while the number of owner-occupiers with a mortgage fell.
Last December, 93 families on the New Era estate in Hoxton, east London, celebrated victory after successfully campaigning against plans to triple rents and evict tenants who couldn't pay. The estate was sold by its US investment firm owners to the Dolphin Square Foundation, a charity that provides affordable homes. Other estates have not been as lucky.
Hovering around the hallway offering drinks and biscuits to well-wishers, Rosa is busy, spirited, and upbeat.
But sat in her homely living room, her belongings unpacked as normal, she is frustrated and sad. Does she have somewhere to go? "Here! Where we're sitting. I hope they don't come, and go away," she says, laughing.
"It's lovely living here. I have no family, I'm widowed, so I'm always on my own. It's very supportive in the Court. There are children, older people, younger people – I like to live in a community with mixed people.
"A few years ago I had the opportunity to go into sheltered housing, but they [people in sheltered housing] keep on dying. The ambulance keeps coming every few days to take them out, you go to funerals. I wasn't ready for that."

Others in the building have had to shoulder even bigger rent increases, Rosa says.

"For renters there's absolutely no protection. Two months, you're out. This is unfair. Then they can peg the rent at whatever they want – you pay it or you're out."
She qualified for legal aid and went to court to fight her case using article 8 of the European Convention on Human Rights, which guarantees respect for someone's private life and home.
At first she was successful. But at a subsequent hearing the judge found in favour of the property owner, and her fate was sealed.
She's spoken to Lambeth council about getting sheltered accommodation and was offered a place in Lewisham, but only for 12 months. "I thought this would be my last home," she says. "I don't want to move again."
Local MP Helen Hayes gave Rosa her backing and released a statement saying: "I believe [the] landlord is behaving in an entirely unacceptable way in relation to [Rosa] and other tenants at Dorchester Court who are facing evictions.
"These are long-term residents who have been reliable and responsible tenants. It is really beyond belief that they are even considering evicting a 69-year-old pensioner just two weeks before Christmas.
"It is unacceptable that so many private landlords in our area seem to simply want to charge an ever-increasing level of rent to successive short-term tenants."
But Rosa won't have to move just yet. Just before 10am, two bailiffs – one man and one woman – appear with the estate manager holding a possession warrant from the court.
Activists stand in their way and bar their entry while Rosa remains inside, and after less than a minute, the bailiffs leave. "You do what you've got to do, that's fine," says the woman bailiff, before they walk away to their next appointment.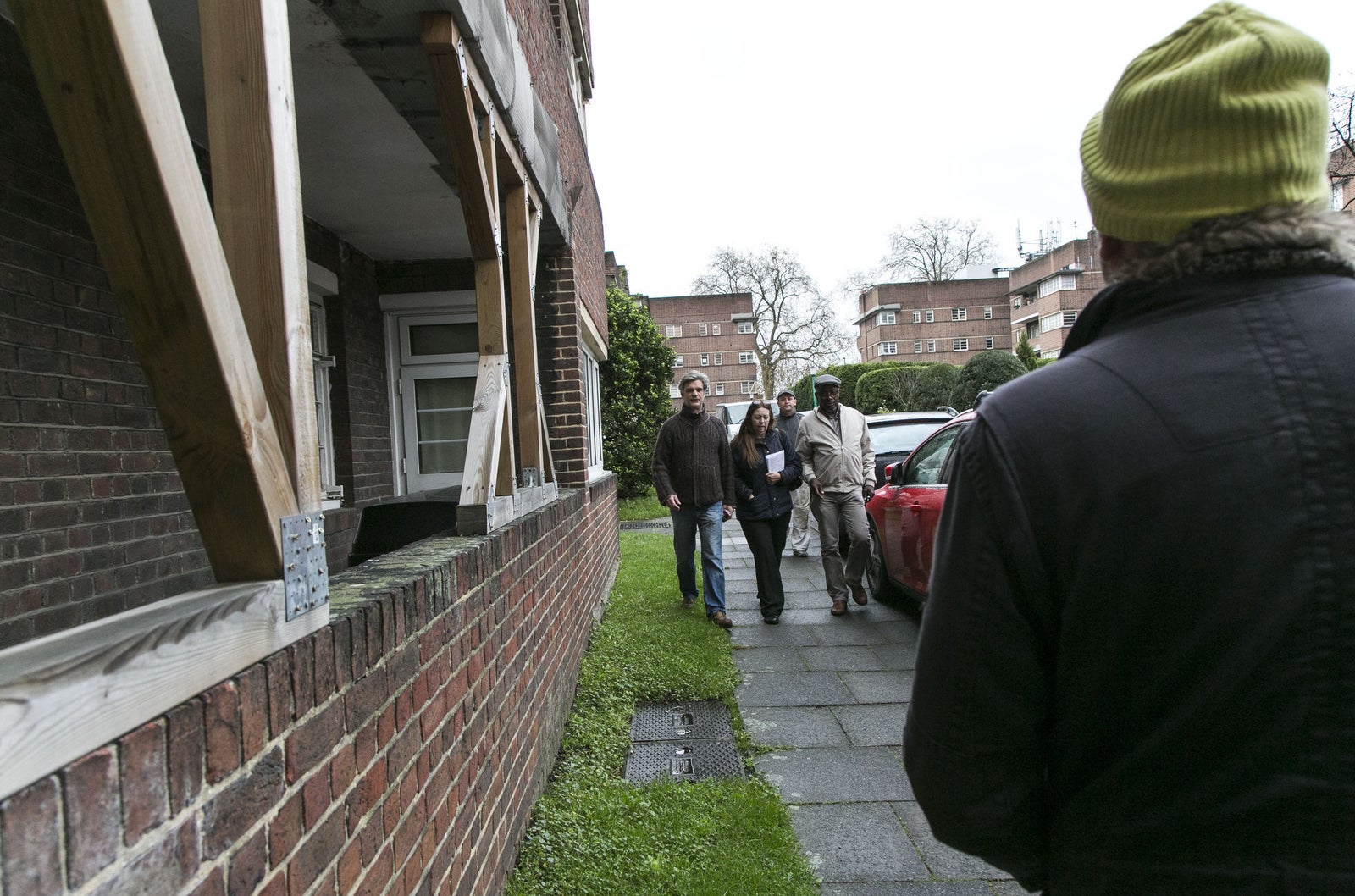 The bailiffs approach the property at Dorchester Court and are greeted by protesters.
They will now have to get a new warrant from the court, only this time Rosa won't have any advance warning. The activists suspect they might not be back before Christmas.
Estate manager Rupert Ingham tells BuzzFeed News: "As far as the landlord is concerned he's fulfilling an application from the court and obviously these people disagree and that's as far as I can take it really.
"It's a brief from the court and to make it more complicated than that is for others."
Other tenants on the estate fear the same could happen to them – can the landlord give any assurances? Ingham says: "There have been issues about rent increases but the rent is pretty much par for the course for the area. So I don't think that that's a reasonable argument."
He adds that he didn't think anyone had been made homeless as a result of evictions. When BuzzFeed News points out that Rosa has nowhere to go, he adds: "Again you're walking into a moral judgement. This eviction is a process that's happened through the court and we're fulfilling the mandate of the court."
Rosa's is not an isolated case.

Jason Collins (below), 53, with his wife, Helen Kinsey, and their two teenage daughters, aged 13 and 16, moved out of Dorchester Court in May after facing a section 21 eviction order following a rent increase. They had been there for 21 years.
"My kids were born up there, one in the living room and one in the hallway," says Collins, pointing to the third-floor flat, holding back tears. "In a few years' time it will turn into a gated community, that's the fear."
Like Rosa, the family fought the order through the courts, using article 8. Teacher Kinsey represented herself against the landlord's solicitor – the family didn't qualify for a state-appointed lawyer through legal aid because they earned £13 a month over the limit. In the end, the court ruled against them, leaving a £7,400 bill to pay in fees and costs.
Through crowdfunding and benefit gigs, Collins has raised £3,500 but he says he's still about £10,000 short of what he needs to cover the court costs and six months' rent in the family's new and more expensive flat in nearby Sydenham.
"After the hearing, Helen was crying her eyes out," he says, "and while people were consoling her I confronted Goldreich [Nicholas Goldreich, the landlord's solicitor]. I just calmly looked him in the eye and said: 'This is completely wrong. How can you do what you're doing?'
"We have a psychic connection to this place – the kids know they were born there. This is all they've known, and for us to be treated this way without any negotiation about whether we could have another flat…"
BuzzFeed News attempted to contact Goldreich but our calls and emails went unanswered.
Collins admits the flat was in a "ridiculous" state and was in need of repair. But he didn't want to leave, and nor do the other tenants who fear they could be next.
"People are scared that the next rent hike is going to be the one that makes them go," he says.
Herne Hill, just four and half miles south of the centre of London, is a much sought-after area for young professionals and families. The average property here sells for £787,000, almost double what it was 10 years ago and more than four times the national average.
The average rental price for a two-bed flat is now £439 per week, according to Foxtons.
Ravi Ball, 50, who's lived on the estate for two years, leads the Dorchester Court Resists group. He's been advising people facing eviction and organising protests. But the problem is not, he says, one caused by gentrification.
"I wouldn't use that term [gentrification]," he says, "because it's not a problem that new facilities or new properties are being built – it's the fact even the people who've been here for a while are just arbitrarily told, 'Leave now because we're putting the rent up massively.'
"They'll use the excuse of refurbishment but a lick of paint does not justify putting up the rent by 30%. So it's not just that they are being priced out because things are becoming more expensive, it's a deliberate policy of just clearing people on lower incomes."
One flat earmarked for refurbishment has remained empty since July, he says, pointing out a third-floor property with no curtains and its door wide open.
Designed and built in 1933-34 by Leslie H. Kemp and Frederick E. Tasker, who were better known as cinema architects, Dorchester Court has seen better days. For months its balconies have been held up with wooden buttresses.
Some leaseholders are withholding their service charge and ground rent fees in protest at the state of the place, in a standoff that's been going on for several months.
Dorchester Court is ultimately owned by Manaquel Company Ltd, one of many holding companies owned by property magnate Heinrich Feldman. Little is known of Feldman, other than that he used to own One Poultry, the curious-looking building opposite Bank station in the heart of the City worth around £110 million, and his family has an estimated fortune of £200 million.
Feldman is an active director of 102 companies, according to Companies House, the biggest of which, Inremco 26, made profits of £24.7 million in the year to 30 April 2014.
BuzzFeed News was unable to contact him and requests for comment sent to his solicitors were unanswered.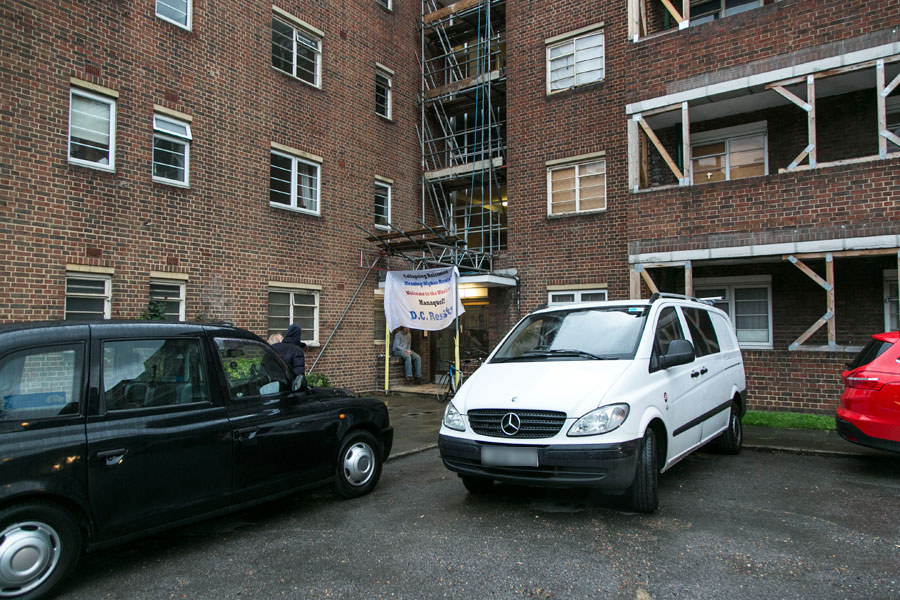 Rosa may have a few more days in her home, but campaigners are calling on the government to do more to protect tenants from rent increase–related evictions.
On Tuesday, Betsy Dillner, director of pressure group Generation Rent, told the House of Lords economic affairs committee as part of its ongoing housing market inquiry that landlords should need a legitimate reason to take back their property and should compensate tenants, while rent increases should be limited to inflation.
She said in a statement: "The government's plans to build homes for purchase at the expense of new affordably rented homes will help only a small minority of private renters. This means millions will remain stuck in a tenure that is increasingly unfit for purpose, with no idea if they'll face a rent rise or an unwanted move in the next 12 months.
"Landlords would not normally force out reliable tenants but unfortunately a family has no idea if they have a rogue landlord until the eviction notice comes through the letterbox. With increasing numbers of children growing up in the private rented sector, the government needs to ensure that all renters have a secure home."