People stepping off the ferry to Rothesay, the largest town on the Isle of Bute, in the last few days would have seen this sign, which says "Welcome to Rothesay, Gateway to Beautiful Bute".
The only problem is that the Gaelic translation had a typo, which meant it said: "Welcome to the beauty of Penis Island." Bhòid means Bute, but Bhoid without the accent means penis.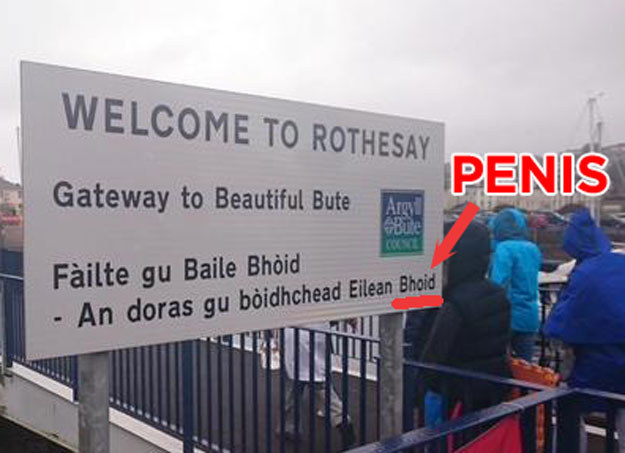 Gaelic expert Àdhamh Ó Broin, told The Scotsman: "Bhòid is Bute but Bhoid is penis. You would need the accent over the 'O'. It says 'Welcome to the doorway to the beauty of Penis Island'."
He added: "You know when people speak Chinese the wrong way and they end up saying 'Your mother is a dog' instead of 'The rice is nice'? It's like that."
The Scottish government has spent around £26 million adding Gaelic translations to road signs since 2010.
Argyll and Bute council told The Scotsman that the sign has been fixed.