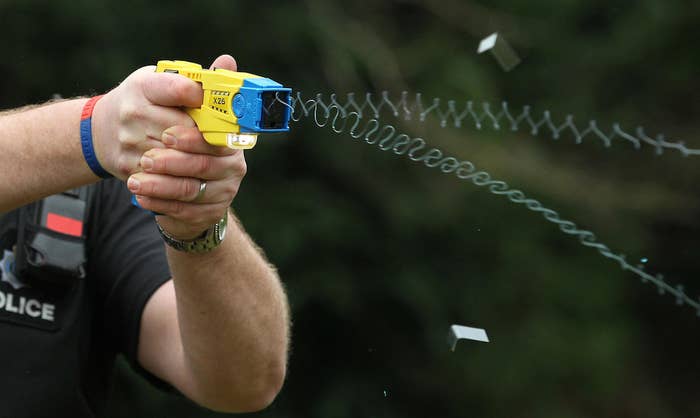 Scotland Yard will increase the number of its officers armed with Taser stun guns by 40% in the coming weeks, in response to a sharp rise in the number of assaults against the public and the police.
Met commissioner Cressida Dick said on Tuesday that an extra 1,800 officers would be given the devices, bringing the total to 6,400, after a training programme lasting around two years. Police groups have called for the increase in Taser use to be rolled out nationally.
The move comes at a time of increased awareness and preparation for terrorist incidents, after a string of fatal attacks in the capital.
A man was tasered outside the Palace of Westminster last week, and arrested on suspicion of possessing a knife. No one was injured in the incident, which came three months after a terrorist attack on Westminster Bridge in which five people were killed, including one police officer.
However, Dick did not mention the terror threat in her statement announcing the increase, instead pointing out that knife crime offences rose 24% in 2016–17 compared to the previous year, while attacks on officers rose from 2,486 in 2015 to 2,676 in 2016.
"Keeping the public safe from harm is at the heart of our job. With this uplift, my officers will be better equipped to protect the public and themselves. We know that the mere presence of a Taser is often enough to defuse a dangerous situation and often get a suspect to drop their weapon if they're armed," Dick said.
"Taser reduces the need for physical contact and also the risk of unintended or unnecessary injuries to all parties. With the roll-out of body worn camera to every uniformed officer, the public can also rest assured that the use of Taser is correctly recorded and monitored and that the use of it is subject to comprehensive scrutiny."
The Met says that in 87% of cases where a Taser was drawn in the last three years it was not used, which it cites as evidence of them being effective in ending conflicts peacefully. Tasers have been used by the force since 2003.
The move was welcomed by some serving officers in the Met.
The Police Federation's chair, Steve White, said: "The dangerous nature of policing is something we've seen play out very publicly in recent weeks. But these attacks aside, there's no escaping the facts – violent crime and police assaults are on the rise.
"Forces need support to stem the flow and this is a step in the right direction. But it can't be done with a click of the fingers. The rigorous training officers undertake to use Taser takes time and costs money.
"Speaking with the Home Secretary this morning, I made it clear that the government must commit to assisting forces in making it possible to train more officers to use Taser. No more time for talk."
Oliver Sprague, Amnesty International's programme director for military, security and police, said that the charity opposed the move.
"At Amnesty, we are extremely concerned that this decision to arm more officers with Tasers completely overlooks the Metropolitan Police's own process to fully scrutinise these decisions.
"As part of the Taser Reference Group, we are shocked that we've simply been 'informed' and not properly consulted about such a major development in Taser usage, when the purpose of that group is to provide consultation and critical oversight of Taser use by the police.
"Tasers are potentially lethal weapons that require very careful scrutiny and training to ensure they are used safely and properly in accordance with established medical and legal standards. In the absence of these safeguards, issuing more Tasers will make Britain's streets more dangerous, not safer."