More People Died In Prison In 2016 Than In Any Other Year Since Records Began
There were 354 deaths in custody in 2016, as well as record levels of assaults in prison and prisoner self-harm, according to new official figures.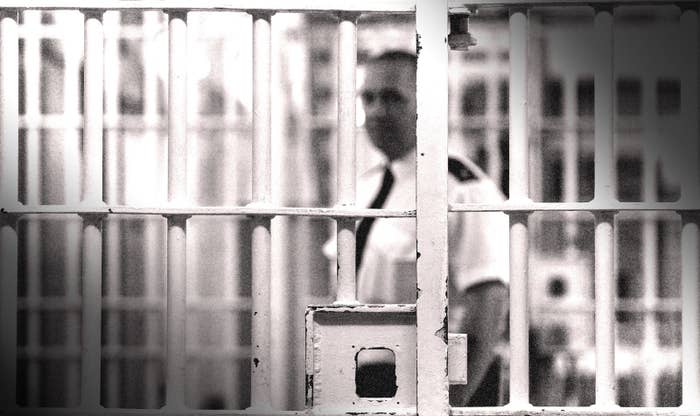 The number of deaths in English and Welsh prisons rose 38% in 2016 to the highest number on record, while the number of assaults on prisoners and prison staff and self-harm incidents and suicides all rose to unprecedented levels.
Ministry of Justice statistics released on Thursday showed that 354 people died in prison custody in the year to December 2016, an increase of 97 on the previous year.
These included 119 self-inflicted deaths, an increase of 32% and the highest number since records began in 1978. The rate of self-inflicted death in custody has since 2012, and prisoners are now 8.6 times more likely to kill themselves compared to the general population, the figures show.
Campaigners said the statistics raised further questions about the safety and security of the prisons system, which has suffered a steep rise in violence and drug use in recent years. Staff have blamed this increase on the use of new psychotic substances and a lack of experienced officers and good management.
The MoJ stats show:

– There were 37,784 incidents of self-harm in the year to September 2016, a 23% increase and a record high.
– Assaults were up 31% to a record high of 25,049 in the year to September 2016. More than 3,300 of these were classed as serious, a 28% increase.
– Prisoner-on-prisoner assaults were up 28% to 18,510, 2,644 of which were classed as serious.
– Assaults on staff were up 40% to 6,430. The number of assaults classed as serious was 761, three times as many as were recorded in 2012.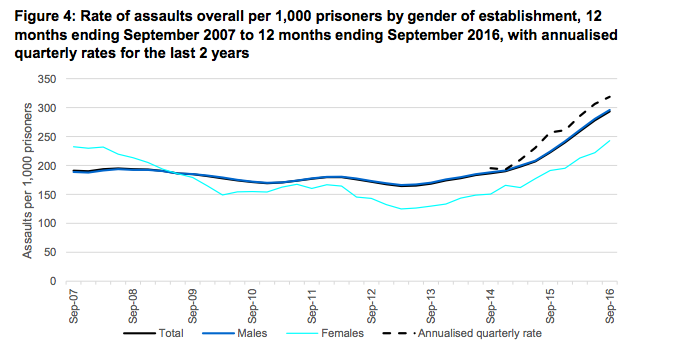 Prison staff have held unofficial strike action at several prisons in the last 12 months over what they see as unsafe conditions due to the proliferation of mobile phones, weapons, and new psychoactive substances such as the cannabis-like drug spice.
The government has pledged to hire an extra 2,500 prison officers to solve the crisis, but this has been rejected as a "sticking plaster" by some campaigners, who argue the root of the problem is overcrowding and inflated sentences.
The Guardian reported on Wednesday that the MoJ had ordered a review into the mental health history of those who took their own lives in prison. Luciana Berger, the Labour MP and chair of the Labour Campaign for Mental Health, said a review was unnecessary and called for action.

Peter Dawson, director of the Prison Reform Trust, commented on today's figures: "Another record low in standards of safety should leave no one in any doubt of the need to relieve the pressure on our failing prison system.
"We know that the worst outcomes happen in overcrowded prisons. Reducing the population can no longer be an afterthought – it is the only realistic way to make our prisons safe in the foreseeable future."
In an emailed statement, the justice secretary, Liz Truss, said: "Since becoming justice secretary, I have been clear that the violence, self-harm and deaths in our prisons are too high.
"I have taken immediate action to stabilise the estate by tackling the drugs, drones and phones that undermine security. We are also investing £100m annually to boost the frontline by 2,500 officers.
"These are long-standing issues that will not be resolved in weeks or months but our wholescale reforms will lay the groundwork to transform our prisons, reduce reoffending and make our communities safer."