The publisher of the Daily Mirror has apologised to "all its victims of phone hacking" and said the total cost of compensation claims and legal fees will reach £12 million.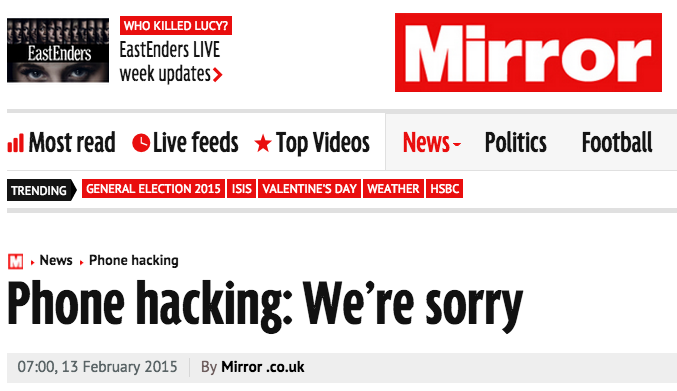 In an article published online Friday morning, and set to appear in the Mirror newspapers this weekend, Trinity Mirror says:
Trinity Mirror, owner of the Daily Mirror, Sunday Mirror and Sunday People, today apologises publicly to all its victims of phone hacking.

Some years ago voice-mails left on certain people's phones were unlawfully accessed. And in many cases the information obtained was used in stories in our national newspapers.

Such behaviour represented an unwarranted and unacceptable intrusion into people's private lives.

It was unlawful and should never have happened, and fell far below the standards our readers expect and deserve.

We are taking this opportunity to give every victim a sincere and unreserved apology for what happened.

We recognise that our actions will have caused them distress for which we are truly sorry.

Our newspapers have a long and proud history of holding those in power to account. As such, it is only right we are held to account ourselves.

Such behaviour has long since been banished from Trinity Mirror's business and we are committed to ensuring it will not happen again.
Trinity had previously denied allegations of phone hacking, with former CEO Sly Bailey telling the Leveson Inquiry in 2012: "We have only seen unsubstantiated allegations and I have seen no evidence of illegal phone hacking."
But last summer the company admitted that its journalists had hacked the phones of four people, including BBC exec Alan Yentob and actor Shane Ritchie, and that it had settled six other cases relating to the voicemails of celebrities including former England football manager Sven-Goran Eriksson.
This was the first time the company admitted phone hacking took place among its staff and came weeks after the culmination of the long-running trial of senior News International journalists and executives at which Andy Coulson, former editor of the News of the World, was sentenced to 18 months in jail.
At that point Trinity told its shareholders the cost of paying victims' compensation and legal fees would only be £4 million.
But in a trading update to the City today, the company admitted that number had ballooned to £12 million, and that new cases could emerge:
As the process of dealing with the civil claims has progressed, it has become evident that the cost of resolving these claims will be higher than previously envisaged.

Therefore, at the full year the Company will increase the provision charged for dealing with and resolving civil claims, announced in its Interim Statement, by £8 million to £12 million. Inevitably there remains some uncertainty as to how matters will progress and whether or not new allegations or claims will emerge and their possible financial impact.
Unlike News UK (formerly News International), a privately owned company controlled by Rupert Murdoch's News Corporation, Trinity is a public company and has had to explain all this to its shareholders.
Trinity, which also publishes local and regional papers, said today it expected to report profits and earnings for per share "marginally ahead" of analyst forecasts for the year to 28 December 2014 at its full-year results in March.
Thumbnail image by Edward Smith/EMPICS Entertainment