Katie Hopkins enters the Celebrity Big Brother house in February 2015.
She was a 17-year-old star violinist, the leader of the local youth orchestra in her hometown of Bideford, Devon, an exemplary student and award-winning public speaker. The teenager with a broad Devonian accent and a winning smile could have been anything she wanted. Now, 23 years on, Katie Hopkins is the one of the most hated women in Britain.
Last week, she used her regular column in The Sun to write about desperate immigrants clinging to boats bound for Europe and dying in the waters:
"NO, I don't care. Show me pictures of coffins, show me bodies floating in water, play violins and show me skinny people looking sad. I still don't care."
In the same article she also compared immigrants to "cockroaches" and said they were "spreading like norovirus on a cruise ship". The article – and a string of other controversies of Hopkins' own making – sent social media into meltdown. So far almost 300,000 people have signed a petition calling for her to be sacked. The UN high commissioner for human rights, Zeid Ra'ad Al Hussein, compared her "inflammatory and unacceptable" language to that used in Nazi Germany and pre-genocide Rwanda.
But it doesn't seem to have harmed the former Apprentice contestant's career: She declined BuzzFeed News' request for an interview because of a "busy filming schedule".
So how did Katie Hopkins, the likeable, popular, and talented girl from a Catholic convent school, end up a hate figure whom her enemies have compared to Hitler?
The answer says as much about the modern news cycle as it does about one person's natural gift at manipulating it.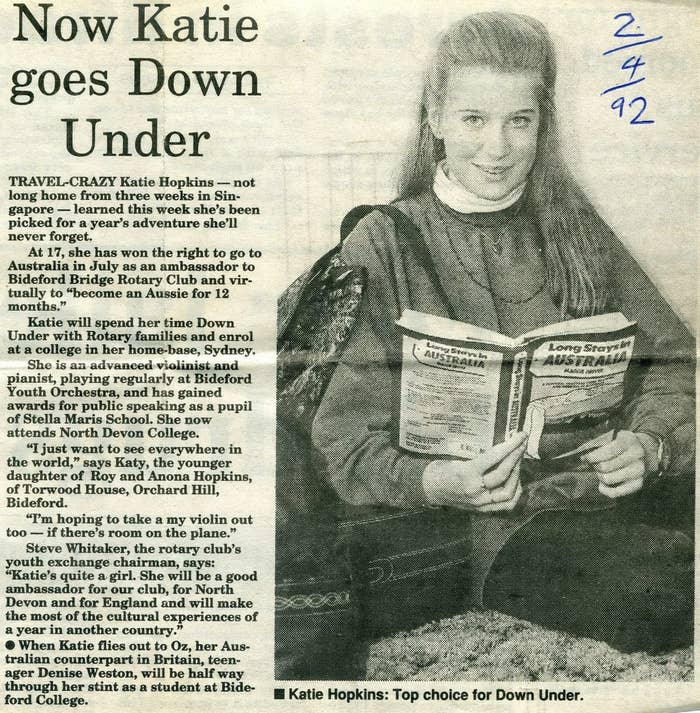 People who knew Hopkins at the Stella Maris Catholic convent school in Bideford, Devon, say she was competitive, likeable, and above all driven – a word that crops up again and again. One woman who knew her at the age of 12 told BuzzFeed News that Hopkins was "very bright", came from a "very ordinary family", and was "popular and fun to be with". Hopkins used to tease schoolmates who spoke in a posh accent, she said.
One schoolfriend, Kath Turner-Wilson, who was in the year below Hopkins at school but played netball with her, told BuzzFeed News she was "very surprised" to hear the kind of views Hopkins comes out with these days: "I think if she was anything like she is now when I was at school with her, I would have punched her in the face a few times."
Graham Andrews, the former publicity officer for the Bideford Youth Orchestra, told the North Devon Journal that her TV persona is an act: "She has clearly found a niche in the marketplace – how to become famous by being infamous – but in those early days of Beethoven sonatas and Bach fugues there was no indication of what was to follow from a convent girl."
After school, Hopkins passed her A-levels at the local college and then went to Exeter University, thanks to sponsorship from the army. She signed a 35-year contract with the intelligence corps and then trained at the Royal Military Academy Sandhurst.
Hopkins graduated from Sandhurst, but failed to tell the army that she had epilepsy. A seizure in the parade square ended her military career.
It was not the only such episode. The convulsions during her first "tonic-clonic" seizure were so severe, she broke a vertebrae in her upper back while lying in bed.
She told The Guardian last year that her seizures are so bad her arms become dislocated:
When I have a fit at night, my arms come out. They dislocate. So I have to go into hospital to have them relocated. That's happened 26 times in the last nine months. So we all have crap to deal with in our lives. I'm hard with myself. Get on with it. Move on. Get your arms put back in.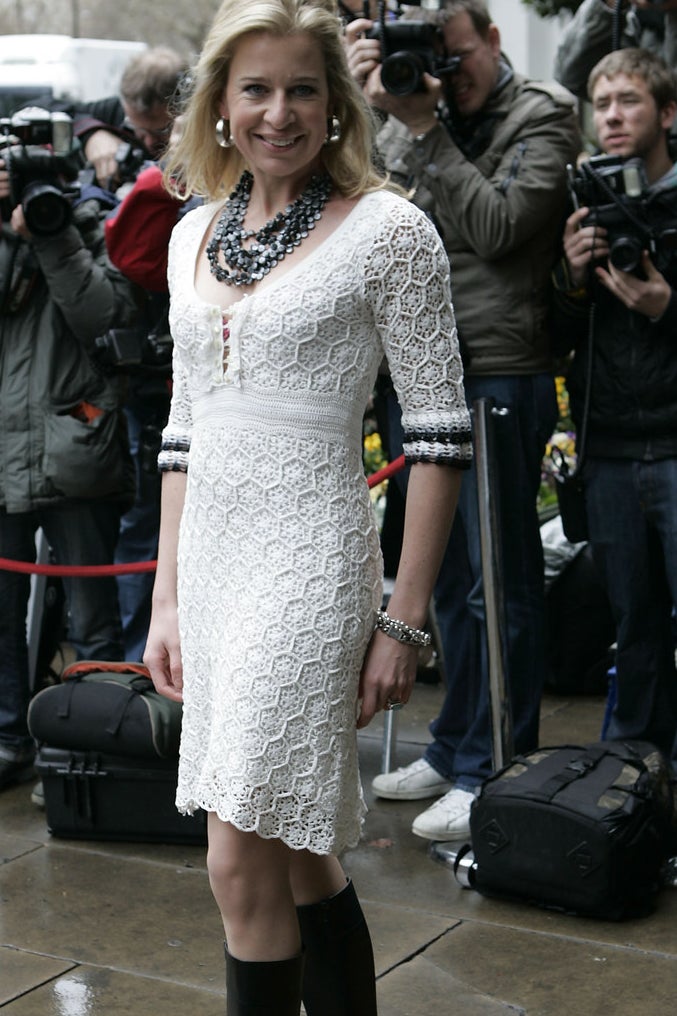 Katie Hopkins attending the 2008 TRIC Awards at the Grosvenor Hotel in London.
Hopkins then moved to New York, before returning to join the Met Office in Exeter as a brand consultant. She appeared in British newspapers throughout 2007 as a spokesperson for the Met Office, her quotes usually appearing in stories about predictions of bad weather.
Then came The Apprentice. The breakout star of the 2007 series, Hopkins famously turned down a place among the final two contestants. The Met Office fired her soon afterwards, apparently because of the bad publicity resulting from her being photographed having sex in a field with a married colleague.
But she apparently had a back-up plan. Even before The Apprentice had concluded, there were signs that Hopkins was planning a media career: her personal website was registered on 20 March 2007, eight days before she first appeared on screen. Her company, Katie Hopkins Ltd, was founded on 21 June, eight days before the series ended.
The episode where she left The Apprentice was watched by more than six million people. And anyone searching for the real genesis of Katie Hopkins, the media personality, should watch the interview she gave straight after it aired.
In it, Lord Sugar's right-hand man, Nick Hewer, suggested Hopkins had intentionally created a cold, hard character during the series, which had generated "so much vitriol".
"You've decided to create a new brand," he said. "It's made you famous, but it's made you loathed. And where's it going to take you now?"
She replied, with a thicker Devon accent than the one she uses now: "Oh Nick, I'm not loathed," to audience laughter. "People like that I say what I think."
Compare and contrast that version of Hopkins to the one that entered Celebrity Big Brother in February this year to a chorus of jeers and boos, happily playing up to her role as public enemy number one.
Various media gigs followed The Apprentice. But a routine appearance on This Morning in 2013 turned out to be the moment that shot Hopkins to national pantomime villain status. On the show, she said that she didn't want her children to play with other children with names such as Tyler and Chantelle, because they were less aspirational.
Holly Willoughby and Phillip Schofield, on the interviewers' sofa, seemed bemused and bewildered by her comments (despite Hopkins speaking to a researcher for an hour the previous day about her views on the subject).
Then, in November 2013, came a regular column in The Sun, which brings us back up to date: since then, Hopkins has become the most reliable source of outrage in the whole media jungle.
In fact, there is now a predictable pattern to a Katie Hopkins media storm.
After the article recommending the use of gunships to stop immigrants finding their way to Europe emerged last week, a deluge of angry tweets followed, leading to #katiehopkins hitting Twitter's top trending topics list by Saturday.
Then came the serious newspaper thinkpieces and enraged blog posts; the petition calling for The Sun to sack her; and the news reports that she'd been reported to the police, which has happened several times so far. (The Sun told BuzzFeed News that neither the police nor IPSO, the press regulator, had contacted the paper about Hopkins.)
This is what Hopkins does: She's perfected the art of stoking the internet's anger factory into full bloom, harvesting all the attention each outrage brings her.
Dementia patients are "blocking beds"; a Scottish nurse being treated for Ebola was "a sweaty jock" and an "Ebola bomb"; Palestinians are "filthy rodents" who should be bombed; children with "common" names such as Tyler will have worse life chances… the list goes on.
Many of these rows start on Twitter. Like a politician carefully choosing a policy, she might tweet a line first, then repeat it on radio and in her newspaper column if it gains traction.
But the question remains: Does Hopkins actually believe this stuff?
While some celebrity newspaper columns are written by a reporter who's essentially interviewed the star, or at least heavily re-written their words, Hopkins writes every word. According to multiple sources at The Sun, who asked not to be named, she files her words every week and they are edited to fit with house style.
She says she simply "tells it like it is" and maintains that her views are sincerely held. She told an interviewer in 2013: "I do believe everything I say and if that makes me a cow then this is what a cow looks like."
But at times, it looks like a mask is slipping. In an interview with the Exeter University edition of student news website The Tab in July 2013, days after her now-infamous appearance on This Morning to discuss children's names, she said:
"Do I feel this strongly about children's names? That surface level… no."
And in the same interview she revealed that there's more skill and calculated forethought to her TV appearances than people might think. Referring to the This Morning appearance, which was viewed more than 10 million times on YouTube, she said:
You don't just rock in the door, throw yourself on the sofa and just blurt out, there's two hours of research, then there's the legal team briefing in order that you don't offend anyone more than you should, and then you're on the sofa, so there's quite a lot of press involved in these things.

To pitch at a This Morning audience, the argument I went for was exactly the right one, given that This Morning has had more hits for this particular segment than they've ever had in the history of This Morning.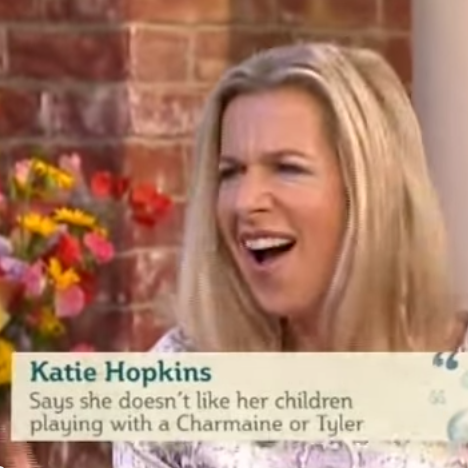 The real driver for the Hopkins phenomenon is this: The media can't get enough of her. The news cycle – particularly on TV and radio – craves conflict and excitement over consensus and monotony, and she provides it on tap. That in turn fuels outrage on the internet, which leads to more TV and radio coverage and appearances.
A former This Morning staffer, with knowledge of the show during Hopkins' first appearances, told BuzzFeed News:
"When she started on This Morning three or years ago she was always willing to take the alternative view. She was always willing to cause controversy from the word go and [was] not afraid to be confrontational.
"At that time the programme was very keen to have as many topical debates as possible and she at that time was willing to put herself out there and stir things up. That's where she got a taste for getting a reaction and she thrived on it.
"With daytime TV people only tune in for a short period of time … She sort of knew the button to press."
Did she believe the stuff she came out with? "Good question... It was always the news team that would have the briefing chats with her. An issue would come up, they'd speak to her, and she would immediately come out with a firm line on something."
And every time she says something, the news media writes about it.
There have been more than 2,000 articles in newspapers and on news websites since the start of 2007, according to media archive Nexis.com. The total is heavily weighted toward online media, which is Hopkins' natural habitat: TV made her, but digital and social media sustain her.
According to social media analytics tool BuzzSumo, the 40 most-read articles about Hopkins in the last 12 months have been shared more than one million times in total.
A former employee at Mail Online, who spoke to BuzzFeed News on the condition of anonymity, said Hopkins was among the most clicked-on celebrities on the site.
"People hate her so much and will comment 'Daily Mail, why do you continue to write about this woman?' But it always drives traffic.
"They [Mail Online] piggyback on subjects that they know will cause controversy. … Anything that's going to enrage people, prompt them to comment and share the article will always be covered."
Richard Brecker, co-founder of the celebrity booking agency Celebrities Worldwide and a former celebrity consultant to This Morning, told BuzzFeed News that Hopkins is simply playing a role that the media needs.
"In basic terms she has the appeal of the pantomime villain," he said. "There will always be a market for opinionated, outspoken baddies. It's one of those things that casting directors and TV producers and journalists will always seek – the people who are not bland or anodyne, but who are provocative and antagonistic and likely to provoke a response from people.
"The way the UK media is set up is such that we do seem to thrive on conflict… So I think Katie's quite a shrewd operator and she's seen that no one really cares if TV is bland, and she will go out of her way to say something deliberately to provoke a response."
As social media comes to have more dominance over the breaking news cycle and Twitter amplifies controversy, figures such as Hopkins increasingly thrive, Brecker said.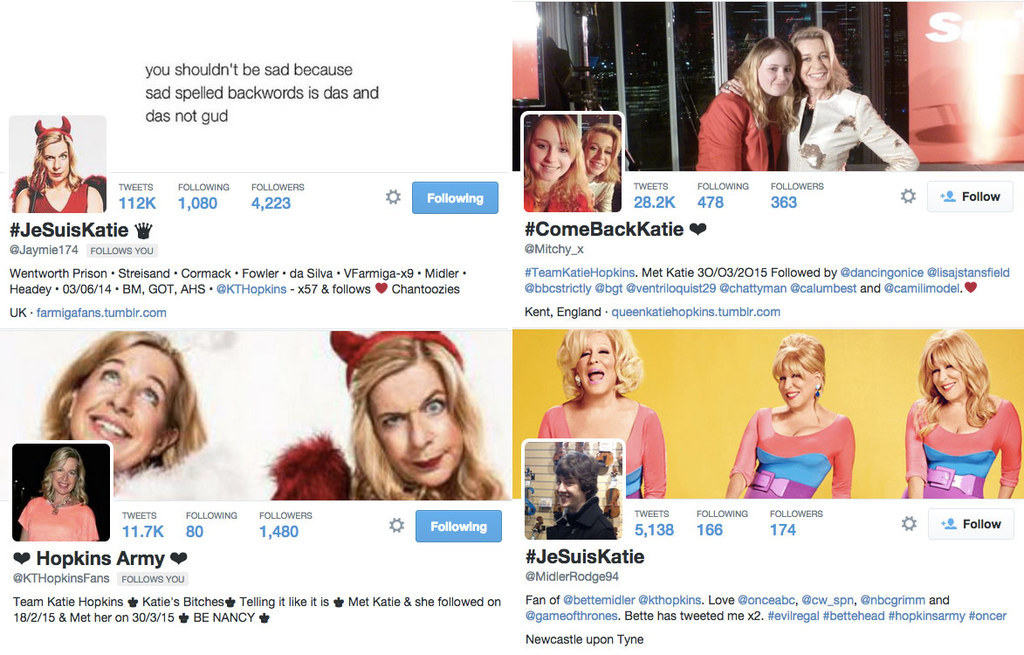 And here's one thing that can get forgotten during a Hopkins-generated media storm: She has a small army of admirers.
In the last year fans have started Twitter accounts to share their adoration of Hopkins. Many have changed their profile names to "Je Suis Katie". There are tributes on Vine.
Jess, from London, who runs the @KTHopkinsFans Twitter account, speaking to BuzzFeed News at the height of the controversy over Hopkins' column on immigrants, said: "We like the fact that Katie is fearless and that she is passionate about her beliefs and opinions. She does not ask for people to agree with her but that people should be allowed the freedom to express their view.
"She also is extremely inspiring and has helped a lot of people find their voice and not be afraid to stand for what they believe in. She says herself opinions are neither right or wrong. They are simply opinions."
A Scottish fan, Jaymie, told BuzzFeed News: "She has given a lot of people strength to toughen up and use their voice (myself included) and to not be afraid in today's seriously politically incorrect world.
"The thing is, she DOES say what most of us are thinking but 'are too afraid to say' but people just hate to admit that. I mean it when I say this: She has been a true hero to her big fans and I couldn't be more thankful to her. She makes us all smile on bad days simply by a little tweet or by watching an old interview online, etc.
"I may not always agree with what she says but I will defend her right to freedom of speech and will always have massive amounts of respect for her."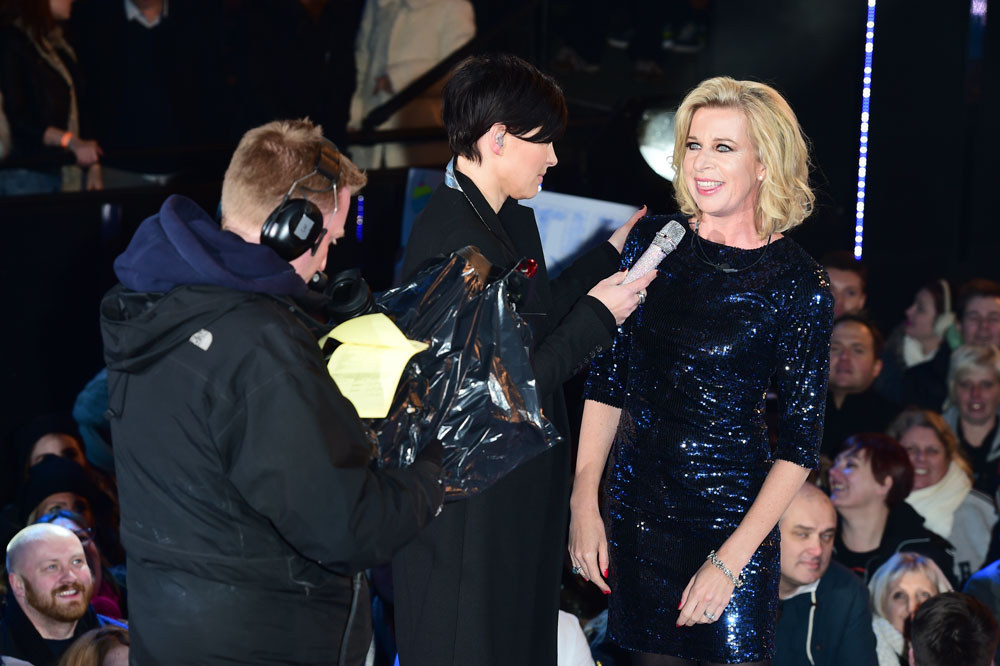 The Katie Hopkins anger cycle has been quiet this week. In her latest column, published on Friday – which criticised people who use food banks as "voucher tourists" – Hopkins revealed that she spent the week away from social media and referred to the "wild roar of outrage, noisy even by my standards".
Without quite regretting or apologising for her column about immigrants, she wrote with something approaching contrition: "This was a cautionary tale. I am reminded of the power of the pen. No one wants to see images of children drowned at sea, no matter what their journey or their destination.
"The next time you are thinking of clicking on a petition, don't be angry about words. Accept our opinions differ. Channel your outrage at the regimes causing people to flee. And be part of the solution."
But the damage may have been done. According to a report in the Daily Mirror on Thursday, a planned TV talk show hosted by Hopkins on the TLC channel has been canceled because no guests could be persuaded to appear. (Neither TLC nor Hopkins' agent have responded to our requests for comment.)
To her fans, she's bravely speaking her mind. But to her detractors, as the Daily Record put it after she'd accused a man born without an anus of being "an arsehole", she's "become famous purely for being cruel".
There's no doubt Hopkins believes at least some of what she says. But more important in today's online media landscape is the function she serves by saying it.
The @KTHopkinsFans account is run by Jess, a Katie Hopkins fan. Due to a typing error, a previous version of this article said she ran Katie Hopkins' Twitter account, @KTHopkins.