If you look up gentrification in the dictionary, it says: "The process of renovating and improving a house or district so that it conforms to middle-class taste."
For many, that's exactly what's happening in one corner of south London right now.
Brixton, a bewildering, noisy yet colourful inner-city suburb just three miles south of Westminster, has been home to a uniquely diverse collection of immigrant communities for almost 70 years.
Many of Brixton's different ethnic groups are represented in the 21 businesses squeezed into the arches beneath the railway viaduct that runs from east to west through the centre of town.
There's a fishmonger that's been there for 83 years, a suit shop popular with local African-Caribbean men, a shop selling beauty products and a kaleidoscopic parade of wigs, a tiny alcove from which a man sells reggae and gospel CDs, and an Afghan banana seller.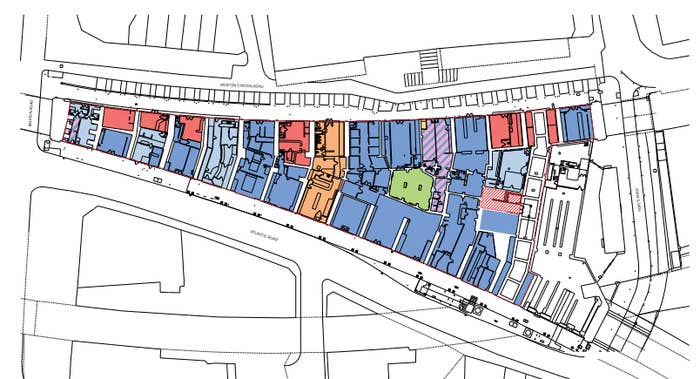 But some of these traders' time here is coming to an end, as this ramshackle jumble of local commerce faces being changed beyond recognition.
The traders have been fighting a long-running battle with owner Network Rail over plans to close the arches, spend a year refurbishing them, then reopen them and release them back to tenants at higher rents. Traders say that in some cases the final figure will be three times the current rate.
On Monday the traders were told to move out of the arches by 17 August. Some won't return.

A campaign group has said the plans are "ripping the heart of out the community". Over the past 12 months there have been marches, protests, angry public meetings, a petition with more than 28,000 signatures, and talk of a judicial review.
The current average rent is £21 per square foot, but that figure will rise incrementally to £52.89 per square foot by 2022. The figures will then be reviewed again to put them in line with 2023 prices.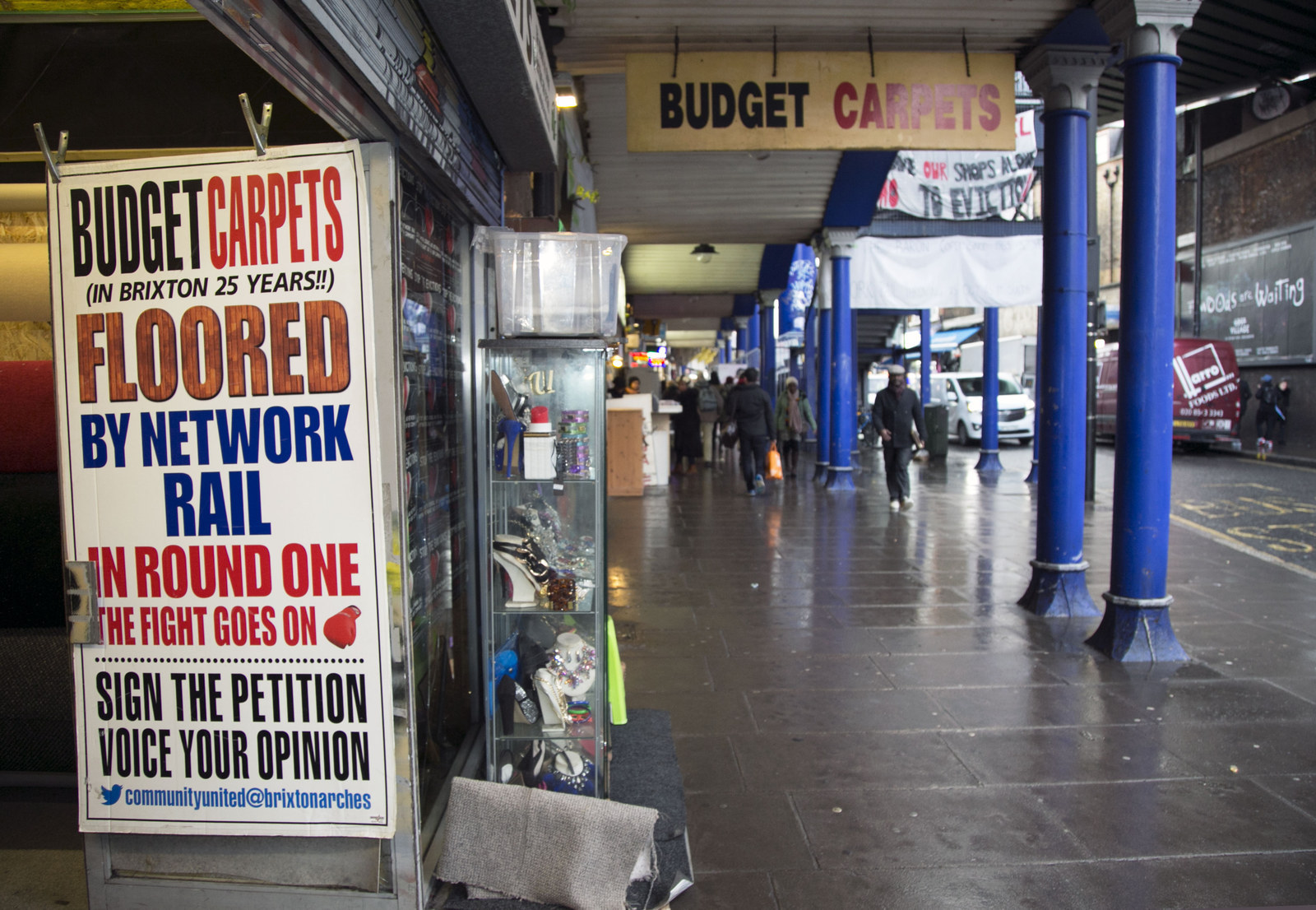 Traders can either agree to the forthcoming rent rises or take a lump sum and walk away. Network Rail says the "majority" of the traders have signed up to the new terms, without specifying how many, while many of the traders BuzzFeed News spoke to said they had no choice but to leave.
This isn't an isolated case – similar fights are happening across London. In Herne Hill, less than a mile from Brixton, locals marched in protest last month at the closure of a local toy shop after an alleged 70% increase in rent by its landlord, Dulwich Estates. Several shops on Herne Hill's old-fashioned shopping precinct have also shut this month due to Network Rail refurbishments and proposed rent increases, although some have moved to other arches round the corner.
In nearby Croydon a row ignited over plans for a Boxpark development – a series of shops and cafes in shipping containers just like the one in Shoreditch. An artist's impression of the eating area released as part of the plans depicted around 100 people, all of them white, despite census data showing 45% of the local population is non-white.

As one person remarked on Twitter: "Croydon Boxpark will bring an ethnic cleansing to the area evidently". The company behind Boxpark said the image was "an oversight", and a new one was created.
In east London, £2 million of the London mayor's regeneration fund – launched after the 2011 riots – is being spent on the forthcoming Hackney Fashion Hub, a 75,000 sq ft fashion "village" designed to provide space for top retail brands and design studios. Network Rail is investing £3.3 million in the project to refurbish and make available a dozen arches. As Pauline Pearce, the women who famously went viral for shouting down rioters, put it: "How is that helping the youngsters in the borough?"
So what's really going on? And what does this process of gentrification in Brixton say about how the capital as a whole is changing?

BuzzFeed News met some of the affected traders in the Brixton arches to find out what they think about the situation, who they think is to blame, and what effect they think it will have on the area.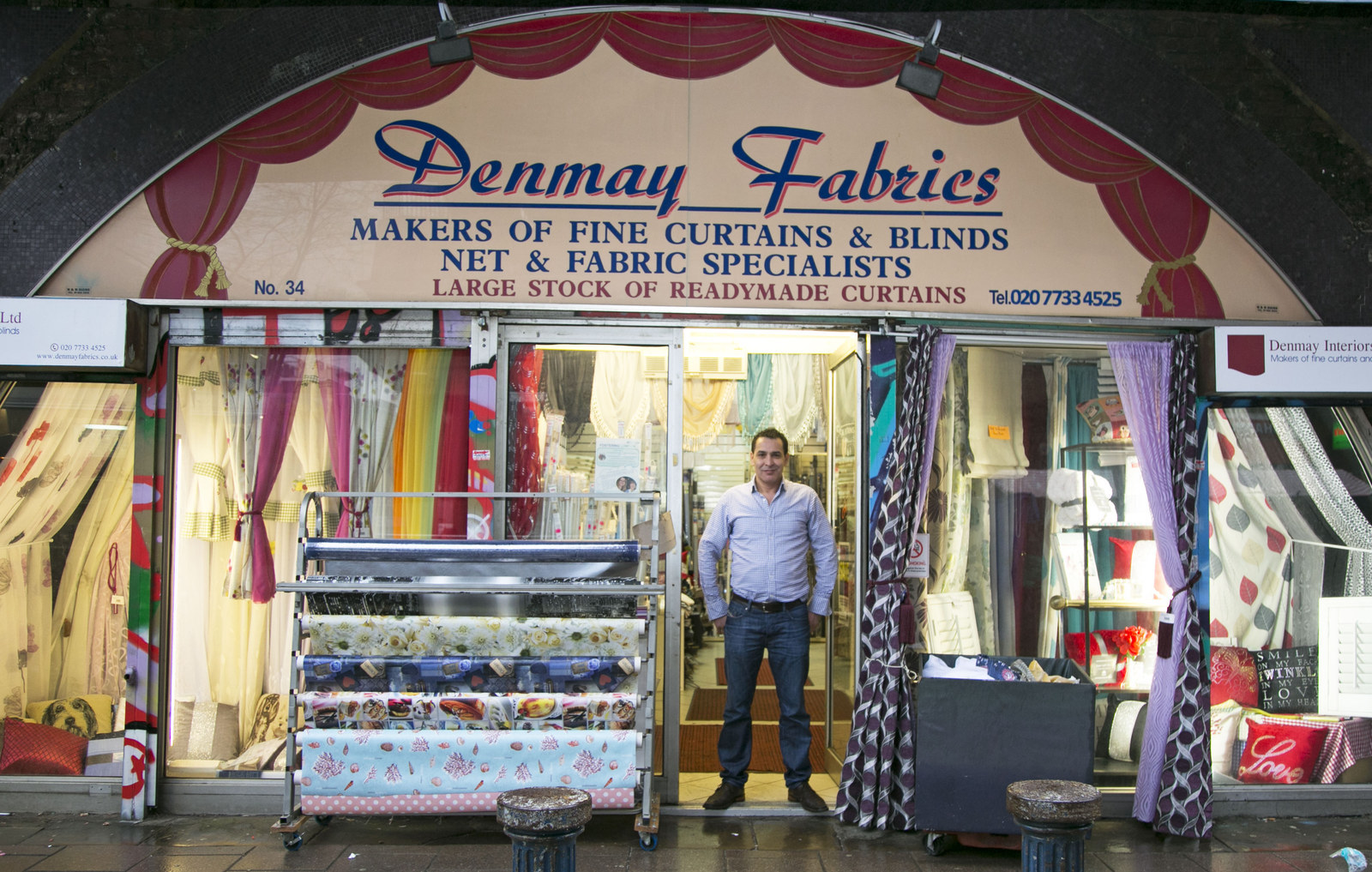 Brixton was once known for riots, drug crime, and simmering racial tension. Taxi drivers say they wouldn't stop here during the 1980s. Hundreds of people were injured in 1981 in riots in the surrounding streets as police and disaffected young men clashed. Rioting returned, but on a much smaller scale, in 2011.
Brixton is famous for its African-Caribbean community, and more than a quarter of the local population identify as black. Windrush Square, opposite Lambeth town hall in the centre of Brixton, is named after the cruise ship that took 492 Jamaicans to London in 1948 in the first wave of postwar immigration.
But now a different kind of migrant is making its mark on the area: the young, single professional. In a few short years, Brixton has become one of the most desirable suburbs for young professionals to live in, repeating the success of Camden and nearby Clapham, which were turned from inner-city suburbs into an estate agent's dream. On weekends there are long queues outside the restaurants, cafés, bars and cheese shops in the indoor Brixton Market and the adjacent Brixton Village (formerly Granville Arcade).
Alongside the greengrocers where people have bought yams and Scotch bonnet peppers for generations, there's a branch of Covent Garden's Champagne + Fromage, where the "classic Brut non-vintage" starts at £45 a bottle.
Malek Menad thinks the area is changing for the worse. He runs Denmay Fabrics, on the side of the viaduct facing Brixton Recreation Centre. Originally from North Africa, he's been here 18 years and has been through a lot – things were once so bad, he used to have to turf people out for openly dealing drugs inside his shop.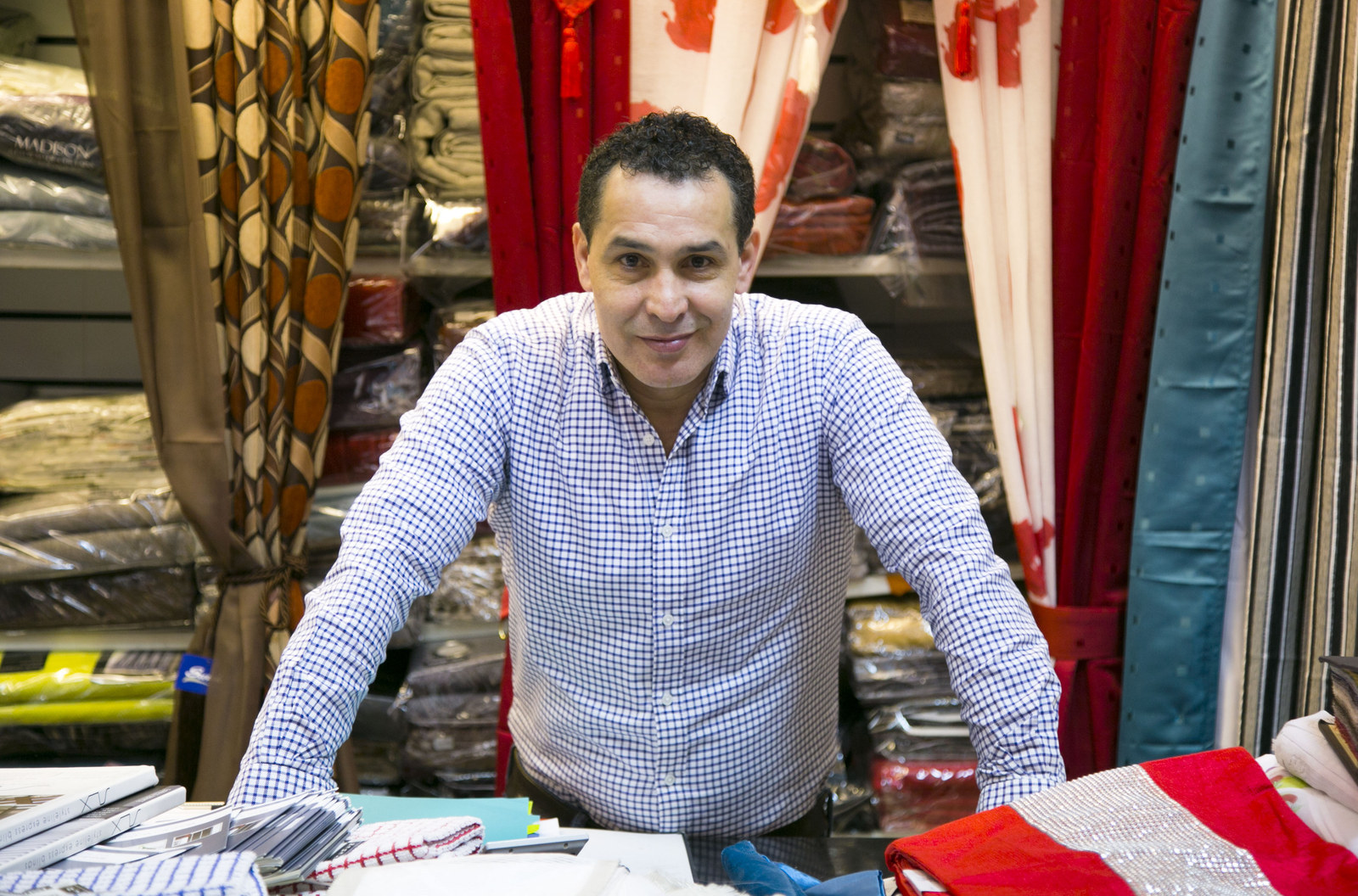 But now he says he doesn't know if he will be able to afford the increased rents and faces losing everything.
"It's been hell, it's been a nightmare," he says. "It's really extremely hard – it's not been fair." We're stood in his busy shop as a customer loudly asks an assistant about curtain sizes. The walls are lined with hundreds of fabrics that now must all be sold before August.
Menad claims that before the renovations were announced he had never met anyone from Network Rail. "For 18 years I haven't seen my landlord," he says. "I call them to complain about a few issues, leaks, and so on, and they say, 'I send someone next week.' They never came. So I ended up doing it myself."
Menad takes a dim view of Lambeth council's involvement in this process. "The council supported their [planning] application for only one reason," he says, "and that's [because by] taking leases off, putting up the rent, they get a higher rate. We're stuck."
The planning application includes the modernisation of the arches and some smartening up of the surrounding area, particularly Brixton Station Road, where a variety of market traders sell clothes, jewellery, perfume, and jerk chicken from stalls and vans.
Network Rail is offering temporary premises in some nearby arches in a less busy part of town, but it remains to be seen if any traders will opt to go there.
Even if he could afford the increased rent, Menad doesn't know exactly how much he will be offered in compensation. If the figure was £50,000, he says, that wouldn't be enough (some traders are rumoured to have been offered more than this, others less – Network Rail wouldn't confirm any financial terms when BuzzFeed News asked).
"If £30,000 of that is just for storage, for disturbing my business, then what about my wages for one year?" Menad says. "You put me out of work – I didn't put myself out of work. This is my question to them. I think I'm entitled to one year, plus storage, plus compensation.
"If I sell this business now, I wouldn't sell it for less than £200,000 – I spent 18 years building it, it's a very well-known business."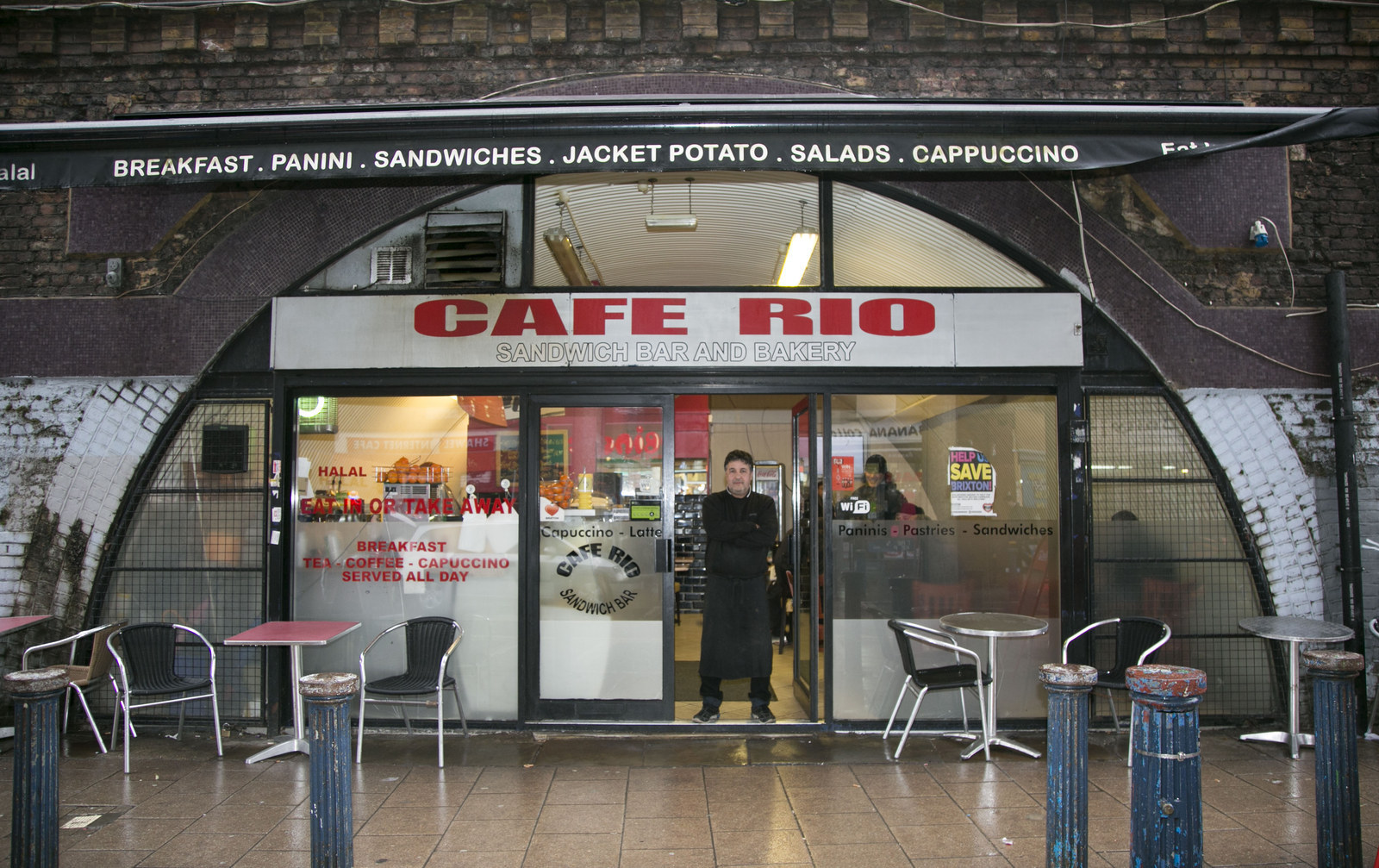 "Directly and indirectly they want us out. It's nothing else," says Mohamed Kheddash, owner of Cafe Rio. "You can come back but eventually, they will triple the rents. The offer is nowhere near what it needs to be – once you've had a year off work."
He says the council was "a major factor" in the process. "The deal [to grant planning permission for the renovations] was done before it was announced," he says.
Could he relocate the business, maybe in the temporary accommodation being offered? "It takes one year at least to set up a business," Kheddash says. "And if you come back after one year, all these customers, they have changed direction. Will they come back?"
A small group gather around us as we talk at the café counter. "This gentleman comes with this family, his daughter, he's a Brixton boy. We're like a family," says Kheddash, gesturing to a customer. "They are destroying the area."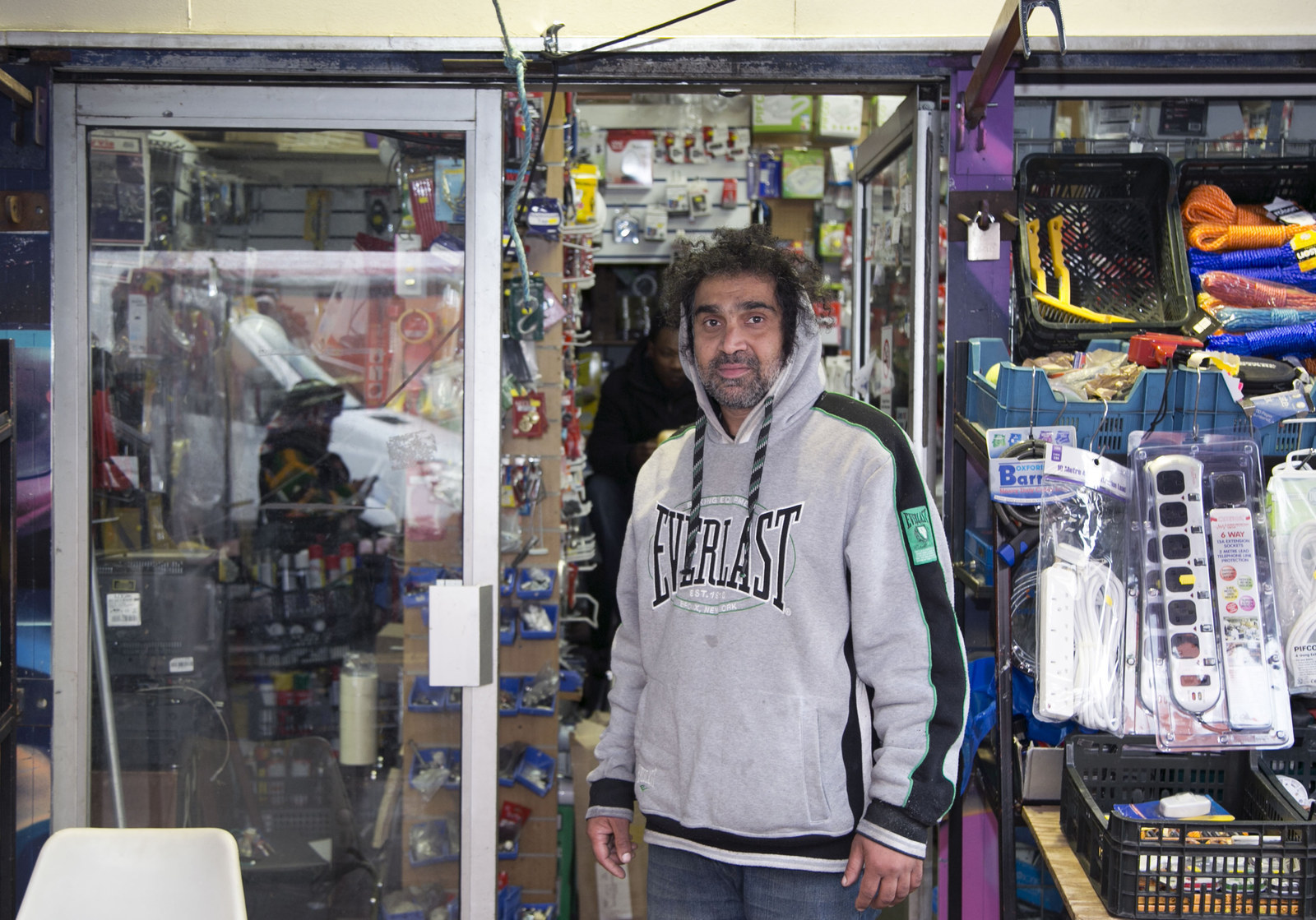 Some traders see the plans as an example of Brixton's unique character being squashed in the pursuit of money – or as part of an active attempt to change the character of the area's businesses to fit the changing local population.
Afraz Khan, owner of Brixton Tools, a ramshackle hardware shop stuffed with boxes of nails, bolts, cables, and speakers waiting to be fixed, is honest about the effect the campaign had.
"There's only so much you can do [by campaigning]," he says. "The council could have stopped this a long time ago. They could have simply come out and said, 'There's not planning permission, end of. Go back to your businesses and carry on.'
"Network Rail, just like all of London – it's not just a Lambeth thing – it's developed over a period of time. [Brixton's] got more expensive, people have seen that and they're capitalising on it.
"It's an overspill from Chelsea into Battersea, Battersea into Clapham, and now Clapham into Brixton.
"You look at the housing market and that tells you everything. We're being closed down. You've got to be grown up about the whole thing, accept defeat, and move on."
Khan's been here since 1997 and the Network Rail intervention is the final straw for him. He'll move out of London and take whatever money he's offered when the lease is ended.
Khan tells BuzzFeed News that he currently pays £9,000 a year. Under the new terms offered by Network Rail he would pay £25,000 a year, before that figure is increased yet again until it reaches the market rate.
He says Network Rail offered him £41,000 compensation plus £1,000 to help with packing.
"I won't be able to come back here," he says. "They've tripled my rent. And basically unless I'm selling alcohol, I won't be able to come back here.
"They talk about bringing it all back and making it part of the community [after the refurbishment], but it's a pack of lies. They don't care about the community, they don't care about nothing. It's all about the money.
"There's jargon, there's politics – it's a game they play. What can you do?"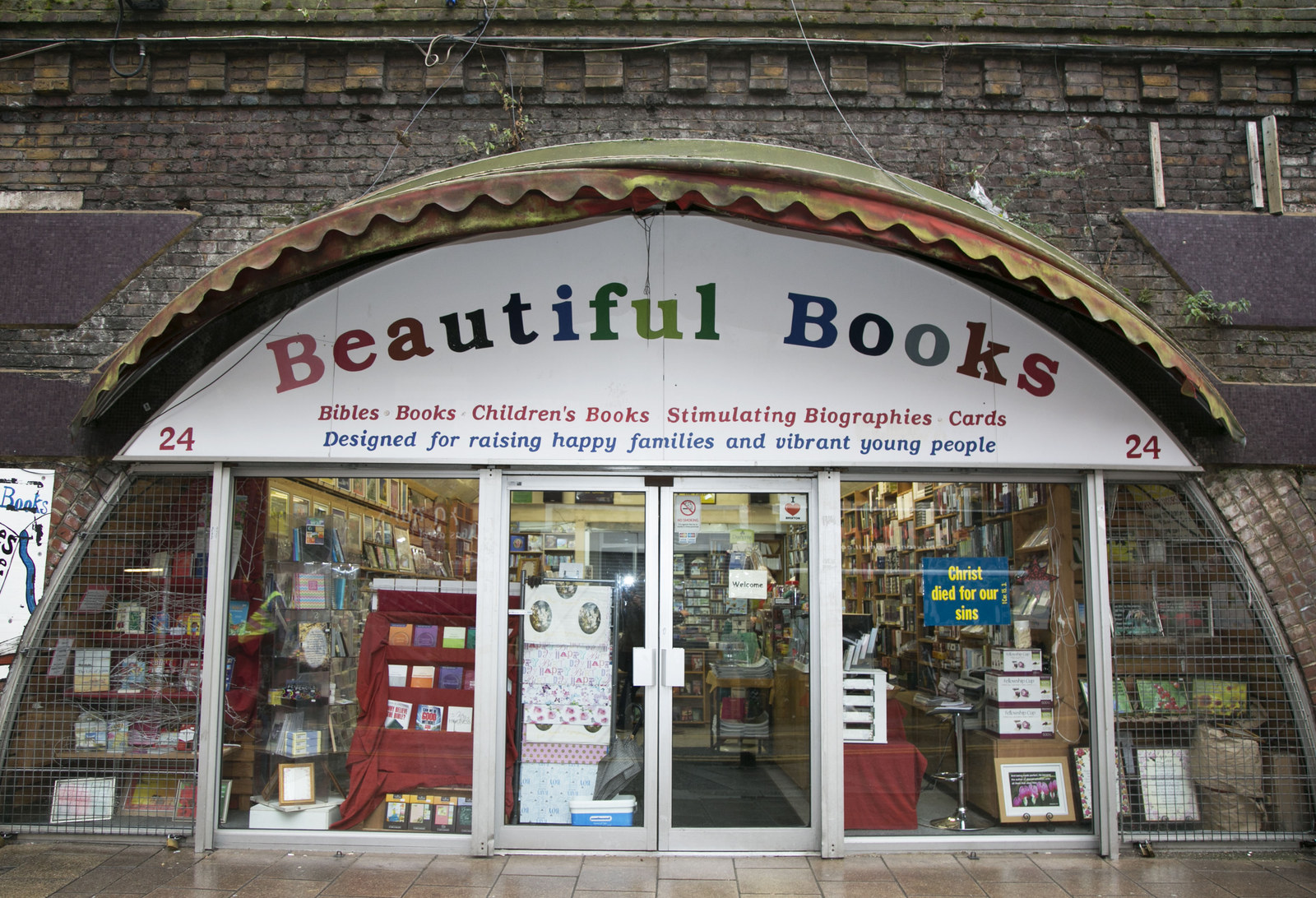 Regina, who gave only her first name and declined to be photographed, runs Beautiful Books, a specialist Christian bookshop and has done so in the same railway arch for more than two decades. Customers come here from as far as Croydon for rare Bibles and other religious texts.
"We've been here 23 years," she says. "Where I really still struggle is that [the refurbishment] could still be done without the tenants moving out for a year. One side could be done, then the other one,without putting everyone through such an enormous amount of work to begin again."
The shop is run by a charity and attached to a local church. It can't afford any significant rent rises and Regina will be looking for somewhere else nearby to rent, which, given the prices some neighbouring businesses are paying, is going to prove very difficult.
"I would like to stay in Brixton, we are here for a long time," she says. "But Brixton is changing and it's changing fast. It's become very popular and prices are going up. It's difficult to find somewhere to go."
Regina says a friend bought a house 10 years ago up on Brixton Hill, about a mile away from the tube station, for around £100,000. It's now worth £1,500,000.
"It's not because the house is nice – it's because it's Brixton and the whole housing situation," she says.
She echoes what other traders say about the council's involvement: It looks like it's all about money. "We have not seen much support or interference from them at all. From the trader's point of view that was our very first impression [that the council wanted more money]."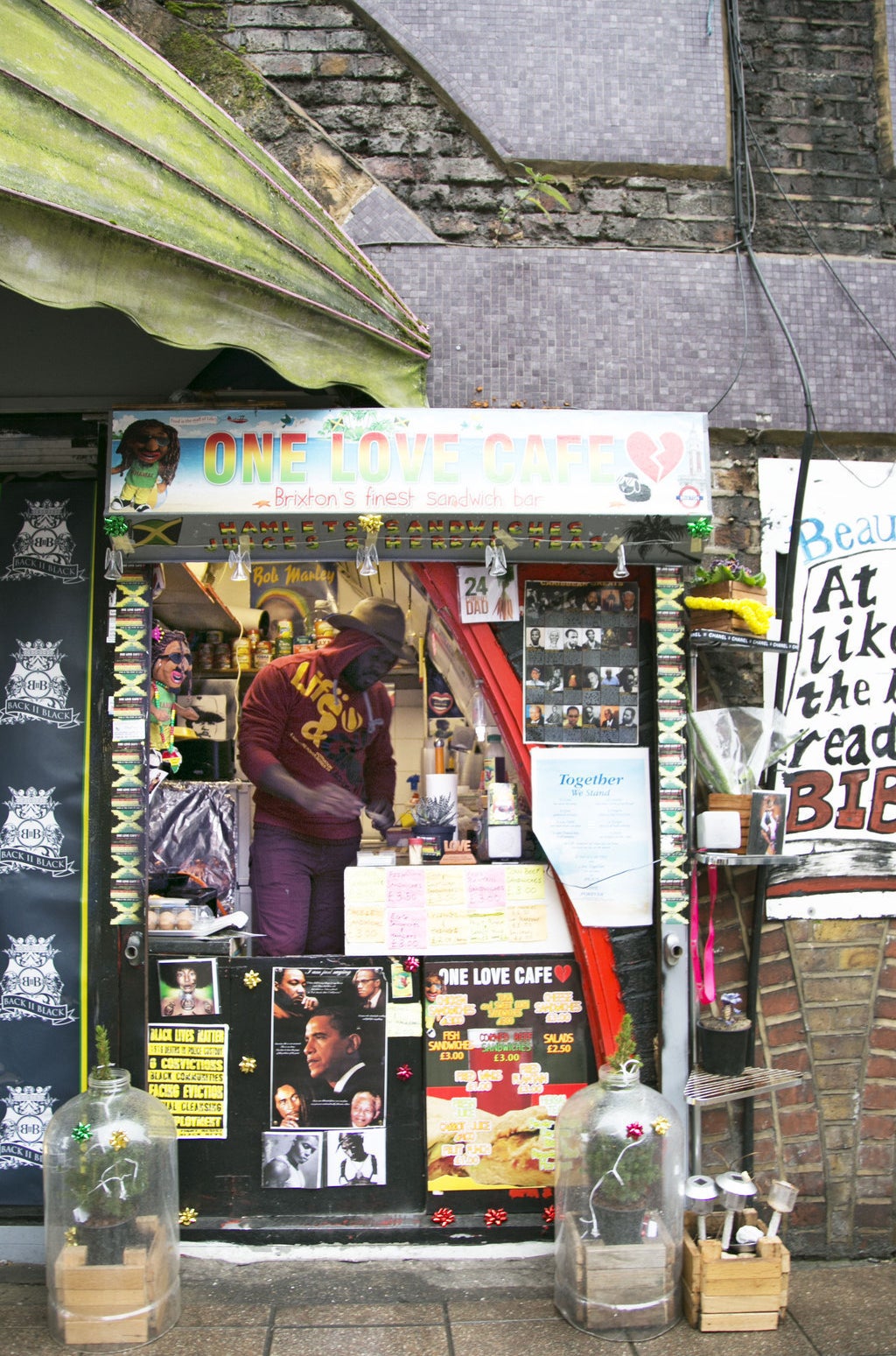 Antoney is serving sandwiches from tiny One Love Cafe, which he's run for just over a year. He came over from Jamaica to set up a business in Brixton and now says he'll have to close up. His unit is barely big enough for Antoney to stand up in – it's no more than a hole in the wall – but it's good enough for him.
"'Cause as a small entrepreneur, you have dreams and aspirations, in life and in business and ting, but this stops you in your tracks, it's discouragement to entrepreneurs," he says.
"We ain't gonna get the chance to come back just like that – they're tripling the rents and that's no good to us.
"This is the heart of the community. People come from abroad just to see this place – you meet all kinds of people.
"One door close, one opens. But it's going to be challenging. It's not good. It's not good."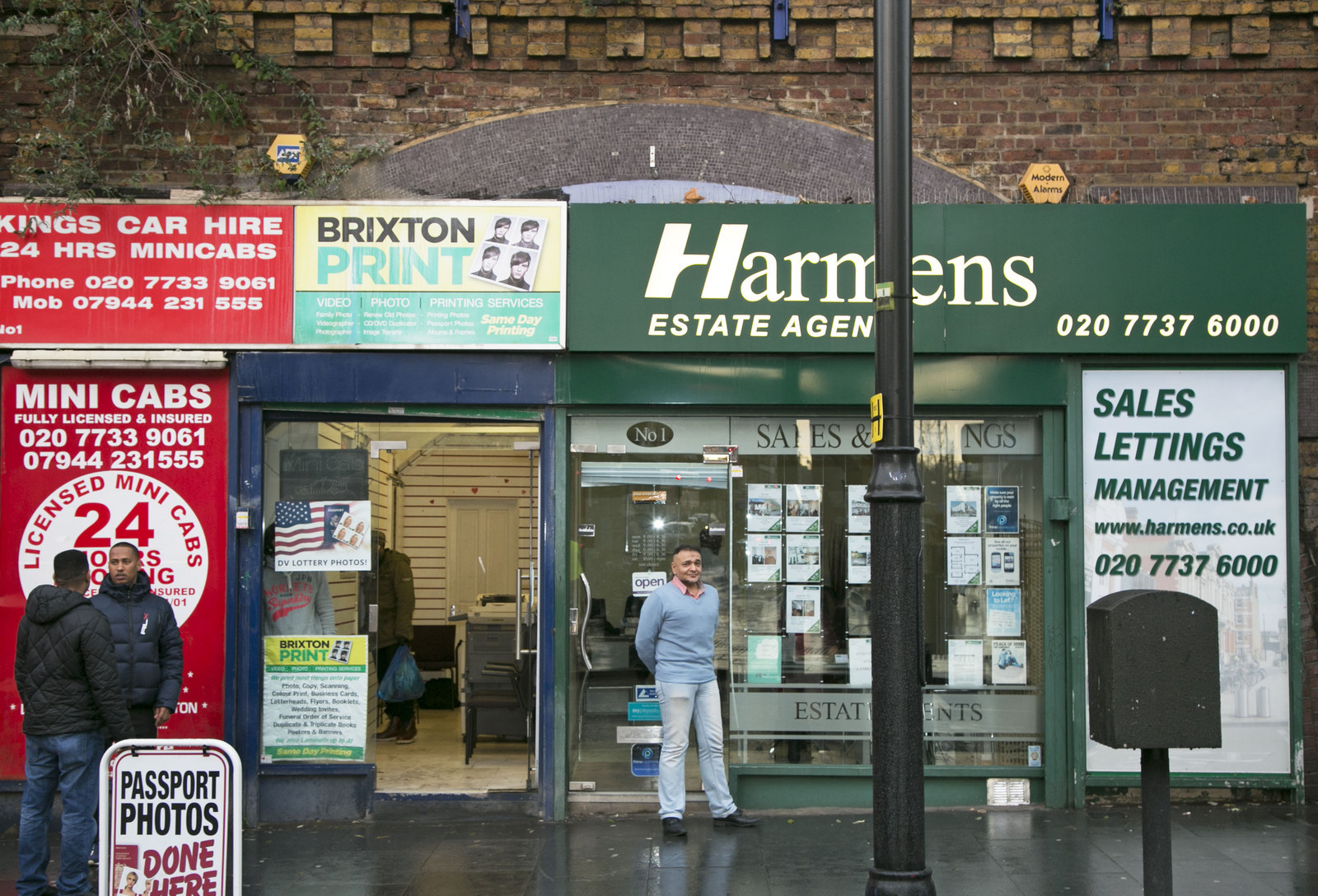 Not everyone affected is a retailer – ironically, in an arch on the Atlantic Road side of the viaduct, facing the tube station, an estate agent also been served an eviction notice.
Irfan Shafi of Harmens estate agents tells BuzzFeed News the business has been in same spot since 2004 and the team have seen the area change dramatically.
"We're not Foxtons, we work very very hard, we primarily do lettings," he says. "We would never dream of earning that type of money.

"That vibrancy of the area is eventually going to go. What you're basically doing is, the people who were born and bred here, no one can afford to [stay]. It's true of all London but the extremes are so great here."
The irony of his situation isn't lost on him. "We've been the bad guys before, we've had to evict people," he says.
Harmens will start looking for new premises in the summer, but Shafi is not optimistic about finding somewhere nearby.
And he's in no doubt the majority of traders are about to become unemployed because of the refurbishments and Network Rail's plan to charge more money.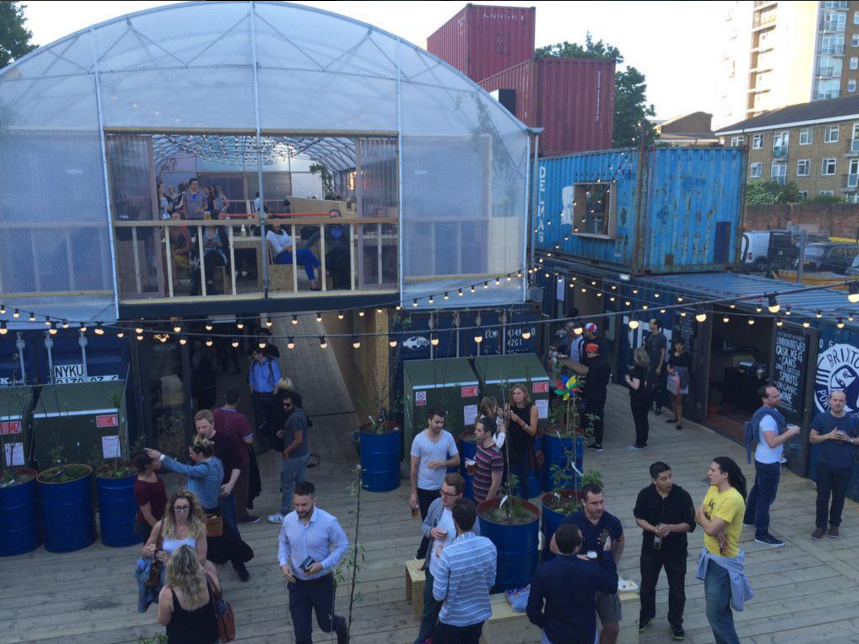 "Whatever compensation they give, you won't be able to get a shop anywhere else. They've been playing games, having people in for meetings, trying to break the unity of the people, and when you try to fight someone that powerful and they have the council behind them, eventually you do give in mentally.
"In the last few months people have just become resigned to it. What can they do?"
Shafi points to the Pop Brixton development as a sign of things to come for Brixton and the wider borough of Lambeth. In 2015 planning permission was granted and free land, a former car park, was offered for the erection of a collection of 59 restaurants, shops, and bars housed in old shipping containers. It's similar to Boxpark in Shoreditch, but its founders and Lambeth council say 70% of the units are reserved for local traders, specifically "tenants [who] either live or previously based their businesses in Brixton or Lambeth".
Shafi says: "This new development they've built temporarily, they're trying to get the crowd that used to go into King's Road. You're getting those prices in the car park."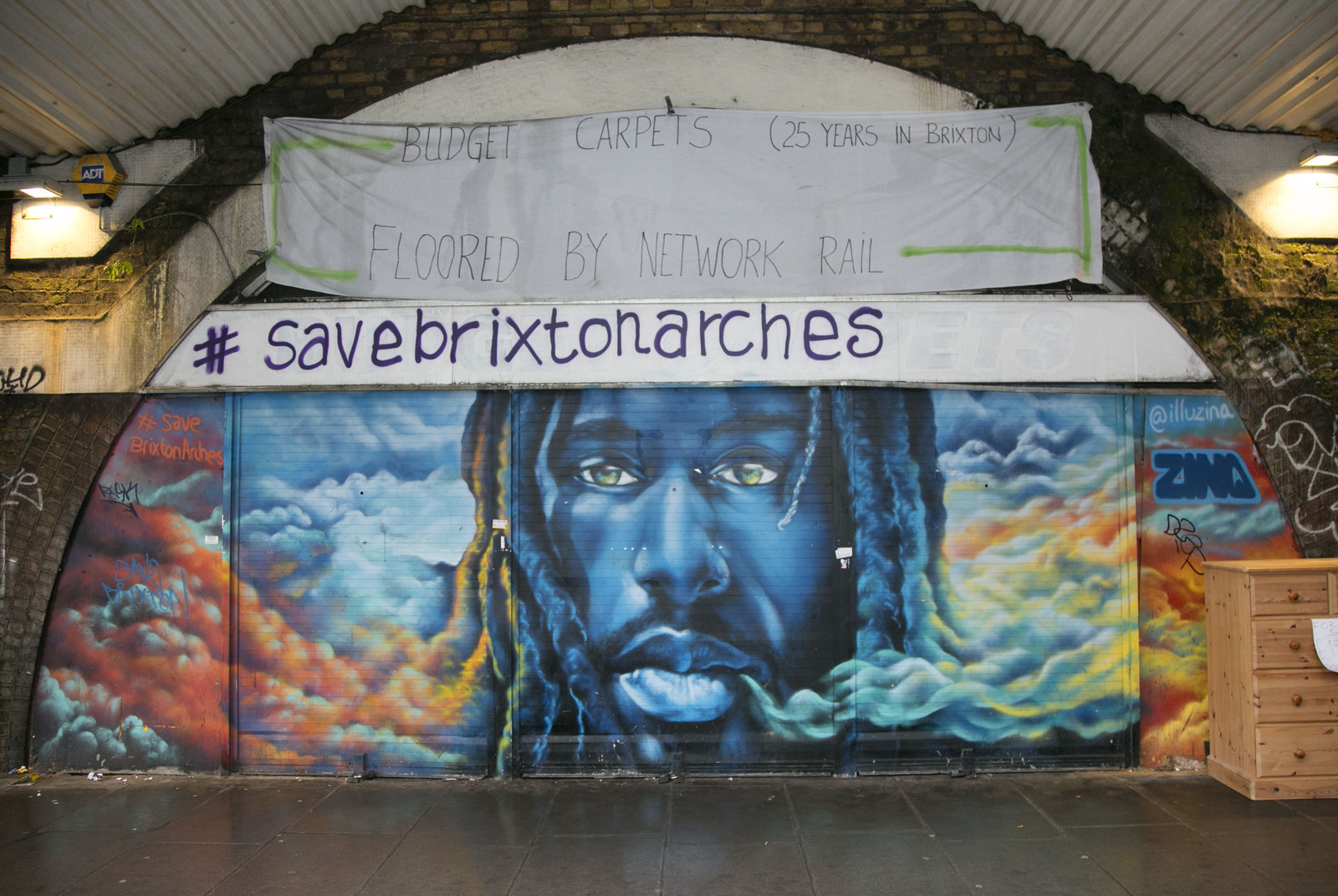 Network Rail plans to smarten up the arches inside and out, making the businesses look a little bit more professional, a little bit more slick, and more palatable to the tastes of the middle-class professionals who are moving to the area in droves.
There will be 13 new small "kiosk" commercial units in the passage leading to Brixton railway station, which most commuters would agree is currently dingy and in need of repair.
Network Rail said it was "pleased" that a trendy new bar, Ekcovision, which moved in to the arches last year and serves "handmade cocktails", has signed up to return to a refurbished arch in 2017.
But Network Rail says it is keen to preserve the unique character of Brixton. Digby Nicklin, the commercial director who looks after Network Rail's commercial property portfolio in London, says in a video released in November 2015 that the plan was all about preserving the area's "rich diversity". Network Rail manages 4,000 commercial premises but fewer than 2o of its tenants are leased to chain businesses, the company says.

"Firstly we recognise that Brixton has a unique place in London and has a rich and very diverse cultural mix, which is something we're really keen to preserve," he says in the video.
"That's why we've gone to the trouble of offering such a good package to enable tenants to return, and in addition we've made it clear we don't want any chains coming into the vacant space. What we really want to bring into Brixton are more small independent businesses coming in to compliment what's already there and encourage that rich diversity in Brixton."
The company told BuzzFeed News: "We value our tenants, which is why the compensation offer we've been able to make in Brixton recognises their contribution to the local community and the phased rents for existing tenants who wish to return a refurbished unit underlines our desire to keep those who wish to stay at the heart of Brixton."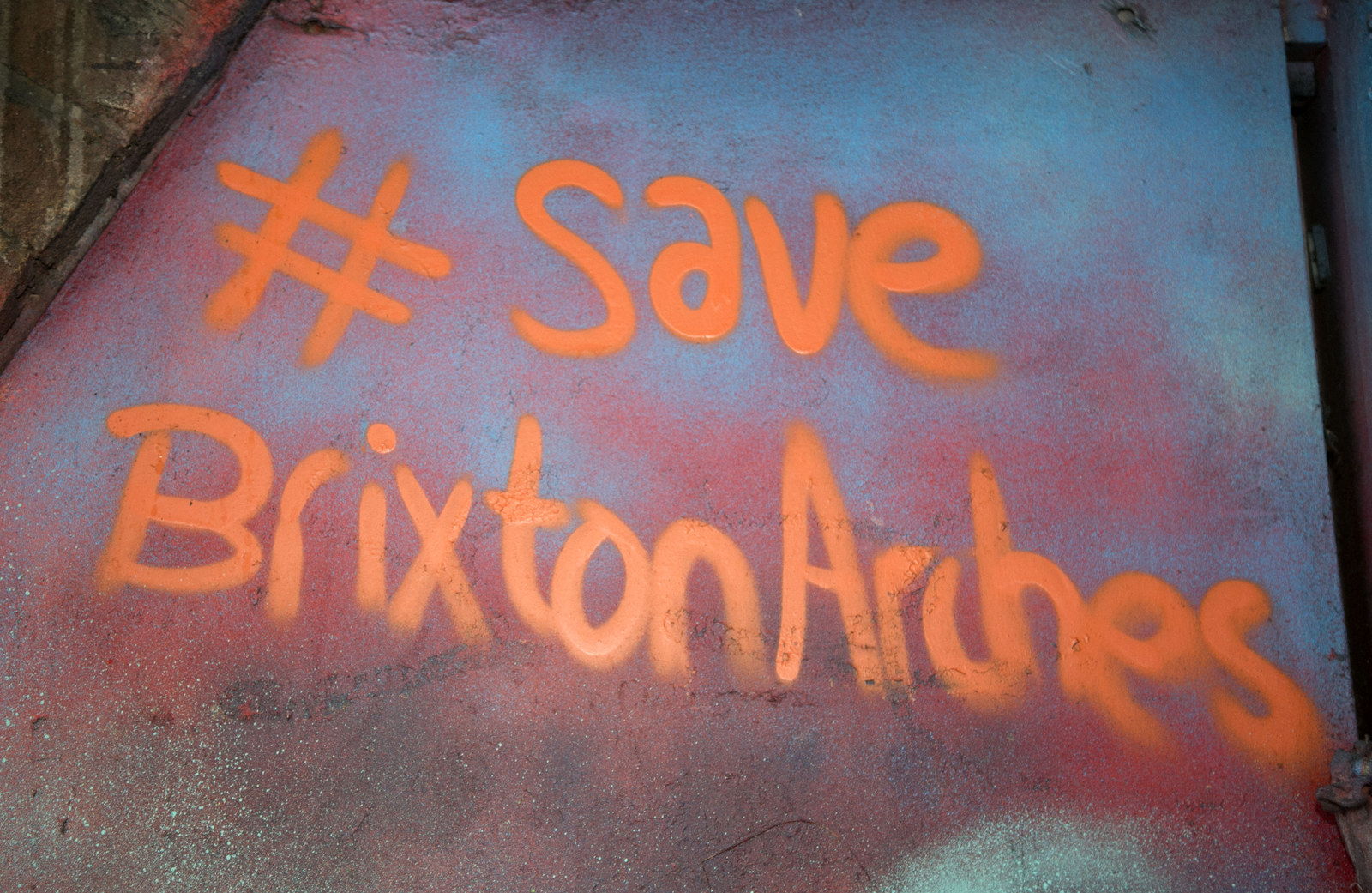 Network Rail said some tenants have being paying the same rent since 2009 and that it was time for a review anyway.
Campaigners had argued that Network Rail, as a publicly owned body which answers to the government, doesn't need to be enforcing commercially aggressive market rates on its tenants. Why doesn't it subsidise local businesses? The company told BuzzFeed News it has a statutory duty to "deliver a return on its estate to reduce the burden of the cost of the railway on the taxpayer and the travelling public".
Lambeth council has been strongly criticised for appearing to tacitly support Network Rail's plans while, in the eyes of campaigners, failing to support businesses that can't afford to stay in the arches.
Email correspondence between Network Rail staff and council staff – released under the Freedom of Information Act following a request from the Brixton Buzz blog – shows there was collaboration between the two in media strategy and how the news would be broken to traders before the plan was revealed in February 2015.
Councillor Jack Hopkins, the cabinet member for regeneration, wrote on his personal blog on 25 February that he was "disappointed" in Network Rail for not revealing details of the compensation packages and called for transparency. He also said he "first knew Network Rail were going to do something" in November 2014.
However, an email on 1 September 2014 from someone at Network Rail to someone at Lambeth council shows that the refurbishment was being discussed between the two bodies well before November.
Hopkins said in an emailed statement to BuzzFeed News on behalf of the council: "Network Rail is a huge organisation, that is both a landowner and landlord. It is natural that Lambeth council will have ongoing contact with them on all manner of projects as we seek to boost jobs and growth in our borough, and as the local planning authority."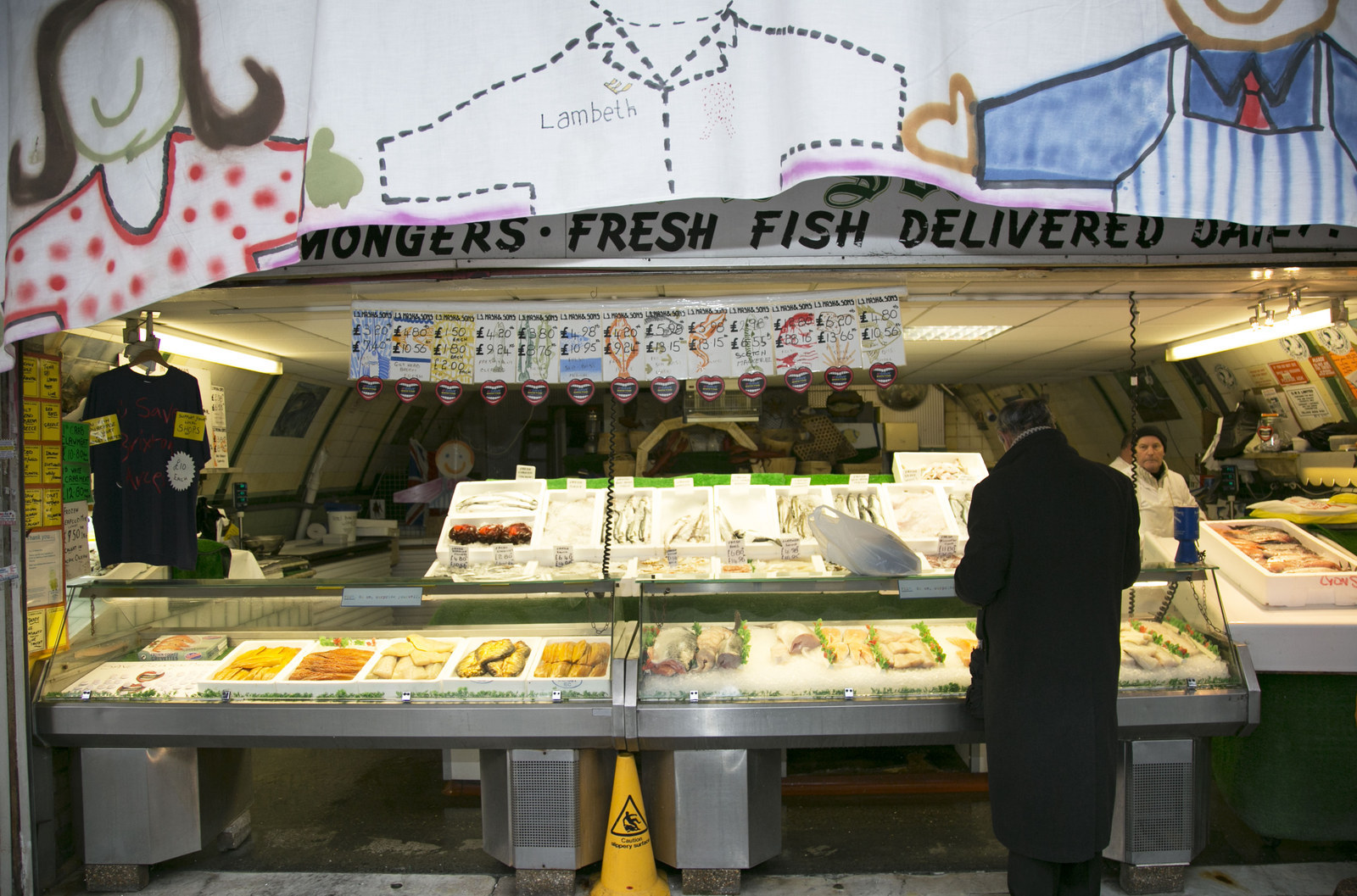 Hopkins said the council "can't get involved with negotiations between landlord and tenants" but said it would continue to support local businesses.
But why now? Aside from the need for structural repairs, why is Network Rail seeking to triple the rents paid by wig shops and cafés at this particular time?
Network Rail is setting its prices for each arch individually, based on each one's proximity to Brixton Road, one of the key shopping streets in the borough. And whereas big businesses would have steered well clear of the area in the 1980s and 1990s, they are now falling over themselves to be involved.
Opposite the viaduct, on Brixton Road, is a row of five mobile phone shops: O2, Virgin Media, Carphone Warehouse, Three, and Vodafone. Some of these shops are now in a unit that was previously a branch of the Foot Locker shoe-shop chain before it was trashed during the 2011 riots.
Estimations based on rental prices and property size from property trade magazine Estates Gazette's Insight service, provided to BuzzFeed News, show that the cheapest of these four, O2, pays £170,000 a year in rent, while Virgin Media could be paying well over £300,000.
Foxtons, the estate agency that has become associated with the onward march of London property prices, moved on to Brixton Road in late 2012, replacing a noodle bar. The Insight data shows it's estimated to be paying about £250,000 a year in rent.
Residential properties in Brixton are worth £613,000 on average, according to Zoopla, a property website – that's £250,000 more than in 2006. The average house price in the UK is 288,000.
This is a fast-changing area. A sign of things to come was the announcement last year that architect firm Squire and Partners, which has developed Canary Wharf skyscrapers and the Shell Centre, will relocate from north London to Brixton next year.
Around the corner, work is underway on a new development of 92 flats called The Junction, where a two-bed flat will set you back at least £570,000 – and it's just one of several such building works in the area. Brixton is often cited as a "hot" area to invest in property, either as a resident or buy-to-let landlord.
This is the reality of what is happening to a traditionally cheap area to live and work in, populated by communities of working-class immigrants. Economic forces on a local, national, and international level have made London the centre of several key industries, and the influx of young professionals into the capital, with its urgent shortage of affordable housing, inevitably means inner-city areas like this are being transformed, invested in, bought, and sold.
The arches will still exist in 20 years' time, but it looks as though the area around them will be unrecognisable.