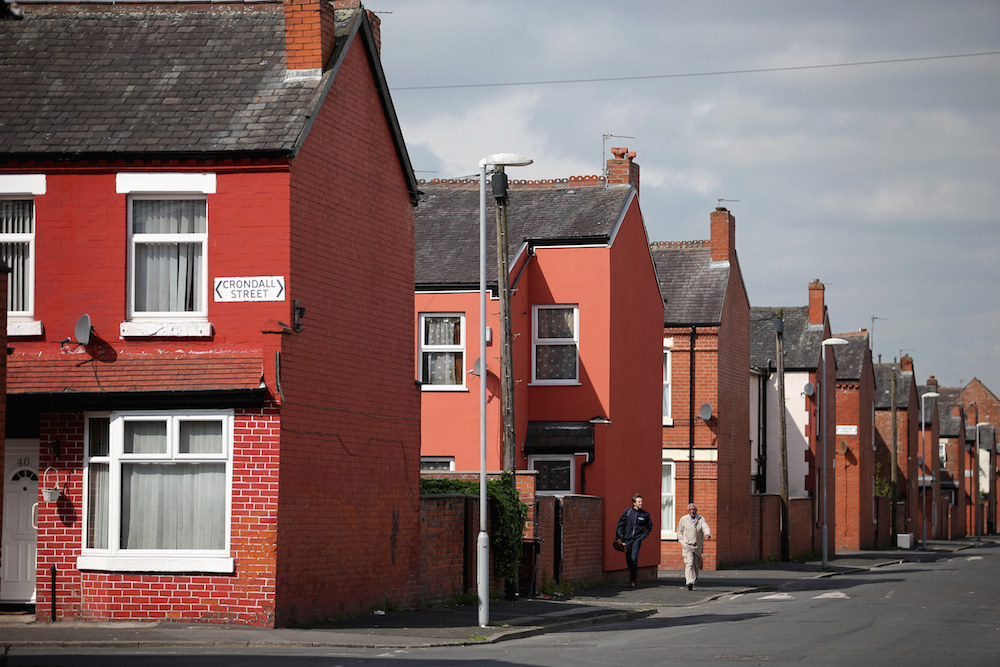 Just after 1am on New Year's Day, a lone gunman stood in the middle of Lytham Road, a quiet suburban street in south Manchester, and started spraying bullets through the front door, living room window, and first-floor windows of a three-bed terraced house.
A house three doors down had suffered the same treatment on Boxing Day, six days earlier, but that shooting had been a case of mistaken identity, or an inability to read door numbers properly. Whoever was firing the bullets this time had returned to finish the job.
On both occasions, police were called but found only shattered glass and no dead bodies. No one was home.
These were two of nine firearms incidents across Manchester in a little over two weeks between 22 December last year and 8 January. It felt like a return to the bad old days of the 1990s and 2000s, when the south central Manchester suburbs of Moss Side, Hulme, and Longsight – the so-called Triangle of Death – were rife with gun violence and drug dealing.
Police arrested seven men in connection with the shootings, all of whom who were released on bail. Two have since been recalled to prison for breaching the terms of a licence relating to previous offences.
One month on, BuzzFeed News has learned that police have seized "significant" amounts of heroin and cannabis as part of their investigation into the "sophisticated" warring gangs thought to be behind some of these incidents.
BuzzFeed News spoke to police, local people, and community organisers who helped heal the gun violence problem last time to ask: Is the city still in the grip of organised crime, or are isolated gun incidents simply acting as a reminder of how bad things used to be?
---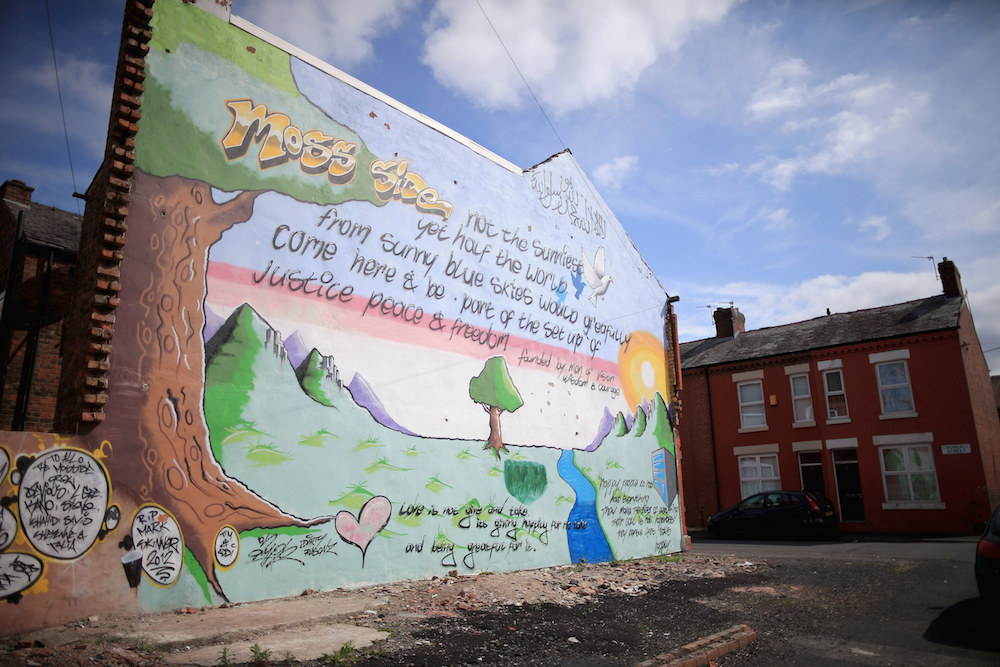 In January, Manchester was treated to sensational "Gunchester"-style headlines as the media responded to the shootings. The Sun made a "Manchester terror map", while the Daily Mail wrote of a "city gripped by gangsterism" where "the quiet cul-de-sacs are now home to a bitter turf war".
But anyone walking around Moss Side today would probably wonder what the fuss was all about. On a sunny weekday, the streets are quiet. The parks are empty and the shopping precincts that once doubled as drug-dealing patches are deserted.

Heald Avenue, where a window frame was shattered by gunfire at 10pm on 22 December, is silent, its classic back-to-back terraces shining red in the winter sun. The mattress abandoned in an alleyway is the only sign of disorder.
One resident (who, like almost everyone else BuzzFeed News spoke to here, asked not to be named) saw the shooting and says it came after a scuffle broke out between local youths from the Somalian community.
"I watched it from the window. It was just an argument and one of them went off to the car and got a gun and let off a shot, and then they all got off basically," he says.
"It were just a weekend fight. They had a little argument and had a little scrap – that's usually the end of it."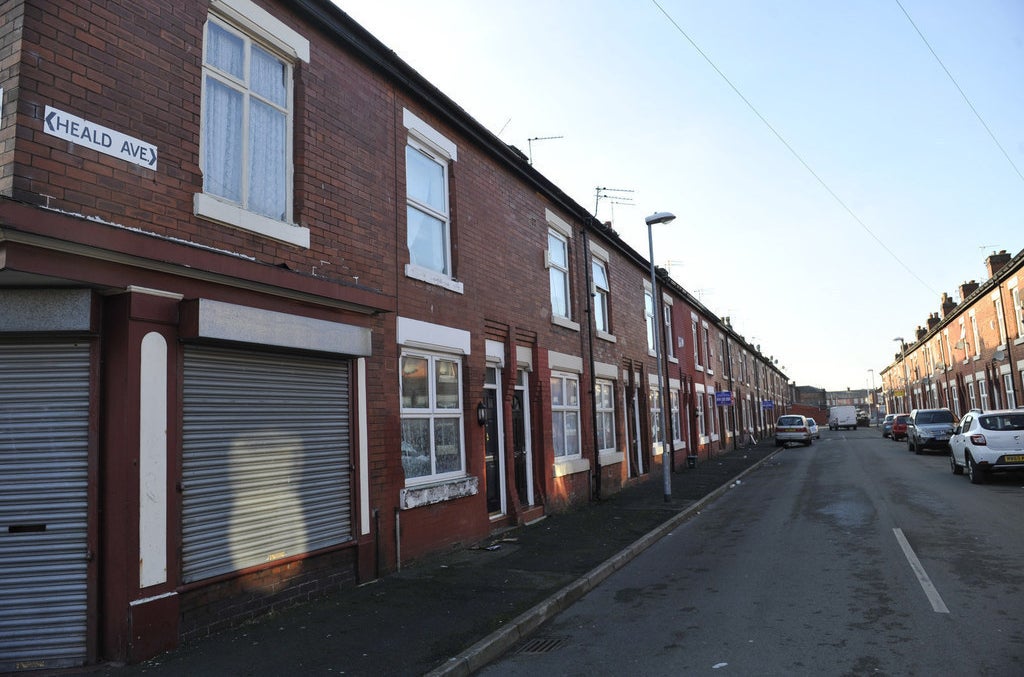 Heald Avenue in Moss Side, Manchester.
Is this part of some wider gang battle? "I know the Salford ones are all connected, but the ones round here I'm not sure," he says.
The area's changed, he says. "Everyone just works nowadays. It used to be a bad area; people used to be up to no good and that, but now it's just even all the young lads have started getting jobs and working and that. It's like, who can be arsed with murdering? It's just: Go to work, come home, go to sleep, go to work."
Around the corner, on Salisbury Street, on 30 December, a 22-year-old man was shot in the chest, but he survived and was treated in hospital. Police said the incident was thought to be gang-related and that the man was lucky to be alive. A 24-year-old man was arrested on suspicion of attempted murder.
One resident, Salma, says it was the first time anything like that had happened in the 11 years since she moved to the street.
"Our kids sometimes play outside and that shooting that happened a few weeks ago, we heard the bang and I thought it was someone playing with a firework," she says. "So it was scary when they found the guy who'd been shot."
She defends the area and says it is much transformed – but adds that Moss Side still has the stigma of being associated with gang violence: "When I first moved here people said, 'Oh no, not Moss Side!' and I just said, 'Why, what's wrong with Moss Side?' I just said that God is the protector and we'll see what happens. It's been fine so far.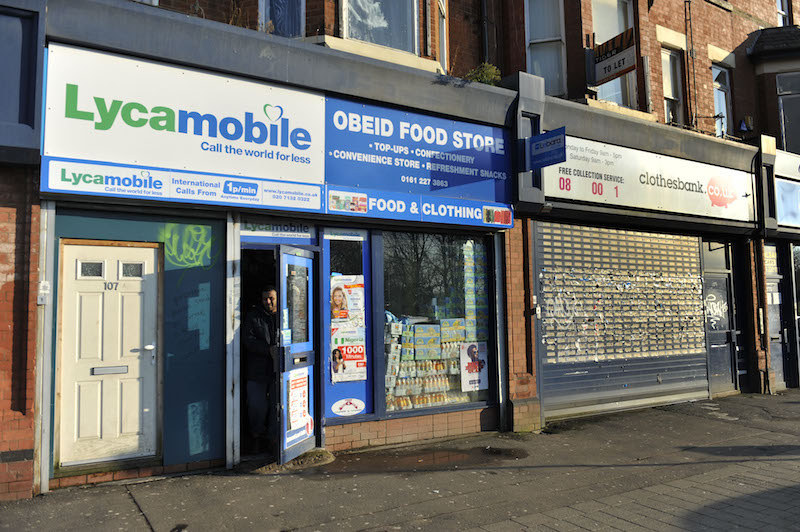 "The area is still shaking off that reputation. If you call the police they take time to come here. If it's Didsbury or some posh area they're there in five minutes."
A young Somalian man who at first took issue with BuzzFeed News taking pictures outside his shop on Princess Road, which splits Moss Side into two, says the area has changed but still gets stereotyped: "Most of them [criminals] are in prison, now it is much better. But they always got it in the news with the violence, problems and that – but mostly it's a very peaceful place and everyone lives together. But they [the media] always make this area like the most baddest area, but it's not."
The streets are quiet but this is because the nature of crime has changed: Drug dealers use mobile phones instead of standing on street corners. They target individual houses instead of shooting people in public places. There may be fewer gangs, but they're still there even if you can't see them.
The man leading the fight against them in south Manchester is Superintendent Dave Pester. "We're looking at every option available to us to disrupt known members of organised crime groups and clearly one of the desired outcomes is keeping those people away from the people who've been impacted upon," he tells BuzzFeed News.
Pester says the shootings on Lytham Road, Rusholme, on 26 December and 1 January and the events of 5 January – when houses in nearby Chorlton-cum-Hardy and Crumpsall, in north Manchester, were fired at with a shotgun – are part of "a city-wide dispute between two organised crime groups".
The other shootings appear to be "disputes between very local groups of young males" and Pester was clear that the south Manchester shootings are not linked to the recent increase in gang-related shootings in Salford.
"Clearly at the time the press did make that link [to the '90s and 2000s] and there was some sensational reporting about going back to those times.
"What I would say is if you look at the Greater Manchester figures alone we've had 50 discharges so far this financial year compared to 2007-8 when it was 146. So we are a long way off reaching the same situation."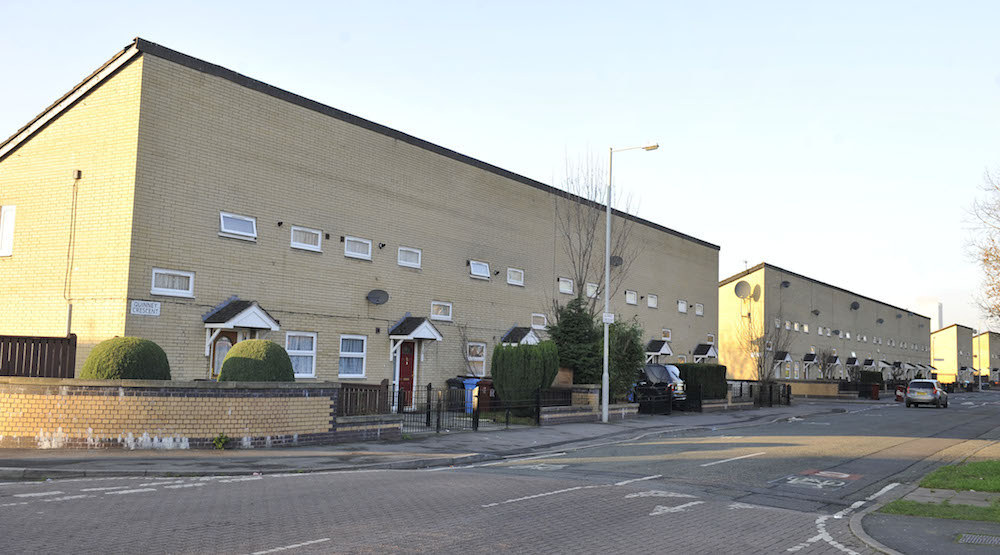 It may be tempting to think that drugs are a thing of the past when it comes to Manchester gun crime, but this is not the case, says Pester: "I would say the criminality of both crime groups in both disputes is connected to the supply of drugs on the streets of Manchester.
"During our investigation so far we've recovered significant amounts of class A and class B drugs, including heroin and cannabis, which was destined for the streets."
And while things have quietened down, "The difficulty is when you've got criminal groups who are using firearms to settle disputes it's always impossible to predict when something's going to happen," he says.
---
This was a neighbourhood once terrorised by the Gooch, the Doddington, the Pitt Bull Crew, the Longsight Crew, and other gangs of predominantly black and mixed-race young men. This is where 14-year-old Benji Stanley was killed by a shotgun blast while queuing at a takeaway in 1993, the youngest casualty of Manchester's drug wars.

Gun crime carried on into the new millennium: There were 270 shootings between January 1997 and November 2000 and of the ones for which there is the relevant data, 16% were fatal. Someone was convicted in connection with only 8% of shootings in the same period.
So what's changed? Key gang members have been imprisoned, employment has risen (it was widely reported to have been 40% among black and ethnic minority people in Moss Side in the 1990s), and investment has poured in. The Pepperhill pub in the centre of the Alexandra Park estate, the site of several violent clashes that saw it eventually shut down by the police, is now an Islamic community centre.
Gooch Close, which provided the name for the Gooch gang and became one of the most notorious streets in the country, is no more.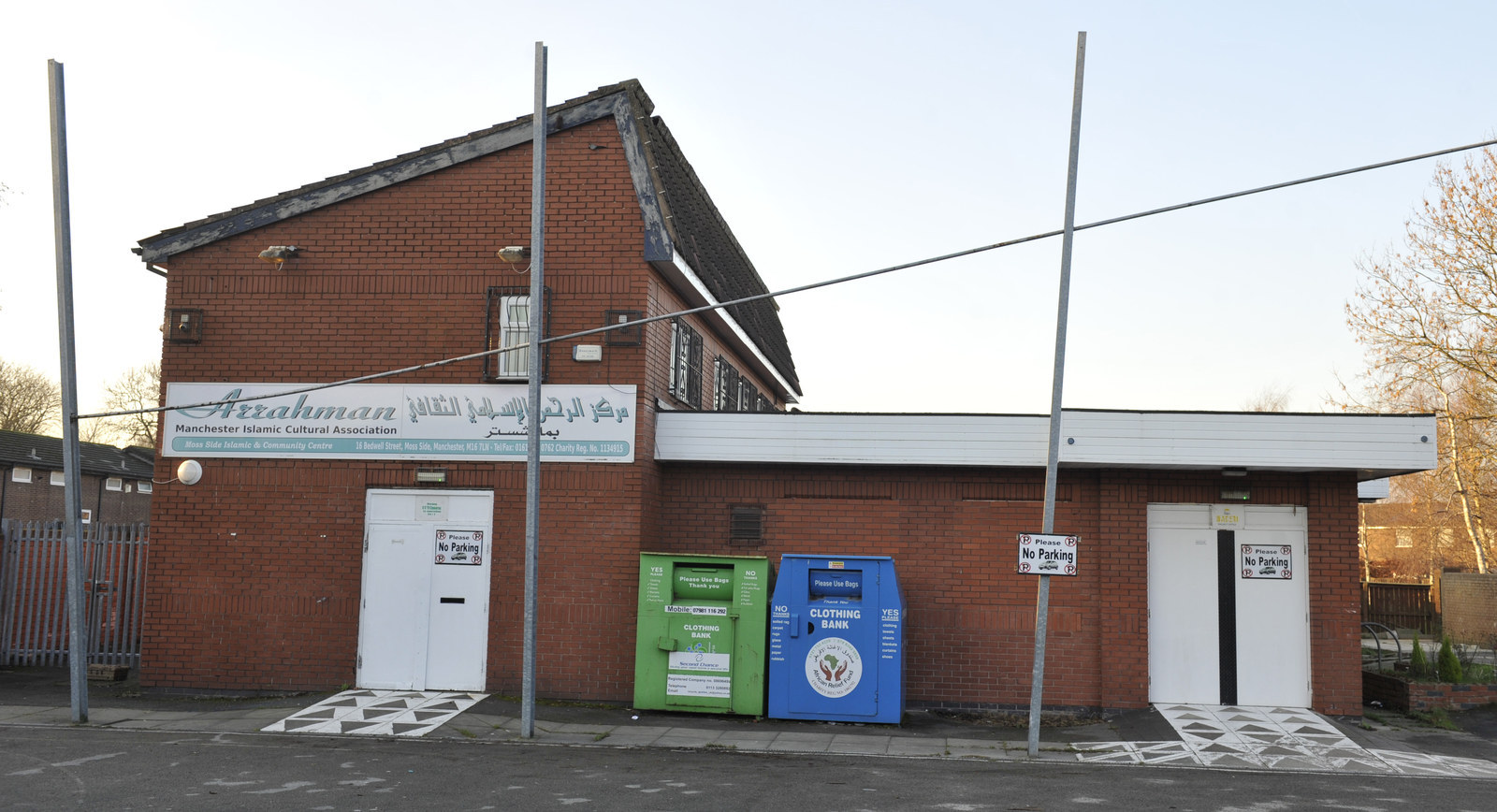 Greater Manchester police's Excalibur anti-gang initiative, set up in 2006, saw officers patrol the streets of Moss Side, Longsight, and Hulme between 7am and 11pm every night and money was spent on smartening up estates and closing off alleyways. In combination with social and economic changes, it worked.
Labour councillor Rabnawaz Akbar lives two minutes' walk from Lytham Road, the street where two houses were sprayed with bullets over Christmas – the first on Boxing Day, then the second in the early hours of New Year's Day.

The two Lytham Road shootings are linked, he says, to other shootings in Crumpsall and Chorlton. He talks about how the area has improved vastly in the last 20 years, but he's in no doubt that organised crime is still a big problem.
"Those shots were fired to kill. They weren't fired to warn," he tells BuzzFeed News from the living room of his terraced house, over homemade pakoras.
"I went in the first house, the one shot accidentally, and if someone had been in there they would have been hurt, possibly fatally. It wasn't a quite small pellet and then they ran away – they stood there in the middle of the road and sprayed it. And I'm talking the front door, the windows, the first-floor windows."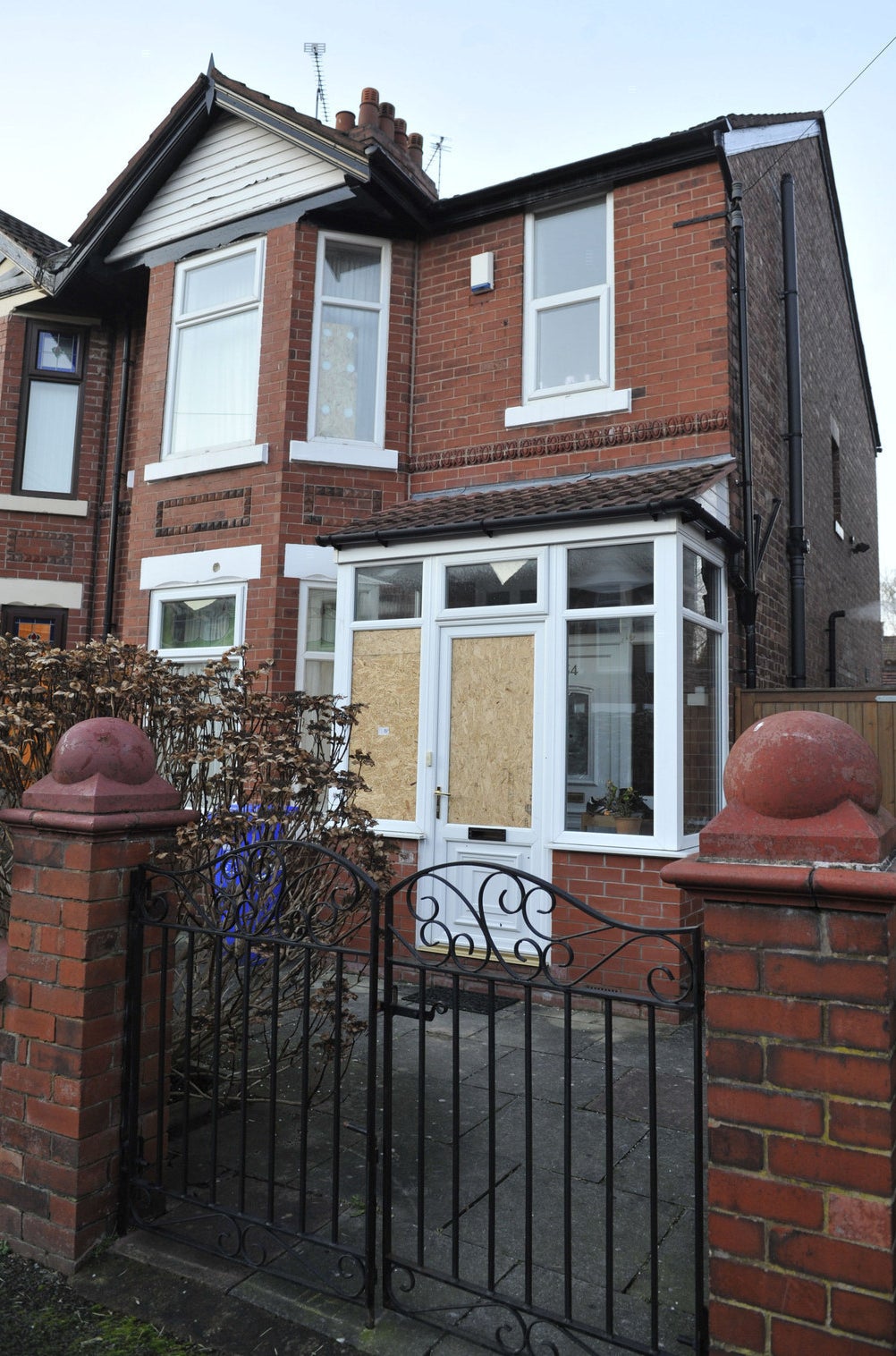 The Lytham Road house that was shot on New Year's Day.
Akbar, a lifelong south Manchester resident, believes that the target was "an individual who's associated with criminal activity," and he makes it clear that as far as the community is concerned "he's living in the wrong road".
"We can't force him [to leave], but it's not just for the community's safety – it's for his own safety. He has to make a decision now. But it's still a safe place. The fact two houses were shot on the same road shows that it isn't someone walking around shooting people at random."
Akbar is keen to stress that while the people behind the Lytham Road shootings might be connected to organised crime, they weren't criminal masterminds.
"That's why I say they're not only criminals, they're stupid. They're not the brightest of sparks," he says.
---
But then there's Salford, which is another thing entirely.

Even with the multimillion-pound redevelopment of the Quays waterfront, the new MediaCityUK campus, and the thousands of well-heeled BBC staff and executives now based there, Salford (which is both a city in itself and a borough within Greater Manchester) still has its rough edges.
The death of Paul Massey, 55, who was gunned down outside his house in Eccles, Salford, in July, marked a turning point in a spat between local gangs that had been simmering for months. No one has been arrested in connection with the killing, yet one resident of Massey's old stamping ground of Ordsall told The Guardian: "Everyone on the estate knows who the two shooters are."

Despite his accusations of unfair treatment by police, Massey was associated with organised crime in Salford for decades and was described in one Salford council meeting in 1992 as the "Mr Big" behind criminal gangs who were supplying doormen to pubs and clubs in the late '80s and early '90s as Manchester's nightlife scene exploded.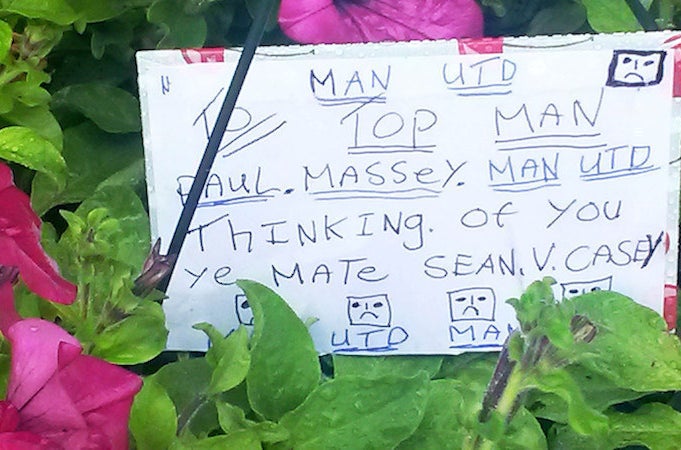 In 1999 he was sentenced to 14 years in jail for stabbing a man outside a nightclub and served 10, but otherwise denied involvement in organised crime. He was nevertheless a well-known and well-liked figure in Salford who bid to become the city's elected mayor in 2012, winning 2,000 votes in the process. At his funeral, the streets were lined with hundreds of people, some of them in tears.
Massey was thought to have played a role in brokering a truce between rival gangs on either side of the Moss Side estate in 1994. He claimed in an unscreened episode of the BBC documentary Modern Times to have "got the communication between them" and that "it turned out pretty well".
Police said that a spate of shootings in the wake of his death were the result of at least two long-running feuds, one of which is between a gang in Swinton, on the west side of the borough, and one in central Salford. Police have put 12 civil injunctions on people in Salford, banning them from certain parts of the city.
Those shootings, none of them fatal, led some to conclude that Massey was still playing a role in keeping the peace between rival gangs until his death.
Massey also told the documentary makers in 1999, as recounted in Peter Walsh's Gang War book on Manchester crime, what he thought would happen if he was sent to prison: "It'd fucking explode if I took off from Salford. Because I know all them people around Salford, different units of people, don't like each other, and there's only me stood in the middle of them all keeping them apart."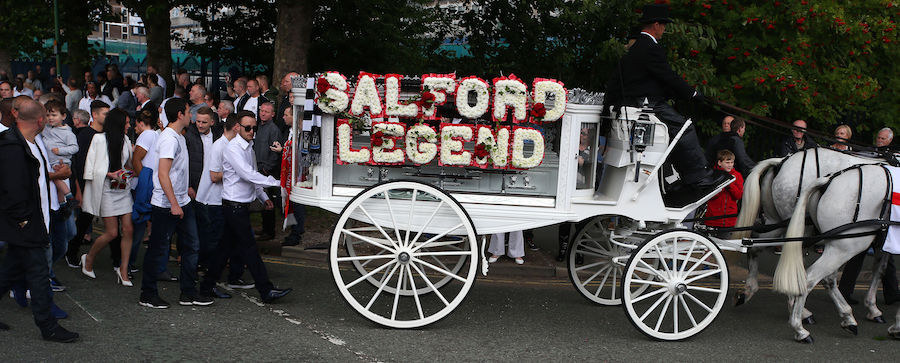 The story took a shocking turn on 13 October last year when a 7-year-old boy named Christian Hickey and his mum, Jayne, were both shot in the knee by two gunmen on their doorstep in Eccles, Salford, not far from where Massey was gunned down. Christian needed extensive surgery but is expected to recover.
The attackers were targeting the boy's dad, also called Christian, who was upstairs at the time and chased after them on foot as they sped away in a black Audi.
Two men were arrested in connection with the shooting and the police recovered a gun, which was used in at least eight other shootings across the northwest of England. Police said they believed the attack was linked to the death of Massey and the feud between rival local gangs.
Police are not linking Salford's recent increase in gun violence to the gun activity in south Manchester – but it adds to the impression, rejected by residents, that Greater Manchester is a lawless place.
---
One person who lives with the scars of the bad old days in south Manchester is Patsy McKie, 69. She will tell you that things used to be a lot worse around here.

Her son Dorrie, aged 20, was shot three times as he and a friend were attacked by a group of boys on bikes in Leaf Street, Hulme, in 1999. He hadn't been involved in any trouble and held hopes of following his brother into a successful semi-pro basketball career. He was found on the ground with a fatal chest wound.
In the same week, two more young men, Martin Bennett and Antony Cook, both 25, were killed by gunfire nearby.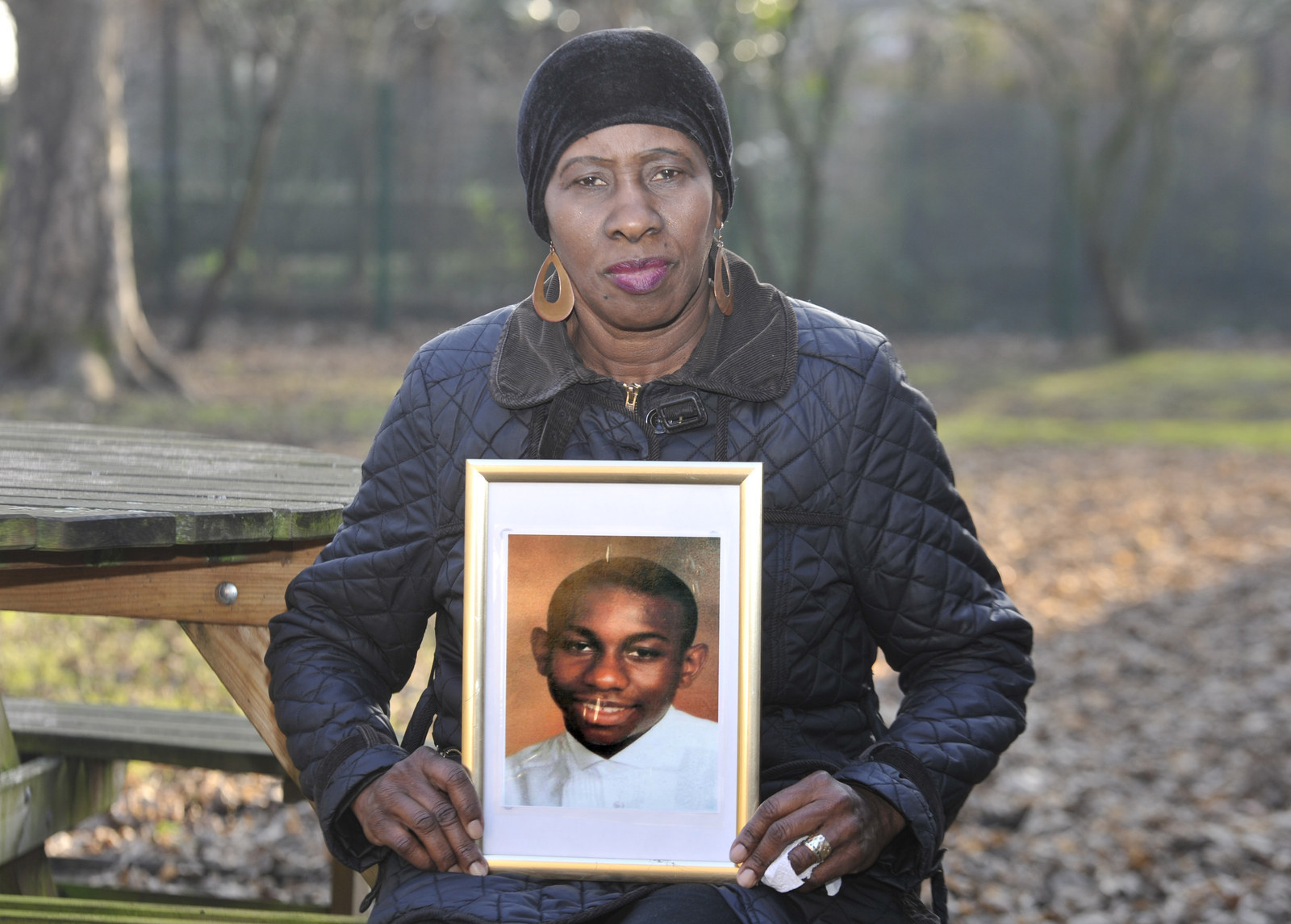 In the following weeks, McKie set up Mothers Against Violence, a campaign group that has done much to unite the community in opposing gang crime, and which still provides support and assistance to young people at risk of being drawn into criminal activity.
She recently went to comfort a woman in Salford who had a grenade thrown through her front door. Somehow, no one was hurt.

People were so scared and unwilling to work together back then, McKie would organise meetings where no one turned up – she'd sit on her own for the duration, just in case.
"I was always hopeful because of my beliefs," she says. "I thought, How many more have to die before this big change comes? And apparently it was my son. I was so desperate and my heart was kind of broken."
She says the shootings over Christmas made her heart sink. "When the boy got shot in his chest [in Moss Side on 30 December] I was thinking, Lord, don't let him die. It would be really sad if that mother lost her son. I've been there."
Sat in her tiny office in a ramshackle community centre in Hulme, metres away from a gleaming new £140 million university campus that houses 6,000 students from all over the world, McKie isn't convinced that the recent spate of gun crime is all connected to organised gangs – some of it can be based on personal, petty feuds.
"I think somewhere along the line it has something to do with people who have something against somebody," she says. "For me it's more that than 'let's go and shoot someone because they're selling drugs.'"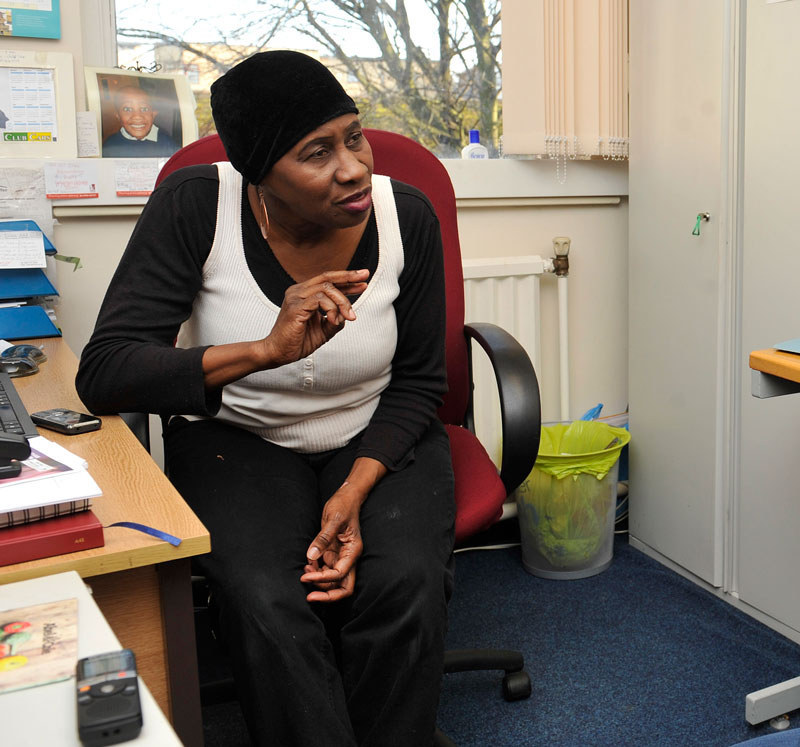 McKie tells a recent story of a friend who had her windows shot out in a row over a rental tenancy. Her friend, the landlord, had told the tenant to move out and McKie suspects he didn't take the news well and hired someone to send a warning.
She's dedicated her life to stopping gang violence, which claimed the life of her son even though he wasn't a member of any gang. She describes Dorrie as a "quiet but always smiling" young man, who was going to follow his brother into a basketball career, playing for a top English team.
"Every time I think about him, I'm pleased. If he hadn't died I don't believe I'd be doing what I'm doing and things would have got worse."
---
But the recent spate of violence is misleading – while gang activity is still a feature in the city, there's no doubt that the city and its inner-city neighbourhoods have changed.
Rob Ralphs, a criminologist at Manchester Metropolitan University, spent years interviewing local gang members and keeps a close watch on the patterns of gang violence.
"If you look at the ages of the people who've been shot and the ages of the people who've been arrested, I think they've mostly been in their late twenties. It's not your traditional youth gangs from Moss Side and Longsight.
"The shootings tend to be in clusters rather than throughout the year and for me at this stage we're still at a very low level compared to 10 or 15 years ago. Unless these kind of figures continue throughout the year I just see it as a kind of blip."
Ralphs argues that the drug trade has changed so much that the turf wars of old don't really happen any more.
"Several drive-by shootings outside clubs [in the 1990s] were attempts to control [bar and nightclub] doors so that the sale of ecstasy, which were then £20-25 a pill, and now a fiver, was controlled by these gangs. We had areas such as Moss Side known for cannabis, heroin, and then crack, with people coming from across Manchester and beyond.
"This was before or at the onset of mobile phones. We have now moved from open to closed drug markets."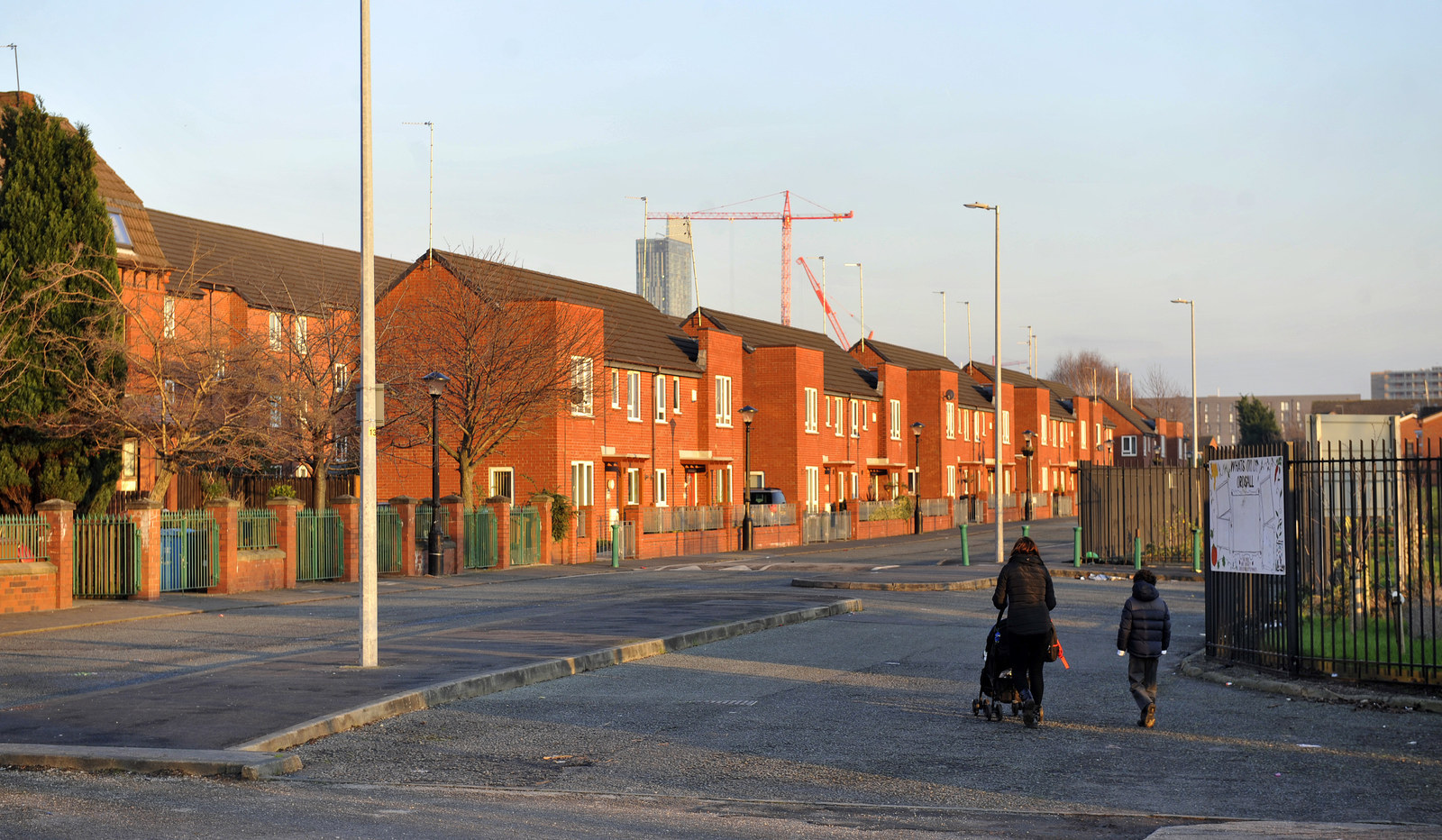 Ralphs explains that whereas historically, gun incidents happened out in the open, the recent spate of shootings since Paul Massey's death has mainly involved people getting shot in or outside their own homes, something previously regarded as unacceptable by gangsters, given that younger, innocent siblings could be shot.
A gun, which was often a deactivated firearm that had been illegally made useable again, may have cost £300 at the height of Manchester's gun problem, but cost as much as £4,000 now, he says.
But despite these changes and serious criminal activity moving to other parts of the city, still the Moss Side myth exists – Gunchester lives on. "It makes it much easier to compartmentalise it, people can just say it's all about drugs, it's all about gangs," says Ralphs.
Manchester used to be known for football, music, nightlife, and gun crime. But it's now a European destination, a place on the up – not just for tourists but for domestic and international businesses. The city council expects another 40,000 jobs to be created in the next decade. The council has approved eight new secondary schools in inner Manchester neighbourhoods by 2017-18 to keep up with the 200 to 240 children moving to the city each week, according to councillor Rabnawaz Akbar, just as thousands of London families leave the capital due to rising costs.
But still it's a city that struggles to outrun its past. Like any major metropolis, it has problems with guns and organised crime. In 2009 then-shadow home secretary Chris Grayling described Manchester as being "like The Wire", the classic American TV drama set on the drug-ridden streets of Baltimore.
These days, even minor explosions of violence in Manchester bring back bad memories of a time when some of its inner-city neighbourhoods were lawless and remind people who lived through it of the human cost. Despite the quiet streets and peaceful nights, that can't be forgotten.