If Jim Atherton is ever going to help defeat ISIS, he doesn't need airstrikes, he needs a few more bullets. Stationed in northern Iraq, on the front line of the war being waged between Kurdish fighters and their Christian militia allies and the advancing, well-funded forces of ISIS, he's calling for guns, not bombs.
"It comes down to the age of our equipment compared to the age of their equipment," he tells BuzzFeed News. "I was running about with a 1962 AK-47, which is the same age as what I am, 53 years old."
"When you do get a weapon what is reasonable and working, then you've got the trouble of coming up with dodgy ammunition – the ammunition is terrible. You've got a 30-round magazine and you can have 10 of them be misfires. As you can imagine, it gets a bit hairy at times."
Atherton, who has three grownup children and two grandchildren, is an unlikely soldier. A former white-van driver and a grandad of two from Washington, near Newcastle upon Tyne, Atherton is a captain in the militia of Dwekh Nawsha, a Christian group formed to protect minority Assyrian Christians in Iraq's northern Nineveh region, who refer to themselves as indigenous people of Iraq.
He travelled there in April and was based alongside some 50 men about 30km north of Mosul, the largest ISIS-controlled city in Iraq. He's now back at his home in the North East of England to raise more funds to return to the Middle East in the new year.
Dwekh Nawsha, which translates as "The Sacrificers", is a lightly armed militia allied to Kurdish peshmerga forces. Its goal is to protect the remaining towns not in ISIS control on the plains of Ninevah. In 2014, tens of thousands of Christians fled the region after ISIS swept through, taking control of key sites.

A peshmerga offensive involving thousands of troops took back control of the town of Sinjar in November, and there have been other significant gains – although Kurdish fighters have long complained of taking the strain in the ground offensive and asked for more arms, as Western nations remain reluctant to commit troops to the region.
British media coverage has given much attention to British-born fighters who have joined up with ISIS in Iraq and Syria – at least 700 have done so, according to police, and between 200 and 300 have returned to the UK. But not all Brits who travel to the Middle East to join the war are fighting alongside the jihadis.
Atherton is one of the Western fighters who have joined up with forces opposing the onslaught of ISIS in the Middle East. Other recruits include a former nightclub bouncer from the UK and several former American soldiers and marines.
The peshmerga forces work with foreigners, but don't accept them in their ranks – the Kurds would prefer heavy artillery and more night vision gear – but Dwekh Nawsha happily takes them.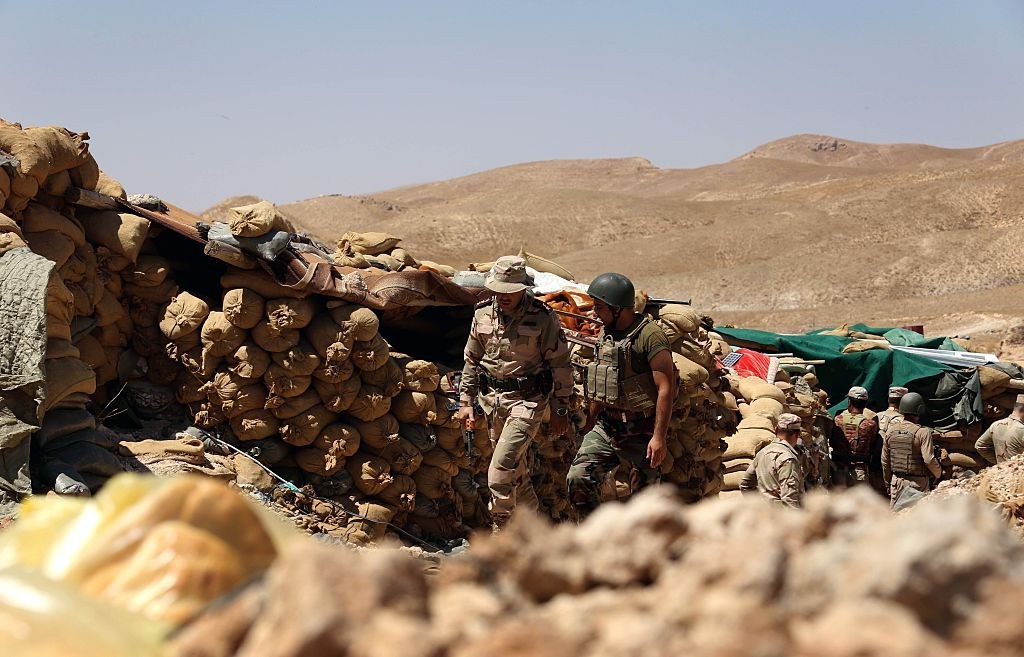 So how did Atherton, who in August featured on the front page of The Sun under the headline "GRANDAD v JIHAD", end up on the front line in a war against Islamic fundamentalists? In April, he says, he quit his job and sold his car and two motorbikes to raise £18,000 to buy some guns and a plane ticket to Turkey. He left his old life, including his beloved dogs – two Jack Russells and three dachshunds – behind.

After being deported once from Turkey – security forces on high alert for foreign militants found camouflage fatigues in his bag – he simply waited 12 hours for the next flight from Amsterdam. The second time he got through with no problems.

Atherton admits to having led a "colourful life" – he's written about having trouble with the law for his weed-smoking habit – and has said he was prevented from joining the army in the past.
What did his family make of him joining a foreign war? "At first they were saying, 'You're mad,' and that sort of thing, but I think now they've realised that it's on," he says. "I think they realise now that I went out there to help."
The police weren't so keen either: Special Branch officers visited his home in Washington to ask if he would talk to them, and they've been in touch occasionally since. "I keep fobbing them off," he says.
Although he's from a military family – his dad was in the army and his brother died while serving in Iraq in 2006 – Atherton went to Iraq with no military training and despite having suffered a heart attack in 2007.

Though he's been in combat, the reality of war is pretty dull, Atherton says. "There's a lot of downtime as you can imagine, a lot of downtime. A lot of sitting about twiddling thumbs, playing backgammon. Do you know backgammon? I'm backgammon champion."

It's still a contrast to his former life as a courier driver, when Atherton would get through 6,000 or 7,000 miles a week, driving across Europe. He would drive for two or three days solidly and then rest somewhere, where he'd browse Facebook and keep up with conflicts in the Middle East.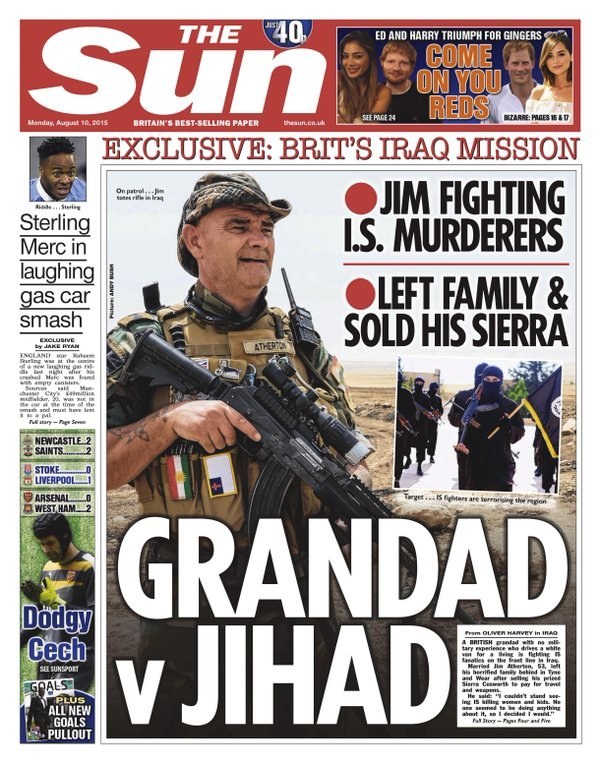 In a lengthy Facebook post in May, he said: "I'm not anti Islam I'm not a violent person and I'm deffo not a killer, but when you try to inflict your own beliefs onto others killing and raping anyone who said no I love God not the prophet well that pisses me off.
"Modern day crusader is how I look at myself and I'm been honest that at this time of my life I've never stood so tall and felt so proud of myself."

He says it was one single image of an injured Syrian boy with Tumblr-style meme lettering reading "When I see God I'm going to tell him everything" that tipped him over the edge. He'd been following Dwekh Nawsha on Facebook and then finally got in touch.
"The penny dropped," he tells BuzzFeed News. "I'm in my fifties and I just thought I'd see what I can do. I'd do whatever I could do to help.
"I didn't go out there thinking I was Rambo – I had no military experience and to be honest I was shunned at first. Because they were all military veterans. Nobody had any time or spoke to us at first."
When it comes to airstrikes, the subject of a divisive and bitter political debate in the UK, Atherton isn't keen: He's more enthusiastic on getting arms and equipment for Kurdish fighters and their allies than Western bombs.
"Without going into detail," he says, "if you even send a small bomb, about 50 pounds or 80 pounds or something like that, the damage isn't going to hit just those [targeted] people and that's all it's going to hit. It's going to take out the buildings on either side of the road and anyone inside or in the local 100-metre area is going to suffer.
"I don't think it's airstrikes what's needed. Rather than send all these millions and millions of pounds' worth of bombs over there and drop them just willy-nilly… You can drop one bomb at half a million pound and it might kill one or two bad guys, but god knows how many civilians are hiding in cellars and in destroyed buildings."
In August, Atherton used Facebook to appeal for some night vision gear and said he would travel anywhere in mainland Europe to get it, adding that in a 40-mile stretch of land from east to west, the Kurds and their allies have one piece of night vision equipment between them.
Kurdish fighters in the YPG militia in northern Syria are saying the same thing: Arm us and we can continue to recapture territory from ISIS.
Atherton is now back at home in Washington, forced to return due to a lack of funds. He's raising money to go back, but he admits it's slow going: "I've got £5.02 and nine cigarettes. So it's not going well, to be honest."