Thousands more self-balancing scooters, also known as hoverboards, have been seized and destroyed by Trading Standards officers in the run-up to Christmas.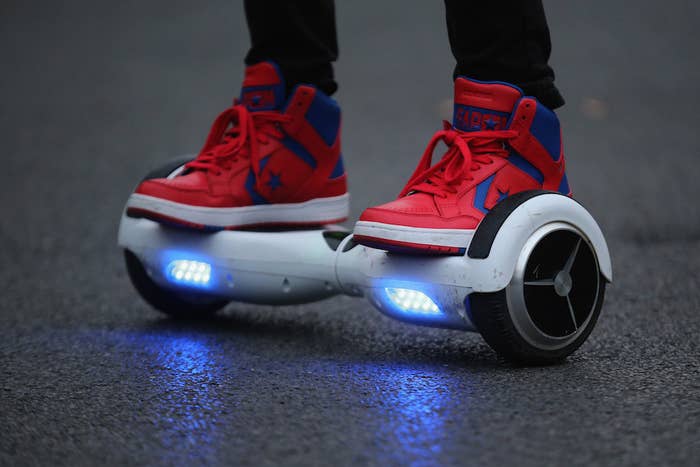 National Trading Standards confirmed to BuzzFeed News that 32,000 out of the 38,800 devices that have entered UK ports since its investigation began in October have been deemed unsafe.
On 3 December, National Trading Standards and Scotland's equivalent body said they had intercepted 15,000 out of 17,000 hoverboards bound for the UK, but thanks to a rush of imports to fulfil Christmas-driven demand, that figure has doubled in two weeks.
A spokesperson from National Trading Standards said: "Officers have detained the boards due to numerous concerns including safety issues with the plugs, cabling, chargers, batteries or the cut-off switches within the boards, which are designed to stop the battery from continuing to charge once fully charged. A faulty cut-off switch can lead to the device overheating, exploding or catching fire.
"National Trading Standards is urging consumers to be vigilant this Christmas and avoid putting their households at risk with unsafe products."
Yesterday several leading retailers, including Tesco, Argos, and John Lewis halted sales of hoverboards amid safety fears and after a warning from the retail ombudsman that shops selling the gadgets could face civil claims if something went wrong with them.
Amazon appears to have stopped selling them and has emailed customers who bought certain models advising them to throw them away immediately because of safety fears.
The London fire brigade has repeatedly warned that cheap hoverboard models are prone to overheating and exploding, after a spate of fires earlier this year.
National Trading Standards also offered advice for people who are still hoping to buy one in time for Christmas.
The body said: "Be aware that criminals exploit high demand: When items like self-balancing scooters start to sell out at well-known retailers, the void is quickly filled by crooks churning out poor quality imitations that can put people in danger. Don't 'panic buy' from the first website you find – do your usual common-sense checks."
Consumers should "never leave the device charging unattended – especially overnight" and check the device to make sure it has a UK standard plug.
Other tips include searching for reviews of the product and seller to make sure they are genuine. Spelling and grammar mistakes on a seller's website can be a clue that a business is not professionally run, the advice said, while looking to see if it has a head office or a professional address is another clue.
Shoppers who see anything suspicious or untoward are asked to report it to the Citizens Advice consumer service on 03454 04 05 06.